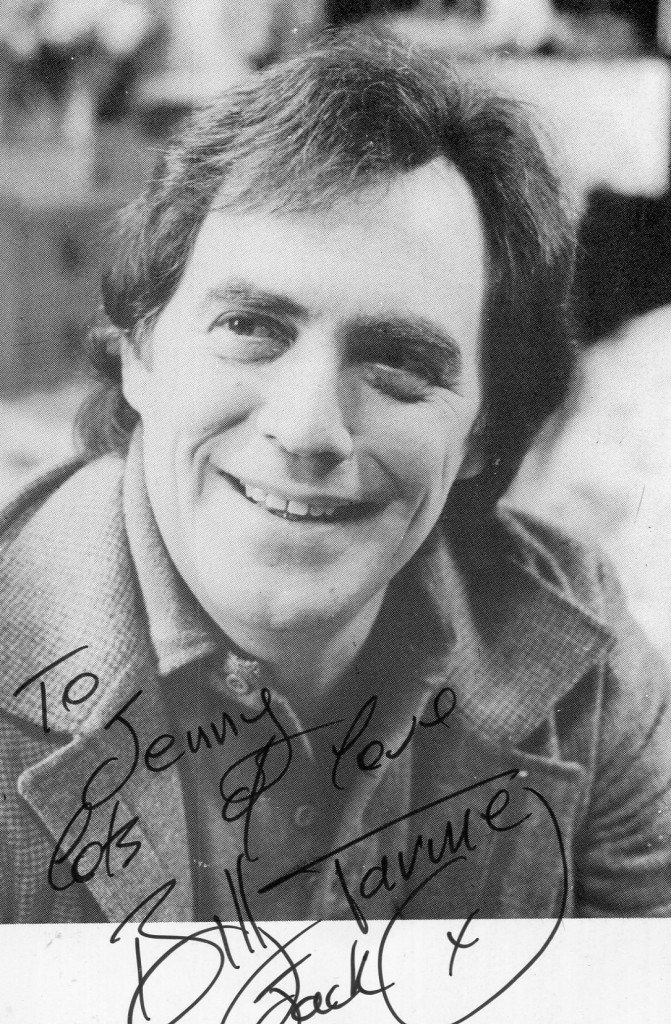 William Tarmey is best known as the beloved Jack Duckworth on the long running British soap "Coronation Street". He bowed out of the show in November 2010. After Bill Roach as Ken Barlow, Tarmey was the longest running male character in the series. He was born in 1941 in Manchester. He began his career as a singer and then became an extra on "Coronation Street". Jack made his debut as Vera's long suffering husband Jack in 1979 at the wedding of Gail to Brian Tilsey. He died in 2012.
"Guardian" obituary:
Bill Tarmey, who has died aged 71, made his name as Jack Duckworth, the endearingly lazy husband of the nagging motormouth Vera Duckworth, played by Liz Dawn, in Granada television's Coronation Street. The former asphalt spreader began with the long-running soap as an extra in the mid-1970s, and came into his own as Duckworth in 1979. This was five years after Dawn joined the cast, and it soon helped to create a character duo that was stronger than the sum of its parts.
Vera and Jack met at Gail and Brian Tilsley's wedding. Jack later became a cellar man at the Rovers Return, whose other stalwarts at the time included Hilda Ogden and Bet Lynch, played by Jean Alexander and Julie Goodyear. The health problems of his son, Carl, led to Tarmey's departure from the series in November 2010, in a touching and memorable finale. Dawn started to become seriously ill with emphysema in the 1990s. When she found it difficult to get out of a chair, Tarmey would modify the script so that he walked over to her instead of vice-versa. Tarmey himself had struggled with health problems throughout his time on the programme. He had a coronary in 1976, a stroke in 1977, a bypass operation in 1986, and in 2002 a second heart attack, after which a pacemaker was fitted. He also developed sleep apnoea, disrupting his breathing while asleep.
He and his screen wife had followed similar career paths. Both began by singing in pubs, but whereas Dawn gave up smoking after a 30-a-day habit lasting 55 years, Tarmey persisted. He once said that he could make it easier for himself if he gave up smoking: "I could sit in a rocking chair. But that wouldn't be me. That would kill me sooner than the old ticker. If I die tomorrow, they'll have to prise the smile off my face because I've had such a good life."
Even in the 1990s, Tarmey carried on singing in his local pub in Ashton-under-Lyne, near Manchester. He maintained that after the doctors had "regulated" his problems, no one need worry, though regretted the effect on his wife when he went to bed in a breathing contraption, "looking and sounding like an alien". Another thing that he and his screen wife had in common was an unapologetic belief that they were not really actors. "I'm just an ordinary guy who got really lucky," he maintained. "I have two terrific children and six wonderful grandchildren." In 2006 his sudden announcement that he was thinking of retiring prompted many protest letters from fans. When he relented, Granada TV announced that both he and Dawn had signed new contracts.
The sometimes stoically grizzled and bemused-looking Tarmey was born William Piddington in Manchester. His father, an army ambulance driver during the second world war, was killed in 1944 at the Battle of Arnhem. Shortly afterwards, Bill's mother married their next door neighbour, Bob Cleworth. This caused Bill, who adored his stepfather, to change his name by deed poll to Cleworth-Piddington in 1992. His stage name of Bill Tarmey came from appearing at a club in Stockport where the manager insisted that Bill Piddington was too long to go on a poster. He had wanted to give him the surname of the singer Mel Tormé, but misspelled it as Tarmey. He met his future wife, Alma, when both were 14 and attending the same school in Manchester. They lost touch until 1963, when she began coming to the church that Tarmey's Lads Brigade was attached to, and were married just before his 21st birthday.
Tarmey did not succeed at school. He left at 15 and then went to night school and a building college to get his City and Guilds qualification in construction, and was apprenticed to a building firm, for which he worked as an asphalter. But he had not been a complete stranger to the performing arts. From the age of four, his grandmother taught him to harmonise, and by the time he was nine he was appearing with a singing group called the Songsters, who performed for local charities. In the 1950s he was in a skiffle band, playing in pubs while also working in his in-laws' greengrocery.
While he was still in the building trade, his wife persuaded him to sing in pubs and clubs. He accepted the challenge, though did not warm to the occasions when he found himself upstaged by the bingo caller. Always devoted to Alma, he sang the song The Wind Beneath My Wings when he featured on the TV show This Is Your Life in 1992. Colleagues from the cast of Coronation Street in the studio were reduced to tears. He started in television when a friend encouraged him to seek work as an extra, getting small speaking parts in series such as Crown Court, Strangers, The Ghosts of Motley Hall and The Glamour Girls. In a BBC Play for Today about a black pudding festival, Thicker than Water (1980), he played a slaughterer, and in the series Rising Star he sang with his own group, Take Ten. An opportunity to expand his range came in King Lear with Laurence Olivier, in a production commissioned from Granada for Channel 4 in 1983. His agent had been asked whether Tarmey rode a horse. Of course he did, the agent replied. In fact, Tarmey's only relevant experience had been riding a donkey on Blackpool beach when he was four. Tarmey practised for 10 days before the first rehearsal with Olivier. The horse reared and bolted, and the last thing Tarmey remembered of the scene was Olivier saying fatalistically: "Bye, Bill."
In Coronation Street, he had a brief speaking part as Jack Rowe in 1978, and the following year reappeared, now as Jack Duckworth. The idle Stan Ogden was written out of the script, but Tarmey soon established himself as a substitute national anti-hero and helped stabilise the show. Bill Roache, who has played Ken Barlow since it started, said: "He was the downtrodden loveable rogue who never got anything right but was loved by everyone. This was down to Bill's skills as an actor. He had amazing comic timing and was a genuinely warm and wonderful human being." In 1989, the year of his appearance in the Royal Variety Performance with Dawn, the two of them released a single of I'll Be With You Soon. In 1993 he made another single, One Voice, for charity, with the St Winifred's School Choir, from Stockport. He produced an autobiography, Jack Duckworth and Me: My Life on the Street and Other Adventures, in 2010.
Tarmey is survived by Alma, Carl and his daughter, Sara.
• Bill Tarmey (William Cleworth-Piddington), actor, born 4 April 1941; died 9 November 2012