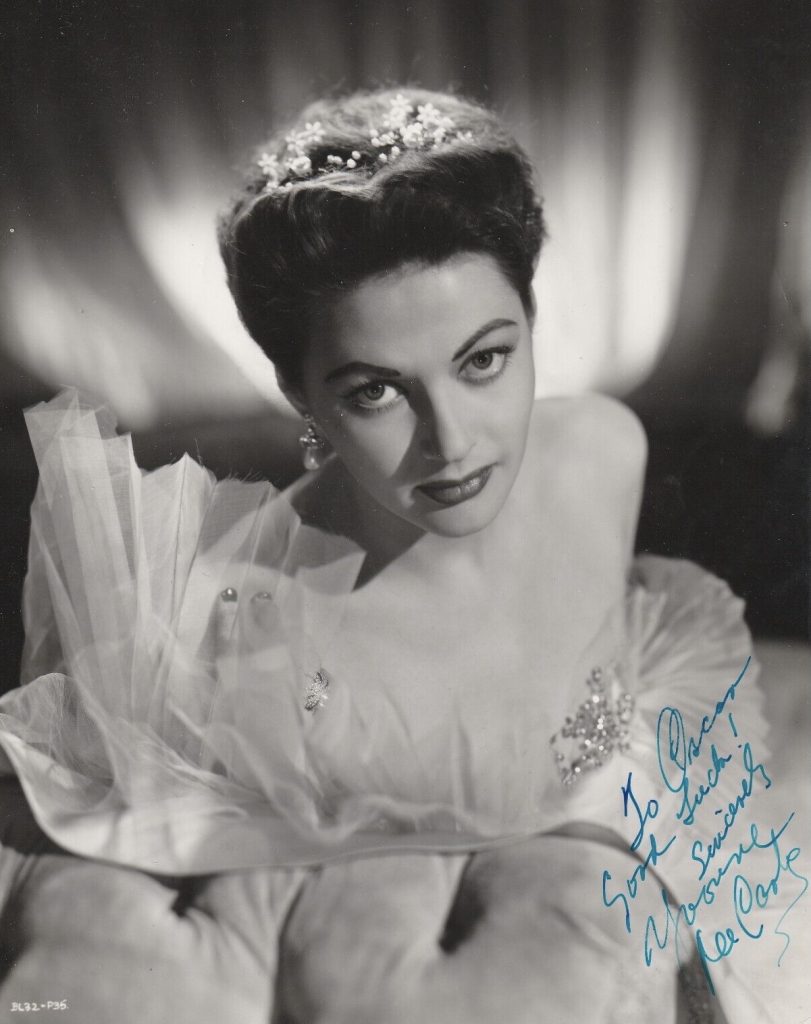 Yvonne de Carlo was born in Vancouver in 1922.   Her real name is the slightly less glamourous Peggy Middleton.   She made many popular films in the 1940's and 1950's including "Criss Cross", "Brute Force", "The Ten Commandments" and "Band of Angels".   In 1964 she was in the hit TV series "The Munsters" as Lily Munster and won a whole new generation of fans.   In 1971 she starred on Broadway in the iconic Sondheim show "Follies" along with Alexis Smith and Gene Nelson.   She died in 2007.
Her obituary in "The Independent":
n her first starring role, Yvonne De Carlo was billed as "The Most Beautiful Woman in the World". In Hollywood biopics, her beauty inspired both Rimsky-Korsakov and Wagner. Although critics of her earlier assembly-line costume extravaganzas dubbed her "Yvonne the Terrible", the reliable De Carlo worked steadily for the better part of five decades, appearing on the big screen opposite such icons as Bob Hope, Burt Lancaster, Clark Gable, John Wayne and Charlton Heston, on the small screen as the vampiresque Lily in The Munsters and on Broadway in Follies, singing "I'm Still Here", Stephen Sondheim's triumphant anthem of showbiz survival, that boasts the line, "Then you career from career to career."
Who else could have played Lily Munster, Lola Montez, Calamity Jane, Scheherazade, Mary Magdalene and Moses's wife Sephora?
She was born Margaret Yvonne Middleton in Vancouver, Canada in 1922. She began dancing at an early age and, after moving to the United States, worked as a dancer and movie extra, graduated to short subjects, and finally made her feature-film début at Columbia Picture in Harvard, Here I Come (1942), a low-comedy "B" picture, starring the boxer "Slapsy Maxie" Rosenbloom. Like the film, her role was small, but a contract with Paramount Pictures followed.
Between 1942 and 1944 she acted in no less than 19 films, making subliminal appearances in This Gun For Hire, Let's Face it, So Proudly We Hail!, For Whom the Bell Tolls, The Road to Morocco and a host of forgotten Paramount quickies.
Throughout the Second World War, the Queen of Universal Pictures was Maria Montez, whose ludicrous pieces of Technicolored high camp earned the studio a fortune. In 1945 De Carlo inherited the Montez mantle, beginning with Salome – Where She Danced (1945). She played an exotic dancer who, when knowledge of her espionage activities during the Franco-Prussian War came to light, fled to America. Soon she so dazzled the hard-bitten citizens of Drinkman's Wells, Arizona, that they changed the name of their town to Salome, Where She Danced. The critic James Agee called the film "The funniest deadpan parody I have ever seen."
She consolidated her stardom in Frontier Gal (1945), giving an assured comedy performance (in a role turned down by Montez) and singing three songs. Song of Scheherezade (1947) was the film involving dancer De Carlo's romance with young Russian naval cadet Nikolai Rimsky-Korsakov (Jean-Pierre Aumont). This outrageous fantasy ended with her dancing the Scheherezade ballet, the music she had inspired, at the St Petersburg Opera House.
Despite strong performances in two Burt Lancaster films, the taut prison drama Brute Force (1947) and the heist thriller Criss Cross (1949), she was mostly cast in such formula westerns as Black Bart (1948, as Lola Montez), Calamity Jane and Sam Bass and The Gal Who Took the West (both 1949), and such formula easterns as The Desert Hawk (1950, as the actual Princess Scheherazade) and Slave Girl (1947), which was so disastrous the desperate studio added a talking camel and other farcical sequences and released it as a satire.
Harold Arlen and Leo Robin wrote the Oscar-nominated "For Every Man There's a Woman" and other fine songs for Casbah (1948), a musical remake of Algiers, but De Carlo just had to look sensuous while Tony Martin, as Pepe LeMoko, sang them all. She did sing in Buccaneer's Girl (1950), but this pirate yarn was a typical Universal all-action potboiler.
Away from Hollywood, she suddenly confounded her detractors with deft comedy performances in two well-received British films. In Hotel Sahara (1952), set during the Second World War, she and her fiancé (Peter Ustinov) ran a small North African inn which kept changing sides according to the nationality of its occupiers. In The Captain's Paradise (1953), Alec Guinness, the blissfully contented skipper of a Tangier-to-Gibraltar ferry, had ideally contrasting wives in both ports: the fiery De Carlo in Tangier and the cosily domestic Celia Johnson on Gibraltar.
In Sea Devils (1953) De Carlo was a British spy during the Napoleonic wars. That same year she spied for the French in Fort Algiers, singing "I'll Follow You", for which she wrote the lyrics. She sang again as a sultry Caribbean café performer in Flame of the Islands (1956), and romanced Richard Wagner (Alan Badel) in the dismal Magic Fire (1956).
In 1957 the veteran Raoul Walsh, who had directed Sea Devils, gave De Carlo her meatiest screen role. Set before the Civil War and filmed largely on location in Louisiana, Band of Angels cast her as a well-reared southern belle who, when it's revealed that her mother was a slave, is herself sold into slavery. She is bought by a rakish southern millionaire – Clark Gable, making an anticlimactic return to Gone with the Wind territory.
Perhaps because she had played Sephora in The Ten Commandments two years earlier, she was next cast as Mary Magdalene in the Italian film La Spada e la Croce (The Sword and the Cross, 1958). As an attractive widow working as John Wayne's housekeeper, she aroused the jealousy of Wayne's estranged wife (Maureen O'Hara) in McLintock! (1963), and in A Global Affair (1964) acted opposite the 61- year-old Bob Hope, severely miscast as the footloose young UN diplomat pursued by a bevy of beautiful women of various nationalities.
From 1964 to 1966 De Carlo lived in a dark, cobwebby mansion at 1313 Mockingbird Lane. As the 137-year-old Lily Munster, she slept in a coffin with, appropriately, a lily clutched to her chest. Her beloved husband Herman (Fred Gwynne), a bashful clone of Frankenstein's monster, was Lily's idea of male beauty; after meeting a handsome male in one of the 70 episodes, she commented, "He looks like Cary Grant – poor man!" The success of The Munsters spawned the feature film Munster, Go Home (1966) and the TV movie The Munsters' Revenge (1981).
At the age of 49, De Carlo, along with her fellow Hollywood veterans Alexis Smith and Gene Nelson, appeared in Stephen Sondheim's spectacular Broadway musical Follies (1971). The show was set in a crumbling, soon-to-be-razed New York theatre where various editions of the fictitious Weismann Follies had been presented. On its bare stage, Dimitri Weismann held a farewell reunion of some of the performers he had employed in his revues over the years. One of these artistes was Carlotta Champion (De Carlo), an ageing Hollywood star.
Impressed with her large vocal range, Sondheim wrote De Carlo a solo number, the wickedly witty "Can that Boy Fox-Trot" ("A false alarm, / A broken arm, / An imitation Hitler and with littler charm, / But oh, can that boy fox-trot!"). She sang it well and, during the show's Boston try-out, Sondheim tried to build the number for her, but his efforts failed. "The problem with the one-joke song," he later said, "is that as the song goes on and on, the joke becomes less funny."
He solved his problem by sitting down with De Carlo and letting her tell him the story of her life. He then went to his hotel room and proceeded to write her a replacement number, the superb "I'm Still Here" ("First you're another / Sloe-eyed vamp / Then someone's mother / Then you're camp . . .").
Her Broadway success seemed to mean little to Hollywood, where De Carlo was offered nothing more interesting than TV movies (in one of which she played Zorro's mother) and such minor films as Satan's Cheerleaders (1977), Nocturna, Granddaughter of Dracula (1979), The Man with Bogart's Face (1980), Guyana: cult of the damned (1980), Silent Scream (1980), American Gothic (1987) and Oscar (1991).
Another line in "I'm Still Here" was "I'm almost through my memoirs". De Carlo's autobiography, Yvonne, was published in 1987.
Dick Vosburgh
Her "Independent" obituary can also be accessed here.