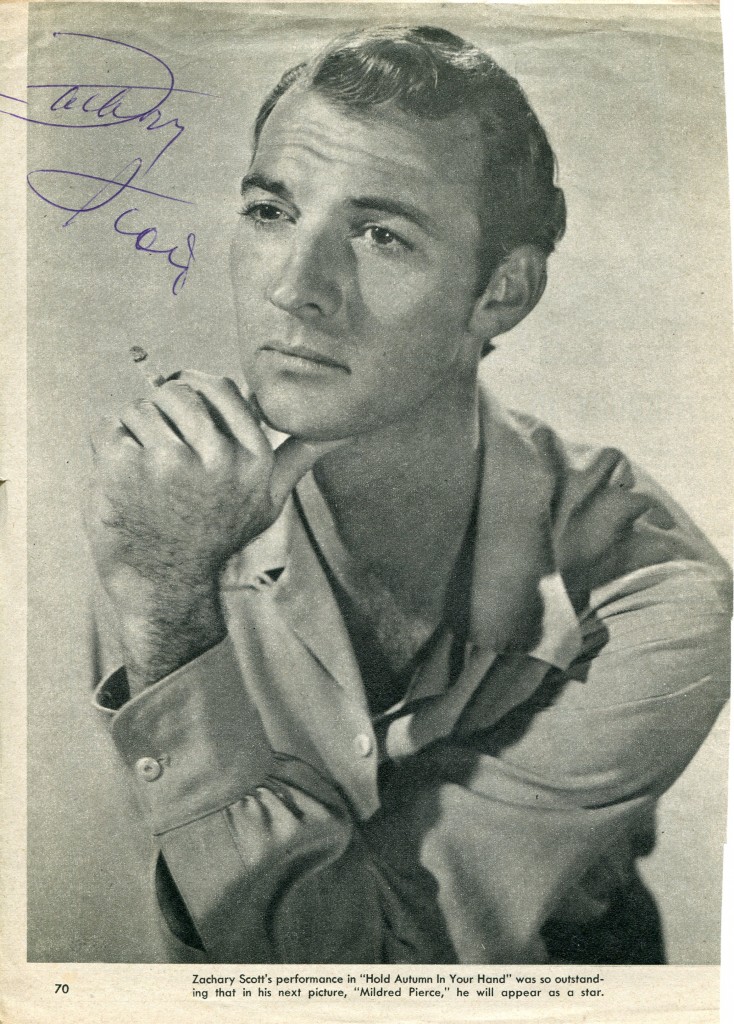 He was the ultimate screen heel. You could always depend on Zachary Scott to let you down. In "Mildred Pierce" he two-timed Joan Crawford with her daughter Ann Blyth. In numberous film noir's he was the cad or the rat who landed the hero in hot water. On occasion he showed his sensitive side as in Jean Renoir's "The Southern". Scott was from a wealthy Texan family . His first feature was Warner Brothers "The Mask of Dimitrios" in 1944. Sadly Zachary Scott died of a brain tumor at the young age of 51 thus depriving the screen of one of it's great villains. Details of an excellent biography of Zachary Scott here
Handsome, slender, often mustachioed actor, who, after making his mark on the stage, made an auspicious film debut in the title role of "The Mask of Dimitrios" in 1944. Scott contributed a memorable turn as a sharecropper in Jean Renoir's finest American work, "The Southerner" (1945), and went on to play a variety of unctuous cads and scoundrels (with an occasional sympathetic variation) through the 1950s and early 60s. One of his best remembered performances was as the seductive, snaky socialite who marries the ultimate upwardly mobile mom, "Mildred Pierce" (1945). He was married to actress Ruth Ford.

Zachary Scott (Wikipedia)
Born in Austin, Texas, he was of Greek descent; his surname was Skotidis. His grandfather had been a very successful cattle rancher, and Scott was a distant cousin of George Washington.
Scott intended to be a doctor like his father, Zachary Scott Sr. (1880–1964), but after attending the University of Texas at Austin, he dropped out at age 19 and worked on a freighter that took him to England. There he appeared in almost two dozen repertory theatre productions in 18 months. When he returned to Texas, he began to act in local theater productions.
Alfred Lunt discovered Scott in Texas and persuaded him to move to New York City, where he appeared on Broadway. He made his debut in a revival of Ah, Wilderness! in 1941 with a small role as a bartender.
Scott was also in The Damask Cheek (1942), The Rock (1943), and Those Endearing Young Charms (1943).
Jack L. Warner saw Scott perform in Those Endearing Young Charms and afterwards signed him to his first film contract, which led to his initial screen appearance in The Mask of Dimitrios (1944).
Scott was one of the many Warners stars who had small roles in Hollywood Canteen(1944). He was loaned out to United Artists to play the lead in The Southerner (1945) directed by Jean Renoir.
Back at Warners, Scott was cast in Mildred Pierce (1945) and received much acclaim for his performance. In the film he portrays Joan Crawford's somewhat sleazy love interest, whose mysterious murder forms the basis of the plot. (In the novel on which the movie is based, the character is just as sleazy but is not killed.)
Scott co-starred with Faye Emerson in Danger Signal (1945) and was with Janis Paige and Dane Clark in Her Kind of Man (1946). In 1946 exhibitors voted Scott the third most promising "star of tomorrow".
During this period, Scott and his first wife Elaine socialized regularly with Angela Lansbury and her first husband, Richard Cromwell. Elaine Scott had met Zachary Scott back in Austin and she made a name for herself behind the scenes on Broadway as stage manager for the original production of Oklahoma!. The Scotts had one child together, Waverly Scott.
Scott supported Ann Sheridan in The Unfaithful (1947) and Ronald Reagan and Alexis Smith in Stallion Road (1947). MGM borrowed him to support Lana Turner and Spencer Tracy in Cass Timberlane (1947).
He had the lead in a noir for Eagle Lion, Ruthless (1948), then returned to Warners for Whiplash (1948) with Clark. He supported Virginia Mayo in Flaxy Martin (1949) and Joel McCrea in the independent South of St. Louis (1949). He was reunited with Crawford in Flamingo Road (1949).
Warners tried Scott in a comedy with Alexis Smith, One Last Fling (1949). He starred in some films outside the studio, Guilty Bystander(1950) and Shadow on the Wall (1950). At Warners he supported Randolph Scott in Colt .45 (1950). He did Born to Be Bad (1950) for Nicholas Ray and Pretty Baby (1950) for Warners.
Scott appeared on a variety of television series such as Armstrong Circle Theatre (1950) and Pulitzer Prize Playhouse (1951). He did Lightning Strikes Twice (1951) for King Vidor and The Secret of Convict Lake (1951).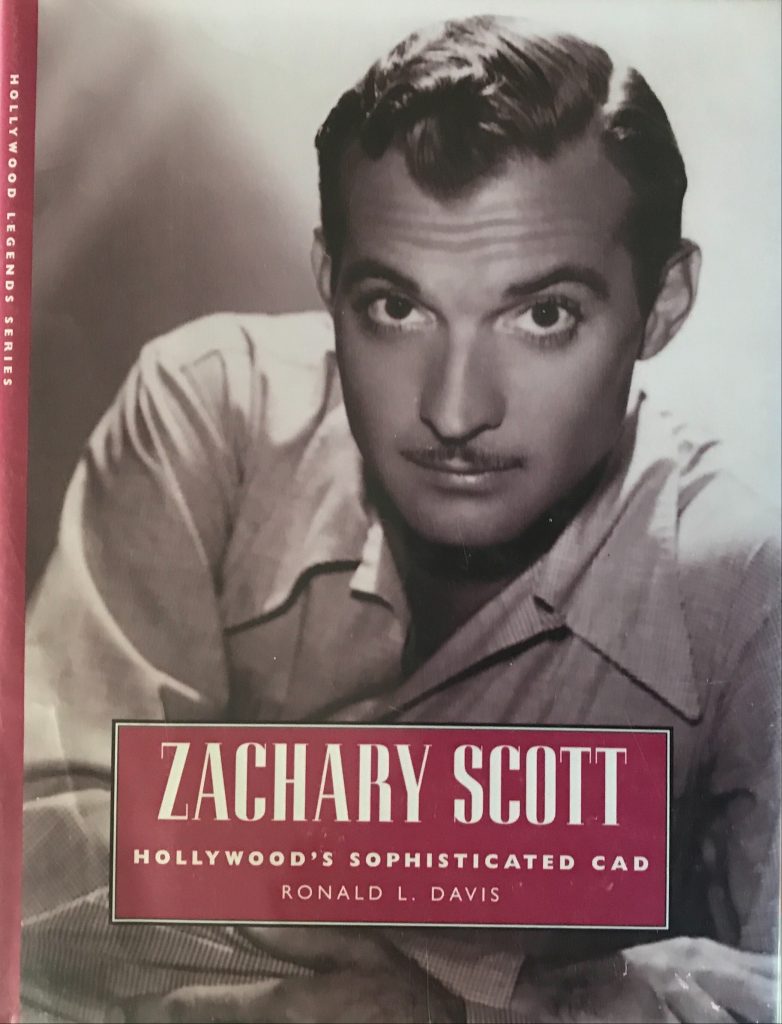 In 1950, Scott was involved in a rafting accident. Also during that year, he and Elaine divorced, and she later married writer John Steinbeck.
Possibly as a result of these developments or due to a box-office slump, he succumbed to a depression which affected his acting for Warner Bros.
The studio did not continue to promote his films, so he turned back to the stage and began to accept roles on television.
Scott's first film after he left Warners was Stronghold (1951) with Veronica Lake. He followed it with Let's Make It Legal (1951).
He was on TV in Tales of Tomorrow (1951) and Betty Crocker Star Matinee (1952) and went to England to make Wings of Danger (1952).
In Hollywood he was in Studio One in Hollywood (1953), and Medallion Theatre (1953) on TV, and Appointment in Honduras (1953).
He was in The Revlon Mirror Theater (1953), Chevron Theatre (1953), Suspense (1954), Schlitz Playhouse (1954), The Motorola Television Hour (1954), Campbell Summer Soundstage (1954), The United States Steel Hour (1954), Omnibus (1954), Climax! (1955), General Electric Theater (1955), Robert Montgomery Presents (1956, playing Philip Marlowe in a version of The Big Sleep), Science Fiction Theatre (1955), The Star and the Story (1956), Celebrity Playhouse (1956), Theatre Night (1957) and Pursuit (1958).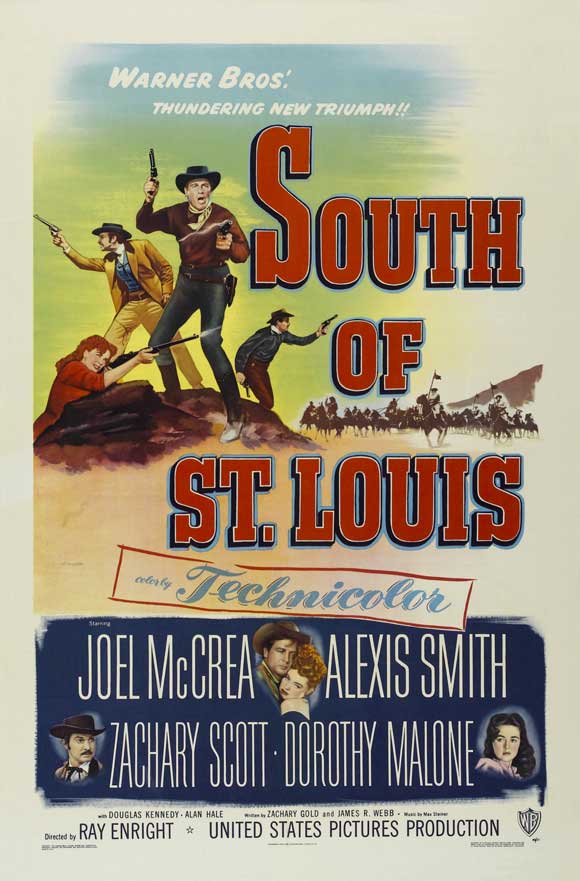 He made the occasional film such as Treasure of Ruby Hills (1955), Shotgun (1955), Flame of the Islands (1956), The Counterfeit Plan(1957), and Man in the Shadow (1957).
Scott returned to Broadway with Requiem for a Nun (1959).
Scott was in The Young One (1960) directed by Luis Bunuel. He guest starred on The Chevy Mystery Show (1960), Alfred Hitchcock Presents (1960) and Diagnosis: Unknown (1960).
In 1961, he portrayed the part of White Eyes, a Native American Chief, in the episode "Incident Before Black Pass" on Rawhide.
During this period, he remarried, and he and his second wife, actress Ruth Ford, had a child together (he also adopted her daughter from a previous marriage).
He was in the films Natchez Trace (1960) and had roles in The DuPont Show of the Month (1961), Play of the Week (1961), The New Breed (1961), The Defenders (1961) and The DuPont Show of the Week (1962).w
Scott's last roles included It's Only Money (1962) with Jerry Lewis, The Expendables (1962) (a TV movie), and episodes of The Doctors and the Nurses (1962) and The Rogues (1965). He went back to Broadway for A Rainy Day in Newark (1963) by Howard Teichmann.
On October 3, 1965, Scott died from a malignant brain tumor at the home of his mother in Austin, Texas, at the age of 51.