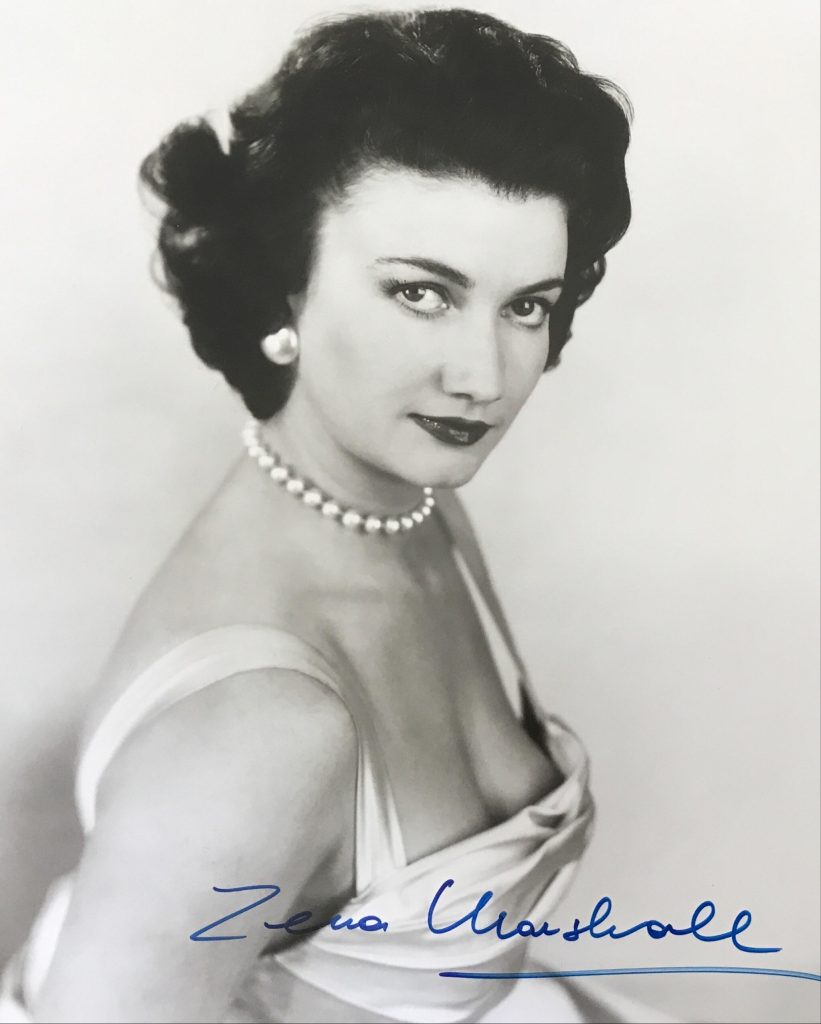 Zena Marshall obituary in "The Guardian" in 2002.
Zena Marshall can claim the distinction to be the first of all the Bond beauties to have a romantic interlude with James Bond in 1962's "Dr No". She played Miss Taro the Chinese double agent. She had been appearing in British films since 1946's "Caesar and Cleopatra". Zena Marshall was born in Nairobi, Kenya in 1926. Her other early films include "Sleeping Car to Trieste" and "So Long at the Fair". After "Dr No" she featured in "Those Magnificent Men in their Flying Machines" as the wife of Alberto Sordi. In more recent years she attended film functions celebrating the James Bond films. She died in 2009 at the age of 83.
"Guardian" obituary by Gavin Gaughan:
Zena Marshall, who has died aged 83, played a small but pivotal part in establishing the formula of the James Bond series. As the Eurasian secretary, Miss Taro, revealed to be working for the title character in the first Bond film, Dr No (1962), while dallying with 007 (Sean Connery), she was the first of those unscrupulous, exotic beauties who, in the service of the villain, would try but fail to entrap Bond.
For more than a decade beforehand, she had lent a hint of the exotic to monochrome, domestic British cinema. With her dark hair and colouring, the Rank Organisation may have signed her due to a similarity to Ava Gardner.
Born in Nairobi, Kenya, she was raised in Leicestershire, and described her ancestry as "part French" (her mother), "part English and part Irish". She attended St Mary's school, Ascot, but had already undertaken theatre tours for the Entertainments National Service Association by the time she was in her late teens. Her first film was the misguided epic Caesar and Cleopatra (1945) as a lady in waiting; her fellow super- numeraries included her friend Kay Kendall, and another Bond, Roger Moore.
By 1946, she was part of Rank's Company of Youth, often dubbed the Charm School, where fellow conscripts includ- ed Sir Christopher Lee, Diana Dors and the broadcaster Pete Murray. The studio, and affiliates such as Gainsborough, cast her in The End of the River (1947), produced by Powell and Pressburger, and as a passenger in the compact thriller Sleeping Car to Trieste (1948).
Good-Time Girl (1948), Snowbound (1948) and The Lost People (1949) all teamed her with Dennis Price, then a suave leading man. Unfortunately, both were also in the much-derided The Bad Lord Byron (1949); fortunately for her, Dr No's director, Terence Young, was among the screenwriters.
At London's New Torch Theatre, she was in the poorly received Snow (1953), by the novelist Diana Marr-Johnson, niece of Somerset Maugham. With John Ringham in late 1959, she toured Germany and Holland in The Late Edwina Black. She played a determined doctor in Men Against the Sun (1952), a Kenyan-British co-production starring the august John Bentley, in much the same mode as his later television series African Patrol (1958), in which she also appeared. August 1952 saw her small-screen debut in The Portugal Lady, a live BBC costume drama that was part of its Sunday Night Theatre series, as Charles II's bride Catherine of Braganza.
During ITV's opening weeks Marshall appeared in a shampoo commercial, assuring female viewers it was fine to use the product before going to a party. For the new channel, she did The Bob Hope Show (1956), pre-sold by Lew Grade to NBC, then played a scientist "from behind that Curtain" in The Invisible Man (1958), enduring a very silly ending in which she hugs and kisses the unseen hero goodbye.
Marshall appeared three times, between 1960 and 1964, in the series Danger Man, starring Patrick McGoohan, who had declined the Bond role: twice Marshall played fellow agents who needed to be rescued. She also guested in the now-forgotten shows Man of the World (1962), The Sentimental Agent (1963) and The Human Jungle (1963).
After several of the Edgar Wallace thrillers, she was glimpsed waving off Alberto Sordi in Those Magnificent Men in Their Flying Machines (1965). Her last film was The Terrornauts (1967), with the unlikely presence of Charles Hawtrey.
Her marriage to the bandleader Paul Adam ended in divorce, as did a brief second marriage. In 1991, she married the producer Ivan Foxwell, whose credits included The Colditz Story. He predeceased her in 2002.
Her "Guardian" obituary can also be accessed here.