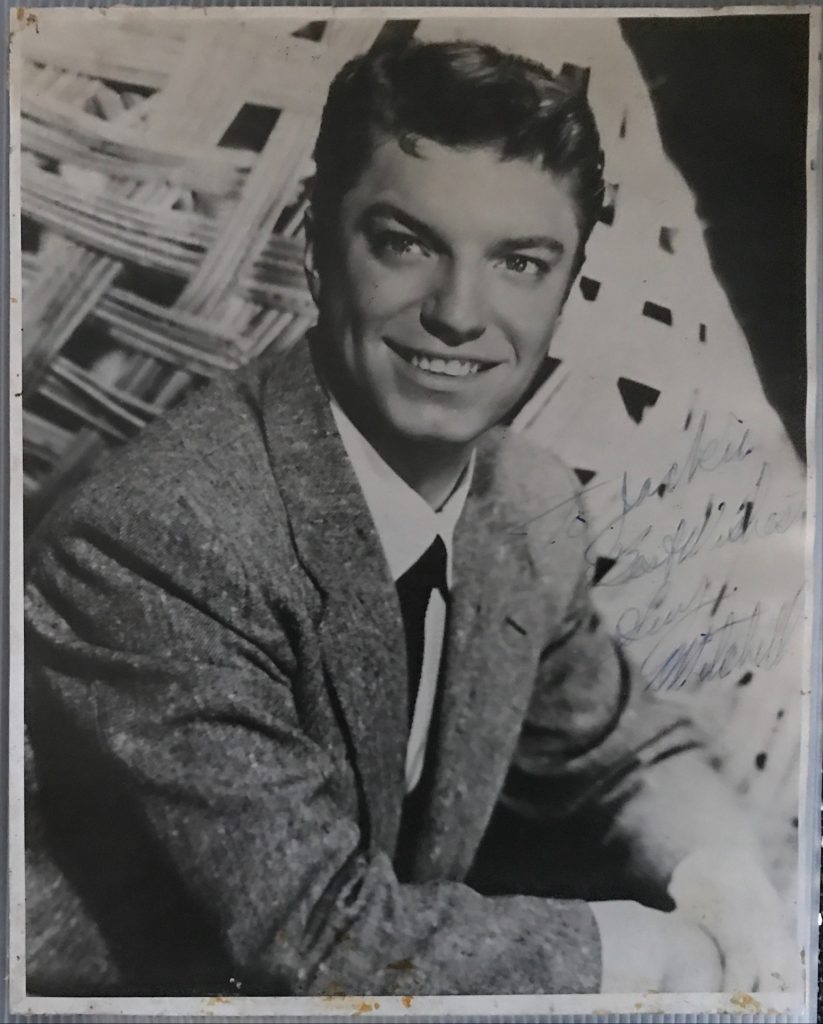 Guy Mitchell was a very popular singer in the 1950's who did go on to make a few movies.   He was born in 1927 in Detroit.   He was discoved by Mitch Miller of Columbia Records in 1950 and the following year had a hit record "My Heart Cries For You".   His songs were massive sellers and included "Truly Fair", "Pawnshop on the Corner", "She Wears Red Feathers" and "Singing the Blues".   Among his films was "Red Garters" with Rosemary Clooney.   Guy Mitchell died in 1999 at the age of 72.
His "Independent" obituary by Laurence Staig:
Guy MITCHELL was a crooner, a popular singing star noted for "novelty" hits which contained such memorable lines as "She wears red feathers and a hula-hula skirt" and "Heartaches by the number, troubles by the score"
He specialised in gimmicky, sing-along songs that wallowed in a bizarre kind of bouncy sentimentality. Sex and sensuality were taboo, love was a cheerful business. Even when heartache and sadness reared their heads they would be sung to an optimistic up-tempo beat. He courted a clean- cut, all-American image, seeing himself first and foremost as a family entertainer.
He was born Al Cernick in 1927 and grew up in Detroit, Michigan, his parents having emigrated from Yugoslavia to the United States. When interviewed by the New Musical Express in 1955, he declared that his new "basic goal in life" was to be less of a "good-time Charlie", and to work as hard as he could. "I'm also looking for a girl who likes to dance and laugh, and who loves children – because I want as many kids as possible!"
Mitchell began his show business career at an early age, working for the Warner Brothers studio before the war, as a child actor and singer. He emerged as a successful and popular entertainer. In 1945 he joined the US Navy for a short period before accepting an invitation to join the Carmen Cavallaro band as the featured vocalist the following year.
Winning an Arthur Godfrey Talent Scouts Award in 1949 ensured a record contract. By 1950 he had relinquished his acting career in favour of singing, and signed with Columbia under the direction and distinctive style of their head of A & R, the producer and avowed enemy of rock'n'roll Mitch Miller.
Mitchell's first hit was "My Heart Cries For You", adapted from a traditional 18th-century French melody by the bandleader Percy Faith. The song was a typical sentimental ballad, and Mitchell was in danger of being launched as yet another big-voiced balladeer. However, a distinctive and commercial style emerged when he recorded a version of a well-known English sea shanty, "The Roving Kind", the following year.
The song had first been recorded by the British folk group the Weavers. Mitchell's influence came from Jessie Cavanaugh and Arnold Stanton's version, originally titled "The Pirate Ship". His version was a great success, delivered with a lusty and jocular arrangement, owing more to the original sea-shanty style. Mitch Miller immediately recognised the potential of this successful formula and used it for most of Mitchell's subsequent records and hits, as well as the sing-along basis for his own songs. Miller had decided to model Mitchell's future style on the "folk-origin" element, a feature which had made "The Roving Kind" so popular.
The songwriter Bob Merrill was added to the team, and was asked to write songs for Mitchell modelled on Terry Gilkyson, who had provided Frankie Laine with the hit "The Cry of the Wild Goose". Merrill was a prolific writer, also well-known for his songs recorded by Patti Page and Rosemary Clooney. Together the trio were to produce an astonishing run of chart successes which was to ensure Mitchell's popularity. These included: "My Truly, Truly Fair" (1951) and "Pittsburgh, Pennsylvania" (1952), both million-sellers; "Sparrow in the Tree-Top" (1951) and "Feet Up (Pat Him on the Po-Po)" (1952) . He also had some success with a cover version of Hank Williams's "I Can't Help It".
Miller often featured in duets: with Rosemary Clooney in the song "You're Just in Love", taken from the Broadway musical hit Call Me Madam, and in a number of other songs with Mindy Carson and Paul Whiteman. He was frequently broadcast on radio.
His first No 1 hit in the UK came with Bob Merrill's "She Wears Red Feathers". This entered the British charts in March 1953 and remained there for four weeks. The song was more successful in Britain than in the United States, where it peaked at No 19. According to one critic the British success was because of the bizarre nature of the storyline, concerning an English banker's love for a hula-hula girl.
Mitchell gained another No 1 hit in September 1953 (for six weeks), with the Merrill-penned "Look at That Girl". The record was a flop in the US and marked the last real success of the Mitchell/ Merrill/Miller team. The catchy formula of the "Red Feather" song was repeated in 1954 with "Chick a Boom" (about a wealthy Eskimo lady), but the record only reached No 4 in the UK chart.
By the mid-1950s it appeared that Mitchell's folk-influenced successes and chart career were beginning to dry up, when he obtained his biggest success with a cover version of the Marty Robbins rhythm and blues-cum- country classic, "Singing the Blues".
Mitch Miller provided the Ray Conniff Orchestra as accompaniment, giving the song a very different feel to the jerky skiffle-rock treatment in an alternative version by the newcomer Tommy Steele. It had been written by the polio victim Melvin Endsley, who felt that the Steele version came closer to his intentions. Both were great successes, however, and in the United States the Mitchell version remained in the No 1 slot for over 10 consecutive weeks. According to the Guinness Book of Records, the song is one of the most successful ever recorded.
Mitchell continued to record in a country vein, but failed to achieve the same degree of success that he had attracted with his earlier jocular songs. His last big success was in 1959 with a cover of Ray Price's "Heartaches by the Number", written by Harlan Howard. He is probably best remembered for this song.
In the 1960s he recorded little and retired the following decade, although he continued to make appearances, and was a frequent visitor to Britain, his last UK tour being in 1996. In the summer of 1991 he undertook an Australian concert tour, but, whilst out riding at a friend's farm near Sydney, he was seriously injured when thrown from his horse.
For the past few years, he had been living and working in Las Vegas. His last record was "Dusty the Magic Elf", a children's record, in 1996, and at the time of his death, he was negotiating to make a Christmas album.
He was married three times: first to Jackie Loughery, a former Miss USA, in 1952; secondly to Elsa Soronson, formerly Miss Denmark, in 1956; and had recently celebrated 25 years of marriage to his third wife, Betty. Al Cernick (Guy Mitchell), singer: born Detroit, Michigan 22 February 1927; three times married; died Las Vegas, Nevada 2 July 1999.
The above "Independent" obituary can also be accessed online here.