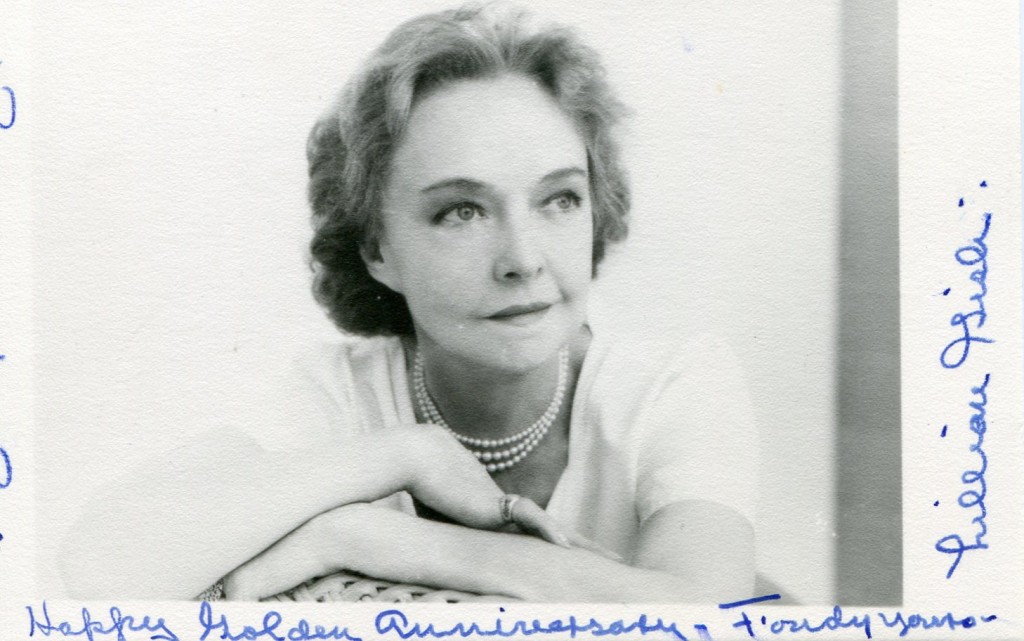 Lillian Gish was born in 1893 in Springfield, Ohio. She was a leading lady of the silent cinema and made many films with D.W. Griffith. In the 1940's she retunred to films as a character actress and had an amazingly long career. Her film highligfhts include "Duel in the Sun" with Jennifer Jones in 1946, "Portrait of Jeannie" again with Jennifer Jones, "Night of the Hunter" with Robert Mitchum and "Whales of August" with Bette Davis which she made at the age of 94. She died in her 100th year.
TCM Overview:
Having pioneered screen acting from vaudeville entertainment into a form of artistic expression, actress Lillian Gish forged a new creative path at a time when more serious thespians regarded motion pictures as a rather base form of employment. Gish brought to her roles a sense of craft substantially different from that practiced by her theatrical colleagues. In time, her sensitive performances elevated not only her stature as an actress, but also the reputation of movies themselves. Her finest work came in the silent era, when she was dubbed The First Lady of the Silent Screen, thanks in large part to her many collaborations with director D.W. Griffith, which included "The Birth of a Nation" (1915), "Intolerance" (1916), "Broken Blossoms" (1919) and "Way Down East" (1920). In the 1920s, Gish was one of the most powerful performers in early Hollywood and signed a lucrative contract with MGM to star in more serious fare like "La Boheme" (1926), "The Scarlet Letter" (1926) and "The Wind" (1928); the latter of which marked what many considered to be her finest performance. With the advent of sound, Gish stepped away from the screen in favor of the Broadway stage, only to make intermittent supporting appearances in films like "Duel in the Sun" (1947), which earned the actress her only Oscar nomination. Throughout the 1950s and 1960s, she appeared on stage and television, as well as in film, suiting herself with a wide range of supporting roles. As her career wound down in the 1970s and 1980s, Gish pulled off one last great performance opposite an equally elderly Bette Davis in "The Whales of August" (1987), which helped stake her claim as being one of the greatest actresses of any era.
Born on Oct. 14, 1893 in Springfield, OH, Gish was raised by her father, James, a traveling salesman and her mother, Mary, a former actor and department store clerk. Before she ever really knew him, her alcoholic father abandoned the family and later died in 1912. Because her mother acted to support the family, Gish and her sister Dorothy were introduced to the stage at an early age. As a child, she made her stage debut in a tour of the play "In Convict Stripes" (1902) and was subsequently replaced by a young actress named Gladys Smith, who went on to become friend and early Hollywood star Mary Pickford. While acting, she continued with her education, attending several schools in Massillon, OH, from 1904-09, until settling in at the convent boarding school Ursuline Academy in East St. Louis, MO. In 1912, Gish moved with her mother and sister to New York City, where they were introduced by Pickford to director D.W. Griffith, who was so taken by both young actresses and their fragile beauty, that he brought them into the fold at the Biograph Company.
While Griffith's contributions to cinema have been well-documented, his association with Lillian Gish was one of those rare times when two visions combined to revolutionize an art form. Gish was a firm believer in art as a higher ideal; she did not consider acting to be a mere profession. She soon came to share her director's opinion that film was a legitimate medium which inherently possessed more potential for artistic expression than the stage, and the pictures Griffith and Gish made together over nine years bore witness to that conviction. She made her film debut alongside Dorothy in Griffith's silent short, "An Unseen Enemy" (1912), and went on to star in a number of the director's early work including "The Painted Lady" (1912), "The Musketeers of Pig Alley" (1912) and "The Burglar's Dilemma" (1912). Though she was working steadily in film, Gish found the time to return to the New York stage for "A Good Little Devil" (1913), which starred Mary Pickford and was directed by David Belasco.
Of course, Gish continued to work almost exclusively with Griffith, starring in a number of films that year including "The Unwelcome Guest" (1913), "The House of Darkness" (1913), and "The Mothering Heart" (1913), in which she played a pregnant wife deserted by her husband who loses her baby after giving birth. It was in challenging roles like "The Mothering Heart" that Gish was able master the art of restraint in her acting, particularly in close-ups, which became a hallmark of her technique. Unlike the arm-waving, eyelid-fluttering histrionics engaged in by other actresses – a method carried over from stage productions – Gish used small yet meaningful gestures to great effect. Meanwhile, she went to work with other directors like Christy Cabanne and Dell Henderson, starring in "During the Round-Up" (1913) and "A Modest Hero" (1913). But it was her continued work with Griffith that she best able to perfect her skills while helping the director elevate his craft with such memorable films as his groundbreaking epic "The Birth of a Nation" (1915), "Hearts of the World" (1917) and "Broken Blossoms" (1919). The last film featured her in a discomforting scene where she displayed a variety of emotions while getting beaten to death by her abusive father (Donald Crisp).
Gish made several more pictures with Griffith, most notably "Way Down East" (1920) and "Orphans of the Storm" (1921), the former of which featured her most lasting image: floating unconscious on ice while heading for a waterfall. In fact, this iconic scene was so dangerous to shoot that, until the day she died decades later, Gish's right hand was impaired due to keeping it in the icy water for hours at a time to get the shot. At this point, she had earned a reputation for being able to wield great power and began taking more control of her career. She made two films for Inspiration Pictures before signing a five-picture deal with MGM in 1925. Because Gish's star image was intimately linked to her capabilities as a serious actress, MGM placed her in a series of literary adaptations, including "La Boheme" (1926), in which she played the consumptive Mimi, and "The Scarlet Letter" (1926), where she was the adulterous Hester Prynne. Unfortunately, with her prestigious stature came rising production costs, which cut into the profit margins of her pictures. Gish's best MGM film was "The Wind" (1928), a harrowing story of a genteel woman who is brutalized by a stranger in West Texas before shooting him and going mad. It was not only her last great performance in silent pictures, it would sadly also be her last successful starring role altogether.
By the end of the 1920s, a new type of modern heroine, exemplified by Greta Garbo, Joan Crawford and Clara Bow, was in vogue, Gish's appeal was now regarded as somewhat prudish and dated. With the onset of talkies, she returned to Broadway to star alongside Osgood Perkins in a production of Anton Chekhov's "Uncle Vanya" (1930). After enjoying a stage triumph with "Camille" (1932), Gish made her last film for nearly a decade, "His Double Life" (1933), before concentrating solely on the stage. She returned to Broadway for a production of "Within the Gates" (1934), staged by Melvyn Douglas, before starring in "The Old Maid" (1936), Zoe Akins' adaptation of Edith Wharton's 1925 novel, The Mother's Recompense. Gish next played Ophelia in John Geilgud's staging of "Hamlet" (1936), before making stops in Baltimore and Chicago on a tour of "Life with Father" (1940). Almost a decade removed from the screen, Gish returned to films with a supporting turn in the war movie "Commandos Strike at Dawn" (1942), starring Paul Muni and Anna Lee. Following roles in "Top Man" (1943) and "Miss Susie's Slagle's" (1946), Gish achieved screen prominence again with her supporting performance in the David O. Selznick-produced Western "Duel in the Sun" (1947), which earned the actress her only Academy Award nomination.
Though she recaptured her onscreen acclaim, Gish instead opted to make another return to the stage, this time starring opposite famed actor and teacher Sanford Meisner in "Crime and Punishment" (1947). After co-starring opposite Jennifer Jones in "Portrait of Jennie" (1948), Gish made her television debut in the "Philco Television Playhouse" presentation of "The Late Christopher Bean" (NBC, 1949). During this time, Gish was comfortable going back and forth between stage and screen, starring in "The Autobiography of Grandma Moses" (CBS, 1952) and originating the role of Carrie Watts in Horton Foote's teleplay for "The Trip to Bountiful" (NBC, 1953), which she reprised later that year on Broadway; both television special and stage production were directed by Vincent Donohue. After playing the maternal god-fearing Rachel Cooper in Charles Laughton's thriller "The Night of the Hunter" (1955), starring Robert Mitchum and Shelley Winters, Gish toured with sister Dorothy in "The Chalk Garden" (1956) before appearing in Berlin for "Portrait of a Madonna" (1957), a one-act written by Tennessee Williams that the playwright wrote for her and served as a prototype for his most famous character, Blanche Du Bois. Williams' one-act was actually part of a double bill for Gish, who also starred alongside Burgess Meredith in "The Wreck on the 5:25" (1957) by Thornton Wilder.
Gish made her directing debut with a stage production of "The Beggar's Opera" (1958) and returned to the silver screen for a supporting turn in the John Huston Western "The Unforgiven" (1960), starring Burt Lancaster and Audrey Hepburn. She next appeared in the award-winning Broadway production of Tad Mosel's "All the Way Home" (1960), acted in a small screen version of "The Spiral Staircase" (NBC, 1961), and starred as Mrs. Moore in a Chicago staging of E.M. Forster's novel "A Passage to India" (1963). Even into her seventies, Gish found new ways to break personal ground when she made her Broadway musical debut as the Russian Dowager Empress in "Anya" (1965), which was based on the Ingrid Bergman-Yul Brenner drama "Anastasia" (1956). Following a featured role in the Disney movie "Follow Me Boys!" (1966), she co-starred alongside Richard Burton and Elizabeth Taylor in "The Comedians" (1967). She returned to Broadway the following year to co-star in "I Never Sang for My Father" (1968) before being featured in a Mike Nichols-directed version of Chekhov's "Uncle Vanya" (1970), starring George C. Scott and Julie Christie.
Gish's career wound down in the next decade, which began when she received an Honorary Academy Award in 1971 for her lifetime of achievement. A few years later, she delivered her final Broadway performance in "A Musical Jubilee" (1975) while hosting the series "The Silent Years" (PBS, 1975), which showcased films from the silent era. After appearing as a family matriarch who passes away in Robert Altman's "A Wedding" (1978), she made appearances in television movies like "Thin Ice" (CBS, 1981) and "Hobson's Choice" (CBS, 1983). Gish next starred in the ill-advised "Hambone and Hillie" (1984) before making her last television appearance, playing Mrs. Loftus in the four-part miniseries "The Adventures of Huckleberry Finn" (PBS, 1985). The following year, she was cast as the aged mother of a history professor (Alan Alda) in the comedy "Sweet Liberty" (1986) and made her final film appearance opposite Bette Davis in "The Whales of August" (1987), in which both played a pair of aged sisters. Gish delivered one of the best performances of her long career, only to be disappointed when the Academy failed to nominate her for an Oscar. Meanwhile, she made her last professional appearance with a cameo in Jerome Kern's "Showboat" (1988), where she delivered her last-ever line, "Good night, dear." Settling into retirement, Gish eventually passed away from natural causes on Feb. 27, 1993 at 99 years old. She left her estate to old friend and actress, Helen Hayes, who died less than a month after Gish.
The above TCM overview can also be accessed online here.