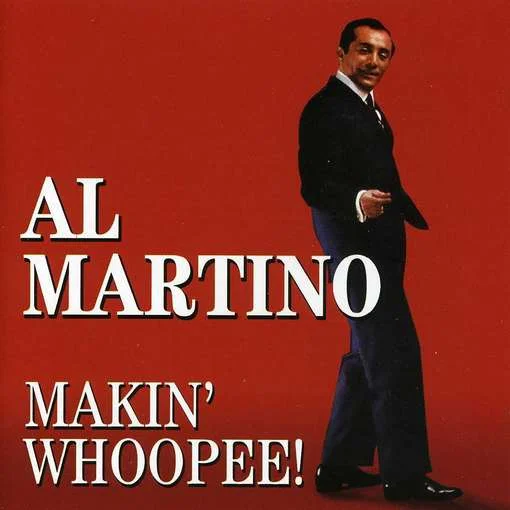 Al Martino was one of the great American popular singers of the past sixty years.   He was born in 1927 in Philadelphia.   He has had numerous Top Ten hists including ""Here In My Heart", "The Story of Tina", "Spanish Eyes" and "Mary in the Morning".   He was featured in "The Godfather" in 1971 and "The Godfather 3.   Al Martino died in 2009.
Michael Freedland's obituary in "The Guardian":
A million young girls believed Al Martino, who has died aged 82, had a place reserved for them when he sang the hit ballad Here in My Heart. He warbled I Love You Because and they had no doubt that he was making a personal statement for their ears only. Such was the power of an early 1950s pop star in a more innocent age when words and melody seemed to mean something.
Martino entered the Guinness Book of Records by having, in 1952, the first No 1 record in the newly launched UK singles chart. Here in My Heart remained at No 1 for nine weeks. He also had 34 "Hot 100" entries in the American hit parade between 1959 and 1977. I Love You Because and I Love You More and More Each Day were both in the Top 10. Hits were very much Martino's business, most of them revealing the fact that he was in love with a mysterious girl.
There was a time when it seemed that Martino was destined to be the new Frank Sinatra, not least because he first enjoyed success at precisely the time that Sinatra's career was at a low ebb. The Sinatra connection continued when, in 1972, Martino appeared in the Oscar-winning film The Godfather as Johnny Fontane, a nightclub singer and aspiring actor whose lagging career is given a helping hand by the mob. Fontane's godfather, Don Vito Corleone (played by Marlon Brando), arranges for a horse's head to be placed in the bed of a Hollywood mogul to ensure a movie role for his godson. Martino can be seen performing I Have But One Heart (O Marenariello) in the film's opening wedding scene.
For years it was widely believed that Fontane was based on Sinatra, who, it was alleged, got his own big movie break in From Here to Eternity (1953) thanks to mafia intervention. However, research has disclosed that it was not Sinatra who brought in the mafia, but Martino's near namesake, Dean Martin, another Italian-American singer enjoying his first hit records. Their voices were at times remarkably similar, except that Martino's style was more full-throated than the laidback "Dino" approach. When Martino sang Spanish Eyes in 1965, another of his successful singles, he might easily have been mistaken for Martin, who was even at one time wrongly said to be Martino's brother.
He was born Alfred Cini in Philadelphia. When he left school, he entered the family's construction business, and in the evenings sang in clubs and bars near his home – a fairly conventional way for singers to get noticed. Like Sinatra, Martino won a contest – in his case, Arthur Godfrey's Talent Scout Show.
Mario Lanza, the operatic tenor who became a pop idol, was a friend of the family and persuaded the young Al to take up singing professionally. Martino recorded Here in My Heart for the BBS label, and it was distributed internationally by Capitol, with huge success.
His version of the Italian ballad Volare was big not only in the US, but in Italy too – a coals-to-Newcastle triumph of amazing proportions. The song reached the top of the charts across Europe in 1975.
In the glory days of the vinyl LP, Martino had a string of albums that sold extraordinarily well. In Britain, he was billed as "America's answer to Val Doonican", a compliment if ever there was one.
He is survived by his wife, Judi, son Alfred and daughter Allison.
• Alfred Cini (Al Martino), singer, born 7 October 1927; died 13 October 2009
• This article was amended on 15 October 2009. The original stated that Martino was born Alfred Cini Martino, that he recorded Here in My Heart for the Capitol record label, that his version of Volare was released in 1956, and that Bert Kaempfert wrote Spanish Eyes for him. This has been corrected.
The above "Guardian" obituary can also be accessed online here.