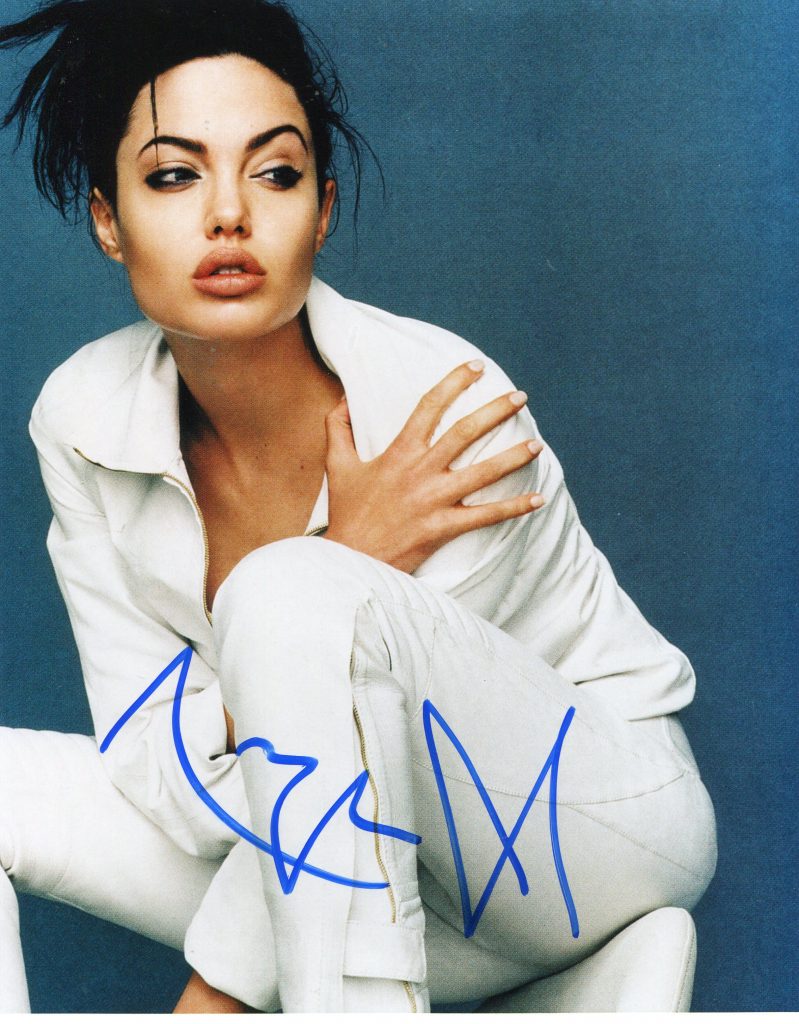 Anjelina Jolie was born in 1975 in Los Angeles. She is the daughter of noted film actor Jon Voight. In 1999 she won an Academy Award for Best Supporting Actress for her performance in "Girl Interrupted". Among her other films are "Lara Craft, Tomb Raider" and "Mr & Mrs Smith". She is married to actor Brad Pitt.
TCM overview:
From Hollywood wild child to Academy Award winner to U.N. Goodwill Ambassador, actress Angelina Jolie underwent a series of metamorphoses over the course of her much-storied life and career. Both strikingly beautiful and exceedingly talented, Jolie – who was the daughter of Jon Voight – earned her first acclaim in the television movie "Gia" (HBO, 1998). She quickly developed a reputation for her outrageous off-camera antics, leading to a tabloid fascination that blossomed with her high-profile marriage to Billy Bob Thornton. After winning the Oscar for "Girl, Interrupted" (1999) and starring in "Lara Croft: Tomb Raider" (2001), Jolie transformed herself into a celebrity humanitarian, traveling to war-torn parts of the world like Cambodia and Darfur. Around that time, she adopted an orphaned child from Cambodia, setting a precedent for other high-profile adoptions from Ethiopia and Vietnam. All throughout, Jolie continued to star in a wide variety of films like "The Good Shepherd" (2006), "A Mighty Heart" (2007), "Changeling" (2008), "Wanted" (2008) and "Salt" (2010). Despite critical debacles like "The Tourist" (2010), Jolie maintained her status as one of Hollywood's most bankable actresses.
The daughter of actors Jon Voight and Marcheline Bertrand, Angelina Jolie (Voight) was born on Jun. 4, 1975 in Los Angeles. Like her older brother by two years, director James Haven (Voight), Jolie seemed destined for a career in the arts. At the age of 11, she began studying at the famed Lee Strasberg Theater Institute in New York City. Even before commencing her formal training, Jolie made her screen debut as a tyke in a bit part in the Hal Ashby-directed comedy "Lookin' to Get Out" (1982). While reviewers savaged the movie – which was co-scripted and co-produced by her father – its littlest thespian fortunately emerged unscathed. The experience briefly turned young Angelina off of show business – she even briefly considered going into funeral directing for a time – but because it was in her blood, she eventually bounced back.
With two extremely photogenic parents, it came as no surprise that Jolie inherited gorgeous good looks, with her most striking being her lush lips which made her a standout from all other young girls. Her comeliness allowed her to segue back into show business, first as a professional model, and later, as an actress in music videos. In addition to appearing in five student films directed by her older brother, Jolie became a member of the Los Angeles Metropolitan Theatre Company, where she honed her craft alongside such veteran players as Holly Hunter, Ed Harris and Amy Madigan. Jolie made her return to the screen playing a heroic human/machine hybrid in the above-average direct-to-video sci-fi actioner, "Cyborg II: Glass Shadows" (1993), but the entry went virtually unnoticed by critics. Luckily, her flashy role as Kate (a.k.a. 'Acid Burn') in the cyber-thriller "Hackers" (1995) garnered her more attention and better notices. Paired with rising young British actor Jonny Lee Miller, Jolie played a teen computer whiz battling an evil genius. "Hackers" fizzled at the box office, but the romantic leads sizzled – both onscreen and off. Jolie and Miller's chemistry eventually culminated in their wedding in 1996. Though the two would divorce just three years later, Jolie and Miller would remain close friends even after their break-up.
More film work readily followed for Jolie, initially in small-scale character-driven indies. In an indifferently received adaptation of Joyce Carol Oates' novel "Foxfire" (1996), Jolie played a mysterious outsider named Legs Sadovsky – described in Variety as "sort of a female James Dean" – who helps some other teenaged girls stand up for their rights. In Renee Taylor and Joseph Bologna's romantic comedy-drama "Love Is All There Is" (1996), Jolie displayed a humorous and innocent light as half of a pair of star-crossed lovers divided by their families' feud. That same year, the actress appeared in the high-minded suspense drama "Without Evidence," playing a drug-addicted teen, and "Mojave Moon," opposite Danny Aiello. Next came "Playing God" (1997), in which Jolie capably essayed a woman torn between her gangster boyfriend (Timothy Hutton) and a discredited doctor (David Duchovny) in his employ. While the films remained largely unseen by most moviegoers, Jolie received strong notices for each of these projects.
Unlike many feature stars, Jolie showed no compunction about working on the small screen. Case in point: during the late 1990s, the actress appeared in a handful of exceptional made-for-TV productions that effectively allowed her to strut her stuff on her own terms. In 1997, Jolie received top notices for her co-starring turn alongside Annabeth Gish and Dana Delaney as Texas pioneers in the 1997 CBS historical miniseries, "True Women." Jolie then brought a fiery passion to her portrayal of Cornelia Wallace, the politician's first wife, in the biographical miniseries "George Wallace" (TNT, 1997). But it was her dazzling turn as another real-life figure – the late supermodel Gia Carangi – that catapulted Jolie into the public consciousness. Jolie's brave, sensitive performance as the drug-addicted, AIDS-stricken title character in HBO's excellent biopic "Gia" (1998) brought the beauty widespread critical acclaim. For her efforts, Jolie was twice Emmy-nominated in the supporting category for "George Wallace," which she lost to co-star Mare Winningham, and in the leading category for "Gia," which she ended up losing to Ellen Barkin. Fortunately, Jolie received more-than-adequate consolation for her Emmy losses by picking up two back-to-back Golden Globe Awards for both performances.
After this spate of acclaimed television appearances, Jolie found her way back into in films, landing roles that similarly showcased her acting strengths. In 1998, Jolie received special notice for her work in the comedy-drama "Playing By Heart" (1998), as Joan, an outgoing club kid smitten with the sullen Keenan (Ryan Phillippe). Vivid and engaging, Jolie easily held her own among an ensemble cast featuring such luminaries as Gena Rowlands and Sean Connery. The following year, the actress joined John Cusack and Billy Bob Thornton in Mike Newell's Big Apple-set comedy about air traffic controllers, "Pushing Tin" (1999). Jolie later got her feet wet in the increasingly crowded crime-drama pond playing a tough rookie cop assisting a quadriplegic detective (Denzel Washington) in "The Bone Collector" (1999), a flawed, but well-acted serial killer thriller directed by Philip Noyce. Jolie finally rounded out the year by landing the much sought after co-starring role of the disturbed Lisa Rowe in "Girl, Interrupted." Based on author Susanna Kaysen's best-selling memoir of her own two-year stay in a psychiatric hospital, Jolie's showy turn as the sociopathic inmate netted Jolie a Best Supporting Actress Oscar.
The actress continued portraying tough young women on the big screen. In the flashy but unfulfilling car heist thriller "Gone in 60 Seconds" (2000), Jolie crackled in scenes even opposite notorious scene-stealing star, Nicolas Cage. Jolie's next project was as the flesh-and-blood embodiment of the titular adventuress in "Lara Croft: Tomb Raider" (2001). Based on the wildly popular "Tomb Raider" video game franchise, Lara Croft launched an Indiana Jones-style adventure series which failed to impress critics, but racked up a healthy box office take. The film also marked Jolie's first adult collaboration with her father, Jon Voight, who played her character's father in the film.
Back on the career front, Jolie seemed a bit unfocused in her next two features. Starring opposite Antonio Banderas in the dismal noir-wannabe "Original Sin" (2001), Jolie came off less than committed, despite some steamy erotic sequences. Her follow-up, the dramatic vehicle "Life or Something Like It" (2002), in which she played a superficial, platinum blonde newscaster forced to examine her existence more closely, also died quickly. J
The actress returned to familiar territory for her comeback screen vehicle, the sequel "Lara Croft Tomb Raider: The Cradle of Life" (2003), a lackluster follow-up to a lackluster first outing. Reflecting their off-screen internecine tensions, Voight, did not reprise his role in this second follow-up. "Cradle of Life" was followed by a turn in the too-righteous political/romantic drama "Beyond Borders" (2003). After this came a dangerous foray into Ashley Judd territory with a starring role in the routine thriller "Taking Lives" (2004), in which Jolie played an FBI profiler caught up in dangerous and erotic intrigue. Signing up for another purely commercial vehicle, the actress adopted another rich accent as she cheekily played the eye patch-sporting Captain Frankie Cook, the leader of an all-female amphibious attack squadron, in the retro action-adventure "Sky Captain & the World of Tomorrow" (2004). Cast opposite Jude Law and fellow Oscar winner, Gwyneth Paltrow, Jolie joined the CGI-laden action-adventure battling giant robots in an Art Deco environment. Jolie then lent her voice to the finny femme fatale, Lola, in DreamWorks' CGI-animated underwater underworld opus "A Shark's Tale" (2004). Finally, Jolie closed out the year with a bizarrely seductive turn as Alexander's mother, Olympias, who raises her son to believe in his impressive destiny, in Oliver Stone's historical epic, "Alexander the Great," which bombed at the box office.
Jolie's profile as both a movie star and public figure rose to even more epic proportions when she co-starred with the equally lovely actor Brad Pitt in the Doug Liman-helmed actionfest "Mr. & Mrs. Smith" (2005). In it, the actors played a bored married couple who are actually rival assassins, each hired to kill the other.
Taking a page from the playbook of the late Audrey Hepburn, Jolie began using her celebrity status to bring attention to such humanitarian causes as the plight of violence-torn nations – something she began doing around the time she made "Lara Croft: Tomb Raider." As their relationship gradually emerged in the public eye, Pitt began to accompany Jolie on her missions of mercy to third world nations and grow ever more attached to her son, Maddox. Away from the screen, Jolie expressed a dedication and commitment to increasing awareness and aid to counties devastated by internal and external conflicts, disease and third world conditions. In 2001, after the actress made several trips to the war-torn nations of Sierra Leone, Tanzania and Pakistan, Jolie had been appointed Goodwill Ambassador for the United Nations High Commissioner for Refugees. It was during one of these trips that in 2005, she adopted an infant daughter from an Ethiopian orphanage whom she named Zahara. Later that year, surprising the world at large, Pitt petitioned to adopt the two children as his own. A year later, on May 27, 2006, Jolie and Pitt welcomed their biological firstborn child into the world, daughter Shiloh Nouvel Jolie-Pitt. Clearly serious about starting a family, in March 2007, Jolie and Pitt made headlines once again by adopting a fourth child, a three-year-old boy from Vietnam whom they named Pax. And no one was surprised when the couple gave birth to twins Vivienne and Knox in 2008.
Returning to the big screen later that summer, Jolie next starred as Marianne Pearl, the wife of murdered journalist Daniel Pearl, in the gripping drama "A Mighty Heart" (2007). Though Jolie's casting initially sparked a furor of controversy among minority groups, as Marianne Pearl was of Afro-Cuban/Dutch ancestry, much of the complaints dissipated upon the film's release. Hailed by many as quite possibly the boldest performance of her career, Jolie's portrayal of Marianne Pearl was rooted in dignity and reflected a tragic truthfulness free of exploitative sentimentality. Unfortunately, the serious film was released during the summer box office season, rendering it lost amidst all the big-budget special effect movies. Also that year, Jolie became a member of the Council on Foreign Relations, then received the International Rescue Committee's annual Freedom Award for her contributions to the cause of refugees and human freedom.
Back on the big screen, Jolie starred in the high-action comic book thriller, "Wanted" (2008), playing a supersensory assassin who mentors an office-bound wimp (James McAvoy), turning him into a highly skilled member of a centuries-old order of hit men. Following a leading voice role as Tigress in the blockbuster animated family comedy, "Kung Fu Panda" (2008), Jolie returned to Oscar-caliber form with "Changeling" (2008), a period thriller inspired by true events directed by Clint Eastwood. Jolie played a distressed mother taking on the Los Angeles Police Department in 1928 when her son mysteriously reappears after having gone missing. Sure that the boy is not her son and in search of answers, she fights a corrupt bureaucracy that tries to publicly declare her unfit and delusional. Jolie's strong performance earned her nominations at both the Golden Globes and Academy Awards for Best Actress.
Jolie returned to blockbuster prominence as the star of "Salt" (2010), a fast-paced spy thriller in which she played a dedicated CIA agent forced to go on the run after she is accused of being a Russian mole. A box-office hit during a busy summer, "Salt" was notable for being originally written for a male lead. She next starred in another espionage thriller, "The Tourist" (2010), playing a mysterious British woman who pulls an unwitting American (Johnny Depp) vacationing in Italy into a whirlwind of intrigue and danger. Though attractively filmed, "The Tourist" was blasted by most critics for its slow plot and lack of chemistry between the leads. Regardless, the movie earned unexpected Golden Globe nominations for both Jolie and Depp. After once again voicing Tigress in "Kung Fu Panda 2" (2011), she made her directorial debut with "In the Land of Blood and Honey" (2011), a love story between a Serbian soldier (Gora Kostic) and a Bosnian prisoner (Zana Marjanovic) that played out against the backdrop of the Bosnian War. Also in 2011, Jolie was recognized for her decade of service as the U.N.'s Goodwill Ambassador, while the following year she and Pitt announced their official engagement in April.