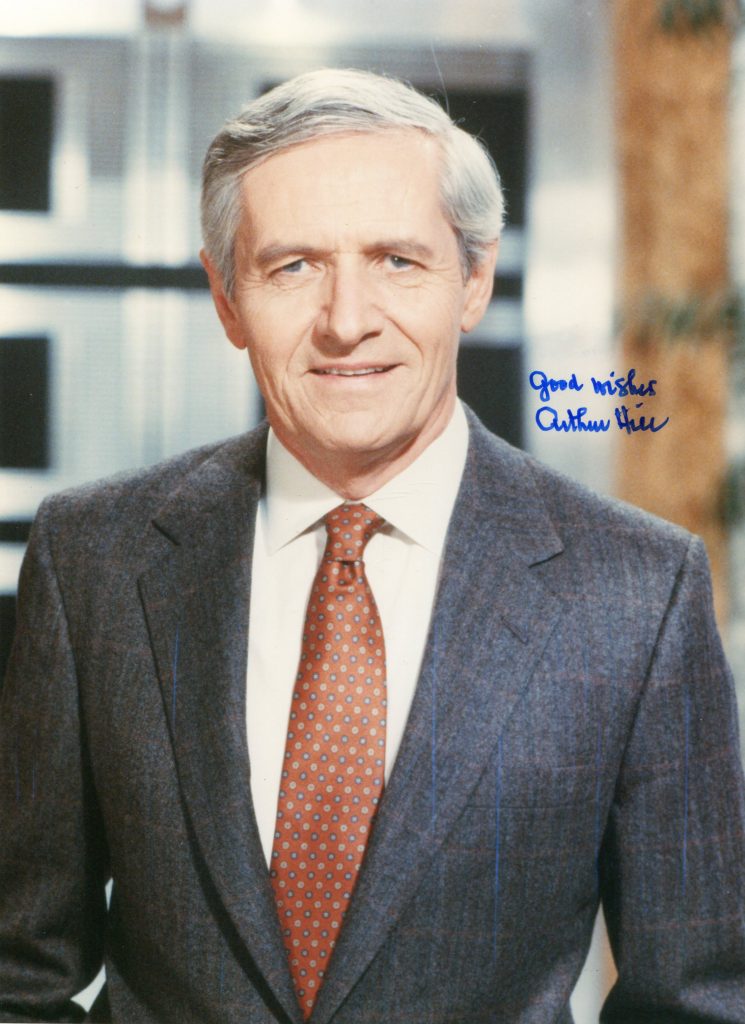 Arthur Hill was born in 1922 in Saskatchewan, Canada.   He began his career in Britain and appeared in such English films as "Penny Princess" in 1952, "Life With the Lions" and "The Deep Blue Sea! with Vivien Leigh.   By 1957 he was in the U.S. and starred in mnay of the plays been shown on television.   His Hollywood films included "The Young Doctors" with Ben Gazzara and Ina Balin in 1961, "Moment to Moment" with Jean Seberg and Honor Blackman and "Harper" with Paul Newman and Lauren Bacall.   His last role was as a guest star in an 1990 episode of "Murder She Wrote" with Angela Lansbury.   He died in 2006 at the age of 84.
His "Independent" obituary:
The Canadian actor Arthur Hill, who created the role of the unhappily married college professor George in Edward Albee's Who's Afraid of Virginia Woolf? both on Broadway and in London, was a dependable player who had other Broadway triumphs as Ben, the hero's frail brother, in Look Homeward, Angel, and the ill-fated father in All the Way Home. On screen, he had notable roles in Harper and The Andromeda Strain, and his countless television performances included the leading role in the series Owen Marshall, Counsellor-at-Law.
The son of a QC, he was born in Melfort, Saskatchewan, in 1922, and educated at the University of British Columbia, with the intention of following his father into the legal profession. After serving as a mechanic with the Royal Canadian Air Force in the Second World War, he returned to university, where his involvement with college plays engendered acting ambitions.
After touring Canada with a community theatre group, he moved to London, where he made his professional début at the Wimbledon Theatre in Arthur Laurents' play Home of the Brave (1948), an indictment of racial prejudice. Hill played Finch, a soldier serving in the South Pacific with his boyhood friend, a Jew who is persecuted by a bigoted corporal. Hill moved with the play to the Westminster Theatre, where it was retitled The Way Back. (When filmed under its original title by Stanley Kramer in 1949, the oppressed soldier was made a black man, and Hill's role was played by Lloyd Bridges.)
Hill made his screen début in Val Guest's Miss Pilgrim's Progress (1949), starring Guest's wife, Yolande Donlan. Guest later recalled,
I surrounded Yolande with my usual rep company and one newcomer, a good-looking young Canadian to play the US Consul. His name was Arthur Hill, it was his very first film, and it turned out to be a milestone for him. Not only was he inducted into our rep but later it led to him playing opposite Yolande in Garson Kanin's play The Rat Race for the BBC, and that in turn impressed Kanin enough to get him cast in the play The Matchmaker, which was to take him to Broadway . . .
Hill appeared in three more Guest movies, Mr Drake's Duck (1950), The Body Said No (1950) and Life with the Lyons (1954), and other early films included I Was a Male War Bride (1949), Paul Temple Returns (1952) and The Deep Blue Sea (1955, based on Terence Rattigan's play), in which Hill played the chum of Kenneth More, a feckless RAF pilot.
His roles on the London stage included small parts in The Male Animal (1949), Man and Superman (1951) and Winter Journey (1952), after which he was cast in the prominent role of the adventurous store clerk Cornelius Hackl in Thornton Wilder's The Matchmaker (1954) at the Theatre Royal, Haymarket, with Ruth Gordon (Garson Kanin's wife) playing the matchmaking Dolly Levi. When the play went to Broadway in 1955, Hill went with it and was hailed in the New York Herald Tribune as "enormously gifted".
He then played Ben Gant in Ketti Fring's fine adaptation of Thomas Wolfe's 1929 autobiographical novel Look Homeward, Angel (1957), giving a touching performance as the hero's delicate brother whose death proves cathartic. The hit drama ran for over 500 performances. He gave another acclaimed performance in Tad Mosel's All the Way Home (1960), also based on an autobiographical novel – James Agee's poignant Pulitzer Prize-winning A Death in the Family (1957) – in which Hill portrayed a happy-go-lucky inhabitant of a small Tennessee town in 1915, whose happy life with his Catholic wife and their son ends when he is killed in a car accident. (Robert Preston played Hill's role in the film version.)
Who's Afraid of Virginia Woolf? (1962) was to prove his greatest personal success, winning him both the Tony Award and the Drama Critics Award as best actor for his indelible portrayal of a quiet, browbeaten college professor married to a frustrated, foul-mouthed woman (Uta Hagen) who constantly reminds him of his lack of achievement. When they invite a young couple, newly arrived on the campus, for drinks, the evening descends into a drunken session of sado-masochistic invective. The New York Times lauded his "superbly modulated performance built on restraint as a foil to Miss Hagen's explosiveness". With Hill and Hagen repeating their roles, the play triumphed at London's Piccadilly Theatre in 1964.
On screen he was seen giving quietly authoritative performances in The Ugly American (1962) and as Jane Fonda's doting husband in In the Cool of the Day (1963). In the complex thriller Harper (1960), he had a rare villainous role as the duplicitous lawyer friend of private detective Paul Newman. Robert Wise's cult sci-fi movie The Andromeda Strain (1970) starred him as one of four scientists investigating a mysterious virus that has killed most of the population of a small desert town, and in Richard Attenborough's account of the Arnhem disaster, A Bridge Too Far (1977), he had a small but telling role as an American medical colonel.
He made numerous appearances on television, guesting in such shows as Alfred Hitchcock Presents, Mission Impossible, The Fugitive and The Untouchables, and he had a long-running hit from 1971 to 1974 when he starred in Owen Marshall, Counsellor at Law. His character, a compassionate defence attorney who always displayed warmth and consideration for the accused, was admired by real-life legal associations and the series won several public-service awards.
Arthur Hill retired after acting in a Murder She Wrote episode, "The Return of Preston Giles", in 1990.
The above "Independent" entry can also be accessed online here.