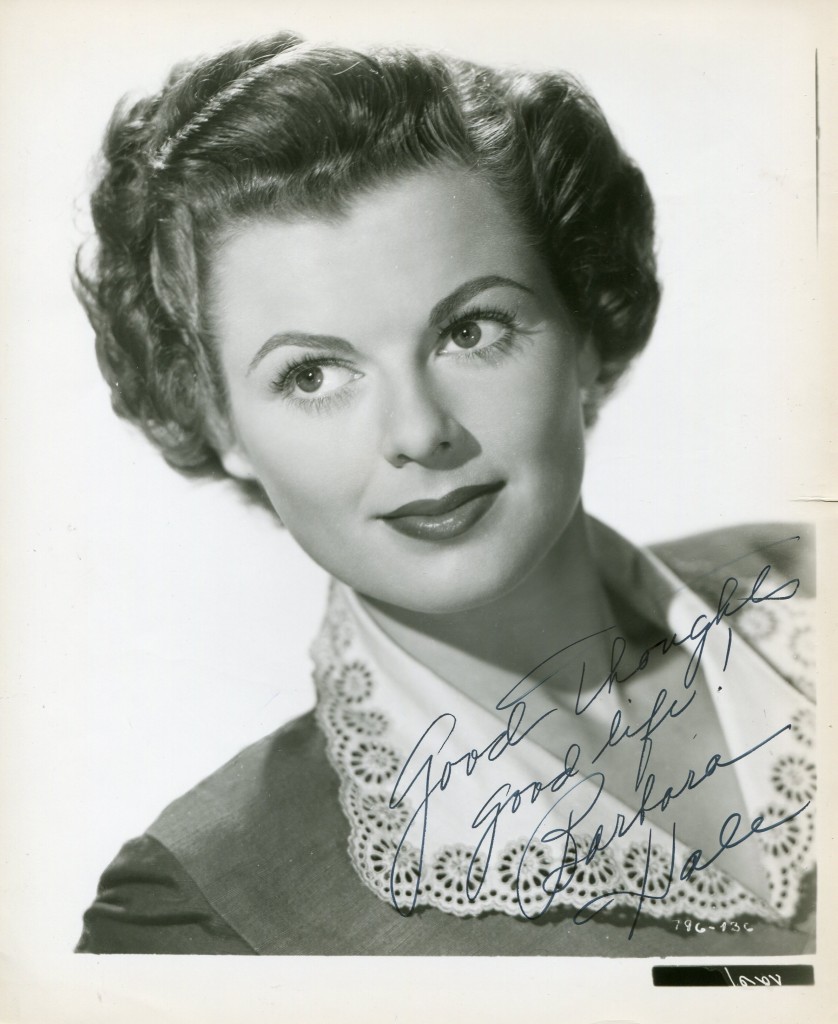 Barbara Hale obituary in "The Guardian" in 2017.
In the hugely successful US television series Perry Mason (1957-66), Barbara Hale, who has died aged 94, played Della Street, Mason's secretary. She reprised the role in 29 TV movies between 1985 and 1995. Della's indefatigable calm and poise established her as a partner to the LA lawyer Mason (Raymond Burr) and his investigator, Paul Drake (William Hopper). Although Hale's all-American girl-next-door looks had seen her cast typically as supportive wives in her film career, in Perry Mason she was a single career woman, who out-bantered Drake's flirtatious advances in almost every episode. "When we started it was the beginning of women not working at home," she said. "I liked it that she was not married."
The series was a triumph of casting. William Talman, as the always-losing district attorney Hamilton Burger, and Ray Collins, as the police detective Arthur Tragg, were great character actors. Mason's creator, Erle Stanley Gardner, reportedly leaped from his chair during test screenings for Burr, a classic film noir heavy, shouting "that's Perry Mason". Although publicists tried to promote the idea of a romance between Burr and Hale, in reality he lived with a man, though he and Hale became devoted friends, with a common love of horticulture. Burr bred orchids, and named one after his co-star.
Hale's role in Perry Mason was not big in terms of screen time – she joked that she basically had six scenes and costume changes to denote the changing of days – but its impact was strong enough for her to win an Emmy in 1959 as best supporting actress.
Her path to Hollywood was a highly publicised Cinderella story. Daughter of Willa (nee Calvin) and Luther Hale, she was born in DeKalb, Illinois, and grew up in nearby Rockford, where her father was a landscape gardener. She was 19 and studying at the Chicago Academy of Fine Art when she was spotted by a modelling agent. The agent sent photos to the RKO movie studio, which summoned Hale to Los Angeles. She was sitting in a casting director's office when a phone call came asking for a starlet to replace one who had fallen ill. Hale was sent to the set of Gildersleeve's Bad Day (1943) and made her film debut. Although studio publicity trumpeted her instant stardom, in reality she had but a single line, and went unmentioned in the credits.
But she landed a contract at RKO, and got her first screen credit in the Frank Sinatra movie Higher and Higher (1943). Her first starring role came opposite Robert Young in a gambling comedy, Lady Luck (1946). At RKO, she met the actor Bill Williams (born Wilhelm Katt), and after making West of the Pecos (1945) together, in which Hale starred with Robert Mitchum, they married. Williams would go on to star on television as Kit Carson in a successful western series. Hale, a more talented actor, was trapped in lesser studio parts until she too found success on the smaller screen.
Her best RKO parts came working with child actors, Dean Stockwell in Joseph Losey's The Boy With Green Hair (1948) and Bobby Driscoll in Ted Tetzlaff's noirish The Window (1949), her penultimate RKO release. She moved to Columbia, where she generally played adoring wives and steadfast girlfriends. Her light touch saw her cast with James Stewart and James Cagney, and opposite Robert Cummings in the early Frank Tashlin comedy The First Time (1952).
She had the title role in Lorna Doone (1951) but became a feature in low-budget but interesting Columbia westerns, including André de Toth's remake of Sahara, Last of the Comanches (1953) and Joseph H Lewis's 7th Cavalry (1956), her last Columbia picture. She then worked in episodic television such as Playhouse 90, and made The Oklahoman (1957) with Joel McCrea, and an interesting picture about a manufactured western movie star, Slim Carter (1957), alongside both her husband and Hopper. Ironically, in her last feature film before Perry Mason, Desert Hell, she played the unfaithful wife of a Foreign Legion commander.
When CBS cancelled Perry Mason, Hale reverted to episodic television, including a spot on Burr's successful police series Ironside and regular roles in Disney's Wonderful World of Color. She had a telling part in the original "disaster movie", Airport (1970), and in 1975 she played the lead opposite Steve Brodie in the unforgettable disaster of a film The Giant Spider Invasion.
When, in 1985, NBC produced a TV movie, Perry Mason Returns, Hale was back as Della, and her son, William Katt, was cast as Paul Drake Jr, replacing Hopper, who had died in 1970. It was so successful that NBC produced 25 more movies before Burr's death in 1993, and three more starring Hal Holbrook, cast not as Mason but as Wild Bill McKenzie. The last of the three, in 1995, was Hale's final acting appearance.
Bill Williams died in 1992. Hale is survived by her son, and two daughters, Judy and Juanita.
• Barbara Hale, actor, born 18 April 1922; died 26 January 2017