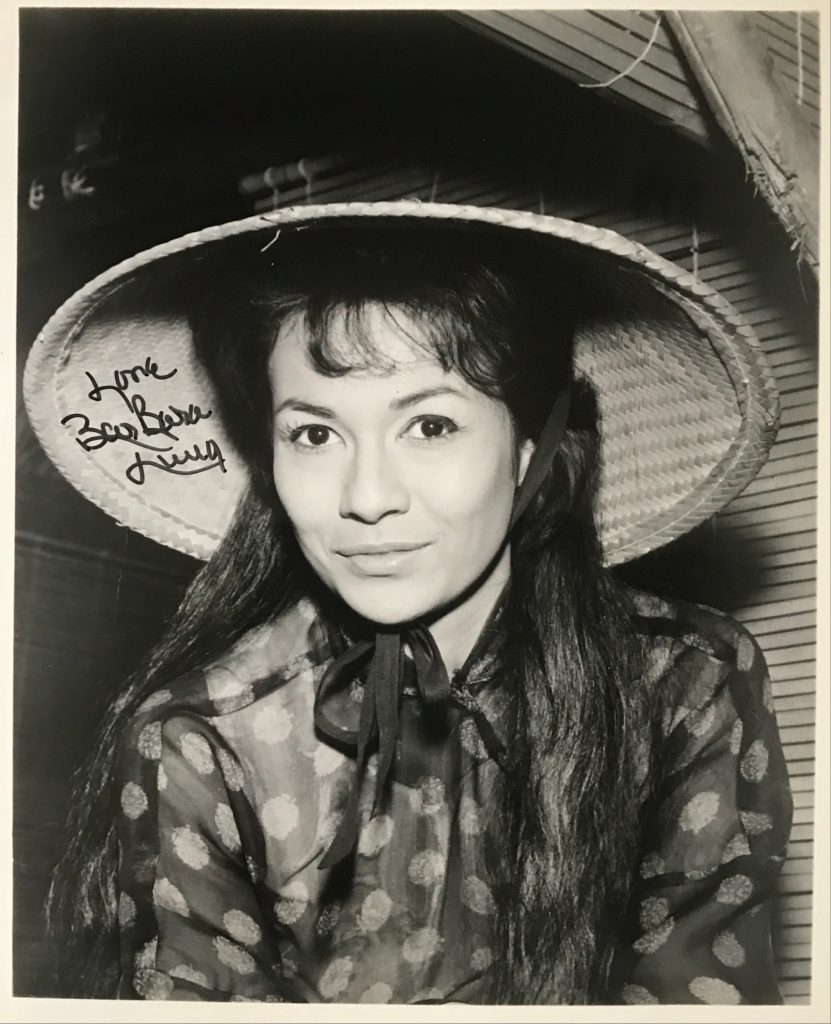 Barbara Luna was born in New York City in 1939. She was a child actress on the Broadway stage and appeared as the daughter of Ezio Pinza in "South Pacific" in 1949. She made her film debut as Frank Sinatra's love interest in "The Devil at 4 O'Clock" in 1961. Other films include "Five Weeks in a Balloon" and "Ship of Fools". She has had an extensive career on television including guest starring roles on "Star Trek", "Hawaii-5-0" and "Charlie's Angels".
IMDB entry:
Barbara Ann Luna was born on March 2, 1939 in Manhattan and virtually grew up on Broadway. Her Italian, Hungarian, Spanish, Portuguese and Filipino background has led her to portray a variety of roles. Richard Rodgers and Oscar Hammerstein II cast her in the Broadway hit musical "South Pacific", as Ngana, which was spoken entirely in French. When she outgrew her sarong, Luna, as she prefers to be called, was cast again by Rodgers and Hammerstein in "The King and I". When the show was closing after many years, Luna auditioned for the understudy role of Lotus Blossom in "Teahouse of the August Moon". Not only was she hired, but she was given the starring role–which was spoken entirely in Japanese–in the first national touring company for three years. While she was appearing with "Teahouse" in Los Angeles, she was seen by producer/directorMervyn LeRoy, who cast her as Camille, a blind girl who was the love interest for Frank Sinatra in The Devil at 4 O'Clock (1961), also starring Spencer Tracy.
This led to other films, such as Firecreek (1968) with James Stewart and Henry Fonda,Ship of Fools (1965) with Vivien Leigh, Simone Signoret and Oskar Werner, and the prison drama The Concrete Jungle (1982) portraying Cat, the queen bee of the prison. Her exotic beauty and timeless look, along with her talent, has afforded her the opportunity to have a lengthy television career, as well. She is remembered by Star Trek(1966) fans for her portrayal of Lt. Marlena Moreau in the all-time classic episode "Mirror, Mirror" from the original series. She has guest-starred on nearly 500 television series. Some of her favorites are Aaron Spelling productions such as Fantasy Island (1977). Other favorites are Dallas (1978), The Bill Cosby Show (1969), Hunter (1984), Mission: Impossible (1966) (and its 1988 reincarnation, Mission: Impossible (1988)), Buck Rogers in the 25th Century (1979), The Outer Limits (1963) and many others.
Luna continued to keep one foot on Broadway; in between film commitments, she appeared in a revival of "West Side Story" as Anita, at Lincoln Center in New York City. This was followed by the role of Morales in "A Chorus Line", where she got to sing the beautiful Marvin Hamlisch tune, "What I Did For Love". This inspired the multi-talented Luna to meet with Oscar nominee Marc Shaiman to have him write a nightclub act for her, and that he did: "An Evening with BarBara Luna". A New York reviewer, after her first engagement, said, "Ms. Luna can take the cabaret scene by storm". This review was noticed by agent Lee Solomon of the William Morris Agency office. He called and booked Luna to open for Bill Cosby at the Concord Hotel in the Catskills and Caesars Palace in Atlantic City, New Jersey. While she was singing at Freddies in New York City, she was offered a role in a soap opera.
After a six-month stint as Anna Ryder (a role she created) on Search for Tomorrow(1951), she was then offered a two-year contract to play Maria Roberts on One Life to Live (1968). This character very quickly became notorious and extremely popular as the "character everyone loved to hate". Spelling then hired Luna for her to play Sydney Jacobs, a jewelry fence, on Sunset Beach (1997). Luna loves to travel, so she co-hosted "The Alpen Tour", a television special for the Travel Channel sponsored by TWA airlines that was filmed throughout Europe. When she returned to Los Angeles, Luna performed her club act to sold-out crowds at Tom Rolla's Gardenia Cabaret and the Cine-grill at the Hollywood Roosevelt Hotel. Recently, Luna made her first trip to the Philippines to film a movie for Showtime, Noriega: God's Favorite (2000), starring Bob Hoskins. Luna is a member of "The Thalians", a charity foundation at Cedars-Sinai Hospital. She is an avid sports fan, loves playing golf, tennis and dancing on roller skates.
– IMDb Mini Biography By: A. Nonymous
The above IMDB entry can also be accessed online here.