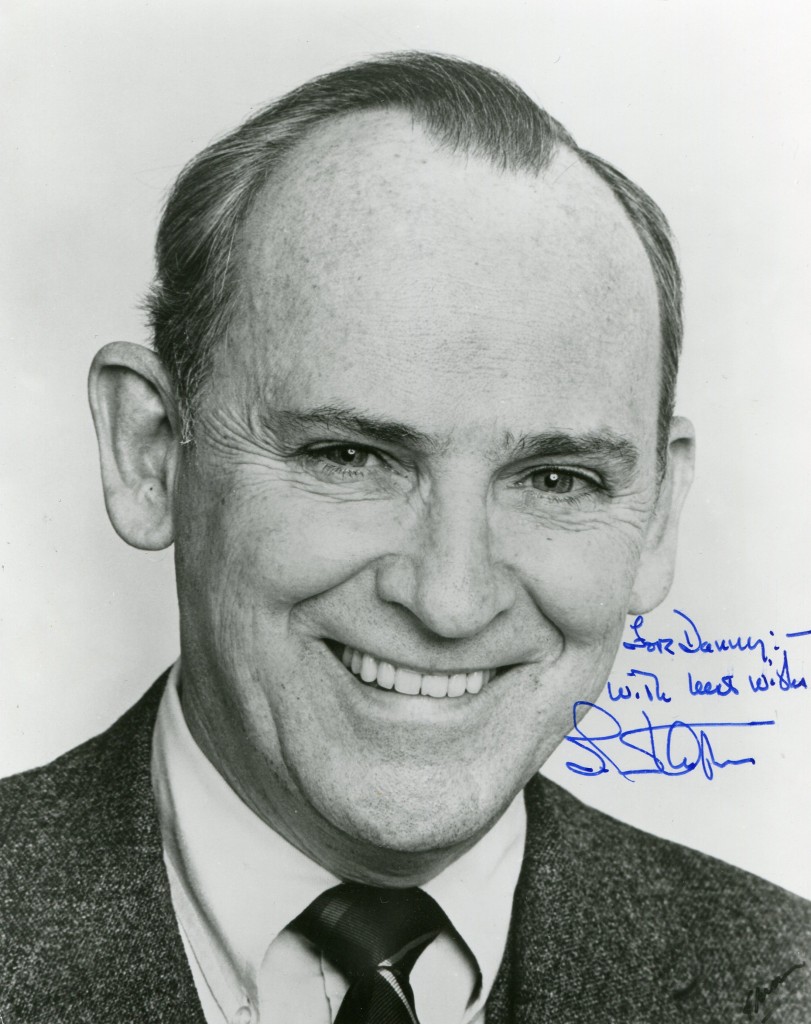 Barnard Hughes was born in 1915 in Bedford Hills, New York. He had a long career on the New York stage before he made his movie debut in 1954 in "Playgirl". He guest starred on many popular television programmes such as "The Naked City" and "Route 66". He distinguished himself in such films as "Midnight Cowboy", "The Borgia Stick", "Where's Poppa" and the title role in Hugh Leonard's "Da". He died in 2006 at the age of 90.
"Independent" obituary:
Barnard Hughes was an accomplished character actor whose major success came after middle age in a career that included over 400 stage appearances and dozens of television roles. A Tony award-winner for his funny and touching performance in Hugh Leonard's Irish comedy Da (1978), and an Emmy-winner for his portrayal, the year before, of a senile judge in the series Lou Grant, he started his film career in the Sixties, gaining notable roles in such movies as Midnight Cowboy, The Hospital, The Lost Boys and Sister Act 2. In recent years, he was often cast as crotchety old men or tough, authoritarian figures.
Born Barnard Aloysius Kiernan Hughes in 1915 in Bedford Hills, New York, he was educated at La Salle Academy and Manhattan College, and worked as a dockworker and salesman at Macy's before a friend's dare prompted him to audition for the Shakespeare Fellowship Committee in New York. He made his first stage appearance with the group in 1934, playing the Haberdasher in The Taming of the Shrew. He made his Broadway début two years later in Please, Mrs Garibaldi, the only play by the critic and novelist Mary McCarthy. Unanimously slated by critics, it lasted for only four performances and is remembered now only as "the play in which Barnard Hughes made his first appearance on Broadway". During the Second World War he served with the US Army, after which he performed in a show that toured veterans' hospitals, in the course of which he met the actress Helen Stenborg, who became his wife in 1950.
He returned to Broadway in 1949 in another short-lived piece, Mervyn Nelson's The Ivy Green, recounting the life and loves (mainly the latter) of Charles Dickens. It lasted only seven performances, but later Hughes was to be in some major Broadway hits, including A Majority of One (1959) and Advise and Consent (1960). In John Gielgud's 1964 Hamlet, starring Richard Burton, he played Marcellus – a film preserved the production in a process called "Electronovision", which involved 15 cameras recording one live performance. In 1967 he appeared in his only musical – though it was a non-singing role as a senator investigating shady Wall Street dealings in How Now, Dow Jones (the music by Elmer Bernstein). In 1972 he was Polonius to Stacy Keach's Hamlet, and Dogberry in Much Ado About Nothing, winning a Tony nomination in the Supporting category – he later cited these as his favourite roles, along with Serebryakov in Uncle Vanya, a part he played off-Broadway, directed by Mike Nichols, in 1973.
He made, in 1946, the first of many television appearances, playing Bob Cratchit in A Christmas Carol, but he did not make a feature film until he played a surgeon in Phil Karlson's vapid soap opera The Young Doctors (1961). His first important screen role was that of a violent client of a male prostitute (Jon Voight) in Midnight Cowboy (1969), followed by a war-mad Colonel in Where's Poppa? (1970), and Diana Rigg's religiously fanatic, homicidal maniac father in The Hospital (1971), Paddy Chayefsky's bitterly sardonic look at the medical profession, directed by Arthur Hiller. He had two memorable roles in films aimed at the teenage audience – as the high priest in Tron (1982), in which a computer expert is sucked into a complex video game and must fight his way out, and as an apparently vacuous grandfather who at the last minute rescues a bunch of youths from vampires in The Lost Boys (1987). Later films included Sister Act 2 (1993) and Cradle Will Rock (1999). Hughes's greatest triumph was his portrayal of a dead father who materialises to his son as a garrulous living presence in Hugh Leonard's Da ("Da" as in "Dad"). Hughes won the 1978 Tony Award as best actor for his affecting performance, described by John Simon in New York magazine as
one of the greatest performances of this or any year . . . Put this right alongside the achievements of the Gielguds, Oliviers and Richardsons. Ten years later he starred in Matt Clark's screen version with Martin Sheen playing his son. Though the film was criticised for some heavy-handed "opening-up", the New York Times critic Vincent Canby conceded, They haven't ruined it. Most importantly, they have Mr Hughes at the top of his form, being boastful, wheedling, majestic (when he has absolutely no right to be), senile and, without warning, self-aware (though not for long). Hughes's other theatrical triumphs included the unsophisticated schoolmaster in Brian Friel's Translations (1981), and in 1989 he appeared at the Abbey Theatre, Dublin, playing the role of Grandpa in You Can't Take It With You. Hughes and his wife often acted together throughout their careers, and they did so when Hughes made his last Broadway appearance, in a 1999 production of Noël Coward's Waiting in the Wings.
Barnard Hughes's daughter, Laura, is an actress and his son, Doug, is a stage director who won last year's Tony for John Patrick Shanley's play Doubt
The above "Independent" obituary can also be accessed online here.