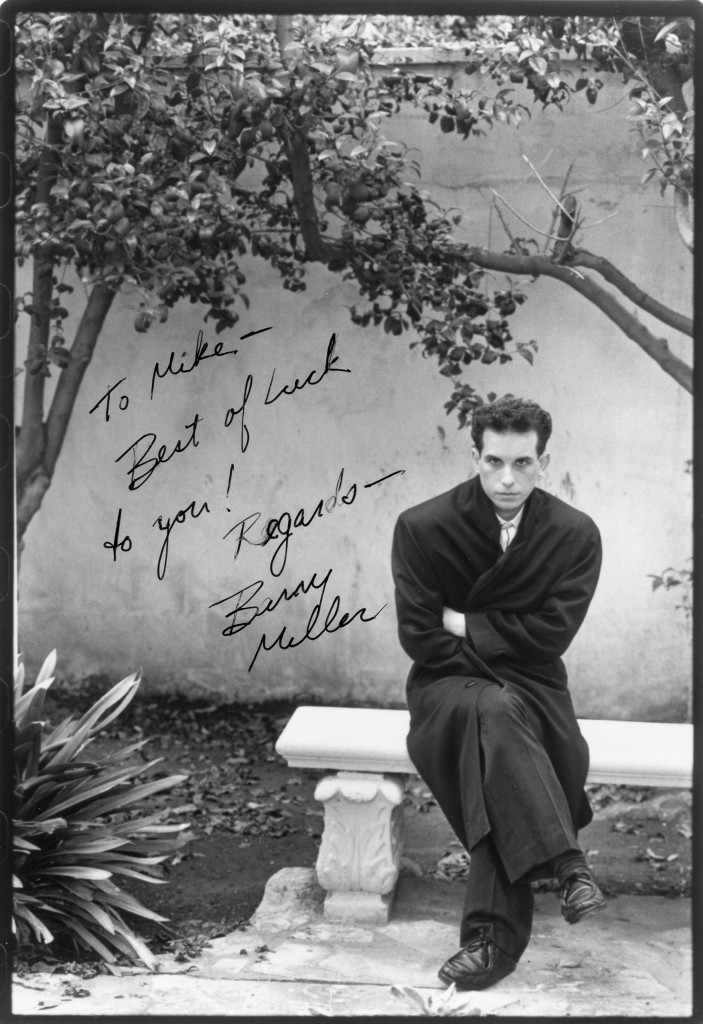 Barry Miller was born in 1958 in Los Angeles.   He first came to prominence as John Travolta's buddy in "Saturday Night Fever".   In 1985 he won a Tony for his performance on Broadway in "Biloxi Blues".His other film performances include "Love Affair" in 1994 and "Flawless" in 1999.
TCM Overview:
Slight, dark and intense, Barry Miller has proved an actor of extraordinary depth and versatility, frequently portraying nebbishy, intellectual and often surprisingly forceful characters. After making his TV-movie debut in "Brock's Last Case" (NBC, 1973), he played Mark Vitale, the elder of two teenage sons of Italian-American widower Joe Vitale (Richard Castellano) in the CBS sitcom "Joe and Sons" (1975-76). While he made his film debut as the younger incarnation of the title character in "Lepke", the 1975 biopic of the gangster Louis 'Lepke' Buchalter, Miller really first caught the attention of filmgoers as Bobby C, the depressed teenager who drunkenly falls off the Verrazano-Narrows Bridge in "Saturday Night Fever" (1977). While the role was showy, he was overshadowed by John Travolta, who garnered most notoriety. Instead of being propelled to a film career, Miller returned to series TV as one of the center kids on "Szysznyk" (CBS, 1977-78), a successful summer sitcom that was trounced in the ratings in the fall.
Regrouping, Miller offered fine support as Amy Irving's juvenile delinquent younger brother in the romance "Voices" (1979) before director Alan Parker tapped him to play the dynamic aspiring Puerto Rican comedian Raoul Garcia a.k.a. Ralph Garcy in "Fame" (1980). The actor took what might have been a thoroughly unlikable character and peeled away the layers to reveal his flaws and vulnerabilities. Miller then switched ethnic identities for his role in the film adaptation of Chaim Potok's "The Chosen" (1981). Exchanging the freneticism of his "Fame" turn for a more thoughtful effort, he starred as Reuven Malter, a secular Jew who forms a strong, unconventional friendship with an Hassid (Robby Benson) after the two meet as opponents on a baseball field.
While he had acted on the New York stage in "My Mother, My Father and Me" (1980), "Forty-Deuce" (1981) and in the 1982 NYSF summer presentation of "The Tempest" (as Caliban), Miller found his breakthrough as non-conformist army recruit Arnold Epstein in 1985's "Biloxi Blues", the second part of Neil Simon's autobiographical trilogy. As the soldier suspected of being gay, Miller won the "triple crown" of theater awards, the Outer Critics Circle, Drama Desk and Tony Awards. Although he has periodically acted on stage since (i.e., "Crazy He Calls Me" 1992), he has performed mostly for the cameras. He was Kathleen Turner's nerdy devotee in "Peggy Sue Got Married" (1986) and portrayed Jeraboam, the spiritually hungry monk who urges Jesus to fulfil his role as Messiah, in Martin Scorsese's "The Last Temptation of Christ" (1988). After returning to series TV as aggressive assistant district attorney Peter 'Briggs' Brigman in "Equal Justice" (ABC, 1990-91), Miller played a young studio chief in Paul Mazursky's "The Pickle" (1993) and supported Warren Beatty and Annette Bening in the ill-fated "Love Affair" (1994). In 1997 and 1998, he made guest appearances on both of producer-creator David E Kelley legal-themed series "The Practice" (ABC), as a lawyer, and "Ally McBeal" (Fox), as a foot fetishist defended by the title character. After a five-year absence, Miller returned to the big screen as the scheming manager of the El Palacio residential hotel in Joel Schumacher's "Flawless" (1999).
This TCM overview can also be accessed online here.