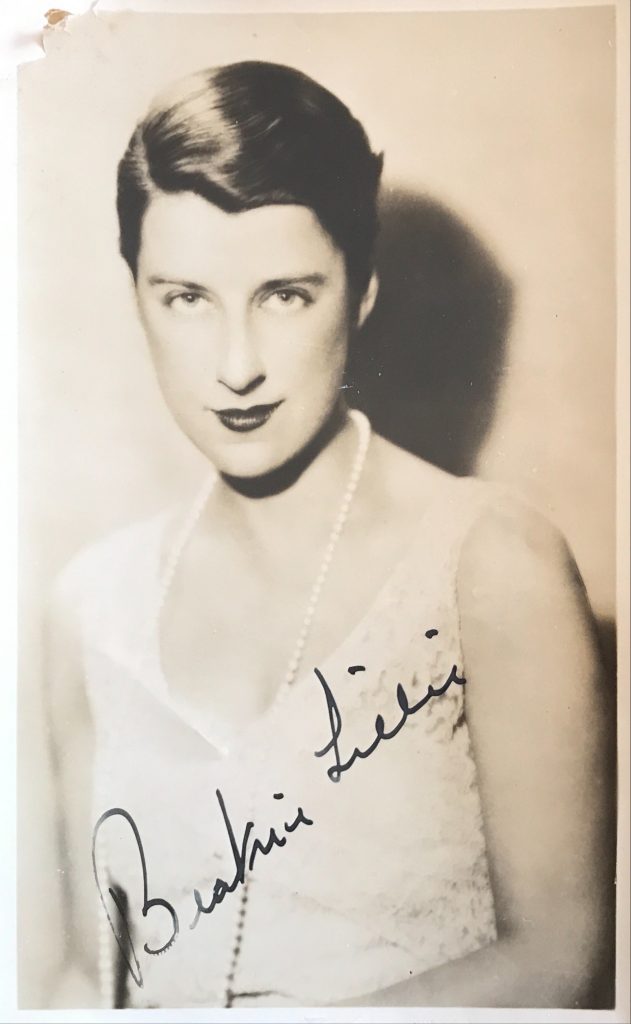 Beatrice Lillie was born in 1894 in Toronto, Canada. She made her stage debut in New York to stunning notices. She was a celebrated player on both the Broadway and London stages for many years. Her dilm appearances although infrequent were choice. Of particular note is "On Approval" in 1944 with Googie Withers and "Thoroughly Modern Millie" with Julie Andrews and Mary Tyler Moore in 1967. She died in England in 1989.
Gary Brumburgh's entry:
Dubbed "the funniest woman in the world", comedienne Beatrice Lillie was born the daughter of a Canadian government official and grew up in Toronto. She sang in a family trio act with her mother, Lucy, and her piano-playing older sister, Muriel. Times were hard and the ambitious mother eventually took the girls to England to test the waters. In 1914, Bea made her solo debut in London's West End and was an immediate hit with audiences. A valuable marquee player as a droll revue and stage artiste, she skillfully interwove sketches, songs and monologues with parody and witty satire. In 1924, she returned to America and was an instant success on Broadway, thus becoming the toast of two continents. For the next decade, she worked with the top stage headliners of her day, including Gertrude Lawrence, Bert Lahr and Jack Haley. Noel Coward and Cole Porterwrote songs and even shows for her. A top radio and comedy recording artist to boot, Bea's success in films was surprisingly limited, although she did achieve some recognition in such productions as Exit Smiling (1926) and Dr. Rhythm (1938). During the Second World War, Bea became a favourite performer with the troops and, in her post-war years, toured with her own show "An Evening with Beatrice Lillie". Her rather eccentric persona worked beautifully on Broadway and, in 1958, she replaced Rosalind Russell in "Auntie Mame". In 1964, she took on the role of "Madame Arcati" in the musical version of "Blithe Spirit", entitled "High Spirits". This was to be her last staged musical. Sadly, her style grew passé and outdated in the Vietnam era, and she quickly faded from view after a movie appearance in Thoroughly Modern Millie (1967). At this point, she had already begun to show early signs of Alzheimer's disease, although she managed to publish her biography in 1973. A year later, Bea suffered the first of two strokes and lived the next decade and a half in virtual seclusion. She died in 1989 at age 94.
– IMDb Mini Biography By: Gary Brumburgh / gr-home@pacbell.net