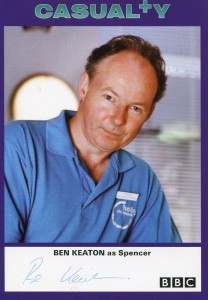 Ben Keaton was born in Dublin in 1957. He starred in "Casualty" between 1999 and 2002. He also appeared in the cult TV classic "Fr Ted". Films include "East Is East" and "Double Time".
"Wikipedia" entry:
Ben Keaton (born 1956, Dublin, Ireland) is an Irish actor who appeared as Jeff Brannigan in ITV soap opera Emmerdale. He appeared in BBC's Casualty playing the part of Spencer between 1999-2002. He also appeared in the Channel 4's Irish comedy Father Ted, "Think Fast, Father Ted". He had a small part in the British film East is East as apriest.
Keaton is also a well established actor in the theatre, and has appeared at The Royal Exchange Theatre in Manchester in Animal Crackers, American Buffalo, Harvey, Cyrano de Bergerac,[1] and playing the role of David Bliss in Noel Coward's Hay Fever.[2] Keaton also works as a comedian, and has won the Perrier Comedy Award at the 1986 Edinburgh Festival,[3] two Manchester Evening News Best Actor Awards and a Laurence Olivier Nomination. He is a regular guest member with the Comedy Store Players,[1] the Steve Frost Improv All Stars and Eddie Izzard, and appeared in this style of comedy at the Royal Exchange in his show "Ben & Friends" which has included Stephen Frost, Niall Ashdown,Steve Steen, Andy Smart, Brian Conley and Paul Merton.
Keaton currently lives in Lincolnshire.
The above "Wikipedia" entry can also be accessed online here.