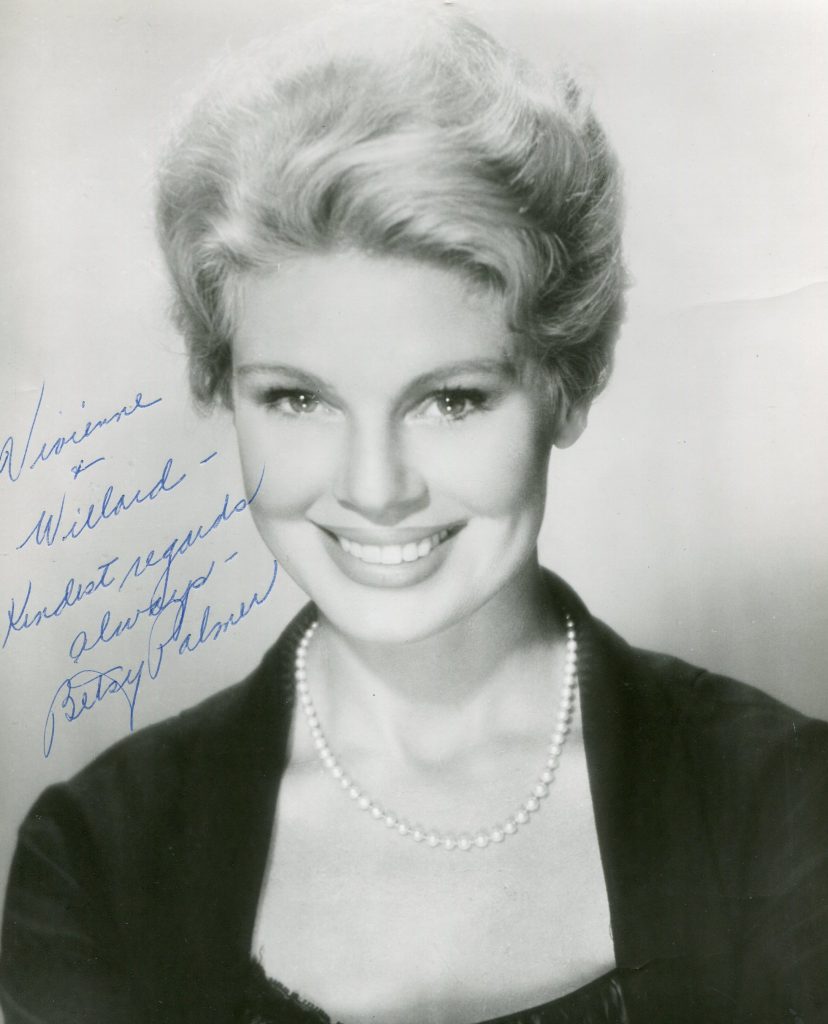 Betsy Palmer has had two distinct careers on film. In the 1950's she was a very pretty female lead and then in the eighties she became associated with horror movies through her starring role in "Nightmare on Elm Street". She was born in 1926 in Indiana. She made her film debut in "Mr Roberts" in 1955 with Jack Lemmon. She went on to make "Queen Bee" with Joan Crawford, "The True Story of Lynn Stuart" with Jack Lord and "The Tin Star" with Henry Fonda and Anthony Perkins. She died at the age of 88 in May 2015.
IMDB entry:
Betsy Palmer was born Pamela Betsy Hrunek on November 1, 1926 in East Chicago, Indiana. She is probably best known for playing Jason Voorhees' mother in the horror filmFriday the 13th (1980), but her career as an actress began many years before. Palmer was encouraged to play a young female officer co-starring with Jack Lemmon in Mister Roberts (1955) and in another war film the same year, The Long Gray Line (1955). Throughout the late 1950s, Palmer was recognized as a news reporter on Today (1952) on NBC, then became largely involved in television; from then on she remained in made-for-TV films and notable guest appearances, and then appearing in the horror film Friday the 13th (1980), but continued on with television. Her film The Fear: Resurrection (1999) did not make much impact. Palmer today often spends her time between her home in New York City and Sedona, Arizona. She apparently was offered the role of Jason Voorhees' mother in Jason X (2001), but turned it down and said to use her original footage from Friday the 13th (1980).
– IMDb Mini Biography By: Anonymous
The above IMDB entry can also be accessed online here.
"Movies Unlimited" article:
As performers from Fay Wray to Anthony Perkins to Mark Hamillfound out, playing a memorable character in a horror or science fiction film early in your career often comes with the risk of being typecast in that role and finding your professional trajectory changed, not always for the better. For actress Betsy Palmer, who died this past weekend at 88, however, the part that brought her cult acclaim to a generation of "slasher film" fans arrived after she was already a 30-year veteran of the stage, screen and television…but it took the need to buy a new car to convince her to "take a stab" at it.
Born Patricia Betsy Hrunek in East Chicago, Indiana, in 1926, she studied theater at DePaul University and, after graduation, set out to make a name for herself on Broadway. She was only in New York for about a week when, at a party at the apartment of fellow actor (and future Gomer Pyle U.S.M.C. regular) Frank Sutton, Betsy was tapped to appear in an early, 15-minute TV soap opera, Meet Susan. Along with stage roles in South Pacific and Maggie, Palmer found steady work on the small screen, appearing in such shows as Inner Sanctum, Studio One, and Playhouse 90. She was also a regular panelist on the original, prime time version of I've Got a Secret from 1958 until its 1967 ending, and appeared as herself on the game show in the 1959 Doris Day comedy It Happened to Jane.
Betsy's big-screen debut came in a 1955 "B" sea thriller, Death Tide, but that same year she appeared in key roles in two movies directed (at least partly) by John Ford: as the head Army nurse who becomes a target for womanizing ensign Jack Lemmon in the classic WWII drama Mister Roberts, and as the wife (and, later, mother) of West Point cadets under the mentorship of Tyrone Power in The Long Gray Line. 1955 also saw Palmer lock horns with manipulative sister-in-law Joan Crawford in the campy melodrama Queen Bee.

The late 1950s and early '60s would find Palmer working alongside Henry Fonda and Anthony Perkins in the frontier tale The Tin Star (1957) and Paul Muni and David Wayne in the powerful social drama The Last Angry Man (1959), but over the next two decades she would devote most of her acting time to the stage, with occasional TV turns (Love, American Style, CHiPs, The Love Boat, among others), and spend her home life raising her daughter.
It was when her Mercedes died along a Connecticut highway, however, that the actress decided to take a $10,000 offer to appear in a 1980 horror film that introduced her to a new audience. As Pamela Voorhees, the vengeance-seeking mother of Camp Crystal Lake "drowning victim" Jason Voorhees, in director Sean Cunningham's Friday the 13th, Betsy was able to play against her "good girl" image as (35-year-old Spoiler Alert!) a deranged killer. "I was always trying to prove that I wasn't the girl next door," she later stated in the documentary Return to Crystal Lake.

Throughout the '80s and '90s Palmer kept up her TV (a recurring role on Knot's Landing, the telemovie Goddess of Love) and stage (Cactus Flower, Same Time Next Year) work, with the odd film turn here and there, the last in 2007. A chance to reprise her role as Mrs. Voorhees in the 2003 monster mash-up Freddy vs. Jason didn't come to pass, through…either because the part as offered or the paycheck was too small (the price of cars had gone up since 1980, after all). And while she was at first cool to Friday the 13th's overwhelming popularity ("Nobody is going to see this thing!" was her initial reaction to the low-budget shocker), Palmer later came to embrace her place in the "slasher movie" pantheon, greeting fans and signing autographs at horror/sci-fi conventions.
The above "Movies Unlimited" article can also be accessed online here.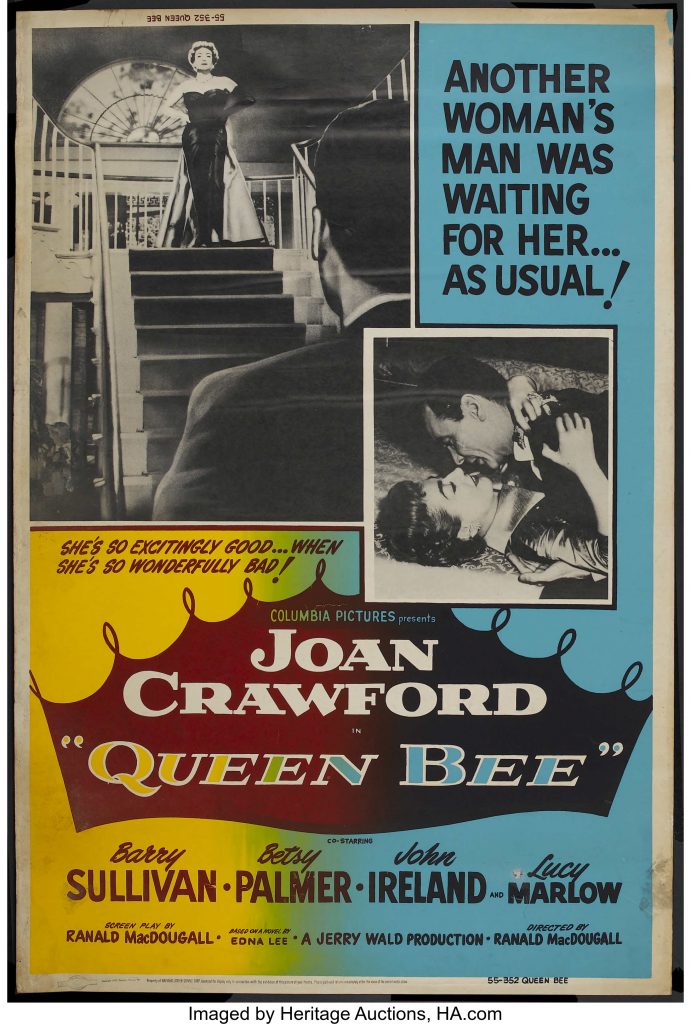 New York Times obituary in June 2015:
Betsy Palmer, 88, Dies; From TV Panelist to 'Friday the 13th' Villainess
By Bruce Weber
Betsy Palmer, an actress bound to be remembered by different generations for different career incarnations — as a performer on live television, as a panelist on game shows and as one of Hollywood's more bloodthirsty villainesses — died on Friday in hospice care near her home in Danbury, Conn. She was 88.
Her death was announced by her manager, Brad Lemack.
Ms. Palmer began her career in the early 1950s and was cast frequently on anthology drama series, some of them live. Outgoing, friendly, she was known, in the parlance of the era, as a girl-next-door type.
She was also tall and shapely — Newsweek magazine described her in 1958 as a "sugar-cookie blonde" — all of which made her a natural for other types of live programming that flourished in the 1950s and '60s. For a time she appeared regularly on the "Today" show during its first decade, alongside Dave Garroway, the host.
"Women's news is provided by Betsy Palmer, one of television's most photogenic and intelligent performers," John P. Shanley wrote in 1958 in an assessment of the show in The New York Times.
Baby boomers grew familiar with Ms. Palmer for her nearly 200 appearances on "I've Got a Secret," a long-running game show, hosted by Garry Moore, in which four panelists peppered guests with questions in order to determine a hidden peculiarity about them. (One pair of guests, for instance, claimed to be the world watermelon seed spitting champions.) Ms. Palmer's colleagues often included Bess Myerson, Henry Morgan and Bill Cullen.
A later generation, however, knows Ms. Palmer better (or perhaps only) as, in her words, "queen of the slashers," for her appearance as the insanely murderous Mrs. Voorhees, the camp cook bent on bloodily eliminating a roster of teenage counselors, in the 1980 horror film "Friday the 13th," which has spawned myriad sequels and become one of Hollywood's most profitable franchises. (As Mrs. Voorhees, Ms. Palmer gets her head cut off with a machete at the end of the film, though she does appear in flashback in at least one of the sequels.)
As she often told the story, Ms. Palmer took the part only because she needed $10,000 to buy a new car, a Volkswagen Scirocco.
"So the script came and I read it, and I said, 'What a piece of … ' " Ms. Palmer recalled in a 2003 documentary, "Return to Crystal Lake: Making Friday the 13th," discreetly not finishing her sentence. "And I said, 'Nobody is ever going to see this. It will come and it will go. And I'll have my Scirocco.' "
Patricia Betsy Hrunek was born in East Chicago, Ind., on Nov. 1, 1926. Her father, Rudolph, was a chemist. Her mother, Marie, started and operated the East Chicago School of Business, which Betsy briefly attended before studying drama at DePaul University in Chicago.
She started acting in summer stock and, according to an NBC biography of her in 1957, appeared in a show outside Chicago with the actress and comedian Imogene Coca, who encouraged her to move to New York. There, in addition to her work on television dramas, she did commercials and appeared on game shows, including "Masquerade Party," in which a panel of celebrities tried to discern the identity of another celebrity who appeared in disguise.
She had a few small parts in movies, including as a nurse in "Mister Roberts" (1955), the hit comedy-drama about life on a Navy ship during World War II with Henry Fonda and Jack Lemmon (who won an Oscar). She played the female lead in a western that starred Fonda, "The Tin Star" (1957).
She also appeared on Broadway in two short-lived comedies: "The Grand Prize" (1955), with Tom Poston and June Lockhart, and "Affair of Honor" (1956), which The Times's critic, Brooks Atkinson, described as (through no fault of the actors, he pointed out) "dull and odious."
Ms. Palmer's marriage to Vincent J. Merendino, an obstetrician, ended in divorce. Her survivors include their daughter, Melissa Merendino.
In 1969 Ms. Palmer replaced Virginia Graham as host of the syndicated talk show "Girl Talk." Her later credits on television include a recurring role on the prime-time soap opera "Knots Landing" and guest appearances on "Murder, She Wrote," "Charles in Charge," "The Love Boat" and "Just Shoot Me!" In the 1960s and the 1970s, she also returned to Broadway as part of replacement casts in "Cactus Flower" and "Same Time, Next Year" and as a star of the Tennessee Williams drama "The Eccentricities of a Nightingale." For many, if not most, however, it is Mrs. Voorhees and "Friday the 13th" that linger.
"I dismissed it for many, many years, and wouldn't 'fess up to it at all," she said in the documentary. "And then it just became such a big thing where everybody seemed to enjoy it so much. I thought, 'Well, all right, I'm comfortable about it now.' It's almost like a badge of honor, in a way. It has become that.
"I'm the queen of the slashers, you know. What am I going to do?"