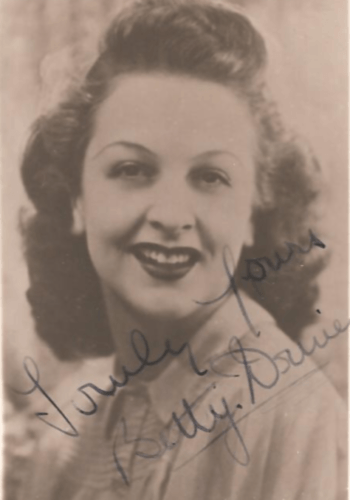 Betty Driver is best known to-day as Betty the barmaid in "Coronation Street". At 91 years of age, she must be the oldest barmaid in the globe. Betty Driver had considerable success in British films of the 1930's including "Boots, boots", in 1934, "Penny Paradise, "Facing the Music" and "Let's be Famous". Betty Driver died in 2011.
"The Guardian" obituary:
Betty Driver, who has died aged 91, was a gutsy and durable comic actor who meant one thing to young audiences and quite another to those who could remember the second world war and the years immediately after it. To the youthful, she will be remembered as Betty Turpin (later Betty Williams), the barmaid, shoulder to cry on and wife of the policeman Cyril Turpin in Granada television's Coronation Street, whose cast she joined in 1969.
To a much older audience, she will also be remembered for her appearances in repertory theatres and in stage revues; as the child star who took over from the popular singer Gracie Fields on a stage tour, doing some of her best-known numbers; and as the principal singer for a year with the leading dance orchestra leader of the time, Henry Hall, on his BBC radio programme, Henry Hall's Guest Night. She sang for seven years with Hall, and with him and far more mature artists than herself entertained the troops during the war.
Driver was one of the pre-feminist female singer-comedians who made their mark with a perky, slightly rebellious manner in the tradition of Marie Lloyd and Cicely Courtneidge. There was little of the wilting English rose about the songs she sang or the parts she played, even if the bright edifice often concealed her own emotional pain. It helped that she was a large woman who once considered it a victory when she got her weight down to 13 stone.
Born in Leicester, she spent her childhood in Manchester. Her parents were a police inspector and a pianist mother, determined that her daughter should get a foothold in show business. Her husband was too weak a character to defend his daughter, eventually leaving the police force to run a nightclub in Manchester. In her memoir Betty: The Autobiography (2000), Driver wrote that she had been at the mercy of "an overbearing, ambitious, cruel and pushy mother whose insistence on putting me into show business at a young age effectively robbed me of my childhood … [Nellie Driver] was one of the most loathed women in the business."
At the age of seven, Betty joined the Terence Byron repertory company and played with The Quaintesques, a group of men dressed as women who visited Manchester once a year. The star of this show, Billy Manders, had heard her in the audience loudly singing the choruses and invited her on to the stage. They brought the house down and she was given a bottle of toffees. Soon she was taken by her mother to perform in a police charity concert at Manchester Hippodrome, and was presented with a gold watch by the chief constable, which pleased her mother and father more than her.
When mother and daughter came to London at the end of her schooling – at her mother's instigation – they did not find theatrical managements receptive. Tours of their offices produced no offers. Instead her mother decided to go straight to individual theatres.
Presenting themselves at the stage door of the Prince of Wales theatre in September 1934 changed their luck. Without a band rehearsal, Betty was allowed to go on stage and sing a number of her favourite songs, and was hired to appear as Gracie Fields's double in Mr Tower of London. After her first performance, one journalist described her as "a little tomboy from Lancashire". She was later hired for a long tour of Mr Tower of London when Fields moved on to other projects. Films, BBC broadcasts and appearances in the revues of the leading impresarios CB Cochran and Prince Littler followed.
It was not until she was 16 that, with the aid of her younger sister Freda, she rebelled against her mother's view of her as a lucrative child star who should carry on singing in the style of Fields. Freda, who had never been as overawed by her mother as Betty and their father were, threw the songsheets her mother wanted Betty to sing on to the fire and substituted more modern and adult ones. Betty appeared in the cheeky It's Foolish But It's Fun at the London Coliseum, and did film work, notably in Ealing Studios comedies. She made Boots! Boots! (1934) with George Formby, Penny Paradise (1938), Let's Be Famous (1939) and Facing the Music (1941). Her hit recordings started with Jubilee Baby (1934), and went on to include The Sailor With The Navy Blue Eyes, Macnamara's Band, Pick The Petals Of A Daisy, Jubilee Baby and September In The Rain.
In her 20s, she had a breakdown and collapsed on stage in Birmingham. Her mother, in the wings as usual, threw water over her, and insisted she do the evening performance. When she blacked out again in the evening, her mother still maintained that she was "faking".
There were other strains. Aided by her sister, she took control of her own financial affairs, only to find that instead of banking her earnings – which often reached the then impressive sum of £150 a week – her parents had spent it all on cars, drink and other luxuries for themselves and left none for her.
But she was still bankable. In 1952 the BBC gave her her own regular radio programme, A Date with Betty, broadcast live, and she married her South African husband, Wally Peterson. By then a household name, she appeared in several TV series and had her own roadshow. In 1953 she went to Australia, where she appeared in musical revue, then toured the Middle East and entertained British troops in Cyprus and Germany.
In 1958, she starred on stage in The Lovebirds, followed by a short break as a housewife in South Africa, which did not suit her. Back in Britain, she played in Pillar to Post, made cabaret appearances and did summer seasons, including the immensely popular What a Racket with Arthur Askey at Blackpool. Finding that her husband was not only a philanderer, but was spending her money freely, she separated from him after seven years of marriage. They were divorced 11 years later.
It was her switch to drama that led to her long association with Granada and Coronation Street. She appeared as Mrs Edgeley, the masterful canteen manager in the TV series Pardon the Expression (1965-66), a Coronation Street spin-off, which also included Arthur Lowe in his Coronation Street role of Leonard Swindley. At one point, she was required to throw him, and in doing so dislocated her hip and injured her back. She appeared with James Bolam in the Granada production of Love On the Dole (1968), Walter Greenwood's story of poverty and unemployment in the 1930s, before making her first appearance in Coronation Street itself in June 1969.
By then Betty had virtually given up show business, discouraged by the damage done to her back. "I decided to retire, and with Freda, we ran a couple of hotels in Cheshire. It was there that Harry Kershaw, producer of Coronation Street, persuaded me to audition for Hilda Ogden – just think, I could have been wearing curlers for 30 years," she recalled in her 80s. That came to nothing, but a few years later Kershaw stood in one of the bars, heard her talking to other customers and simply asked her, "How would you like to pull pints in the Rovers Return?" He told her that the barmaid character he had in mind for her to play would be called Betty Turpin, and would have her own "warm, homely, nice-to-everyone temperament".
Betty Turpin, later Betty Williams, became one of the longest-serving characters in the soap, well-known for serving up her signature dish, Betty's hotpot, in the Rovers Return – indeed, so well-known that a Lancashire pie manufacturer marketed a hotpot to Betty's recipe. Cyril died in 1974, and in 1995 Betty married her wartime sweetheart, Billy Williams, only to be widowed again two years later. She appeared in more than 2,800 episodes of the show, the final one broadcast last May.
Driver took part in a Royal Variety Performance in 1989, and ten years later was appointed MBE. She kept faith with her northern roots by living near Altrincham, Cheshire, and collected paintings and antiques.
• Betty (Elizabeth Mary) Driver, actor and singer, born 20 May 1920; died 15 October 2011
The above "Guardian" obituary can be accessed online here.