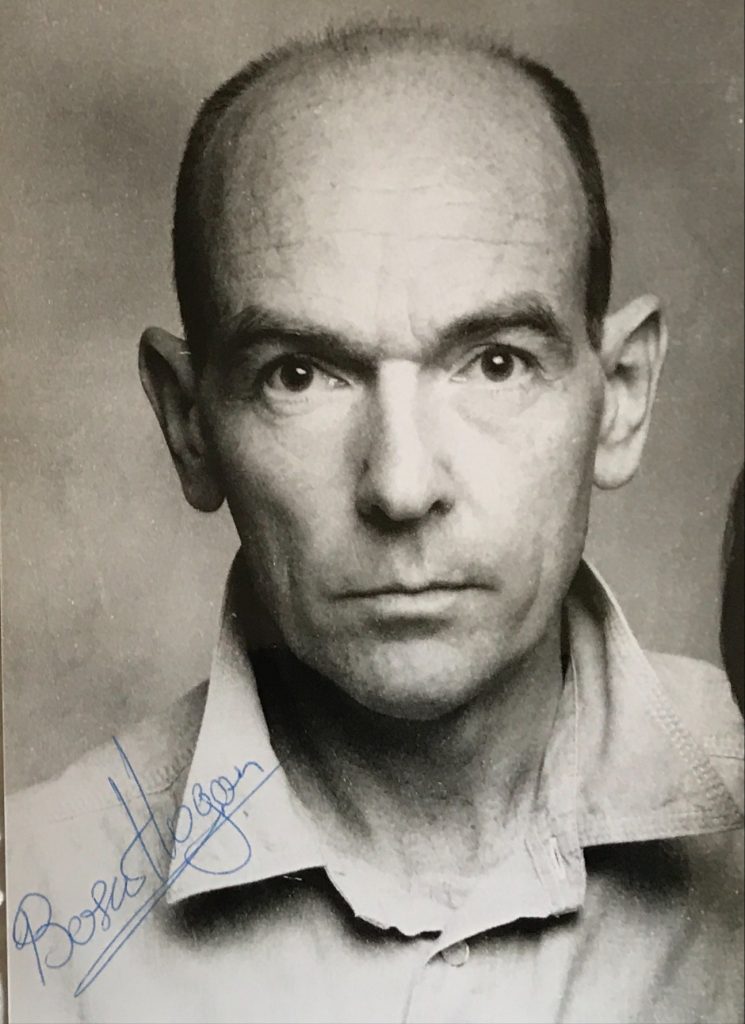 Irish actor Bosco Hogan was born in 1949. His film debut was in 1974 in John Boorman's "Zardoz" which was lensed in Ireland. Came to prominence in 1977 for his role as Stephen Dedalus in the film of James Joyce's "Portrait of the Artist as a Young Man". Other films include "Miss Morison's Ghosts" with Wendy Hiller in 1981, as Robert Emmett in"Anne Devlin" with Brid Brennan and "Taffin" with Pierce Brosnan. He has recently been in the television series "The Tudors".
"The Agency" page:
Bosco Hogan began his acting career with the RTE Radio Repertory Company before joining the Abbey Theatre for a four-year stay. He has played characters in everything from Miller's The Crucible to Strindberg and the classic work of Shakespeare, and he has worked under the direction of talents such as Garry Hynes, Joe Dowling and Patrick Mason among others in a career which spans over thirty-five years.
His Abbey appearances include The Doll's House and A Cry From Heaven. Bosco has toured London, continental Europe and the U.S. with his one-man show, I Am Ireland, in which he presents a magnificent portrayal of W.B. Yeats. He has also toured with b*spoke Theatre Company's production of Tom Murphy's The Sanctuary Lamp. London stage roles include: Edmund in King Lear, Delio in The Duchess of Malfi and Richard Greatham in Hay Fever.
His skills on the stage brought him into the fields of film and television. In film he has worked on a number of successful films including; John Boorman's The General, Antoine Fuqua's King Arthur, Bruce Beresford's Evelyn and Jim Sheridan's In The Name Of The Father among others.
His many appearances on British television include; Count Dracula, Sense and Sensibility, A Taste For Death, Love Lies Bleeding, Act Of Betrayal, The Rockingham Shoot, A Question of Guilt, Prince Regent, and The Chief. He played Dr. Michael Ryan in Ballykissangel and Detective Inspector Gerry Cody in RTE's DDU.
Bosco has recently appeared as Cardinal Piccolomini in Neil Jordan's The Borgias, as Prof. John Knowland in the BBC's Vexed, as well as in Titanic: Blood and Steel. He performed in My Cousin Rachel at the Gate Theatre in the role of Mr. Seecombe, and the role of Tarpey at the Abbey Theatre's production of Tom Murphy's The House. Bosco also performed in The Picture of Dorian Gray at the Abbey in 2012, before again appearing as Mr. Seecombe in My Cousin Rachel, which returned to the Gate stage last Christmas due to popular demand. 2013 has seen Bosco cast in The Gate Theatre's production of Mrs. Warren's Profession directed by Patrick Mason, Stailc 1913 a T.V documentary to be directed by Brian Gray, An Enemy Of The People directed by Wayne Jordan, and A Streetcar Named Desire at the Gate theatre to be directed by Ethan McSweeny.
Bosco recently finished up on Brecht's The Threepenny Opera, directed by Wayne Jordan at the Abbey Theatre with musical direction by Cathal Synnott. So far 2014 has seen Bosco cast in the revival of the Gate Theatre's production of My Cousin Rachel, to be directed by Toby Frow and performed at the Spoleto Festival, USA, and performing in The Irish Orchestra's production of My Brother Peter to be directed by Patrick Mason.
Bosco is based in Dublin.
The above "The Agency" page can also be accessed online here.