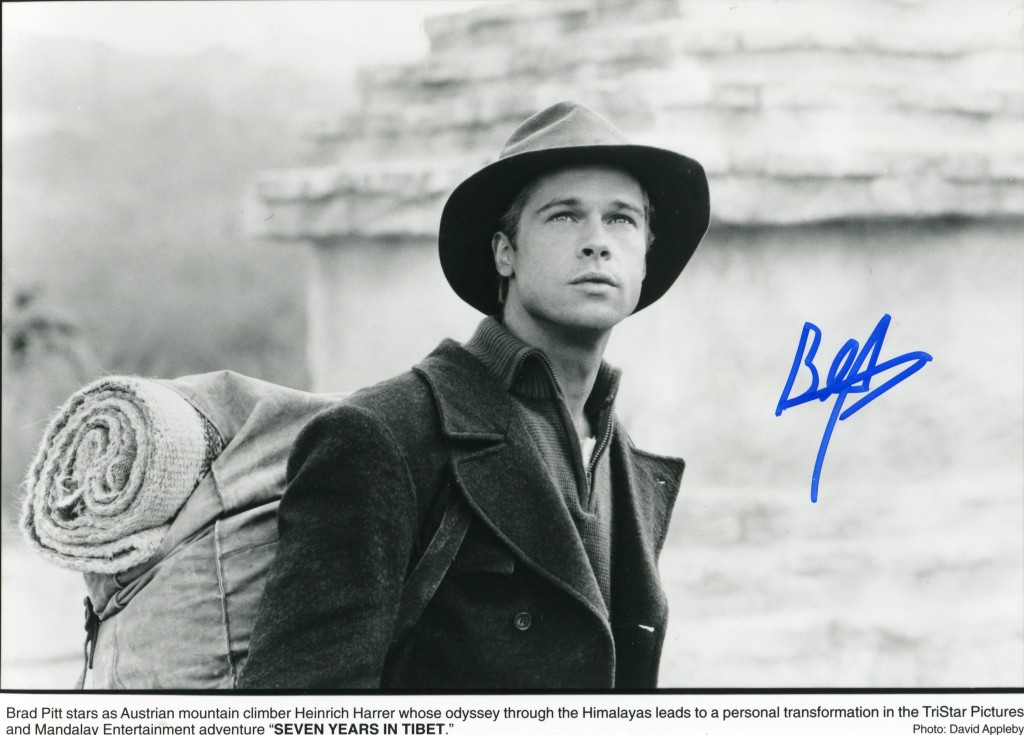 Brad Pitt was born in 1963 in Shawnee, Oklaholma. He came to international notice in "Thelma and Louise" in 1991. He became a major player in Hollywood films of the 1990's and 20000's. Among his films are "A River Runs Through It", "Legends of the Fall", "Ocean's Eleven" and "Mr and Mrs Smith".
TCM Overview:
Despite his leading man looks and movie star charisma, actor Brad Pitt spent most of his career trying to avoid bloated box office roles in favor of riskier, lower profile work. After achieving heartthrob status with revealing performances showing off his six-pack abs in "Thelma and Louise" (1991) and "Legends of the Fall" (1994), Pitt actively subverted his hunky image by taking on ugly and often crazed characters, most notably in "12 Monkeys" (1995), "Fight Club" (1999) and "Snatch" (2001). While en route to becoming one of the top box office draws of his generation, Pitt generated a substantial amount of tabloid press, particularly for his headline-grabbing romances, which provided ample fodder for supermarket stands across the country. His high-profile marriage to "girl next door" Jennifer Aniston – once considered the Hollywood ideal – publicly imploded after he separated from his wife and began dating proverbial bad girl, Angelina Jolie. The result, however, was a new image of Pitt as multiracial father and globetrotting activist, thanks to Jolie's adoption of impoverished orphans from around the world. It was this transformation that was underscored by strong and mature performances in the meditative "Babel" (2006) and "The Curious Case of Benjamin Button" (2008), as well as more escapist fare like the "Ocean's Eleven" franchise. The public's fascination with the beloved actor both on screen and off proved that beneath the pretty boy exterior, Pitt only improved with age.
Born on Dec. 18, 1963 in Shawnee, OK, Pitt was raised in a devout Baptist home headed by William, a trucking company manager, and Jane, a high school counselor. The family moved to Missouri, where Pitt attended Kickapoo High School. After graduating, he went to the University of Missouri, where he studied journalism and belonged to the Sigma Chi fraternity. Two weeks prior to earning his degree, however, Pitt suddenly decided to pile into his Datsun with $300 in his pocket and move to Los Angeles to become an actor. He started out in television guest spots, including a recurring role on the CBS primetime soap "Dallas" in 1987 that tended to capitalize on his wiry good looks. He co-starred in "Glory Days" (Fox, 1990), a short-lived drama about post-high school angst. Pitt entered features via the well-traveled low road, appearing in supporting roles in such standard teen fodder as slasher flicks, sex comedies and family-oriented sports dramas.
In that rarest of film moments, Pitt gained instant stardom as the hitchhiking hunk – part charmer, part thief – who seduces Geena Davis while brandishing a hairdryer and sporting a cowboy hat in the female buddy movie, "Thelma & Louise" (1991). The following year, he achieved leading man status while sporting a formidable pompadour as the fictitious, aspiring teen idol "Johnny Suede;" he maintained the hairstyle as a soft-hearted yet hard-boiled vet-turned-cartoon cop in "Cool World," Ralph Bakshi's uneven blend of live-action and animation. Pitt gained some critical esteem playing the troubled younger brother who casts a mean fishing line in Robert Redford's "A River Runs Through It" (1992), but fared less well as a bearded psycho killer in "Kalifornia" (1993). He provided a delightful character turn as the stoner roommate of a struggling actor (Michael Rapaport) who connects his Detroit buddy (Christian Slater) with a Hollywood producer (Saul Rubinek) for a coke deal gone bad in the Quentin Tarantino-scripted "True Romance" (1993). Despite his relative minor degree of celebrity at that time, there was already considerable interest in Pitt's romantic involvements. Around the release of "True Romance," he called off a reported engagement to three-year girlfriend, actress Juliette Lewis.
Pitt subsequently played his first high-profile lead in a Hollywood blockbuster as Louis, the lachrymose narrator of "Interview with the Vampire" (1994). His depressed bloodsucker seemed all the more anemic when paired with a lively Tom Cruise. Pitt's star qualities were better displayed as the wild, middle brother of a colorful Western clan in "Legends of the Fall." In a change of pace from glamour roles, and to subtly downplay his being dubbed the "Sexiest Man Alive" by People magazine, the actor played a scruffy, arrogant policeman tracking a serial killer with Morgan Freeman in "Seven" (1995), before earning a Best Supporting Actor Oscar nomination as a twitching mental patient/animal rights activist in Terry Gilliam's futuristic dystopia, "12 Monkeys" (1995). It was on the set of the former film that Pitt met his onscreen wife, Gwyneth Paltrow, with whom he began the first of his high-profile romances. After a turn as a prosecutor in Barry Levinson's "Sleepers" (1996), Pitt adopted a passing Belfast accent as an IRA gunman seeking refuge in the home of a New York City cop (Harrison Ford) in "The Devil's Own" (1997). What had been a long a troubled shoot resulted in a muddled and uneven drama. Pitt caused some controversy with a Newsweek interview, in which he made disparaging remarks about the film's script.
With "Seven Years in Tibet" (1997), he adopted an Austrian accent to play an egotistical man who undergoes a spiritual conversion when he is befriended by the youthful Dalai Lama. That film was also the subject of debate when it was revealed that Heinrich Harrer (Pitt) had been a Nazi Party member; the resulting negative publicity and mixed reviews hurt the film's box office. Pitt followed up by reuniting with his "Legends of the Falls" co-star Anthony Hopkins in the languid "Meet Joe Black" (1998), a loose remake of "Death Takes a Holiday" (1934), with Pitt playing the Grim Reaper in human form. Further downplaying his attractive facade, Pitt was cast as Tyler Durden, the straight-shooting but charismatic mastermind behind "Fight Club" (1999), an underground society of disaffected young men who engage in brutal fisticuffs as a means of reclaiming their masculinity. He continued in a similar vein with a turn as an Irish gypsy with a flair for bare knuckles boxing in "Snatch" (2000). In both of these films, Pitt's muscular physique was on display, but in "Fight Club," he favored a scruffy look; while in "Snatch," he was covered in tattoos. Off-screen, however, Pitt's celebrity status as a hunky Hollywood icon soared into the stratosphere, after his romantic relationship with the equally beautiful and popular "Friends" (NBC, 1994-2004) TV star Jennifer Aniston culminated in 2001 with a storybook wedding in Malibu. The golden couple's every move quickly became fodder for entertainment-oriented media outlets everywhere.
In "The Mexican" (2001), Pitt offered a relaxed, loose turn as a somewhat dim, low-level gangster sent south – over the objections of his long-time girlfriend, played by Julia Roberts – to retrieve the title object, an antique pistol that supposedly carried a curse. He remained busy portraying the protégé of a retiring CIA operative (Robert Redford) in "Spy Game" (2001), before joining George Clooney and an equally beautiful ensemble cast for Steven Soderbergh's wildly fun remake of "Ocean's Eleven" (2001). That year, Pitt also made two notable TV guest appearances; first, on his wife's sitcom, "Friends," playing a now-thin high school pal of Monica's (Courteney Cox) who has long harbored an animosity toward Rachel (Aniston); secondly, in a much discussed slot on MTV's stunt-prank series – and a personal Pitt favorite – "Jackass," where the actor was violently "kidnapped" from L.A.'s Pink's hot dog stand, as several dumbfounded witnesses observed. In 2002, Pitt made brief cameo appearances in Soderbergh's experimental film "Full Frontal" and Clooney's directorial debut, "Confessions of a Dangerous Mind." In 2003, he made the jump to animated features, voicing the title character in the quickly forgotten "Sinbad." After years of downplaying his handsome, heroic looks by appearing in scruffy beards and long hair, Pitt finally took a role that cast him as every bit the Golden Boy, playing legendary Greek hero Achilles in director Wolfgang Petersen's epic, "Troy" (2004), a role that inspired excitement among his male and female fans alike. The actor also agreed to rejoin Clooney, Soderbergh, et al, for the sequel romp "Ocean's Twelve" (2004), this time with his own love interest (Catherine Zeta-Jones). Unfortunately, the male camaraderie was wearing thing and the film lacked much of the charm of the first outing.
In early 2005, the film work became secondary, when Pitt found himself at the center of an intense media whirlwind when he announced he was splitting from Aniston. One of the speculated reasons for the divorce of the dream couple centered on rumors of an on-set relationship with Angelina Jolie during his next film, the Doug Liman-helmed action-fest "Mr. & Mrs. Smith" (2005). Long hours spent choreographing fight scenes and special effects could have done the trick, when onscreen, the actors played a bored married couple surprised to learn that they are each secretly assassins and are ultimately hired to kill each other. Though both actors initially refuted rumors of their affair – and after frequently being photographed together in their private lives, took a less coyer stance later on, with Pitt petitioning to adopt Jolie's two children, Maddox and Zahara – the intense media and public interest in their possible relationship propelled the film to huge box office receipts, thanks in large part to their palpable onscreen chemistry. Their "are they or aren't they?" coupling captivated star watchers and was the most written-about celebrity story of 2005, even prompting the coining of the term "Brangelina." As their relationship gradually emerged in the public eye, Pitt accompanied Jolie on her missions of mercy to third world nations to adopt children. The couple ultimately revealed that they were expecting their own biological child together, daughter, Shiloh Nouvel, while articles trumpeting Aniston's reportedly ongoing anguish over the loss of Pitt continued to propel the spectacle forward. In fact, the public's intense interest in the split-turned-love affair heard round the world eventually came down to camps, with Team Aniston and Team Jolie T-shirts being sold off the shelves that summer. Ultimately, Pitt and Jolie would go on to adopt another child, Pax, a Vietnamese orphan in 2007, and give birth with much fanfare to their biological twins, Vivienne and Knox in 2008.
After a noted absence from the big screen – but not the tabloid pages, which seemed to concoct a new and ridiculous story about Brangelina every week – Pitt returned with a strong and rather mature performance in "Babel" (2006), a dense and heartbreaking look at confusion, fear and the depths of love. Set on different continents Asia, Africa and North America, "Babel" told three separate stories brought together by a single random act of violence. Pitt played an American tourist traveling to Morocco, when a stray bullet from a rifle crashes through a bus window and seriously wounds his wife (Cate Blachett), touching off a series of events. Meanwhile, Pitt reunited with Soderbergh, Clooney, Damon and the rest one final time for "Oceans 13" (2007), the third installment to the hipster caper series that saw the gang exacting revenge on a ruthless Las Vegas casino owner (Al Pacino) after becoming the victims of a double-cross. He then delivered a touching performance in "The Curious Case of Benjamin Button" (2008), playing a man born in his eighties during World War I who ages backwards into the 21st century. Pitt earned Golden Globe and Academy Award nominations for Best Actor. Also that year, he was the one bright spot in the Coen Brothers' black comedy "Burn After Reading" (2008), in which he played a none-too-bright fitness instructor who finds what he believes to be valuable CIA secrets.
Pitt next starred in Quentin Tarantino's return to prominence, "Inglourious Basterds" (2009), playing an American officer who assembles a team of Jewish soldiers to hunt down and brutally kill Nazis during World War II. After voicing Metro Man in the animated "Megamind" (2010), Pitt delivered two award-worthy performances in 2011; first in Terrence Malick's "The Tree of Life," as a strict 1950s father whose son tries to reconcile their damaged relationship, and then in "Moneyball," in which he played Billy Beane, the general manager of the Oakland As who turned his small-market team into a playoff winner. Pitt's latter turn earned him a slew of award nominations, including nods at the Golden Globes and Academy Awards for Best Actor. Of course, Pitt was in the spotlight outside the purview of his movies, causing waves when he publicly stated his life was "uninteresting" while with Aniston – leading him to publicly apologize to her – and creating panic when he announced in November that he had an interest in retiring from acting, though he declined to put an end date on his career.
The following year, Pitt had only one film in theaters, the moody crime thriller "Killing Them Softly" (2012), which co-starred James Gandolfini and Richard Jenkins. In 2013, however, he returned to screens with a vengeance, most notably in his long-in-development zombie action movie, "World War Z." Various production issues has created a negative buzz around the film, which Pitt co-produced, but it proved to be a triumph both commercially and critically, resulting in the major win for the actor. His remaining movies for the year were of the non-blockbuster-y sort, with Pitt appearing in ensemble films that both co-starred Michael Fassbender, "The Counselor" and "12 Years a Slave." The latter movie, a gripping historical drama also featured Pitt as a producer and garnered significant awards buzz, culminating in an Oscar win for Best Picture.
The above TCM overview can also be accessed online
here.