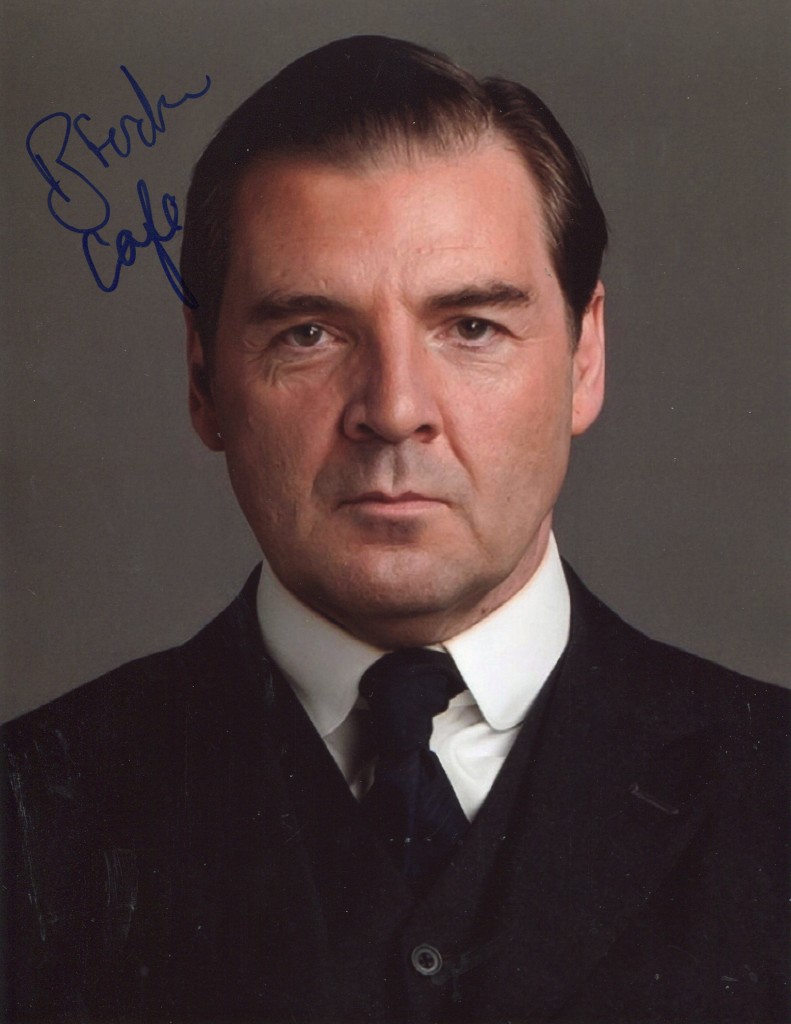 Brendan Coyle is currently earning rave reviews for his performance as the valet John Bates in the hughly successful television series "Downton Abbey". He was born in Corby in 1963 to an Irish father and a Scottish mother. He trained in drama in Dublin. He won early parise for his performance in "The Weir" on the London stage. He has had an extensive television career including "Lark Rise to Candleford" and "North and South". His films include "Conspiracy" in 2001 and "Tomorrow Never Dies". He holds both Irish and British citizenships.
IMDB entry:
Brendan Coyle was born in Corby, Northamptonshire to an Irish father and Scottish mother; his parents moved to Corby from County Tyrone, Ireland. Brendan holds Irish citizenship and has previously lived in Dublin and London. However, according to a video clip from the site for "Rockface" he resides in Norfolk.
Brendan is also the great nephew of footballing (i.e. soccer) legend Sir Matt Busby of Manchester United fame.
Brendan trained at drama school in Dublin, founded in the late 1960s as the Focus Theatre, was co-founded by his aunt Mary Elizabeth Burke-Kennedy. Brendan started there in 1981 and then received a scholarship to Mountview Theatre School in England in 1983. He has directed at least two plays at Mountview since graduating from there.
Brendan has done a number of stage, television, and movie productions, including the play "The Weir" for which he won an Olivier Award for Best Supporting Performance award for his part as the bartender, Brendan. He continues to work on stage, in film and on television.
– IMDb Mini Biography By: Stacy L.A. Stronach <slashgirl@yahoo.com>
TCM overview:
An English-born actor with Irish and Scottish roots, Brendan Coyle got his start in a slew of theatrical productions. He quietly rose through the ranks of U.K. screen actors with small roles in everything from "The Glass Virgin" (ITV, 1995) to the James Bond adventure "Tomorrow Never Dies" (1997), but earned acclaim for his stage work, winning a Laurence Olivier Award for his work in "The Weir." Continuing to work steadily in British-made productions like "North & South" (BBC One, 2004) and "Lark Rise to Candleford" (BBC One, 2008-11), Coyle appeared in such international fare as "The Jacket" (2005) with Adrien Brody and "The Raven" (2012) with John Cusack. His international breakthrough came as the physically impaired but passionate John Bates, valet to Lord Grantham (Hugh Bonneville) on the global smash "Downton Abbey" (ITV, 2010- ). Grounding his ill-fated character in humanity and compassion, Coyle stood out in the enormously talented ensemble, earning widespread praise. As his fame increased around the world, Coyle left many fans and critics alike hoping to see much more of him on stage and screen.
Born Dec. 2, 1963 in Corby, Northamptonshire, England, Coyle was the son of an Irish father and a Scottish mother, as well as the great-nephew of soccer legend Sir Matt Busby of Manchester United. Determined not to become a butcher like his father, Coyle found his calling when he saw his first play as a teenager, Shakespeare's Richard III, and was overcome by a desire to make a living himself as an actor. Luckily, his cousin was a theater director in Dublin, Ireland, and when he finished his schooling – following a year of apprenticing to his father – Coyle moved to the Emerald Isle to train with her. After cutting his professional teeth with her company as an actor and stage manager, he earned a scholarship to the Mountview Academy of Theatre Arts in London, and soon launched his stage career with roles in "Over the Bridge," "All Souls Night" and "Playboy of the Western World."
Coyle made his screen debut with small roles in the made-for-TV movie "Fool's Gold: The Story of the Brink's-MAT Robbery" (1992) and on the TV series "The Bill" (ITV, 1984-2010). Building on his momentum, he began to earn a reputation as a versatile actor with memorable performances in the miniseries "The Glass Virgin" (ITV, 1995) and on the shows "Dangerfield" (BBC, 1995-99), "Silent Witness" (BBC One, 1996- ) and "Thief Takers" (ITV, 1995-97), before earning a small turn in a major international blockbuster as a seaman in the James Bond thriller "Tomorrow Never Dies" (1997). As he was rising through the screen ranks, Coyle was also working steadily in theater, earning raves for his performance in "The Weir," which he played in London as well as on Broadway, winning a 1999 Laurence Olivier Award as well as a New York Critics Theater World Award.
Coyle's professional ascent continued as he picked up larger roles in "McCready and Daughter" (BBC, 2001) and on "Paths to Freedom" (RTÉ, 2000) and "Rebel Heart" (BBC, 2001). International audiences, however, began to take note of him with his role as the Gestapo chief Heinrich Müller in the Kenneth Branagh-Stanley Tucci based-on-real-life Nazi historical drama "Conspiracy" (BBC/HBO, 2000). He continued to notch acclaimed work in European productions, including high-profile roles on "Rockface" (BBC, 2002-03) and "North & South" (BBC One, 2004), as well as starring as the famous Irish politician Michael Collins in "Allegiance" (2005) while finding time to take a supporting turn in the time travel thriller "The Jacket" (2005), starring Keira Knightley and Adrien Brody.
Coyle went on to notch roles on "True Dare Kiss" (BBC One, 2007) and "Lark Rise to Candleford" (BBC One, 2008-2011), which earned him ever more acclaim. Although he appeared in the John Cusack Edgar Allen Poe-thriller "The Raven" (2012) and on the series "Starlings" (Sky1, 2012- ), Coyle's true international breakthrough came with his work on the global smash "Downton Abbey" (ITV, 2010- ). Playing John Bates, the valet and former Boer War batman to Lord Grantham (Hugh Bonneville), Coyle gave vivid life to a character whose physical disability masked a powerful spirit. Viewers were glued to the set when the seemingly friendless Bates fell in love with the kindhearted maid Anna (Joanne Froggatt), only to be shocked when it was revealed that he still had a wife who was very much alive – until she was poisoned and Bates was convicted of her murder. His powerful, but understated work earned Coyle a devoted fanbase as well as an Emmy Award nomination for Outstanding Supporting Actor in a Drama Series.
By Jonathan Riggs
The above TCM overview can also be accessed online here.