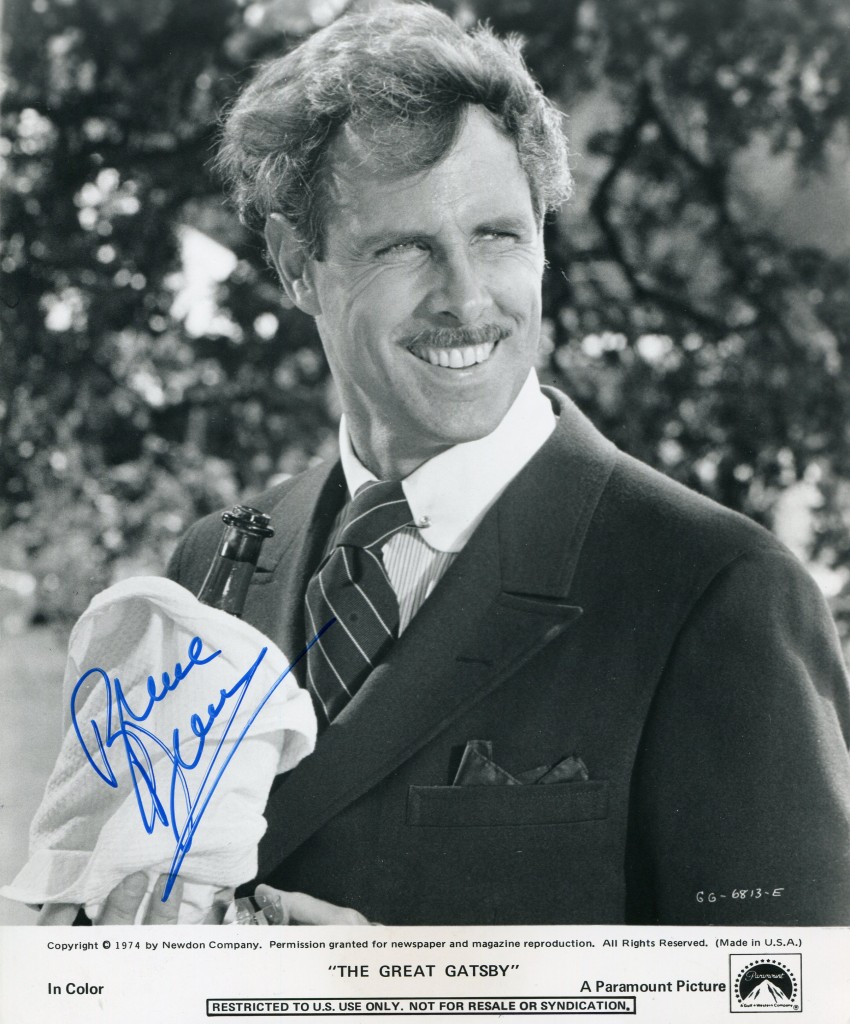 Bruce Dern was born in Illinois in 1936. His uncle was the famous poet Archibald MacLeish. He made his film debut in 1960 in "Wild River" which starred Montgomery Clift and Lee Remick. He was in the cast of the television series "Stoney Burke" which starred Jack Lord. He was featured in 1964 in "Hush, hush Sweet Charlotte", "The Wild Angels" and "Hang E'm High". In 1969 he won critical acclaim for his performance in "They Shoot Horses Don't They" and then onto starring roles in major films. These movies included "The King of Marvin Gardens", "The Great Gatsby""Black Sunday" and "Coming Home". He gave a terrific performance in "Coming Home" with Jane Fonda and Jon Voight in 1978. Recent films include "Choose" and "The Lightkeepers". Nominated for an Oscar in 2013 for "Nebraska".
TCM Overview:
An intense character actor who was frequently typecast as a psycho or villain, Bruce Dern started on television with credits on multiple Westerns. He scored film success with roles in Hitchcock's "Marnie" (1964), Bette Davis' "Hush Hush, Sweet Charlotte" (1964), and a string of projects with Roger Corman, including "The Wild Angels" (1966). A genre star, Dern was most recognizable for his committed turns in lower quality but vivid productions including the mad scientist film "The Incredible 2-Headed Transplant" (1971), the sci-fi proto-environmental picture "Silent Running" (1972), and the deranged mastermind behind a blimp bombing of the Super Bowl in "Black Sunday" (1977). Other notable film work included "They Shoot Horses, Don't They?" (1969), "Support Your Local Sheriff!" (1969), and his infamous turn as a cattle rustler who kills John Wayne in "The Cowboys" (1972). He garnered award recognition as the spoiled Tom Buchanan in "The Great Gatsby" (1974) and as a disillusioned Vietnam vet in "Coming Home" (1978). The ex-husband of fellow actor Diane Ladd and the father of actress Laura Dern, he continued to book roles into later age, including a chilling turn as the domineering father of polygamist Bill (Bill Paxton) on "Big Love" (HBO, 2006-2011). Although he never fully broke out of his typecasting as a genre heavy, Bruce Dern proved he possessed impressive enough acting chops to build a long-lasting career.
Born June 4, 1936 in Chicago, IL, Bruce MacLeish Dern came from a powerful patrician family. He received his start in the theater, where he caught the eye of director Elia Kazan in a 1959 production and was subsequently invited to train at the Actors Studio. After falling in love with Diane Ladd, one of his theatrical co-stars, the two married in 1960, with Ladd giving birth to a daughter, Laura Dern, in 1967. The couple divorced two years later. His first film appearance was an uncredited bit part in Kazan's "Wild River" (1960), and for the remainder of the decade, Dern moved easily between TV and features. He made guest appearances on "The Fugitive" (ABC, 1963-67) and many Westerns, including episodes of "Wagon Train" (NBC, 1957-1962; ABC, 1962-65), "The Virginian" (NBC, 1962-1971) and a regular role on "Stoney Burke" (ABC, 1962-63), but made his biggest impression as a psycho on "Alfred Hitchcock Presents" (CBS, 1955-1960, 1962-64; NBC, 1960-62, 1964-65), an image he would find difficult to shake professionally.
On the big screen, he played a sailor in Hitchcock's "Marnie" (1964) and the doomed, married lover of Bette Davis in the Southern gothic horror film "Hush Hush, Sweet Charlotte" (1964). His success in genre projects, especially his longtime association with B-movie king Roger Corman, ensured steady paychecks with roles in the biker drama "The Wild Angels" (1966), the gangster biopic "The St. Valentine's Day Massacre" (1967), and the LSD-fueled thriller "The Trip" (1967), but these parts damaged his reputation as a "serious" actor. On TV, he continued to play heavies, especially in law enforcement and Western roles, making multiple appearances on "The F.B.I." (ABC, 1965-1974), "The Big Valley" (ABC, 1965-69), "Gunsmoke" (CBS, 1955-1975) and "Bonanza" (NBC, 1959-1973).
Dern revealed more versatility with a role as a desperate dance marathon contestant in the taut, Depression-set drama "They Shoot Horses, Don't They?" (1969) alongside Jane Fonda, as well as his hotheaded gunslinger in the Western spoof "Support Your Local Sheriff!" (1969). But genre work was never that far away, with roles in the Cline Eastwood Western "Hang 'Em High" (1968), the Ma Barker shoot-'em-up "Bloody Mama" (1970), and the mad scientist flick "The Incredible 2-Headed Transplant" (1971). He earned a National Society of Film Critics Best Supporting Actor award for his role as a zealous basketball coach in the polarizing Jack Nicholson-helmed drama "Drive, He Said" (1971) and made an indelible mark for many fans as a rebellious botanist in the sci-fi "Silent Running" (1972). Oddly enough, he received real-life death threats for doing the unthinkable: killing John Wayne onscreen in "The Cowboys" (1972).
Achieving a hard-earned reputation as one of the era's most talented character actors among his peers if not always with critics, Dern reteamed with Jack Nicholson to play a con man in "The King of Marvin Gardens" (1972) and received a Golden Globe nomination as the spoiled Tom Buchanan in the high-profile flop "The Great Gatsby" (1974). The actor reteamed with Hitchcock for the director's final film, "Family Plot" (1976) and played a deranged blimp pilot intent on suicide bombing the Super Bowl in "Black Sunday" (1977). Critics and fans who thought they knew the extent of Dern's range, however, were bowled over by his wrenching turn as a disillusioned Marine struggling with PTSD and the unfaithfulness of his wife (Jane Fonda) with a paraplegic Vietnam vet-turned-antiwar protestor (Jon Voight) in the Oscar-winning drama "Coming Home" (1978). Dern earned nominations for a Best Supporting Actor Oscar and Golden Globe for his work. His subsequent bid for leading man stardom, "Middle Age Crazy" (1980), flopped, and he retreated to more familiar ground, playing a psycho. His turn as a crazed tattoo artist obsessed with a model (Maud Adams) in the sexually-charged disaster "Tattoo" (1981) was universally reviled, earning him a Razzie nomination, and he further damaged his reputation by claiming that he and Adams had actually had sex on camera during the film. Dern next played a mayor desperately trying to win re-election in "That Championship Season" (1982), but despite its impressive pedigree, the film had little impact. His career slowed as the 1980s wore on, although he appeared in a small role in the dark Tom Hanks comedy "The 'Burbs" (1989) and briefly sparked some Oscar buzz as a con man in the desert noir flick "After Dark, My Sweet" (1990).
Balancing out small roles in made-for-TV projects, Dern continued to book film work at a slower pace, appearing in the submarine comedy "Down Periscope" (1996), the Western "Last Man Standing" (1996), the supernatural horror film "The Haunting" (1999), the Cormac McCarthy adaptation "All the Pretty Horses" (2000) and the evil stepparents thriller "The Glass House" (2001). He played one of the only supportive male figures in the life of serial killer Aileen Wournos (Charlize Theron) in Patty Jenkins' Oscar-winning biopic "Monster" (2003) and essayed likable turns opposite Billy Bob Thornton in "The Astronaut Farmer" (2006) and Kristen Stewart in "The Cake Eaters" (2007). On television, he recurred as the domineering and abusive father of polygamist Bill (Bill Paxton) on "Big Love" (HBO, 2006-2011), and was honored in November 2010 with a star on the Hollywood Walk of Fame, the same day that his daughter Laura Dern and ex-wife Diane Ladd received their stars. More significantly, Dern earned an Emmy Award nomination for Outstanding Guest Actor in a Drama Series for his portrayal of Frank Harlow on "Big Love." Back in features, Dern had roles in the little-seen horror thriller "Twixt" (2011), starring Val Kilmer, and the critically-savaged crime thriller "Inside Out" (2011), with pro wrestler Paul "Triple H" Levesque. From there, he had a supporting turn in Quentin Tarantino's "Django Unchained" (2012), which starred Jamie Foxx as an escaped slave who hunts down two ruthless killers with a white bounty hunter (Christoph Waltz). In 2013, Dern received rave reviews for his role as the surly Woody Grant in director Alexander Payne's thoughtful road drama, "Nebraska." Dern's performance in the film earned him the Best Actor Award at the 2013 Cannes Film Festival, thus making the 77-year-old actor an early favorite to receive an Academy Award nomination.
The above TCM overview can also be accessed online here.