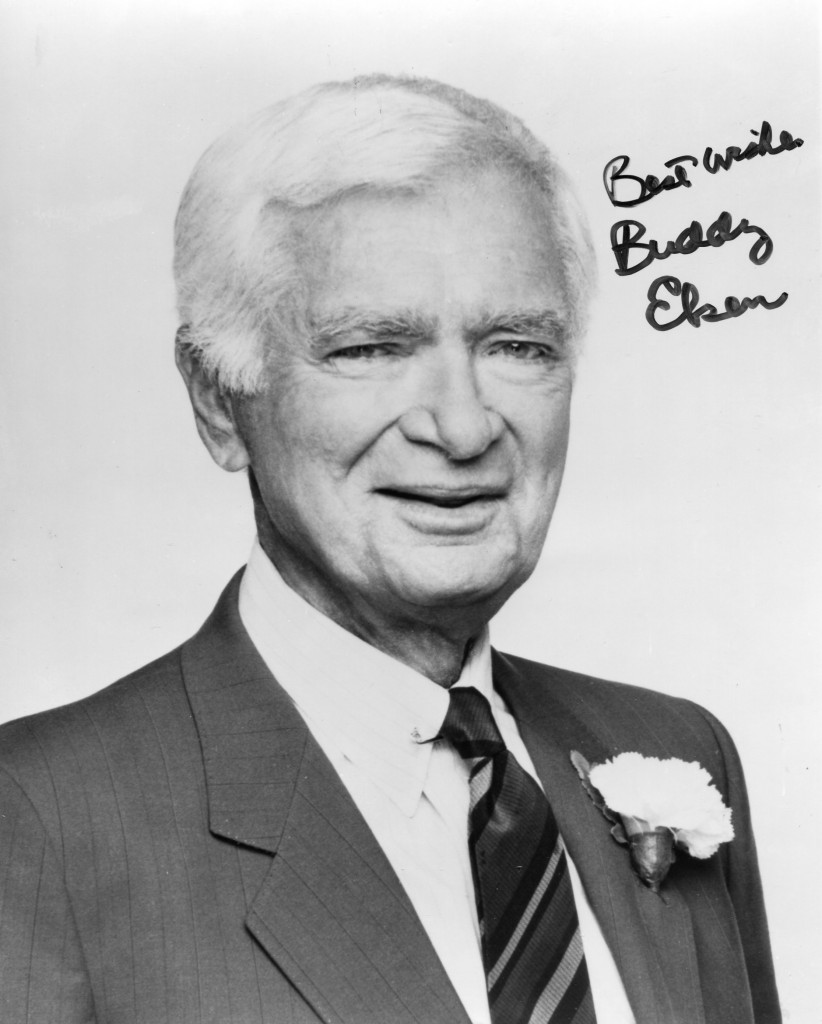 Buddy Ebsen was born in 1908 in Illinois.   In 1935 he was awarded an MGM< contract and made "Captain January" with Shirley Temple and "Broadway Melody of 1938".   He was cast at the tinsman in "The Wizard of Oz" but became ill and had to relinquish the part.   He had two massive television sucesses, "The Beverly HillybilliesLike his most famous character – the hillbilly who found oil on his land – Buddy Ebsen, who has died of respiratory failure aged 95, finally struck it rich as the star of The Beverley Hillbillies. After three decades in show business, from 1962 to 1971 he delighted television viewers as the unkempt and unwilling billionaire Jed Clampett, the bane of all those who tried to take advantage of his naivety, dismissive of the lotus-eating life in Los Angeles and wanting to return to his shack in the Ozarks.
Ironically, he got the part when he was thinking of retiring from acting, at the age of 54. He had just appeared as Audrey Hepburn's husband in Breakfast At Tiffany's (1961), having made his name in the 1930s as a gangling eccentric dancer in a number of endearingly silly film musicals. He might also have been remembered as the Tin Man in the classic Judy Garland film of The Wizard Of Oz (1939), but for an accident that nearly killed him.
Ebsen was initially cast as the Scarecrow, alongside Ray Bolger's Tin Man. He then good-naturedly accepted Bolger's plea to switch roles, only to find that when the make-up people covered him with aluminium paint, it got into his lungs. Ten days into production, he recalled, "after dinner, I took a breath – and nothing happened."
Ebsen was rushed to LA's Good Samaritan hospital, while irate studio chiefs complained that a major picture was behind schedule. Unwilling to wait for him to recover, MGM replaced him with the far less talented Jack Haley, and allowed his contract to lapse.
Curiously for an actor who came to typify American hickdom, Ebsen was born the son of a Danish father and Latvian mother who spoke German as their home language. He trained in his father's dance school in Belleville, Illinois, before forming a song-and-dance act with his sister Vilma and toured in vaudeville.
In 1928, he was part of the cowboy chorus in the Eddie Cantor hit show Whoopee, and went to other Broadway shows, often with Vilma. They reached the screen in Broadway Melody Of 1936 (1935), in which they did a sprightly rooftop number called Sing Before Breakfast, soon after which Vilma retired.
Ebsen's leisurely hoofing, smooth singing and unsophisticated persona were seen at their best when he was dancing with Shirley Temple in Captain January (1936), romancing Frances Langford in Born To Dance (1936) and dueting with the 15-year-old Judy Garland in Broadway Melody Of 1938. He also provided light relief in The Girl Of The Golden West (1938), as Jeanette MacDonald's donkey-riding friend who sings The West Ain't Wild Anymore.
After MGM dropped him in 1939, Ebsen appeared in several B-pictures, before joining the US navy in 1943. Emerging as a lieutenant in 1945, he attempted to revive his screen career, though it was only rescued from the doldrums in Walt Disney's Davy Crockett (1955), playing the hero's sidekick George Russell, which, in 1956, spawned a television series.
That same year, Ebsen was superb as a grizzled, respected soldier in a platoon under siege in Attack!, Robert Aldrich's hard-hitting depiction of the perfidious attitude of certain officers in the second world war.
From 1973 to 1980, he was seen on television as the soft-spoken, milk-drinking Barnaby Jones, a retired private detective who takes over the practice when his son is killed. According to Ebsen, "Barnaby Jones encouraged men not to give up at 65."
This was followed in the 1980s with Matt Houston, another popular series in which he played the private-eye hero's uncle, a retired investigator. His last screen appearance was a cameo in The Beverley Hillbillies (1994), a feature-film version of the television series which only proved that there was no substitute for the original Jed Clampett.
When not appearing in television westerns, Ebsen relaxed by sailing his 35ft catamaran, with which he won a number of races. He also painted in oils, and his romantic novel Kelly's Quest (2001) was a big seller.
He had two daughters from his first marriage, and four daughters and a son from his second marriage. The children all survive him, as does his third wife, Dotti.
· Christian Rudolph 'Buddy' Ebsen, actor and dancer, born April 2 1908; died July 6 2003
The above "Guardian" obituary can also be accessed online here.
" in the 1960's and "Barnaby Jones" in the 1980's.   Buddy Ebsen died in 2003 at the age of 95.
His "Guardian" obituary by Ronald Bergan: