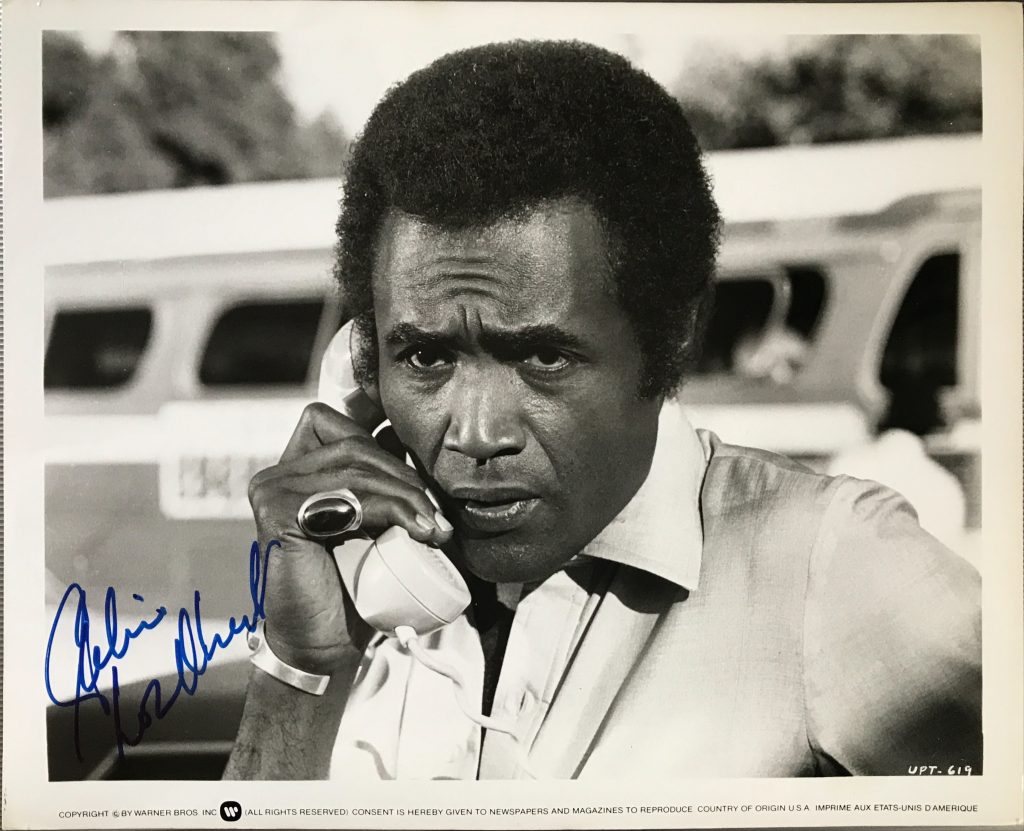 Calvin Lockhart was born in Nasseau in the Bahamas in 1934. He made his debut on Broadway in "The Cool World" at the age of 26. The play closed after just a few performances and he moved to Europe. He made many films in Britain including "A Dandy in Aspic" and "Leo the Last". In 1970 he wnet back to the U.S. and made "Halls of Anger". He died in 2007.
"Guardian" obituary from 2007 by Ronald Bergan.
Bahamian classical actor, he took roles in the 'blaxploitation' films of the 1970s
---
Until very recently, there were few black actors in a white-dominated society who were not faced with difficult choices and obstacles. The Bahamas-born Calvin Lockhart, who has died following complications from a stroke aged 72, was no exception. The handsome, charismatic Lockhart, who had classical acting training and who spoke French, German, Italian and Spanish, was mainly forced to take roles that he disliked.At the start of the 1970s, more than two decades after the birth of the modern civil rights movement, America's 20 million black citizens wanted a more positive media image of themselves. In the meantime, they had to settle for broad comedies and slick thrillers, labelled "blaxploitation". These films became more formulaic as the 1970s progressed – most of them were either "private detective takes on the mob" or "dealer becomes king of the pimps".
According to Lockhart's widow, New York interior designer Jennifer Miles-Lockhart, her husband felt that he did not get enough dramatic roles with "meaning, content, which would make a statement. Calvin felt that he wanted to be somewhere where skin colour didn't matter, where he could do his craft freely, on a high level." Nevertheless, whatever the quality of the blaxploitation movies, they were directed by black directors and starred black actors, playing characters not seen from a white perspective. Lockhart appeared in one of the first black – as distinct from noir – thrillers, Cotton Comes to Harlem (1970), directed by Ossie Davis. He was the swindler-cum-preacher Reverend Deke O'Malley, who has conned $87,000 from the "good folks" for his phony Back to Africa movement.
Lockhart played suave gangsters called Silky Slim and Biggie Smalls respectively in Sidney Poitier's Uptown Saturday Night (1974) and Let's Do It Again (1975). At least, Melinda (1972), directed by Hugh Robertson, the first African-American editor to be nominated for an Oscar, gave Lockhart the chance to play a super-hero, an egotistic disc jockey who has to take on the mobsters who had murdered his girlfriend. In the same year, Lockhart was invited to join the Royal Shakespeare Company at Stratford-upon-Avon, where he appeared in several plays, notably Buzz Goodbody's production of Titus Andronicus in which, as Aaron the Moor, he asks "is black so base a hue?" and launches into a defence of his colour.
Lockhart had already spent almost five years in England (1965-1970), where he had appeared in TV dramas, such as the Wednesday Play and five British films in 1968: A Dandy in Aspic, The Mercenaries, Only When I Larf, Nobody Runs Forever and Joanna. In the last, directed by Mike Sarne, which also featured Donald Sutherland as a dying English aristocrat, Lockhart, as a nightclub owner was one of the first actors to dent a cinematic taboo with a black-white love scene with the heroine, Genevieve Waite.
Sarne then cast him as the effete Irving Amadeus in the disastrous Myra Breckinridge (1970), and he played a pimp in John Boorman's Leo the Last (1970), before returning to the US to star in Halls of Anger, (also 1970). The setting of this was an all-black blackboard jungle which, because of the national integration plan, has to accept 60 white students who suffer the kind of racism that usually affects black people. However, Lockhart, cast as a teacher, solves all the school's problems by his liberal approach. Despite the theme he disliked making the film and walked off the set more than once.
Lockhart, born Bert Cooper, the youngest of eight children, had left the Bahamas aged 19 to study engineering at New York, but became involved in a YMCA theatre group, and studied with the legendary drama coach Uta Hagen. He made his Broadway debut, taking over from Billy Dee Williams, in Shelagh Delaney's A Taste of Honey, in the role of the sailor who gets the white girl (Joan Plowright) pregnant. He returned to the stage only rarely between Broadway and his stint with the RSC.
During his second stay in England, Lockhart was given one of his best film roles in The Beast Must Die (1974) as the millionaire owner of a country estate where he has gathered a number of people, one of whom he hopes to reveal as a werewolf. It was enjoyable, camp nonsense, but it did feature a rich, successful black man, whose colour is never mentioned, a rare phenomenon in films of the early 1970s. Another potentially interesting part was in The Baron (1977), where Lockhart played a struggling African-American film-maker who turns to the underworld to raise money. However, the film descended into many of the cliches of blaxploitation gangster movies.
A couple of years later, Lockhart suffered a heart attack brought on by the news that his son from a former marriage (he was married four times) had lost the use of his legs from jumping under a train. But he returned to work, albeit in a minor capacity. He was in seven episodes as Jonathan Lake in TV's Dynasty (1985-86), was the head of a Jamaican voodoo-gang in Predator 2 (1990), and had small roles in David Lynch's Wild at Heart (1990) and Twin Peaks (1992).
In 1979, Calvin met Jennifer Miles in New York, and they had a son in 1981. They married in 2006: she survives him, as do his other two sons and a daughter.
· Calvin Lockhart (Bert Cooper), actor, born September 18 1934; died March 29 2007
he above "Guardian" obituary can also be accessed online here.
Gary Brumburgh's entry:
Bahamian-born Calvin Lockhart first caught moviegoers' attention in the supercharged urban films Cotton Comes to Harlem (1970) and Halls of Anger (1970) before becoming a fairly steady fixture in the "blaxploitation" movies of the early-to-mid 1970s.
Born Bert Cooper to a large family in Nassau on October 18, 1934, he was raised there before moving to New York in his late teens with initial designs on becoming a civil engineer (Cooper Union School of Engineering). Dropping out after a year to pursue an acting career, Calvin worked as a carpenter and construction worker, among other odd jobs. He first studied with legendary coach Uta Hagen and then hit the New York theater boards. The story goes that he was discovered by playwright Ketti Frings while working as a taxi driver. She was so impressed with his arrogance that she cast him in her play "The Cool World" in 1960. From there Calvin drummed up interest via a bit of controversy on Broadway when he played a sailor in love with a white girl in the racially-themed "A Taste of Honey" starring Angela Lansbury.
Serious film and TV roles for black actors were scarce at that time, so Calvin moved to Europe. In Italy he owned a restaurant and formed his own theater company, serving as both actor and director. He also lived in Germany before settling in England. He starting building up film credits with minor work in such British movies as A Dandy in Aspic (1968) and Only When I Larf (1968). He made news in another racially-motivated project entitled Joanna (1968), which centered around a "mod", interracial romance with 'Genevieve Waite'.
Returning to the US with a stronger resume, he made a distinct early impression as a slick preacher bent on fraud in the hip cop flick Cotton Comes to Harlem (1970) and as an English teacher in the inner-city potboiler Halls of Anger (1970). He also involved himself in such black action features as Melinda (1972), Honeybaby, Honeybaby (1974) and The Baron (1977). Similar in charismatic style and intelligence to Sidney Poitier, the famed actor-director was impressed enough to cast Calvin in his broad comedy vehicles Uptown Saturday Night (1974) and Let's Do It Again (1975). Calvin could also play fey upon request, camping it up briefly in Myra Breckinridge (1970). During this rich period he also became an artist-in-residence with the Royal Shakespeare Company at Stratford (the first black actor so honored) and appeared prestigiously in such productions as "Titus Andronicus" (1972).
Calvin's career grew lackluster, however, by the end of the decade, resorting to trivial guest parts in such TV shows as Good Times (1974) and Get Christie Love! (1974). He landed a recurring role on the nighttime soap Dynasty (1981) in the early '80s.
In 1974, Calvin married a woman also from the West Indies and had three children. After his career subsided, he decided to return to his homeland in the mid '90s and resettled in Nassau with his fourth wife, Jennifer Miles. There he involved himself with the Freeport Players Guild as a director. He also returned to films after a 15-year absence, completingRain (2008), a movie shot in the Bahamas, shortly before he suffered a major stroke. Calvin died of complications on March 29, 2007, and his family is in the process of establishing a scholarship fund in his name for Bahamian student pursuing an acting or filmmaking career.
– IMDb Mini Biography By: Gary Brumburgh / gr-home@pacbell.net