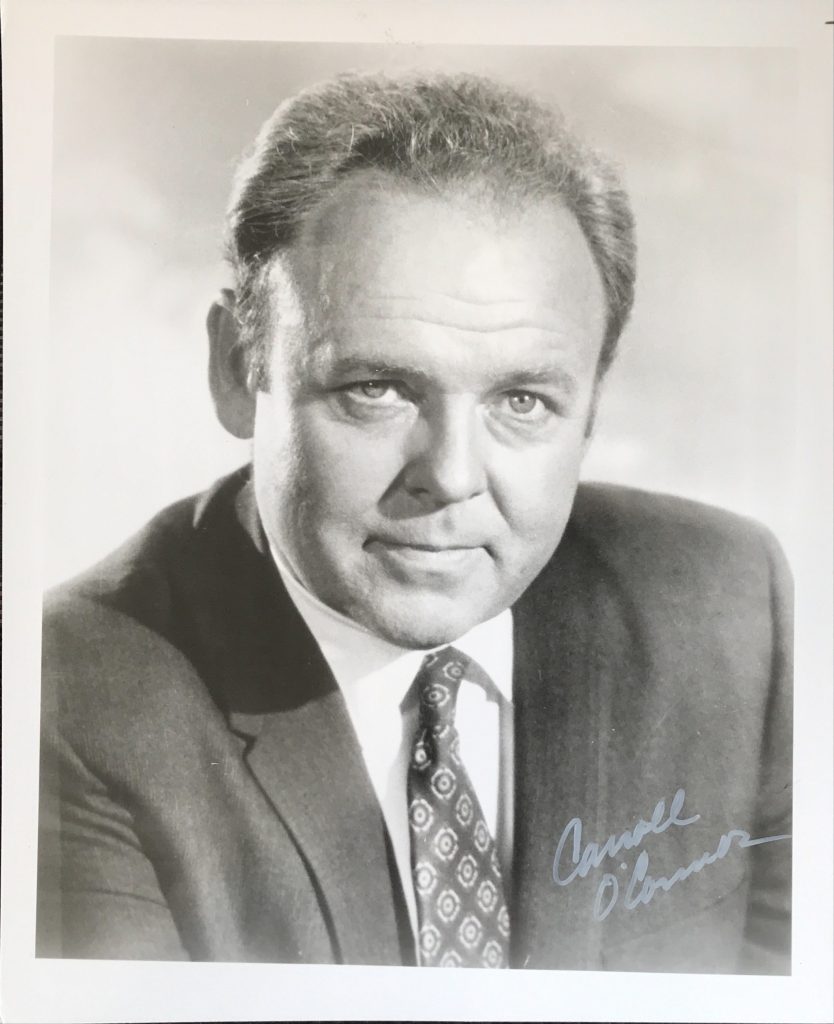 Carroll O'Connor is best known for his role as Archie Bunker in the American sitcom series "All in the Family" which ran from 1971 until 1979. He was born in Manhatten in 1924. After military service during World War Two he studied acting in Dublin. Among his films was "Kelly's Heros" with Clint Eastwood. Carroll O'Connor died in 2001.
Ronald Bergan's obituary in "The Guardian":
A few years ago, I gave a couple of lectures on the QEII, sailing from New York to Southampton. In the dining room, I was at a table with the Supremes and a quietly spoken, middle-aged American couple. I was surprised when many of the American passengers, almost ignoring the three female singers, came up to the shy, thick-set man, and greeted him as "Archie".
It turned out that my table companion was one of the most famous actors in America. Carroll O'Connor, who has died of a heart attack aged 76, played Archie Bunker in the long-running TV series, All In The Family, from 1971 to 1979, and was then in Archie's Bunker, from 1979 to 1983.
The show, which had an average of 50m viewers a week, was adapted from Till Death Do Us Part, and Bunker was as loud-mouthed, reactionary and misogynistic as his British equivalent, Alf Garnett. Tame as it was by today's American TV standard, the series was a breakthrough after decades of bland sitcoms featuring wise and loveable parents, and it made O'Connor a household name.
During our voyage, I also discovered that O' Connor, who was with Nancy, his wife since 1951, was nothing like his alter ego, being introverted, intellectual and liberal. "I never heard Archie's kind of talk in my own family," he said. "My father was in partnership with two Jews, and there were black families in our circle of friends."
Despite having a lawyer father and a schoolteacher mother, O' Connor was an extremely bad student, both at high school and college. During the second world war, he became a merchant seaman, sailing the North Atlantic, Caribbean and Mediterranean. In 1946, he returned to his mother's house in the New York suburb of Queens (his father had been jailed for fraud) and began working for an Irish newspaper. With a burning desire to catch up on his education, he went back to college, and later enrolled at University College, Dublin, where he took a BA in Irish history and English literature in 1952.
At the same time, he started acting professionally at the Gate Theatre, Dublin, working under the direction of Michael MacLiammoir and Hilton Edwards. He also appeared in productions at the Edinburgh festival and around Ireland. Unable to find work on his return to New York in 1954, he taught for four years, before getting a part in Burgess Meredith's Ulysses In Nighttown, adapted from the James Joyce novel.
This led to him being offered the part of the ruthless Hollywood boss Stanley Hoff in an off-Broadway production of Clifford Odets's The Big Knife, and it was not long before O'Connor was making a reputation as a reliable supporting actor in several overblown movies of the 1960s. He played mostly authoritarian figures, such as army officers, in Otto Preminger's In Harm's Way (1965), What Did You Do In The War, Daddy? (1966), Not With My Wife, You Don't! (1966), The Devil's Brigade (1968) and Kelly's Heroes (1970) – and might have continued in the same vein had it not been for the offer by producer-writer Norman Lear to star in All In The Family.
Despite many of the character's despicable views, O' Connor managed to make Archie a complex, sometimes even likeable, human being. "I have a great deal of sympathy for him," he once said in an interview. "As James Baldwin wrote, 'The white man here is trapped by his own history, a history that he himself cannot comprehend, and therefore what can I do but love him?'"
Archie, a blue-collar worker in a dead-end job, called his long-suffering wife (Jean Stapleton) "a dingbat," his son- in-law (Rob Reiner) "a pinko Polack," and his daughter (Sally Struthers) "a weepin' nellie atheist." He thought the Democratic party was a front for communism, and that women and blacks were getting too uppity. He was also a prude.
After Archie, O' Connor returned to the stage, but Broth ers (1983), which he directed and played in as a tough union leader dominating his four sons, closed after only one performance on Broadway. A year later, Home Front, a play about a family terrorised by their distressed Vietnam vet son, ran for 13 performances. O' Connor only found success again in 1988 with In The Heat Of The Night, a TV series based on the 1968 film, in which he played the redneck police chief originally portrayed by Rod Steiger.
One of the supporting parts was played by O' Connor's adopted son, Hugh, who shot himself in March 1995 after battling against alcohol and drug addiction. This episode explained the O' Connors' rather melancholy air when I met them on a trip to Europe in the same year.
It also explained why Carroll had given up show business to devote himself to an anti-drugs crusade. I learned later that he had faced a writ for slander from a man he had accused of providing cocaine to Hugh – and of thus being "a partner in murder." The case was thrown out by a California jury in 1997, and the drug supplier was jailed for a year.
O' Connor, who made a final screen appearance last year, as Minnie Driver's grandfather in the mawkish melodrama Return to Me, is survived by his wife and grandson.
• Carroll O' Connor, actor, born August 2 1924; died July 21 2001.
The above "Guardian" obituary can also be accessed online here.