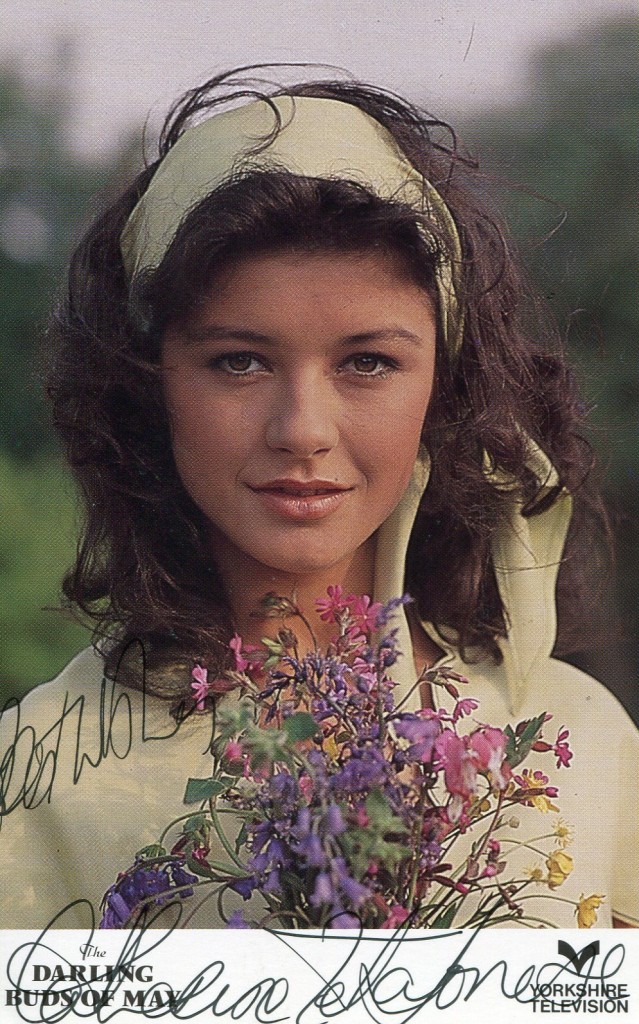 Catherine Zeta Jones was born in Swansea, Wales in 1969. She came to national prominence in the UK in the popular television series "The Darling Buds of May". In 1993 she was featured in the film "Splinning Heirs" and then in the mid 1990's she went to Hollywood where she achieved starring roles in such big budget featues as "The Mask of Zorrro", "Entrapment" and "The Haunting". She won as Oscar for her role as Velma Kelly in "Chicago" opposite Richard Gere. In 2010 she won a Tony on Broadway for her role in "A Little Night Music" opposite Angela Lansbury. She is married to the actor Michael Douglas.
TCM Overview:
Welsh-born actress Catherine Zeta-Jones captivated both U.S. audiences and one of film's most prominent leading men, establishing her as Hollywood royalty seemingly overnight. Following more than a decade's worth of work on the stages of Britain, Zeta-Jones broke out in a big way opposite Antonio Banderas in the swashbuckling adventure, "The Mask of Zorro" (1998). After a pair of unremarkable mainstream efforts, she earned critical acclaim for her turn in Steven Soderbergh's drama "Traffic" (2000), co-starring her future husband, Hollywood icon Michael Douglas. Zeta-Jones later drew upon her extensive musical theater background for her Oscar-winning performance in Rob Marshall's adaptation of "Chicago" (2002). Critical and commercial disappointments such as the Coen Brothers' dark-comedy "Intolerable Cruelty" (2003) were balanced by bright spots like a supporting turn in Soderbergh's heist sequel, "Ocean's Twelve" (2004), but Zeta-Jones increasingly chose to devote her time to her and Douglas' growing family. A Tony Award for her Broadway performance in "A Little Night Music," Douglas' battle with throat cancer, and her own hospitalization for a bipolar disorder were just a few of the high and low points that marked a tumultuous period for Zeta-Jones between 2009 and 2011. Eventually, she returned to screens in several feature films, the musical, "Rock of Ages" (2012), among them. Almost preternaturally beautiful and talented, Zeta-Jones remained one of film's more impressive leading ladies.
Catherine Zeta-Jones was born Catherine Jones on Sept. 25, 1969 – or so the story went (rumors would persist that she was as much as 10 years older than her age, but she always denied the claims. Her mother Patricia was an Irish seamstress and her Welsh father Dai ran a confectionary company. Dai's mother's name, "Zeta," would prove a helpful addition to her name when the aspiring actress began a career in a world full of Catherine Joneses. But that career would not begin for about five long years after Zeta-Jones was born in the Welsh seaside town of Swansea. She started taking dance classes at the age of four, and by the age of 10, was performing regularly with the local church-sponsored theater group and already harboring dreams of a career singing and dancing onstage. Unfortunately, she contracted a viral infection that not only kept her offstage and out of school for a period, it impaired her breathing and required a tracheotomy – traces of which would remain visible in the form of a tiny scar on her neck. Following her recovery, Zeta-Jones was enrolled in a private school to help her catch up on her missed studies, a move enabled in no small part by her parents netting a sizeable winning in a local lottery. The Jones family moved to a nicer neighborhood, but their newly-minted prep schooler was still an incurable performer. When she was not in local productions she was belting out Broadway numbers from atop the kitchen table for friends and family. Zeta-Jones' father doubled as a supportive coach, taking her to auditions in London where the teen landed roles in productions of "Bugsy Malone" and "Annie."
When Zeta-Jones was 14, a traveling musical theater production helmed by former Monkee Mickey Dolenz came to Swansea, casting local talent to participate in the chorus. Not only was Zeta-Jones chosen to perform, but producers cast her in a touring production of "The Pajama Game," at which point she quit school, moved to London, and got her Actor's Guild card. Camped out in the spare room of a former acting tutor, the promising newcomer lucked into the lead in a revival of "42nd Street" after her fill-in performance blew away producers and audiences. She logged an impressive schedule of eight shows per week for two years, and by the time she was 19, Zeta-Jones was ready for a change of pace. In 1989, she left London for a year of exploring Paris. While there, director Philip de Broca gave Zeta-Jones and her unbelievable exotic looks a screen debut in the feature "Sheherazade: 1001 Nights" (1990). In 1991, Zeta-Jones returned to England and was offered a co-starring role as the eldest daughter in a boisterous farm family on the British TV series "The Darling Buds of May" (Yorkshire TV, 1991-93). The show was a hit, and its three-year run turned Zeta-Jones into a bona fide television star in the U.K. She began to land offers in America, appearing in the TV film "Christopher Columbus: The Discovery" (1992) and in an episode of "Young Indiana Jones Chronicles" (ABC/USA Network, 1992-96). The newcomer turned out memorable performances in the Eric Idle comedy flop "Splitting Heirs" (1993) and the "Hallmark Hall of Fame adaptation of "The Return of the Native" (CBS, 1994) before making a return to the stage in Kurt Weill's "Street Scenes" with the British National Opera in 1994.
With her extensive performing background and certifiable star status in the U.K., Zeta-Jones could take any path she wanted from stage to screen. She chose to move to Los Angeles and take a crack at American film stardom. "Blue Juice" (1995) and "The Phantom" (1996) failed to garner much notice but a supporting role in the CBS miniseries, "Titanic" (1996), caught the eye of filmmaker Steven Spielberg, who shared news of his find with director Martin Campbell. Campbell, blown away but her timeless beauty and its similarities to 1940s screen goddess Hedy Lamarr – once called "the most beautiful woman in the world" during her 1930s and '40s heyday – cast Zeta-Jones in "The Mask of Zorro" (1998). The film was an instant hit and star-making role for Zeta-Jones, whose swordplay, horseback riding and flamenco dancing was imbued with a sexual charge that audiences found irresistible. American entertainment magazines were abuzz over this latest overseas import with her onscreen Castilian lisp and off-screen Hollywood glamour that earned comparisons to legendary radiant beauties like Lamarr and Gardner. Though she did not know it yet, this hard working, ambitious, exceedingly talented woman was about to become the epitome of the phrase "the woman who has it all."
Trumpeted as the next big thing, Zeta-Jones dazzled opposite Sean Connery in the romantic thriller "Entrapment" in 1999, for which she did many of her own stunts. But her onscreen May-December match-up with the aging Connery mimicked a real-life romance with actor-producer Michael Douglas, the dashing Hollywood heavyweight 25 years her senior. After seeing Zeta-Jones onscreen in "Zorro," Douglas reportedly turned to a friend and said, "I don't know who she is, but I'm gonna marry that woman." Taking off like gangbusters, the two became parents and subsequently married in 2000, culminating in a ceremony that reportedly cost a cool million dollars at New York's Plaza Hotel. Unfortunately the ceremony was overshadowed by high-profile lawsuits concerning photo rights for the affair. Prior to the nuptial circus, Zeta-Jones' talents were criminally underused in the 1999 remake of "The Haunting," but she had a memorable cameo as the free-wheeling former girlfriend of John Cusack's central character in "High Fidelity" (2000). But it was with director Stephen Soderbergh's film "Traffic" (2000) that Zeta-Jones was first able to change public perception by gaining universal acclaim for her portrayal of a drug dealer's wife who transforms from innocent bystander to business partner, a role she played while pregnant with her first child with Douglas. The stunning performance caused an outcry when Zeta-Jones was overlooked come Oscar time.
In 2001, Zeta-Jones was featured in "America's Sweethearts," a romantic comedy about a high-profile Hollywood couple, but that was soon forgotten when she displayed heretofore unseen (on the big screen) singing and dancing chops as the murderess Velma Kelly in the film version of the Broadway musical "Chicago" (2002). Her captivating performance earned Zeta-Jones an Academy Award as Best Supporting Actress, as well as a Golden Globe nomination for Best Actress in a Comedy/Musical. That same year, Zeta-Jones – named as one of People magazine's "Most Beautiful People" – signed on as the global spokeswoman for Elizabeth Arden cosmetics. After an awards season that dovetailed with her second pregnancy, the actress returned to the screen in the dark Coen Brothers comedy "Intolerable Cruelty" (2003), which fell flat with audiences and critics, despite starring an equally attractive George Clooney. At that time, the beaming mother of two had also signed on as a spokesmodel for T-Mobile cellular phones.
Teaming for the first time with Tom Hanks and director Steven Spielberg, Zeta-Jones next appeared in "The Terminal" (2004) which, although she made a solid attempt to portray a romantically-challenged woman, she was simply too beautiful and sharp to be believed as a loser in love. She reteamed with Clooney and his heisting cohorts for the lackluster sequel "Ocean's Twelve" (2004), this time providing a love interest for Pitt. Zeta-Jones film appearances eased up over the next few years as she raised her two children and split time between the family's estate in Bermuda and other homes in New York City, Spain, and Wales. In 2005, Zeta-Jones reprised her role as Elena in "The Legend of Zorro" (2005), the character now estranged from her masked husband (Antonio Banderas) and trying to balance the thirst for adventure with the desire to be a responsible parent. Off-screen, Zeta-Jones continued to successfully strike that balance, starting her own production company Milkwood Productions, based out of her hometown of Swansea. Following her starring role as a chef in the predictable but moderately popular romantic comedy "No Reservations" (2007) Zeta-Jones was slated to enjoy her first producer credit with Milkwood's debut, "Coming Out" (2008), a comedy in which Alan Cumming plays the gay coach of a Welsh Rugby team.
Following a two-year absence from the screen, Zeta-Jones returned in the May-December romantic comedy, "The Rebound" (2009) in which she played a recently divorced mother who entrances a much younger man (Justin Bartha). Unfortunately, the U.S. distributor declared bankruptcy just prior to release, relegating it to the direct-to-DVD market. On a much better note that year came Zeta-Jones' Broadway debut in the 2009 revival of Stephen Sondheim and Hugh Wheeler's "A Little Night Music," a performance that won her the Tony for Best Actress in a Musical. The following year, however, proved to be one of the most difficult of the actress' charmed life. In August 2010, Michael Douglas publically revealed that he had been diagnosed with a dangerously advanced stage of throat cancer. Over the course of the next year, Douglas battled the disease aggressively – at one point losing as much as 32 pounds as a side-effect – and by early 2011 he announced that the tumor had been eliminated, much to the obvious relief of Zeta-Jones, who had foregone career opportunities in order to remain by her husband's side during the ordeal.
Zeta-Jones returned to theaters once more with a slew of projects. First up was a turn opposite Bruce Willis and Vince Vaughn in director Stephen Frears' Las Vegas gambling comedy "Lay the Favorite" (2012), based on journalist Beth Raymer's memoir of the same name. Next came the highly-anticipated adaptation of the smash Broadway musical, "Rock of Ages" (2012), starring Tom Cruise, Alec Baldwin, Russell Brand and Zeta-Jones as the story's antagonist, a conservative activist looking to shut down a popular 1980s L.A. rock music venue.