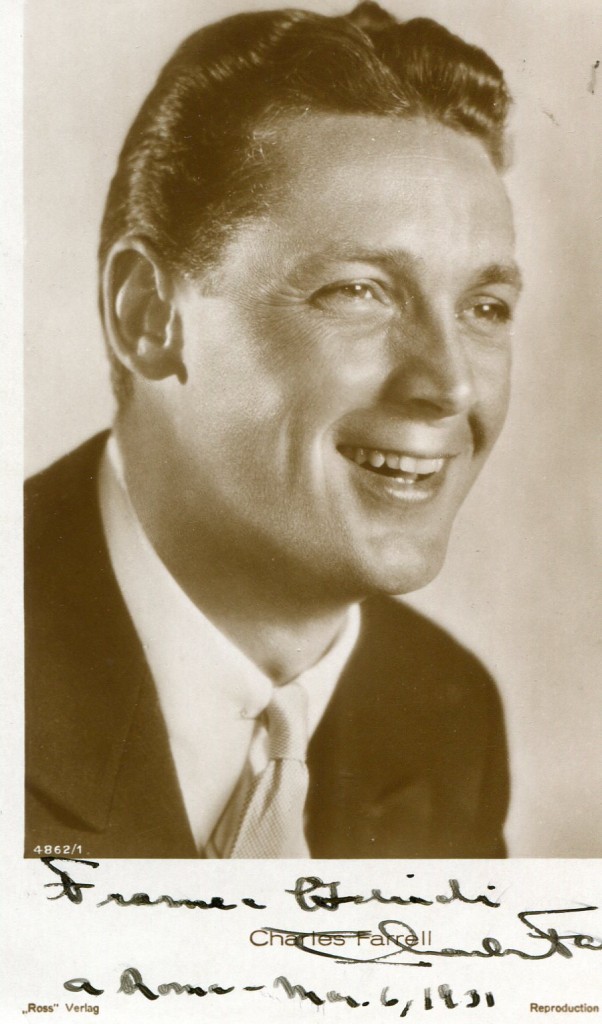 Charles Farrell was born in 1901 in Walpole, Massachusetts. He is best knpwn to-day for a series of films he made with Janet Gaynor. He was long married to actress Virginia Valli. After retiring from films in the 1950's be became involved in community projects in Palm Springs. He died in 1990.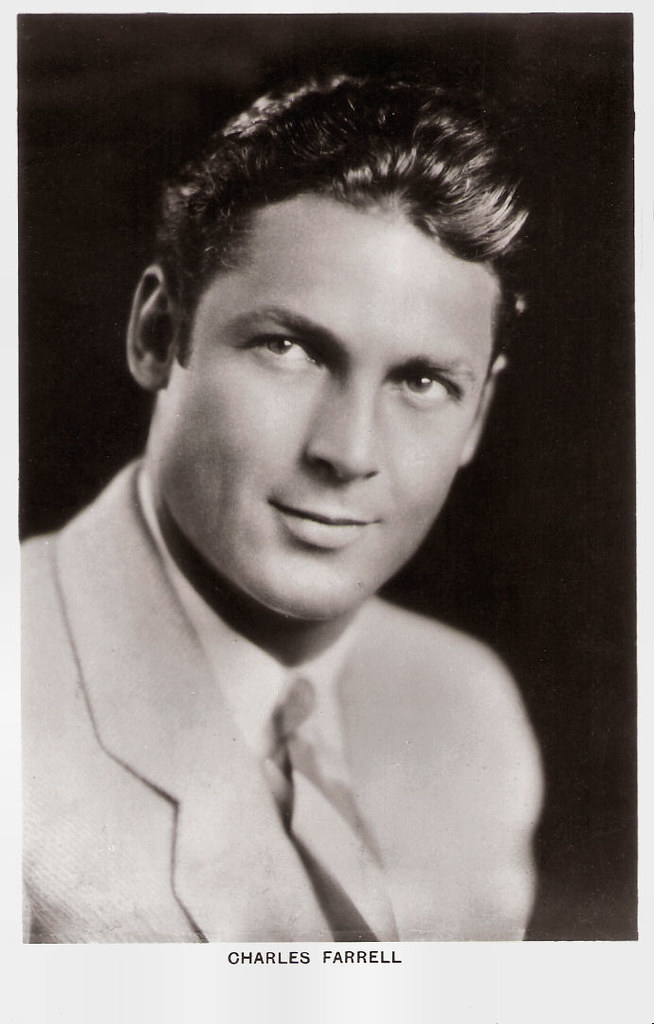 New York Times obituary in 1990:
Charles Farrell, the gentle-mannered actor whose career spanned four decades, ranging from silent films to talkies to the 1950's television series "My Little Margie," died on Sunday at his home in Palm Springs, Calif. He was 88 years old.
Mr. Farrell was so durable as a performer that Bob Hope is said to have referred to him once as a "19th-century Fox star."
An athletic six-footer, he gained fame as the romantic lead in "Seventh Heaven" (1927). The Times critic Mordaunt Hall said that he was "splendid" in that role, playing opposite Janet Gaynor.
"Sometimes he may seem to be a little too swaggering, but what of it?" Mr. Hall observed. "The actions suit the young man's agreeable bombast. You find that you like him."
The Seventh Heaven in the silent film was the walk-up Parisian garret where Mr. Farrell, playing an impecunious laborer, made his home.
Mr. Farrell and Miss Gaynor then co-starred in a series of other film romances. For seven years they were movieland's leading on-screen romantic couple. Then his movie career waned.
His film work included serious as well as romantic roles in such films as "Wings of Youth" (1925), "Sandy" (1926), "The Rough Riders" (1927), "Aggie Appleby" (1933), "Fighting Youth" (1935) and "The Deadly Game" (1942). He retired from films in the 1940's.
In television he turned to comedy, starring as a widowed father in more than 100 installments of "My Little Margie," which was widely popular.
Began as Extra
Charles Farrell was born Aug. 9, 1901 in Onset Bay, Mass., and attended Boston University. He played some stage roles and broke into films as an extra in "The Cheat" (1923). He then had various supporting parts before "Seventh Heaven," which opened in New York at the old Sam H. Harris Theater and remained his best-known movie.
Recalling his movie work in a 1954 interview Mr. Farrell, still handsome and wavy-haired, said: "They wouldn't accept my voice. They said I didn't have diction. When the talkies came in, a lot of stage people came to Hollywood from New York and I knew that I didn't talk like them, but my voice was me and that's all there was to it."
"One fellow kept needling me about improving my diction until I finally sat on him – but good," he added. "My life was made miserable. There were other complicating factors, and I decided to move on."
Resort Hotel Manager
He served in the Navy in World War II and prospered in a new career as a manager and host of the Racquet Club, a private resort hotel in Palm Springs, where he lived with his wife, the former silent film star Virginia Valli, whom he married in 1932; she died in 1968.
Mr. Farrell served as mayor of Palm Springs for several years in the 1940's and 50's. He sold the Racquet Club in 1959.
His television career, mainly in the 1950's, included the starring role in the "The Charlie Farrell Show" in addition to "My Little Margie," in which he played the father of a prankish unmarried daughter, portrayed by Gale Storm.
"I took the part because I'm a ham," Mr. Farrell said in the 1954 interview. "The work is not exactly the same as making pictures, but it's pretty close