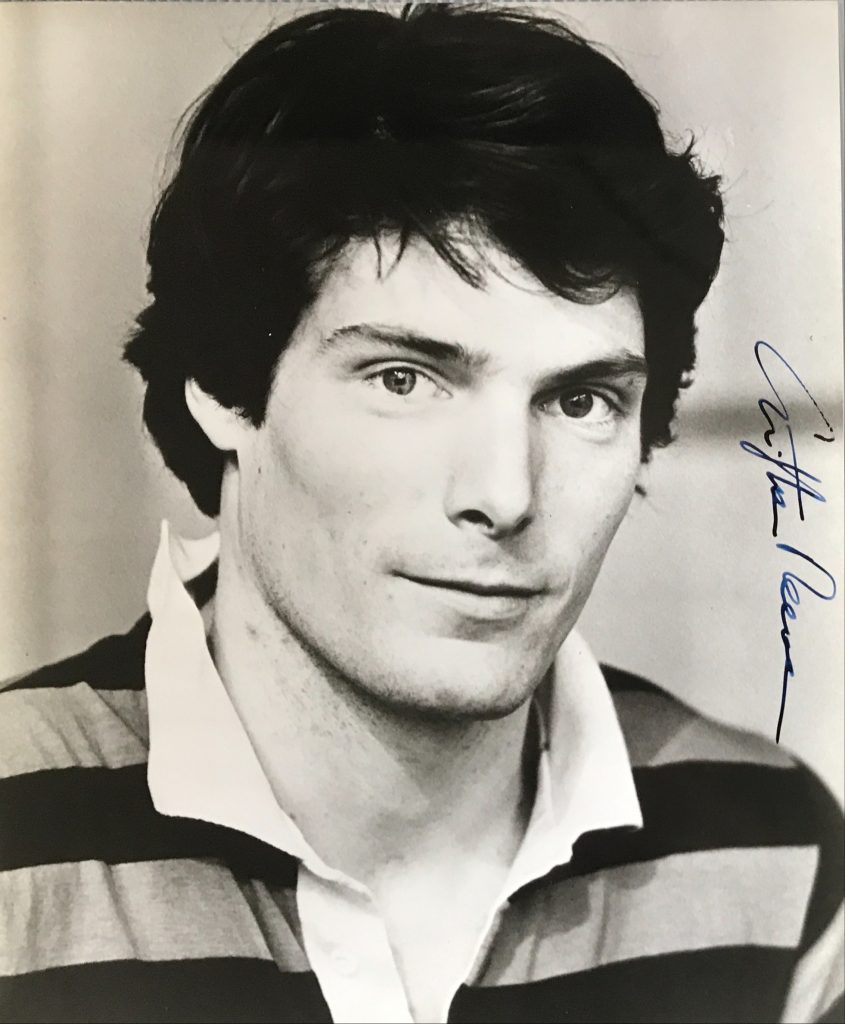 Although Christopher Reeve will forever be remembered for his Superman movies, he did make some other very fine movies. He was born in 1952 in New York City. He made his film debut in "Gray Lady Down" which starred Charleton Heston in 1978. Later on that year, "Superman;The Movie" was released. His other movies of note ionclude the period drama "Somewhere in Time" with Jane Seymour, "The Bostonians" with Vanessa Redgrave and "Remains of the Day" with Anthony Hopkins and Emma Thompson. Sadly his horseriding accident in 1995 curtailed his career. Afterwards he did make an occasional film. He died in 2004.
Ronald Bergan's "Guardian" obituary:
It is a tragic irony that, in his life and death, Christopher Reeve, who has died of heart failure aged 52, has been renowned for two roles: Superman, the supreme physical specimen, and a man paralysed from the neck down. Unfortunately, the second role was all too real.
In 1995 Reeve, a keen rider, broke his neck when he was thrown from his horse during an equestrian competition in Virginia. But, after some years of therapy, despite pessimistic prognoses, he was determined to walk again, and became a symbol of hope for quadriplegics. "I refuse to allow a disability to determine how I live my life. I don't mean to be reckless, but setting a goal that seems a bit daunting actually is very helpful toward recovery," Reeve said.
In 2000, Reeve was able to move his index finger and breathe for longer and longer periods without a respirator. He also regained sensation in other parts of his body. Reeve dedicated much of his time and almost all of his energy lobbying US Congress for better insurance protection against catastrophic injury and giving support to stem cell research. Coincidentally, Senator John Kerry, in Friday's debate with George Bush, said that he believed embryonic stem cell research should be expanded, saying it would be the best way to give Reeve (an active Democrat) and others like him the chance to walk again.
However, it would be a pity if this heroic and heartrending situation should obscure some of his many achievements in his acting career, cut short in such a cruel manner. After all, Reeve appeared in a total of 17 feature films, a dozen TV movies, and about 150 plays.
Christopher Reeve was born in New York into an intellectual family; his father FD Reeve is a noted novelist, poet, and scholar of Russian literature; his mother, the journalist Barbara Johnson. During his childhood, Christopher was exposed to a stimulating intellectual environment that included Sunday dinners with the poets Robert Frost and Robert Penn Warren, and politician and academic Daniel Patrick Moynihan. The atmosphere was such that his father was disappointed to learn that the role of Superman that his son had been offered was not one in George Bernard Shaw's Man and Superman as he had thought.
Christopher attended the exclusive Princeton Day School, where he started acting in plays. "While I was growing up," Reeve recalled, "I never once asked myself: 'Who am I?' or 'What am I doing?' Right from the beginning, the theatre was like home to me. It seemed to be what I did best. I never doubted that I belonged in it." After graduating from high school, Reeve toured the country as Celeste Holm's leading man in The Irregular Verb To Love.
While at Cornell University, he majored in music theory and English, and spent time studying theatre in Britain and France. In London, he worked at the Old Vic. "I was a glorified errand boy, but it was a very exciting time there. I helped by teaching the British actors to speak with an American accent. Then I went to Paris to work with the Comedie Francaise."
In lieu of his final year at Cornell, Reeve was one of two students (Robin Williams was the other) who were accepted at New York's Juilliard School of Performing Arts. There he studied under the celebrated John Houseman. At the same time, he supported himself with a role in the long-running television soap, Love Of Life. Reeve's almost unreal handsome looks and athletic, six-foot-four frame made him perfect material for a soap-opera hero, as later for a comic-book one. In the meantime, he won a coveted role of Katharine Hepburn's grandson in Enid Bagnold's A Matter Of Gravity on Broadway in 1976, of which Reeve commented: "I had the privilege of spending nine months working with one of the masters of the craft." In the same year, Reeve got a small part in Gray Lady Down, a submarine adventure film.
While appearing in an off-Broadway production, Reeve successfully screen-tested for the 1978 movie Superman. It was the most inspired casting of an unknown in a series since Sean Connery's James Bond. Reeve portrayed Superman as "somebody that, you know, you can invite home for dinner … What makes Superman a hero is not that he has power, but that he has the wisdom and the maturity to use the power wisely. From an acting point of view, that's how I approached the part." Of playing Clark Kent, Reeve reckoned that "there must be some difference stylistically between Clark and Superman. Otherwise you just have a pair of glasses standing in for a character." Reeve, though he played the two roles straight without any sign of camp, revealed a deft Cary Grant-inspired comic timing.
Unfortunately, the three sequels were a matter of diminishing returns and, after Superman IV: The Quest For Peace (1987), Reeve, determined to 'escape the cape', explained: "Look, I've flown, I've become evil, loved, stopped and turned the world backward, I've faced my peers, I've befriended children and small animals and I've rescued cats from trees. What else is there left for Superman to do that hasn't been done?"
Away from the man of steel, Reeve portrayed a wide range of roles. His films included the love fantasy, Somewhere In Time (1980); the thriller Deathtrap (1982); Monsignor (1982), in which he again wore a cape in the title role; and two archetypal Merchant-Ivory period pieces, The Bostonians (1984) and The Remains Of The Day (1993). He also showed his ability at farce in Switching Channels (1988) and Noises Off (1992). Further proof of his versatility came on stage in The Aspern Papers in London with Vanessa Redgrave and Dame Wendy Hiller; Beaumarchais' The Marriage Of Figaro in New York, and Tennessee Williams's Summer And Smoke in Los Angeles, as well as touring in Love Letters.
Before the near-fatal accident, Reeve seemed to have everything. He was an accomplished pianist and a superb athlete. He earned his pilot's licence in his early 20s and twice flew solo across the Atlantic in a small plane. He also flew gliders and was an expert sailor, scuba diver and skier. But horses were his great passion.
In 1998, Reeve returned to acting in a remarkable TV movie update of the Hitchcock thriller Rear Window, in which a man confined to a wheelchair spies on people in a neighbouring apartment.
Reeve is survived by three children, a son and daughter from his long relationship with modelling executive Gae Exton, and a son with Dana Morosini, whom he married in 1992. Reeve's parents are still alive.
Ë Christopher Reeve, actor, born September 25 1952; died October 10 2004
The above "Guardian" obituary can also be accessed online here.