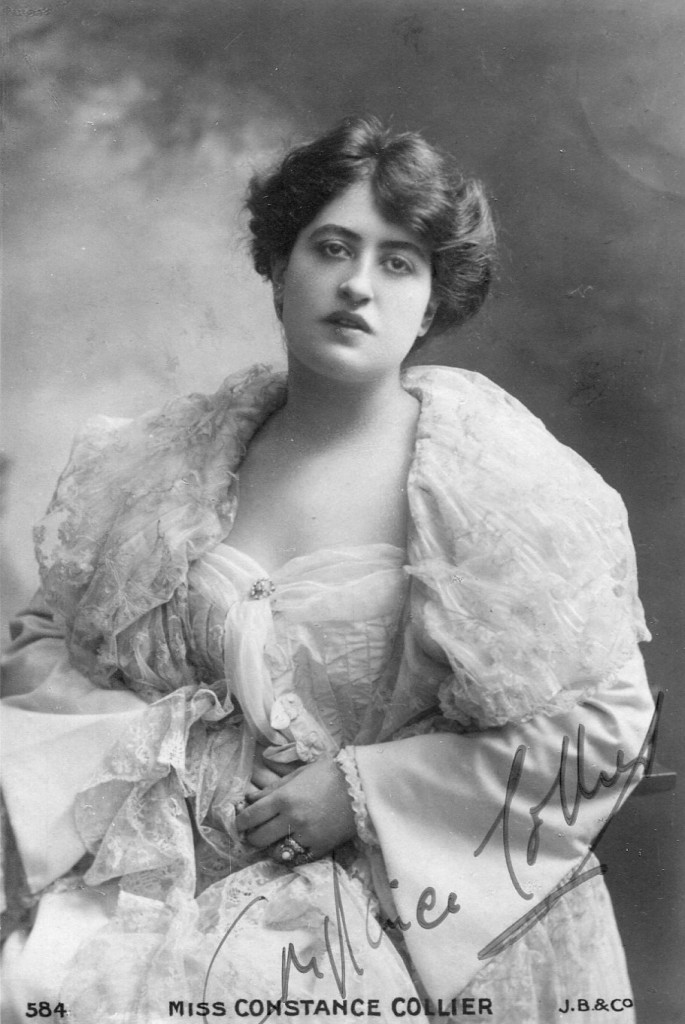 Constance Collier was born in 1878 in Windsor. She made her stage debut at the age of 3 in "A Midsummer's Night Dream". In 1905 she married Irish actor Julian Boyles and they performed on the stage until his death in 1918. In the 1940's she was a stalwart character actress in Hollywood films such as "Kitty" with Paulette Goddard and Ray Milland, "The Perils of Pauline" in 1947 with Betty Hutton and Alfred Hitchcock's "Rope" with James Stewart and Farley Granger. Constance Collier died in 1955 in New York.
Gary Brumburgh's entry:
In a career that covered six decades, Constance Collier evolved into one of Broadway and London's finest tragediennes during the first half of the 1900s. While the regal, dark-featured beauty who bore classic Romanesque features enjoyed a transcontinental career like a number of her contemporaries, her theatre success did not encourage an enviable film career. It wasn't until her senior years that Constance engaged in a number of well-regarded supporting performances on screen. Later respect also came as one of Hollywood's premiere drama and voice coaches.
She was born Laura Constance Hardie in Windsor, Berkshire on January 22, 1878, the only child of Auguste Cheetham and Eliza Georgina (nee Collier) Hardie, who were both minor professional actors. Young Constance made her stage debut at the age of three as a fairy in a production of "A Midsummer Nights Dream" and the die was cast. By age 6 she was appearing with famed actor/manager Wilson Barrett in "The Silver King". An early break occurred in her teens (1893) when the tall, under-aged beauty was given consent by her parents to become a member of the famed George Edwardes-Hall "Gaiety Girls" dance troupe. Groomed extensively in singing, dancing and elocution, she managed to stand out among those others in the chorus line and went on to featured status in two of Edwardes-Hall's biggest hits, "A Gaiety Girl" and "The Shop Girl" (both 1894).
Legit ingénue roles in "Her Advocate", "Tommy Atkins" and "The Sign of the Cross" followed. Just after the turn of the century (1901) she was invited to join the theatre company of the esteemed Herbert Beerbohm Tree, who had been searching for a comparably tall leading lady to play opposite him. She remained with his company at His Majesty's Theatre for six years where she built up a formidable classical resumé. Alongside Sir Herbert in such plays as "Ulysses", "The Eternal City" and "Nero", Constance also proved a fine Shakespearean with her Olivia, Viola, Portia, Mistress Ford and Cleopatra at the top of the list. She also made a noteworthy Nancy Sykes in "Oliver Twist" which she toured extensively both here and abroad. During this time (1905), she married British-born actor 'Julian L'Estrange'.
Ms. Collier made a successful American stage debut in 1908 with "Samson" at the Garrick Theatre in New York opposite well-known American actor/playwright William Gillette, thereby placing herself solidly among the most popular and respected actresses of the day. Among her subsequent Broadway offerings were "Israel" (1909), "Trelawney of the Wells" (1911), "Oliver Twist" (1912), "Othello" (1915) and "The Merry Wives of Windsor" (1917).
Sir Herbert and Constance both appeared as extras in the silent D.W. Griffith classicIntolerance: Love's Struggle Throughout the Ages (1916). While still in the U.S., he filmed Macbeth (1916) with Constance as his Lady Macbeth. Not only was the Shakespearean film poorly received but her starring appearances in two other silents released earlier that year, The Tongues of Men (1916) and The Code of Marcia Gray(1916), were also overlooked.
Tragedy struck in October of 1918. She and husband L'Estrange had begun a Broadway run together of "The Ideal Husband" only a month earlier. During the run he contracted the deadly Spanish influenza which had spread worldwide and died of pneumonia at the untimely age of 40. The grief-stricken actress finished the play's run into November then returned to England where she appeared in the films The Impossible Woman (1919),Bleak House (1920) and The Bohemian Girl (1922). Among her London theatre successes were "Our Betters" (1923) at the Globe Theatre, which ran for over twelve months, and "Hamlet" wherein she played Queen Gertrude opposite John Barrymore's Great Dane (1925) at the Haymarket Theatre. Constance also moved into writing and penned her own play "Forever", which was based on the Daphne Du Maurier novel "Peter Ibbetson". She then co-wrote with actor/friend Ivor Novello the play "The Rat" (1924) in which Novello starred and Constance produced.
The advent of sound provided the exciting opportunity for the eloquent Collier to work in the U.S., but not necessarily as an actress. By helping established silent film stars transition into talkies, she became Hollywood's foremost drama and voice coach. Finding less and less time for stage work, she directed a Broadway production of "Camille" in 1931. She did, however, manage to appear in productions of "Peter Ibbetson" (1931), which she also staged, "Dinner at Eight (1932) and "Hay Fever" (1933) all in New York. Her final Broadway curtain call was taken as Madame Bernardi in "Aries Is Rising" (1939) at New York's Golden Theatre.
In later years, she continued to coach (among her students were Marilyn Monroe) and write, but she also found time to return to the large screen in a dozen or so films, usually providing stately support. She appeared in a range of movies from the Shirley Temple vehicle Wee Willie Winkie (1937) to the film noir piece The Dark Corner (1946). Better known roles during this period include those in Stage Door (1937), playing, quite appropriately and amusingly, the resident drama coach, An Ideal Husband (1947), excellent as Lady Markby, and Alfred Hitchcock's Rope (1948). Her last film was Whirlpool(1949).
Constance died of natural causes in New York on April 25, 1955, and left behind her 1929 memoirs "Harlequinade". She had no children.
– IMDb Mini Biography By: Gary Brumburgh / gr-home@pacbell.net