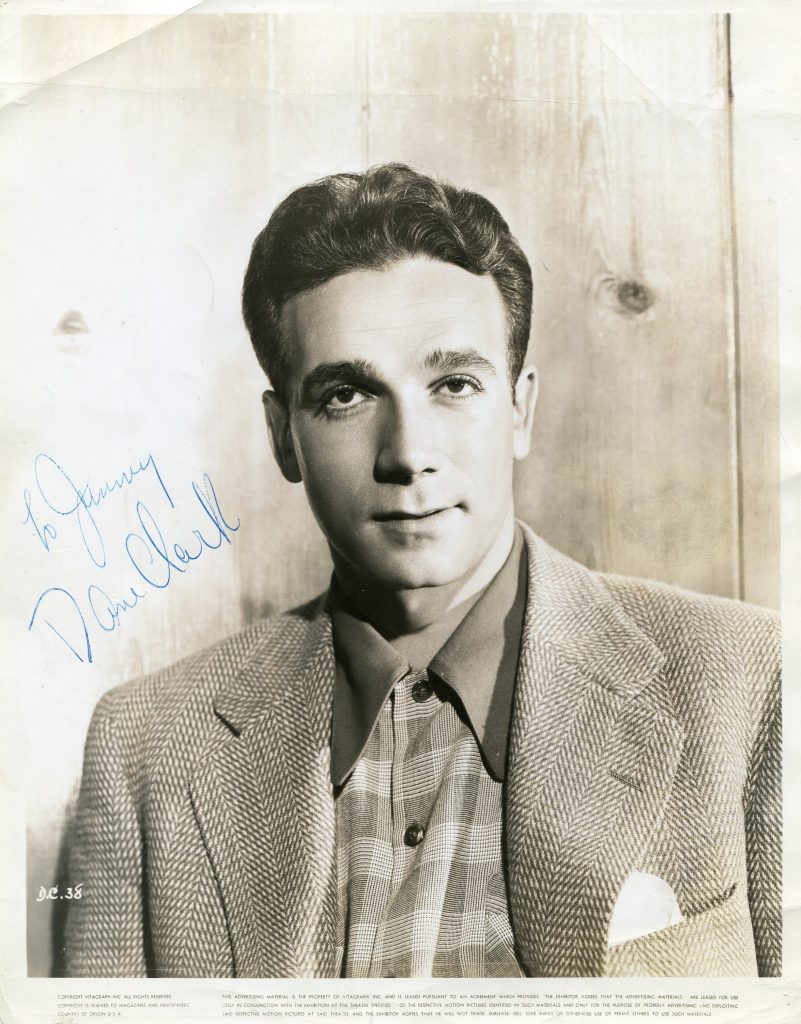 Dane Clark was born in 1912 in Brooklyn, New York. He signed a Warner Brothers contract in 1943 and established himself as a capable leading man of film noir and gritty thrillers. His films include "A Stolen Life" opposite Bette Davis in 1946, "Deep Valley" and "Moonrise" opposite Gail Russell. He died in 1998 at the age of 86.
TCM Overview:
Bernard Zanville was a hard-working young man in New York City struggling to finance his law degree, when he turned to acting on the advice of friend John Garfield. After appearing on stage for several years, including a stint starring alongside Garfield in the original cast of Clifford Odets' "Waiting for Lefty" (1935), Zanville gave up his dreams of law school and relocated to Hollywood to pursue a movie career. Hooking up with Warner Bros., his name was changed to the more marquee friendly Dane Clark, allegedly by Humphrey Bogart who co-starred with the young actor in what was more or less his star-making performance as merchant marine Johnny Pulaski in 1943's "Action in the North Atlantic". That same year, Clark acted alongside Cary Grant and Garfield in "Destination Tokyo" and went on to convincingly play pugnacious soldiers in war-themed pictures for Warners like "God is My Co-Pilot" and "Pride of the Marines" (both 1945). Movies like "Her Kind of Man" (1946), "Deep Valley", "Embraceable You" and "That Way With Women" (all 1947) featured Clark's tough guy persona put to new use, now as the dangerous leading man, the misunderstood gangster type who gets involved with a nice girl and changes his ways.
Despite his undeniable talent and magnetism, Clark never took off as a star the way his friend John Garfield did, even after his scene-stealing turn in "Hollywood Canteen" (1944), a performance alongside such notables as Bette Davis, Joan Crawford and Jack Benny. His prolific acting career included starring turns in dozens of films in the 40s and 50s, including a memorable portrayal of Abe Saperstein in "Go, Man, Go!" (1954), the story of the creation of basketball's famous Harlem Globetrotters. Clark eventually left Hollywood to work on the stage and in features produced overseas. He worked for J Arthur Rank in London, appearing in 1950's "Highly Dangerous" and 1952's "The Gambler and the Lady". In 1968, he starred in the Denmark/US co-production "Dage i Min Fars Hus/Days in My Father's House".
Clark returned to the stage after achieving film success, starring in many Broadway productions (e.g., "A Thousand Clowns" in which he replaced Jason Robards). He was also a frequent presence on the small screen, first appearing in several of the theater anthology programs that were popular in the medium's early days. Clark made his series debut as legal aid lawyer Richard Adams in the NBC drama "Justice" (1954-56) and headlined the 1959 syndicated series "Bold Venture". Throughout much of the 60s, 70s and 80s, Clark was a familiar face as a guest performer on shows as varied as "The Twilight Zone", "I Spy", "The Mod Squad" and "Murder, She Wrote". He returned to series work as a police lieutenant in the CBS remake "The New Adventures of Perry Mason" (1973-74). Clark made his last film appearance in 1988's "Last Rites" starring Tom Berenger. The veteran actor died in 1998, battling cancer.
The above TCM overview can also be accessed online here.