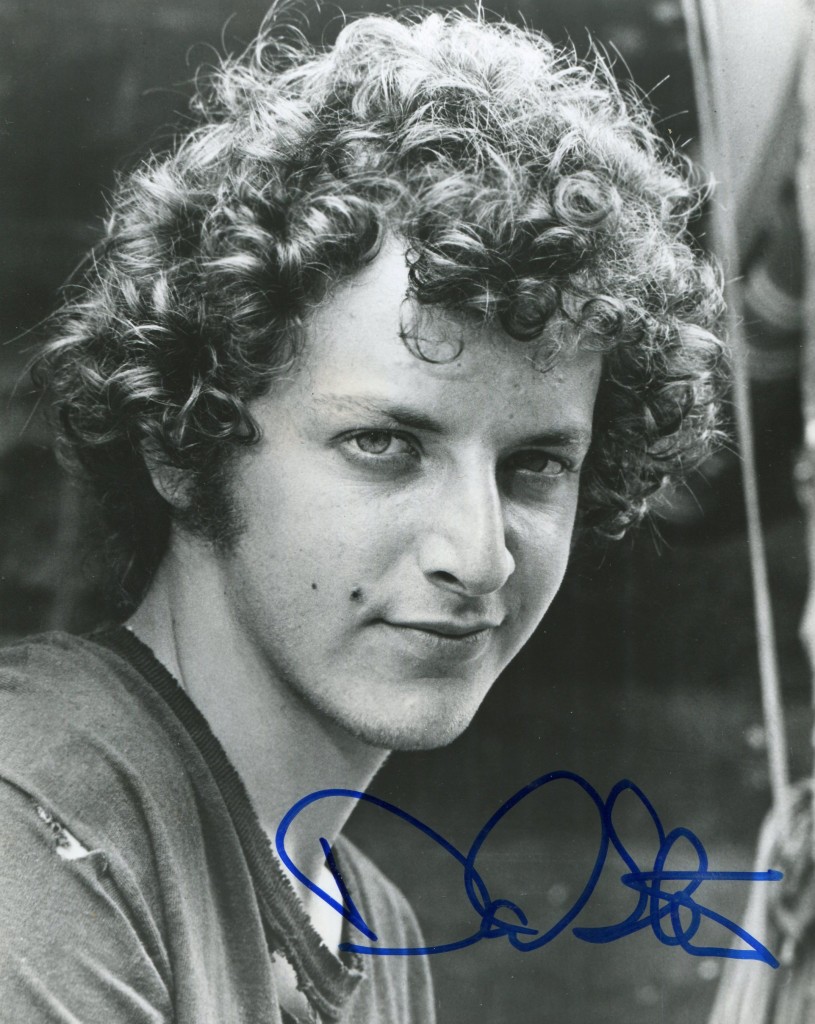 Daniel Stern was born in 1957 in Maryland. He made his film debut in OPeter Yate's "Breaking Away" in 1979. He was featured with Jill Clayburh in "It's My Turn" and in "City Clockers" and "Home Alone".
TCM Overview:
Prolific character actor Daniel Stern accumulated an impressive list of performances in a wide variety of roles over a career that spanned decades. Making a memorable debut in the surprise hit film "Breaking Away" (1979), he was immediately likable in the part of the hilarious and laid back Cyril. Soon, Stern was working with the likes of Woody Allen, just prior to co-starring in another small, but highly-regarded film, director Barry Levinson's "Diner" (1982). There were missteps along the way, such as the schlock horror movie "C.H.U.D." (1984), but those were outweighed by his efforts on projects like "The Wonder Years" (ABC, 1987-1993), for which Stern provided uncredited narration for the fondly remembered series. His biggest success came with the role of Marv, the comically rotten burglar in the smash hit "Home Alone" (1990), co-starring Macaulay Culkin and Joe Pesci. Stern immediately followed with yet another box-office bonanza, cast as the repressed pal of Billy Crystal in "City Slickers" (1991). Flush with success, he antagonized Culkin again in "Home Alone 2: Lost in New York" (1992), made his directorial debut with "Rookie of the Year" (1993), and hit the trail once again in "City Slickers II: The Legend of Curly's Gold" (1994). And while some future endeavors fell flat, such as "Celtic Pride" (1996) and the failed sitcom "Regular Joe" (ABC, 2002-03), Stern would continue to lend his considerable talents to films like the girl power dramedy "Whip It" (2009) and the action thriller "The Next Three Days" (2010). While not packing the name recognition of some of his more high-wattage contemporaries, Stern nonetheless remained one of the more versatile supporting actors in film and on television.
Daniel Jacob Stern was born on Aug. 28, 1957 and raised in Bethesda, MD by his father, a social worker, and mother, who managed a day care center. After graduating from Bethesda Chevy Chase High School, 17-year-old Stern landed a small walk-on role in the Washington Shakespeare Festival's mounting of "As You Like It." Soon after, he relocated to New York City and briefly studied acting at the prestigious HB Studios before moving on to several theatrical roles, both on and off- Broadway. Spotted by a casting agent, Stern landed the memorable supporting role of the easy-going, wisecracking Cyril in director Peter Yates' "Breaking Away" (1979). An endearing coming-of-age story about four high school friends making the awkward transition to adulthood in a small town with few opportunities, the film won an Oscar for Best Original Screenplay, and jumpstarted the young actor's career. That same year, Stern appeared briefly with Jill Clayburgh in the romantic comedy "Starting Over" (1979), and popped up alongside the actress again the following year in "It's My Turn" (1980). Stern's quick accumulation of supporting roles continued to gain momentum when he joined the impressive ensemble cast of director Woody Allen's Hollywood lampoon, "Stardust Memories" (1980). Stern lent support once again to the very in-demand Clayburgh in the addiction drama "I'm Dancing as Fast as I Can" (1982), in addition to the many other small parts which were coming his way at the time.
For the second time in his young career, Stern found himself cast in yet another breakout hit with director Barry Levinson's heartfelt paean to his Baltimore of the 1950s, "Diner" (1982). As the obsessively organized Laurence "Shrevie" Schreiber, Stern's performance amidst such future stars as Mickey Rourke, Kevin Bacon and Ellen Barkin was one of the highlights of a film equally beloved by both audiences and critics. Although Stern now seem poised for A-list status, his projects over the next several years where uneven at best. The year after the release of "Diner" saw him appearing in films like the rock-n-roll cult film "Get Crazy" (1983) and the clunky Roy Scheider police actioner "Blue Thunder" (1983). Stern followed with turns in the cult subterranean horror picture "C.H.U.D." (1984), and an early effort by future A-list director Tim Burton, the short film "Frankenweenie" (1984), as the father of a young Victor Frankenstein. He also gave network television a try with the short-lived drama "Hometown" (CBS, 1985-86), a series based on the hugely successful film "The Big Chill" (1983). Stern was once again called upon by Woody Allen and lent his support to the director's acclaimed romantic comedy "Hannah and Her Sisters" (1986). Around the same time, the character actor would land a role for which he would be long remembered, if not necessarily known for – the voice of the adult Kevin Arnold on "The Wonder Years" (ABC, 1987-1993). Providing the voiceover narration for the unabashedly nostalgic family series brought Stern's voice into the homes of American viewers each week, although Stern – with a lack of ego rare in Hollywood – opted not to have his name listed in the credits.
Stern's light workload on "The Wonder Years' allowed him to keep busy on the big screen as well. The amiable character actor continued to rack up roles, with films like the Robert Redford-directed "The Milagro Beanfield War" (1988) and the noir remake "D.O.A." (1988), which reteamed him with "Breaking Away" co-star Dennis Quaid. Less memorable film work included turns in the deep sea monster movie "Leviathan" (1989) and the family fantasy "Little Monsters" (1989), starring actor-comedian Howie Mandel and "Wonder Years" star Fred Savage. Stern next had a co-starring role as a buttoned-down older brother in the lightweight period dramedy "Coupe de Ville" (1990), but it was his next film that would provide him with exposure such as he had never known prior. Written by 1980s teen movie guru John Hughes, the family comedy "Home Alone" (1990) not only made a child megastar of its lead actor, Macaulay Culkin, but also raised Stern's professional stock considerably. Alongside iconic tough guy Joe Pesci, Stern played inept burglar Marv, putting on a display of horrifically painful physical comedy that would make the Three Stooges cringe. Audiences loved it, making "Home Alone" one of the biggest hits of the decade. He parlayed that success into another co-starring role, alongside Billy Crystal in the mid-life crisis comedy "City Slickers" (1991). As the harried husband Phil, one of three buddies who go on a cattle drive in order to reinvigorate their staid lives, Stern brought his own special brand of self-deprecating humor that played perfectly off of Crystal's rapid-fire delivery. The movie became another smash hit at the box office, and earned veteran actor Jack Palance an Academy Award for Best Supporting Actor for his portrayal of Curly, the grizzled but wise old cowboy.
These were heady times for Stern, who reprised his role as the klutzy career criminal Marv by taking his act to the East Coast in the sequel "Home Alone 2: Lost in New York" (1992). With his newfound caché, Stern was next able to strike a deal to direct the sports comedy "Rookie of the Year" (1993). The family-friendly fantasy told the story of a young boy (Thomas Ian Nichols) who, after an accident, discovers that he has an incredibly fast throwing arm, eventually leading to his pitching for the Chicago Cubs. Stern did double duty on the film, playing the part of a slow-witted pitching coach. Another sequel followed with "City Slickers II: The Legend of Curly's Gold" (1994), which found Phil going back on the trail with buddy Billy Crystal after a treasure map belonging to the late cowpoke Curly is discovered. Stern went on to executive produce and star in the ill-conceived comedy "Bushwhacked" (1995), before teaming with Dan Aykroyd and Damon Wayans in the Judd Apatow-scripted "Celtic Pride" (1996), about two Boston fans who kidnap a rival basketball star in an attempt to ensure victory for their home team. He then played the guilt-ridden friend of groom-to-be Jon Favreau in the caustic black comedy by actor-turned-writer-director Peter Berg, "Very Bad Things" (1998), a film described by film critic Roger Ebert as "reprehensible." Stern also lent his familiar voice talents to the title role of the cubical-imprisoned office worker in the animated sitcom, "Dilbert" (UPN, 1998-2000), based on the long-running Sunday comic.
In quick succession, Stern made two more runs at starring in his own weekly series. The first effort was the quickly cancelled "Danny" (CBS, 2001-02), about a newly divorced dad trying to raise two teenagers while also running the local recreation center. Next came the empty nest sitcom "Regular Joe" (ABC, 2002-03), which came and went just a fast as his previous series. From there, Stern followed with supporting roles in a run of direct-to-DVD releases, such as the love triangle drama "The Last Time" (2007), starring Brendan Fraser and Michael Keaton, and the serial killer black comedy "Otis" (2008), alongside Illeana Douglas. More highly regarded was actress Drew Barrymore's directorial debut "Whip It" (2009), in which Stern played the secretly supportive father of a teenager (Ellen Page) who decides to join a women's roller derby team. He also appeared as the lawyer of a husband (Russell Crowe) desperately trying to get his wrongly accused wife (Elizabeth Banks) out of prison in the overlooked thriller "The Next Three Days" (2010). Rounding out the decade was the made-for-TV movie "Battle of the Bulbs" (Hallmark Channel, 2010), a Christmas comedy co-starring Matt Frewer.
The above TCM overview can also be accessed online
here.