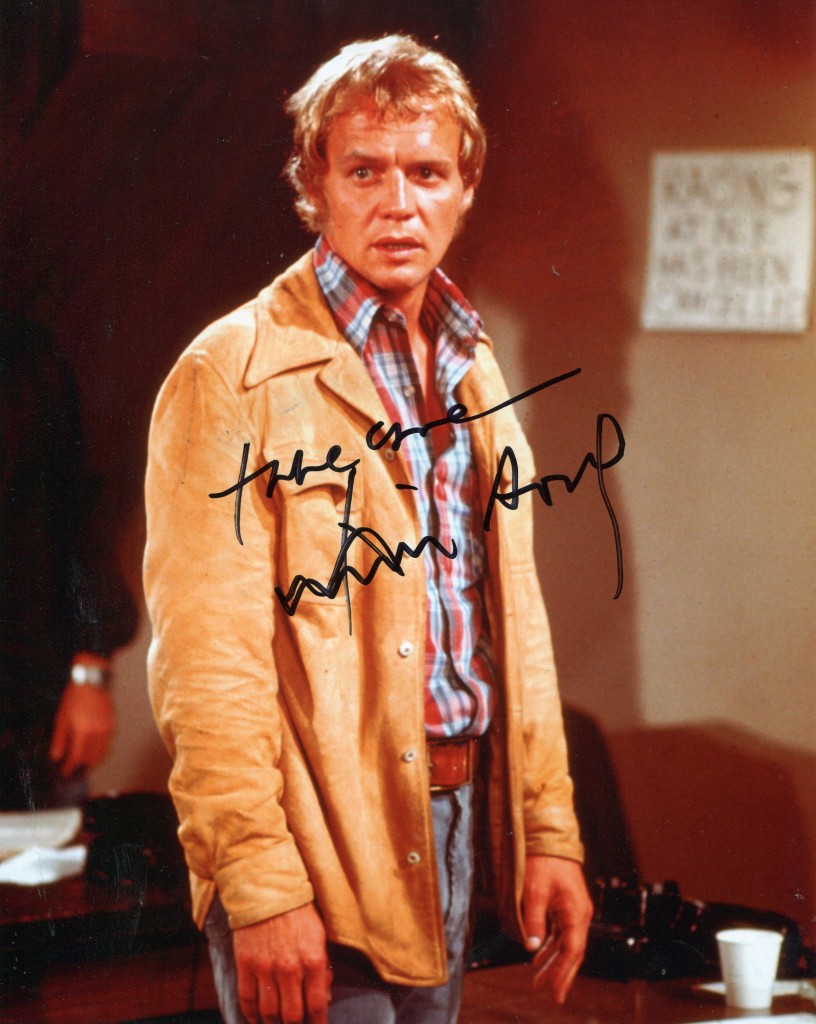 David Soul was born in 1943 in Chicago.   His first major film role was in the Clint Eastwood crime drama "The Enforcer" in 1973.   He gained huge fame with the success of "Starsky and Hutch" which ran on television from 1975 until 1979.   His film roles included "Appointment With Death" in 1989 and "Farewell" with Willem Defoe and Fred Ward in 2010.   David Soul is also an acccomplished singer and had some Top Ten Hits including "Silver Lady".
His IMDB entry:
David Soul achieved pop icon status as handsome, blond-haired, blue-eyed Detective Kenneth Hutchinson on the cult "buddy cop" TV series Starsky and Hutch (1975), Soul also had a very successful singing career recording several albums, with worldwide number one hit singles including "Silver Lady" & "Don't Give Up on Us Baby".
Born in Chicago, Illinois, David Soul is the son of a minister who was at one time serving as the religious affairs advisor to the U.S. High Commission in Berlin. At 24 years of age, young Soul joined a North Dakota musical revue, was noticed by a keen-eyed talent scout, and signed to a studio contract. He went on to study acting with the Irene Daly School of The Actors Company, and with the Columbia Workshop in Hollywood. He first appeared on TV in small roles in shows including I Dream of Jeannie (1965), Flipper(1964) and All in the Family (1971). Regular TV work kept coming in for Soul including making masked appearances on The Merv Griffin Show (1962), as the popular singer known only as "The Covered Man."
In 1973, Soul was fortunate enough to be cast as one of the corrupt motorcycle cops in the Clint Eastwood thriller Magnum Force (1973), where his talents came to the attention of several TV execs who were looking for someone to play one of the lead roles in the upcoming Starsky and Hutch (1975) TV series. After four seasons, the show came to an end, yet Soul's talents were still in demand. He quickly went on to appear as the meek writer turned terrified vampire hunter Ben Mears in the chilling television mini-seriesSalem's Lot (1979), and then as Jake in the interesting television movie Homeward Bound (1980).
Several undemanding movies and TV series appearances followed for Soul. However in 1988 he scored rave reviews for his portrayal of real life, cold-blooded cop killer Michael Lee Platt in In the Line of Duty: The F.B.I. Murders (1988). It was considered highly controversial for its intense level of violence in a made for TV production.
David Soul remained very busy throughout the 1990's and beyond, in both film and on stage productions. He has toured internationally in several theater productions, including playing the narrator in the critically-acclaimed