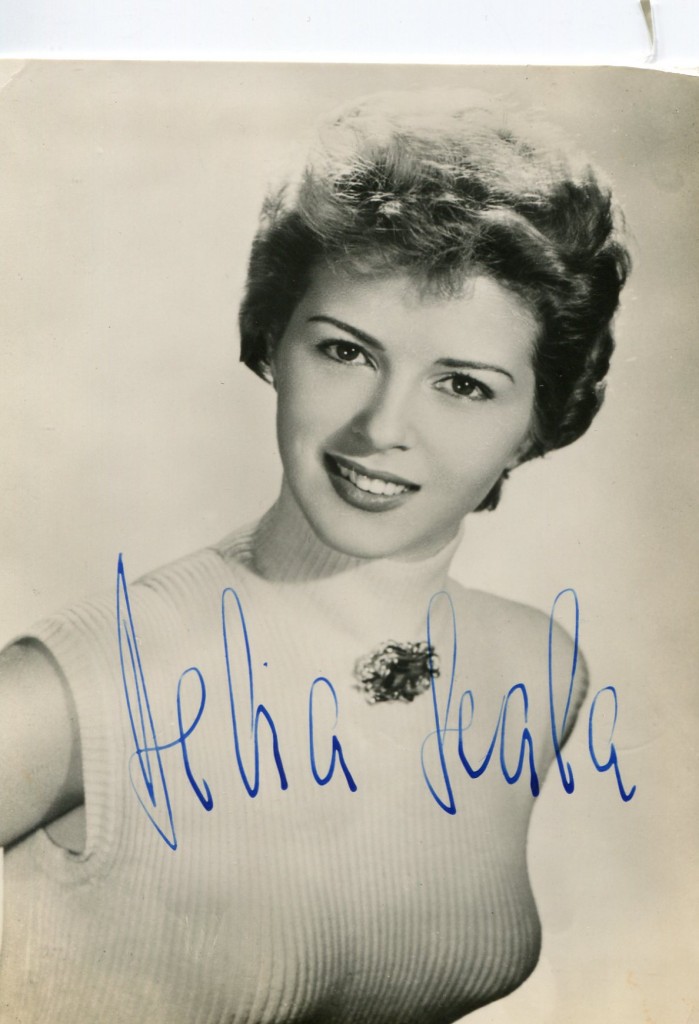 Delia Scala was born in Italy in 1929. She began her career as a ballet dancer and eventually became an actress. Her film debut came in 1943 with "Principessina" and went n to make "Messalina" and "The Flame". She died in 2004.
IMDB Entry:
Odette Bedogni was born in Bracciano 25th of September in 1929. when she was 8 years old, she entered at ballet school of Scala and remained for 7 years, appearing in various ballet as "La bottega fantastica" (Gioacchino Rossini) and "La bella addormentata nel bosco" (Ciakovsky). She started to work in cinema with the nickname Delia Scala after the second world war. The director Luigi Zampa considered she had a simple smile and a good girl face and he gave her an important character in the movie "Anni difficili". With her lively and nervy body she appeared in a lot of films. In 1954 Delia debuted in theatre with Carlo Dapporto in "Giove in doppiopetto" and with Pietro Garinei and Sandro Giovannini in "L'adorabile Giulio" (1957), "Buonanotte Bettina" (1956), "My fair lady" (1964) and "Rinaldo in campo" (1966). 1956 was the year in that she appeared with Nino Taranto in variety show "Lui e Lei". In 1959 and 1960 she presented "Canzonissima" in conjunction with Nino Manfredi and Paolo Panelli, directed by Antonello Falqui and in 1969 came "Delia Scala story". In the 70s she was with Lando Buzzanca in "Signore e Signora".
Scala had breast cancer and difficulties following this meant she did not resume her career. In 2001 her partner, Arturo Fremura, died of liver cancer, leading her to fresh despair. The undisputed Queen of TV variety shows, Delia Scala died at 74 years old on 15th of January 2005, in her home in Livorno.
– IMDb Mini Biography By: musicalstore.i
The above IMDB entry can also be accessed online here.