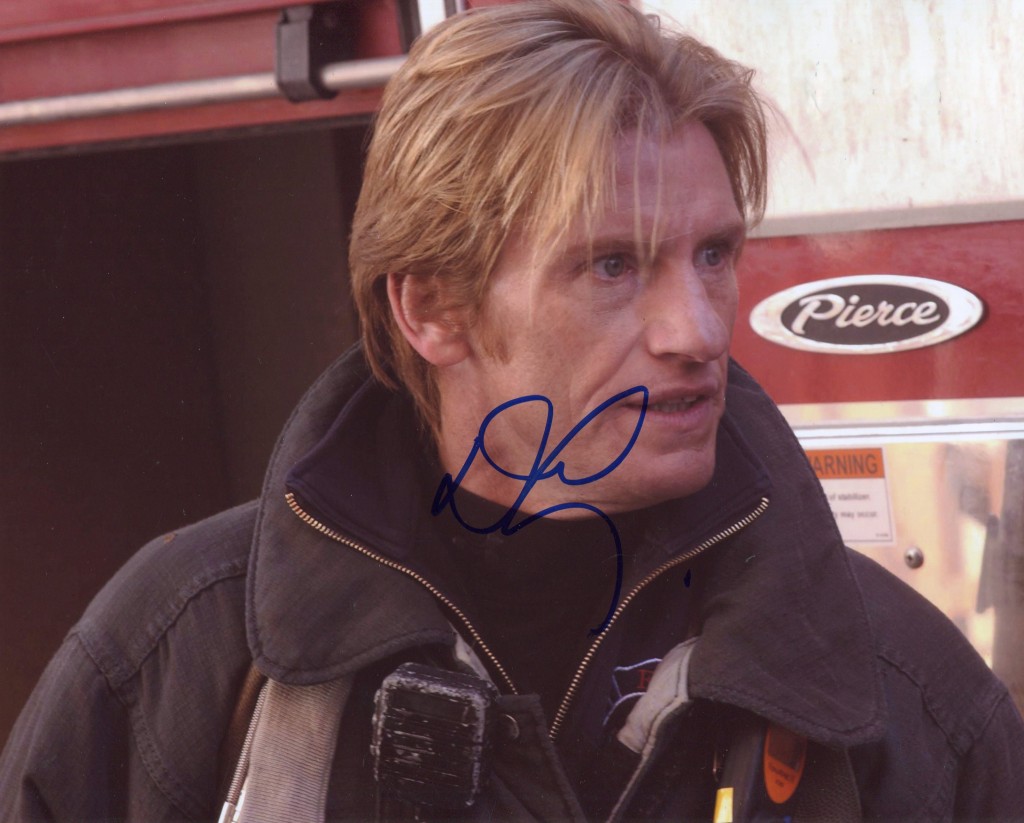 Denis Leary was born in Worchester, Massachusetts in 1957 of Irish parents who came from Killarney. He became a top flight comedy artist before branching into movies. Among his credits are the wonderful "The Ref" with Kevin Spacey and Glynis Johns in 1994, "Demolition Man" and "Suicide Kings". He is also starring in the television drama series "Rescue Me". He holds both US and Irish nationality.
TCM Overview:
Having made his mark as an angry man comedian in the early 1990s with a stand-up act that lambasted every aspect of popular culture, actor Denis Leary put his abrasive persona to good use when he made the transition to the screen. He first gained widespread notice with his fast-talking rants that were featured in between commercials on MTV. After achieving a minor hit in the music world with the sardonic 1993 single "Asshole," Leary starred in the funny, but under-performing comedy "The Ref" (1994) before appearing in the cringe-worthy comedy "Operation Dumbo Drop" (1995). He delivered sturdy performances in uncharacteristically dramatic fare like "Love Walked In" (1997), "Monument Ave" (1998), "The Thomas Crown Affair" (1999) and "Jesus' Son" (1999). Despite a series of uneven roles, Leary finally found his groove as the star, co-creator and executive producer of "Rescue Me" (FX, 2004-2011), a gritty and acerbically funny look at a group of fireman coping with their dysfunctional lives post-9/11. Irreverent, shocking and sometimes controversial, "Rescue Me" proved to be the perfect vehicle for Leary's sardonic wit, playing a recovering alcoholic who struggles to keep together what's left of his family while constantly battling his inner demons. Hailed by critics and blasted by some of the more overzealous watchdog groups, the show allowed Leary to put the full force of his talents on display while opening doors to more mainstream projects.
Denis Leary was born on Aug. 18, 1957, the second of four children of Irish immigrants, Jack and Nora Leary. He was raised in Worcester, MA, where his father was a mechanic and, by his own description, pretty much everyone in the neighborhood grew up to be a cop, firefighter, teamster or criminal. Leary first had his sights set on becoming a professional hockey player until a viewing of Martin Scorsese's "Mean Streets" (1973) altered his world view. He was so captivated by the realness of the characters onscreen, he decided he wanted to try acting. He became involved with community theater groups after graduating from St. Peter-Marion Catholic high school in 1975, then moved to Boston to study writing and theater at Emerson College. At Emerson, Leary fell in with other talented up-and-comers – including future stand-ups Steven Wright and Mario Cantone – and in 1976, he co-founded the Emerson Comedy Workshop, a writing and performing group that survives today. He appeared in sketch comedy shows and one-act plays, eventually wanting to try stand-up comedy. At the time, Boston had a thriving local comedy scene that launched the careers of Lenny Clarke, Colin Quinn, Paula Poundstone, Wright and Cantone. In addition to schoolwork and Emerson productions and hosting his own stand-up night at the club Play it Again Sam's, Leary also formed a band with musicians from the Comedy Workshop. The group performed comical songs that would become a trademark of Leary's eventual breakout.
Following his graduation in 1979, Leary was offered a job teaching comedy writing at his alma mater. He stayed in Boston another five years; long enough to work up solid stand-up material and marry one of his students, writer Ann Lembeck. The pair eventually moved to New York City, where Leary began to break into the city's standup scene and land writing work. In one of his earlier gigs, Leary was a writer and performer on MTV's Colin Quinn-hosted game show "Remote Control" (1987-1990), where Leary made walk-on appearances as Andy Warhol and a lion tamer with a kitten, among others. In London, he served as host of the "London Underground" TV variety show and while he was there he debuted his one-man show "No Cure for Cancer" at the Edinburgh International Arts Festival. His performance swept the Critic's Award and established Leary's onstage persona as an angry, chain smoking, cynical social observer preoccupied with red meat, death and rock 'n' roll. He expounded on such issues as smoking ("I'm going to get a tracheotomy so I can smoke two cigarettes at the same time") to pop stars ("Sting – he wants to save the seals, he wants to save the rain forests…how about saving your hair, OK, pal?"). The show landed a sold-out run on London's famed West End and the Learys returned to New York and a four-month run off-Broadway.
MTV tapped Leary's rebellious attitude for a series of image spots and he became an instant icon of the era, pacing back and forth in a black leather jacket in a squalid urban setting, smoking furiously, and ranting about everything from Cindy Crawford to the hypocrisy of "political correctness." "No Cure for Cancer" was aired on Showtime in 1992 and released as an album in 1993, spawning a single and music video for "Asshole," Leary's searing musical ode to the "average Joe" living the American consumerists' self-centered dream. Leary's instant fame had its detractors, however. Following the widespread popularity of "No Cure for Cancer," comedy insiders stepped forward to accuse Leary of plagiarizing from similarly angry, nicotine-addicted Bill Hicks. There were claims that Leary not only used some of the comedian's material verbatim but also co-opted his stage persona. Hicks remained relatively unknown when he died of cancer in 1994 which further enraged accusers who believed Leary had shot to fame based on someone else's material.
Leary's MTV work led to product endorsements for Nike, and naturally the acting offers began to come in. The year 1993 found him appearing in nearly half a dozen films, where the 6'3″ blond was generally limited to comic cameos ("National Lampoon's Loaded Weapon 1"), evil heavies ("Judgment Night"), and regular guys ("The Sandlot"). In 1994 he began a long-term association with budding young director Ted Demme, who cast him as a burglar trapped in a house with dysfunctional hostages in "The Ref" (1994). The black comedy was a perfect vehicle for Leary, while his follow-up "Operation Dumbo Drop" (1995) was historically unsuccessful. Leary teamed with wife Lembeck to collaborate on the story for "Two If By Sea" (1996), but sadly the romantic comedy co-starring Sandra Bullock was also a bomb. Leary and Lembeck teamed up again for the "Lust" segment of "National Lampoon's Favorite Deadly Sins" (Showtime, 1996), earning a CableACE Award for the short written by Lembeck and directed by Leary. The coffee and cigarettes kept Leary going full speed, and in 1997, he acted in five films – including the forgettable titles "The Matchmaker" and "Love Walked In" – as well as the mildly successful political satire "Wag the Dog" with Robert De Niro and Dustin Hoffman.
In 1997 Leary finally taped his second stand-up show, "Denis Leary: Lock 'n' Load" (HBO), where no one was safe from his acid wit, least of all, O.J. Simpson. ("I hope your kids pull a Menendez on you, O.J. And they'll be forgiven, 10 times over.") Big screen offers in the family comedy "Wide Awake" (1998) and "Small Soldiers" (1998) kept his profile high and his bank account full, but still failed to capitalize on Leary's creative talents. He decided it was time to start his own production company. Apostle, he hoped, would help him gain more creative control over projects and expand his options as an actor and writer. He reunited with Demme to co-produce and star in "Monument Ave" (1998), a dark drama about the Irish mob set in Charlestown, MA, which opened to favorable reviews (under the original title "Snitch") at the Sundance Film Festival. He went on to enjoy a scene-stealing supporting role in the remake of "The Thomas Crown Affair" (1999), with Pierce Brosnan and Rene Russo, and earned a Blockbuster Award for Best Supporting Actor. He also gave a powerful, understated performance as a working class alcoholic down on his luck in the indie "Jesus' Son" (1999), which was one of the top critic's picks of the year.
In December of 1999, news came from home that Leary's cousin Jerry Lucey and his childhood friend Tommy Spencer – both firefighters – had been killed in a savage warehouse blaze in Worcester. In response, he formed the Leary Firefighters Foundation to raise money for survivors of firefighters killed in the line of duty and help supply necessary training and equipment for local fire departments. Perhaps as a tribute, Leary played a firefighter in the David Mamet adaptation "Lakeboat" (2000), before putting features on hold and launching a new phase of his career.
In 2001, Leary debuted "The Job" (ABC, 2001-02), a half hour, single-camera police dramedy co-created with Peter Tolan. Leary starred as the wise-ass, straight shooting, and believably flawed detective Mike McNeil in the standout series, which he also wrote and produced. Despite critical raves, ABC executives seemed unsure what to do with the project and eventually cancelled it, but with all Leary had learned about TV production, he was hungry to take a second crack at it. Meanwhile, the staggering number of firefighting deaths resulting from September 11th prompted him to form The Fund for New York's Bravest, an offshoot of the Leary Firefighters Foundation devoted to the needs of New York firefighters and their families. While co-developing his next television project with Tolan, Leary appeared in the 2002 crime drama "Bad Boy" and the well-received indie "The Secret Lives of Dentists" (2002), playing a patient of dentist Campbell Scott who becomes the voice of his paranoia. He also voiced saber-toothed tiger Diego in the hit CGI-animated film "Ice Age" (2002).
Leary was finally able to combine his long-time loyalty towards firefighters with his writing and acting talent in the co-creation of "Rescue Me." The hour-long drama/comedy hybrid starred Leary as Tommy Gavin, a seemingly fearless and tough-as-nails New York firefighter battling alcoholism, the disintegration of his marriage and family, and hallucinations of his firefighting cousin who died on September 11th. An outstanding ensemble cast represented several generations of hard-living blue collar workers daily surviving intense drama with ball-busting wit. Fortunately the show was picked up by edgy cable network FX, which allowed the raunchy firehouse talk and often controversial situations so crucial to its gritty realism to remain intact.
With "Rescue Me," Leary finally proved that when given the chance to follow his vision, his work was top notch. In 2005, he was nominated for a Best Performance Golden Globe Award. Leary was also nominated for an Outstanding Writing Emmy in 2005 and Outstanding Lead Actor Emmys in 2006 and 2007. Meanwhile, he was a significant player in a strong ensemble cast in "Recount" (HBO, 2008), a made-for-television movie the depicted the behind-the-scenes action during the month-long election fiasco between George W. Bush and Al Gore in 2000. Leary played Democratic consultant and strategist, Michael Whouley, which earned him a Golden Globe nomination for Best Supporting Actor in a series, movie or miniseries. Meanwhile, Leary unsurprisingly generated some controversy after the release of his book, Why We Suck: A Feel Good Guide to Staying Fat, Loud, Lazy and Stupid (2008), in which he called autistic children "dumb-ass kids," "morons," "stupid" and "lazy." Leary claimed he was taken out of context, saying that he was commenting on the over-diagnosis of autistic children, though he did later publicly apologize. After reprising Diego the saber-toothed tiger for "Ice Age: Dawn of the Dinosaurs" (2009), Leary embarked on his first stand-up tour in 12 years, headlining the "Rescue Me Comedy Tour" in Atlantic City, NJ, with co-stars Lenny Clarke and Adam Ferrera. Meanwhile, the show itself aired its seventh and final season in 2011, ending Leary's most popular and accomplished project to date.
The above TCM overview can also be accessed online here.