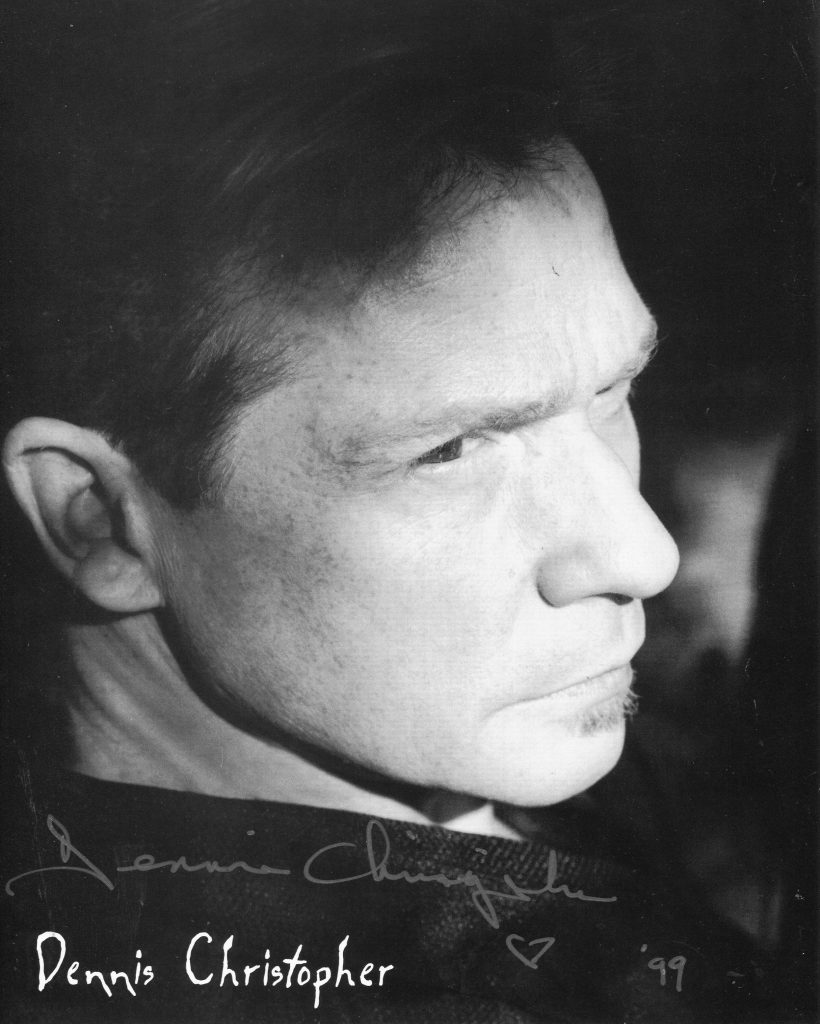 Dennis Christopher has starred in two cult classic films and been featured in another.   The two are "Breaking Away" in 1979 and "Fade to Black".   The other film is "Chariots of Fire".   He was born in 1955 in Philadelphia.   He has also guest starred in two "Star Trek" episodes.
Article from "The Huffington Post":
If you're an actor and you wind up being cast in one of Quentin Tarantino's films, it's for a reason. He wants you there. Hollywood has its "A-list," and Tarantino has his… Take actor Dennis Christopher, widely known as the Italo-centric, cycling "cutter" who shaved his legs in 1979's Academy-Award-winning film Breaking Away. When he stepped on set, in Wallace, Louisiana, to play Leonide Moguy (DiCaprio's consigliore) in Django Unchained, his mercurial director let everybody know who he was … even the caterers.
"One day they were setting up lights for the dining room table scene and Quentin pointed at me and shouted, 'Need I remind you people that this man has been lighted by Federico Fellini,'" Dennis Christopher told us recently.
"He never misses a moment to be able to tell people why any person is on the set who happens to be there."
Filmography aside, Christopher's life to date is as interesting as his resume. Born in Philadelphia, Christopher couldn't wait to check out of the mire of middle-class suburbia and find his way in the world.
"There were two things I wanted to be: an actor and a hippie," Christopher told us.
"But, the hippie thing was over in the United States, and I knew it was still going on over in Europe, so I bought a one-way charter flight to Europe. I had a duffle bag, a pair of fry boots and $79 in my pocket. It was quite an adventure."
It was that hippie ethos that found the young journeyman hitchhiking around Europe and at the scene of one of his life's many seminal events — an encounter that would forever shape him.
Upon arriving in Rome, Christopher followed a beautiful barefoot chanteuse down the street, into a square where he unexpectedly stumbled onto a film set commanded by none other than legendary director Federico Fellini.
Not only did he muster enough courage to speak to the director, he turned the chance encounter into a three-week job, playing — of all things — a hippie.
"He used to have me as a focal point when he would set up a shot. Then he'd call me over and put his hand on my shoulder and yell 'Azione,'" said Christopher in his best Italian accent.
"He used to call me 'Bambino,' which is funny, because that was the original title ofBreaking Away. He took a great fondness to me."
Christopher's next bout with serendipity occurred a few years later in New York, when a friend got him a job working with world-renowned designer Halston, most famous for designing the pill-box hat Jackie Kennedy wore at her husband's inauguration.
"I started out in the stockroom and worked my way up to assistant," remembers Christopher.
"One of my best friends, [artist and designer] Stephen Sprouse, Bill Dugan, and I worked designing clothes, doing every conceivable thing. New York was a really intoxicating period for me, literally and figuratively. There was a lot of overlap with Andy Warhol, Studio 54, and Halston. And while I was drawn to that world I'm glad I didn't go off in that direction because there were too many lost souls. I knew that getting high and laying around was no way to build a career. So, I'd always keep going back to the acting. Once the rent was paid and the phone bill, the next money you had was for acting classes."
Christopher soon began finding steady acting work, first on stage in Yentl the Yeshiva Boyat The Brooklyn Academy before the production moved to Broadway. Next came film and TV roles, including James Bridges' September 30th 1955, and two Robert Altman films, 3 Women and A Wedding.
His big break was Breaking Away, a poignant comedy about a group of four working class teenagers who grow up in the shadow of Indiana University in Bloomington, Indiana. It was a chance to work with another legendary director, Peter Yates, whose oeuvre consisted largely of action pictures like Bullit, Mother Jugs and Speed, and The Deep.
Christopher was cast as the film's lead Dave Stoller, a recent highschool grad who forsakes college for competitive bicycle racing, and obsesses over all things Italian after winning a Masi bicycle.
"I didn't want to play that part, because it seemed impossible for me to play this guy who shaves his legs…"
"I had a bike as a kid, and when I worked in Manhattan — I had a 10-speed I rode from downtown to 68th and Madison for my day job. I knew about fighting traffic but nothing about racing."
Christopher also arrived on set in Bloomington two weeks into principal photography, exhausted after finishing a film with Richard Harris and still ambivalent about the character Peter Yates cast him to play.
"My first day on set they darkened my skin with makeup, colored my hair a dark, dark brown and slicked it back. They had me in skin-tight clothes, pointy high-heeled black boots, and gold chains around my neck. I looked like a reject from Saturday Night Fever."
"The next morning, I ran over to Peter Yates and I burst into tears. I looked at him and I said, 'Peter, I don't know what I'm doing. I don't like this boy that you've created. …These guys wouldn't be friends with me… They'd beat me up.' He says, 'You haven't slept in a few days. Go back to the hotel and sleep and I will be over at the hotel room later on to talk with you.'"
"So I got a little bit of rest and Peter and [screenwriter] Steve Tesich came to the hotel to talk to me and I told them, 'I'm not pretending to be Italian to get pussy.'"
"I said, 'I want a big family. That's why I want to be Italian. It's a whole different feel, what it means to be Italian.' They didn't realize I'm half Italian (Christopher's real surname is Carrelli) and I had lived in Italy for over a year. But they listened, to the point where they sent somebody back to Los Angeles to bring my clothes to the set. All the clothes that you see me [wear] in the movie that are not bicycle riding outfits, they are my clothes. I have no idea why they listened to me."
Nearly 35 years after it's release, Breaking Away is regarded, still, as one of the most memorable coming-of-age films ever made. Not only did it win the Golden Globe for Best Motion Picture — Musical or Comedy, and the Oscar for Best Original Screenplay, but Breaking Away made the careers of the young actors who made up its ensemble cast. Christopher, Jackie Earle Haley, Daniel Stern, and Dennis Quaid have all gone on to have stunning film and television careers.
"I just marvel when I look at the movie, and I think an Englishman directed it and was able to bring a love of America and a critical eye to a small town and point out that indeed there is a class struggle in America … He examined things in such a way that it drew you into the picture, and that's one of the satisfying things about watching Breaking Away."
Christopher has worked regularly as a character actor, on stage and screen, since Breaking Away. In 1981, he appeared as American Olympic track star Charlie Paddock in the Oscar-sweeper Chariots of Fire. Other films include, Fade to Black, The Falling, A Sinful Life, andDjango Unchained, to name only a few. He's appeared in a myriad of roles on such TV shows as Stephen King's It, Law & Order: Criminal Intent, and the HBO Series Deadwood.
Of course there are many more, and Quentin Tarantino swears he's seen them all.
"When I first met him, he'd been a fan of everything I'd done … I can't even make that claim," said Christopher. I said, "'You saw Dead Women in Lingerie?' He said, 'Yeah, the week it opened … It was a piece of shit but you were great in it.'"
For more stories like this go to www.web2carz.com
The above article in "The Huffington Post" can also be accessed online here.