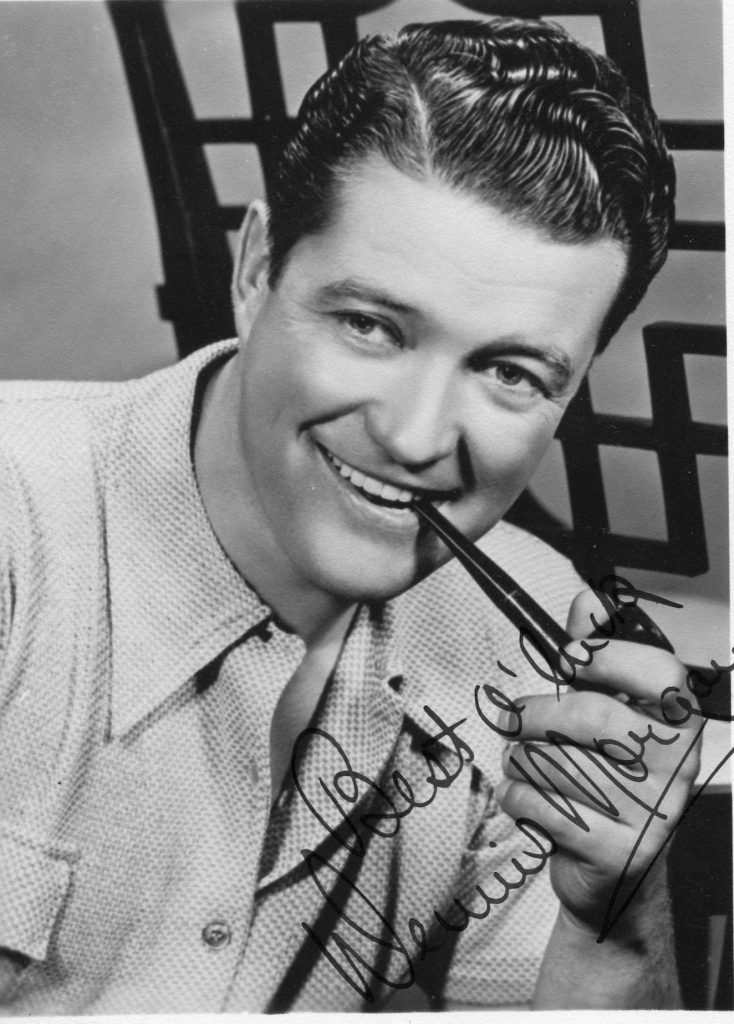 Dennis Morgan was born in 1908 in Wisconsin. He was a stalwart of films of the 1940's especially Warner Bros Productions. His film debut was in "Suez" with Annabella and Tyrone Power in 1936. Among his other movies are "The Great Ziegfeld""Kitty Foyle", "In This Our Life", "My Wild Irish Rose" and "This Woman Is Dangerous". He died in 1994.
David Shipman's obituary on Dennis Morgan in the "Independent":
DENNIS MORGAN is as inextricably linked to Warner Bros as James Cagney or Humphrey Bogart. He reigned at the studio for just over a decade, the 1940s. He was comfortable, good-looking, well-mannered: the antithesis of the gritty Bogart, and it is a telling comment on the Hollywood of that era that he replaced him in two movies that he turned down, Bad Men of Missouri (1941) and God is My Co-Pilot (1945).
And what of Morgan in Casablanca? It has long been a bad joke but true, that the unprepossessing Ronald Reagan was the original choice for Rick; and the very first press release listed his co-stars as Ann Sheridan and Dennis Morgan, both of whom would have brought to the roles – presumably those played by Ingrid Bergman and Paul Henried – an individuality which is the prerequisite of true stars. It was apparent before Hollywood and he himself realised it, since he spent a couple of years at MGM as Stanley Morner (his real name) and another at Paramount as Richard Stanley. But catch him singing 'A Pretty Girl is Like a Melody' on the fantastic wedding-cake set of The Great Ziegfeld (1936) or as the First Mate in King of Alcatraz (1938) or any of the other dozen films he made: he had star potential.
Warners recognised this, rechristened him Dennis Morgan and put him on the assembly-line with Wayne Morris, Arthur Kennedy, Jeffrey Lynn, Eddie Albert and Ronald Reagan – likeable young lugs squiring the heroine till Bogart, Cagney or Flynn came crashing down to sweep her up.
It was the perceptive Sam Wood – always careful in his casting – who saw something more in Morgan, taking him to RKO to be the shallow Philadelphia playboy who marries and deserts Ginger Rogers in Kitty Foyle (1940). Warners then took a second look and cast him as Olivia de Havilland's fiance in In This Our Life (1942) – snitched away by her sister, Bette Davis, and driven by her to drink and then suicide. He was up against another of the studio's bitches in The Hard Way (1942), Ida Lupino – 'the John Dillinger of the one- night stands' as he put it.
The film was notable in as much as he and Jack Carson played a vaudeville team, and over the years Warners were to pair them in another half-dozen movies, Morgan as the easy-going singer who always got the girl and Carson as the loud-mouthed but cowardly braggard-comic who was given the air. No one thought they were Hope and Crosby, least of all themselves. They actually played themselves with identical screen personas in It's a Great Feeling (1949), trying to persuade Warners that Doris Day – not playing herself – had screen potential; and she, starting her movie career, was to achieve a stardom greater than all of their other musical leading ladies put together.
Morgan twinned with the equally pleasing Jane Wyman in Cheyenne (1947) and The Lady Takes a Sailor (1949). He was also a match for such formidable co-stars as Sheridan in Shine On, Harvest Moon (1944) and One More Tomorrow (1946), Barbara Stanwyck in Christmas in Connecticut (1946) and Ginger Rogers in Perfect Strangers (1950). He wasn't swamped by Joan Crawford in This Woman is Dangerous (1952), as a nice doctor who rescues her from a gangster, saving her form a life of crime.
That was his penultimate film for Warners; after a western, Cattle Town (1952), they let him go, adrift in a Hollywood where more dynamic stars were in demand – Marlon Brando, Kirk Douglas, Burt Lancaster. Morgan made only a few more movies and then, in 1959, appeared in a television series, 21 Beacon Street. Thereafter he raised cattle on a ranch near Fresno, California.
The above "Independent" obituary can also be accessed online here.