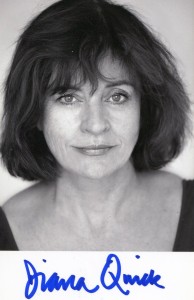 Diana Quick was born in 1946 in London.   Came to international prominence in her role as 'Julia' in "Brideshead Revisited" in 1982 with Jeremy Irons.   Her movies include Ridley Scott's "The Duelists" in 1977 and "The Big Sleep" in 1978.
Interesting article on Diana Quick in the Guardian newspaperwhcich can be accessed here.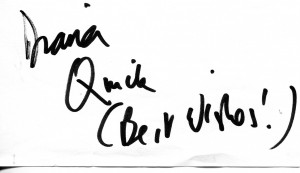 Diana Quick was born in 1946 in London.   Her best known role is as Julia Flyte in the television classic "Brideshead Revisited" in 1981.   Her film debut was in 1971 in "Nicholas and Alexandra".   Other films include "The Duellists", "The Big Sleep" and "Saving Grace".
IMDB entry:
Eclectic British stage actress Diana Quick was trained at Oxford University and has included both the classics and musical theatre in her repertoire over the years, ranging from "Troilus and Cressida" to "The Threepenny Opera". Though not a potent name in America, she has occasionally graced films and TV. Specializing in aristocratic roles, she stood out among a highly formidable cast in the classic epic mini-series Brideshead Revisited (1981) and received both Emmy and BAFTA nominations for her efforts. She had a long-standing relationship with actor Bill Nighy, and they have one daughter.
– IMDb Mini Biography By: Gary Brumburgh / gr-home@pacbell.net