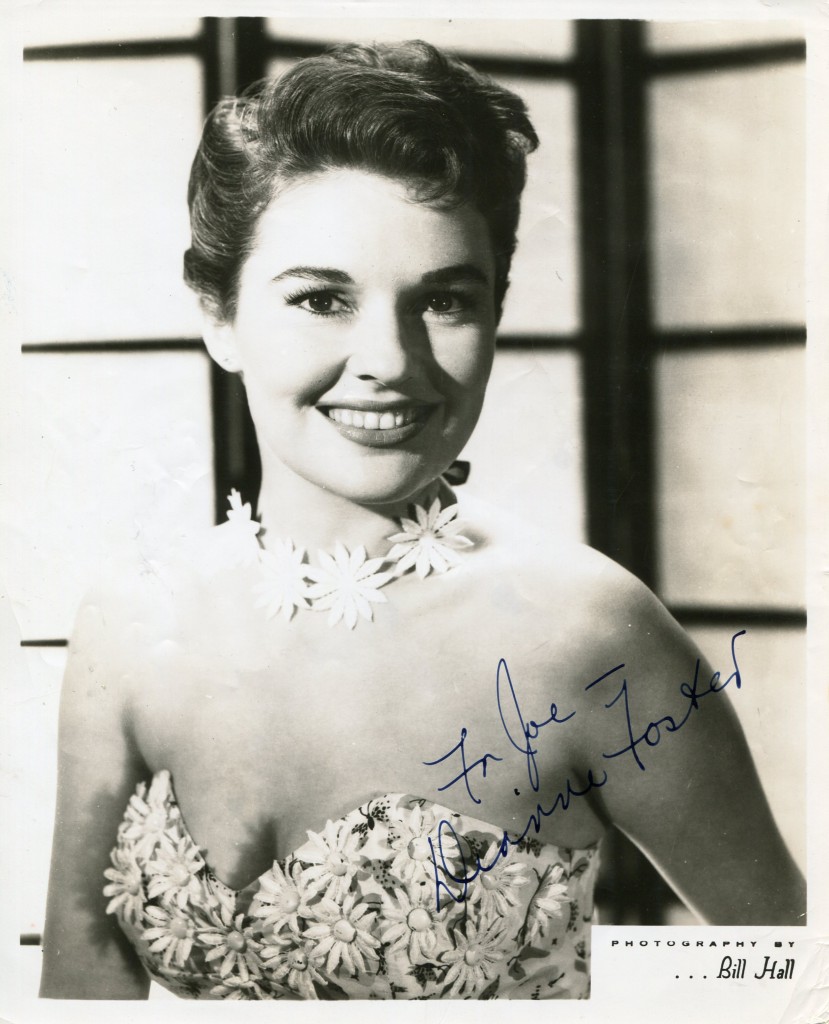 Dianne Foster. IMDB.
Dianne Foster was born in 1928 in Alberta, Canada. In 1953 she had a major role with Charlton Heston and Lizabeth Scott in "Bad for Each Other". Throughout the 1950's she had significant parts in such films as "Drive A Crooked Road" with Mickey Rooney", "The Kentuckian" with Burt Lancaster, "Night Passage " with James Stewart" and "The Last Hurrah" with Spencer Tracy and Jeffrey Hunter. Dianne Foster died in 2019 aged 90.
Gary Brumburgh's entry:
A curvaceous and comely lead and second lead actress of the 1950s and 1960s screen, Dianne Foster was born with the unlikely stage name of Olga Helen Laruska on October 31, 1928 in Edmonton, Alberta, Canada.
Of Ukranian parentage, she began her stage career performing in high school plays and in local community theater productions. Her school drama teacher saw extreme promise in her and encouraged her to continue her studies. Dianne then enrolled at the University of Alberta and majored in drama.
She eventually found work in Toronto as a model and as both a radio and stage actress. Encouraged again by her high school teacher, she saved up enough money to go to England for further training and to find work. She won a stage role in the play "The Hollow" starring Jeanne De Casalis that later toured.
Following a radio job with Orson Welles, she was handed (by Welles) the part of Cassio's whore in a West End production of "Othello" while Laurence Olivier was holding court at the St James Theater. Welles andPeter Finch starred as Othello and Iago, respectively, with Olivier in the director's seat.
After establishing herself as a "bad girl" second lead in such "B" level British films as The Quiet Woman (1951), in which she played a scheming ex-girlfriend of Derek Bond andThe Big Frame (1952) as a temptress opposite Mark Stevens,
Dianne was encouraged to come to Hollywood in the early 1950's. Her first role in Hollywood was as a British character in a TV episode of "Four Star Playhouse" opposite 'David Niven'. As a result of her fine performance, Harry Cohn placed her under a Columbia Pictures contract even though she had yet secured an agent.
Most of her subsequent films were standard adventures in which she provided a pleasant diversion from the rugged action going on around her. On occasional she was handed more substantial roles.
Dianne made a sturdy US cinematic debut in the film noir favorite Bad for Each Other(1953) as a dedicated nurse and love interest to Dr. Charlton Heston. It was Lizabeth Scott who played the bad girl here. Dianne would make a strong stand in westerns notably opposite Dana Andrews in Three Hours to Kill (1954), Glenn Ford and Edward G. Robinson in The Violent Men (1955) and James Stewart and Audie Murphy in Night Passage (1957). Audie Murphy.
She was also quite good, if not better, as Richard Conte's wife in The Brothers Rico (1957) as they struggle together to distance him from his mob ties. On occasion Dianne returned to England to film where she appeared in Uncle Willie's Bicycle Shop (1954), as a snooty American heiress out to impress Robert Urquhart, and, briefly, in Gideon of Scotland Yard (1958) as Ronald Howard's wife who threatens Jack Hawkins' title character. Her last two films of the 1950s decade were opposite Alan Ladd in The Deep Six (1958) and Spencer Tracy in The Last Hurrah (1958).
In the 1960s Dianne moved into episodic TV with guest parts in dramas (Perry Mason(1957), Route 66 (1960), Peter Gunn (1958), Ben Casey (1961), Hawaiian Eye (1959),The Detectives (1959), Honey West (1965)), comedies (Petticoat Junction (1963), My Three Sons (1960), "Green Acres") and, of course, westerns (Bonanza (1959), The Deputy(1959), "Have Gun–Will Travel", Laramie (1959), Wagon Train (1957), Gunsmoke (1955),The Big Valley (1965)). She appeared in only two more films before retiring in 1967 — co-starring with David Janssen in King of the Roaring 20's: The Story of Arnold Rothstein(1961) and with Dean Martin and Elizabeth Montgomery in the light comedy Who's Been Sleeping in My Bed? (1963).
Married twice, Dianne has one child from her first marriage and twins from her second. She retired in order to focused on marriage and family, as well as painting. She continues to live in California.
– IMDb Mini Biography By: Gary Brumburgh / gr-home@pacbell.net