Richard Gautier was born in Culver City, California in 1931. He began his career on television and his first film was "Ensign Pulver" in 1964. Subsequent movies include "Divorce American Style" in 1967, "Maryjane" and "Wild in the Sky". He has appeared in nearly all the well known television shows in the 1960's. 70's and 80's.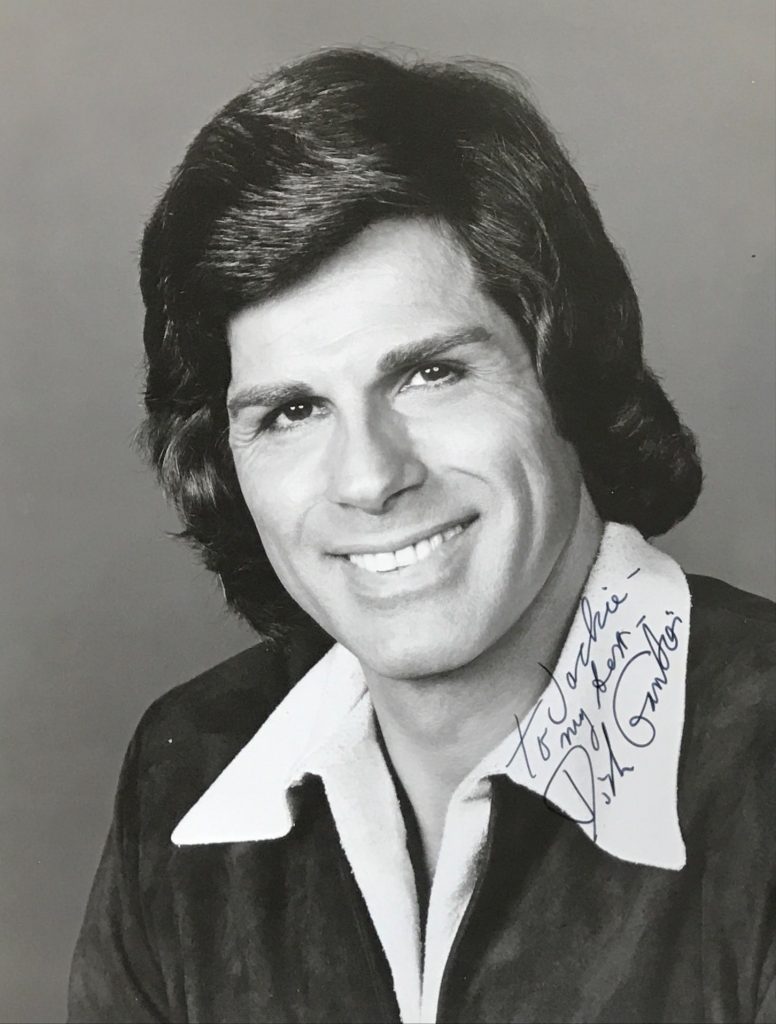 Obituary
Dick Gautier, who starred on Broadway in the original production of Bye Bye Birdie and then famously played Hymie the Robot on the sitcom Get Smart, has died. He was 85.
Gautier died Friday night at an assisted living facility in Arcadia, Calif., after a long illness, his daughter Denise told The Hollywood Reporter.
Gautier, who started his career as a stand-up comic, received a Tony nomination for playing Conrad Birdie, the character based on Elvis Presley, in the memorable, original 1960 production of Bye Bye Birdie, starring Dick Van Dyke.
The handsome actor appeared as Hymie on just six episodes of Get Smart over four seasons, yet he was one of the spy spoof's most popular characters.
Hymie, who was incredibly strong and had a supercomputer for a brain and wires and components in a compartment in his chest, originally was built for the evil organization KAOS but came over to CONTROL (the good guys) because Max (Don Adams) was the first one to treat him like a real person.
"When I met with the powers that be, I told them that when I was a kid in Canada I saw a man in a storefront window acting like a manikin to drum up business," he said in 2013. "If you could make him smile, you'd get $10. So, I tried, but not by acting crazy — I merely imitated his movements. I didn't win the $10, but I got the part of Hymie, which was a little better."
Eventually, Max picked Hymie to be his best man for his wedding with Agent 99 (Barbara Feldon), and Gautier returned as the robot for a 1989 Get Smart TV movie.
In 1975, Gautier starred as Robin Hood on the short-lived ABC series When Things Were Rotten, co-created by Mel Brooks, who, of course, had launched Get Smart as well.
Gautier was a veteran stand-up performer and working at The Blue Angel nightclub in New York as an opener for headliner and singer Margaret Whiting when he was spotted by Bye Bye Birdiedirector Gower Champion and Charles Strouse, who did the music for the production.
"They asked me to read for this thing," he recalled in a 2014 interview with Kliph Nesteroff. "I was a little put off because I didn't like rock and roll. Not at that point. I said, 'I don't think it's for me. I like Jerome Kern and George Gershwin.'
"They said, 'Will you at least come in and audition?' I went in and they said, 'Would you sing an Elvis song?' I said, 'I don't know any Elvis songs.' So they just played some blues and I ad-libbed and I guess they liked it. Couple months later they called."
Gautier told his agent, "'It's not for me. I feel very inhibited and very intimidated by this whole Elvis thing because it's not me.' He said, 'It's a satire.' Then I went, 'Ohhhhh.' When he said that, then I got it. Suddenly it was OK. I got the part, got a Tony nomination, and my career was in a whole different place. I didn't work nightclubs anymore."
Jesse Pearson played Conrad in the 1963 movie version.
Gautier was born on Oct. 30, 1931, in Culver City, and his father, a French-Canadian, worked as a grip at MGM. He spent some time growing up in Montreal and sang and did a comedy act with a band that wound up on a local TV show in Los Angeles.
Gautier served in the U.S. Navy, where he booked acts, including a young Johnny Mathis. When he got out of the service in San Francisco, he hung out at the hungry i nightclub and decided to try stand-up. He and the legendary Mort Sahl were among the first comics to be booked at the club, which would go on to become a renowned breeding ground for stand-ups.
The charming Gautier played clubs all over the country and for a time toured with the folk act The Kingston Trio. When he was looking for material for an act in Las Vegas, he paid Jay Leno and David Letterman $100 an hour to write jokes for him, he said in the chat with Nesteroff.
Gautier appeared in a guest stint on The Patty Duke Show and was in the Joshua Logan-directed Ensign Pulver (1964), and he had regular roles on the short-lived series Mr. Terrific and Here We Go Again, starring Larry Hagman. He also played an amorous sportscaster on an episode of The Mary Tyler Moore Show.
He co-wrote the 1968 pot movie Maryjane (1968) with Hollywood Squares host Peter Marshall and the 1972 film Wild in the Sky (1972), starring Georg Stanford Brown.
Gautier also appeared in such films as Divorce American Style (1967) — playing Van Dyke's attorney — Fun With Dick and Jane (1977) and Billy Jack Goes to Washington (1977) and on TV shows including Charlie's Angels; The Love Boat; Murder, She Wrote; Silk Stalkings; and Nip/Tuck.
He also was a guest on many game shows, including Tattletales, on which he appeared with his then-wife, actress Barbara Stuart.
Starting in the mid-1980s, Gautier worked often as a voice actor, heard on such shows as Galtar and the Golden Lance, G.I. Joe, The Transformers, The New Yogi Bear Show and The Addams Family.
An accomplished artist, Gautier also wrote and illustrated several books about drawing and how to become a cartoonist.
"Cartooning has been my hobby, my therapy, a delicious pastime and on occasion my salvation — it got me through some tight financial spots when I was a struggling actor," he wrote in the introduction to his 1989 book, The Creative Cartoonist.
In addition to Denise, survivors include his former wife Tess; daughter Chris and son Rand; grandchildren Darby, Brandon, Megan and Elisa; and great-grandchildren Reya, Bella, Odette, Jade and Avery.