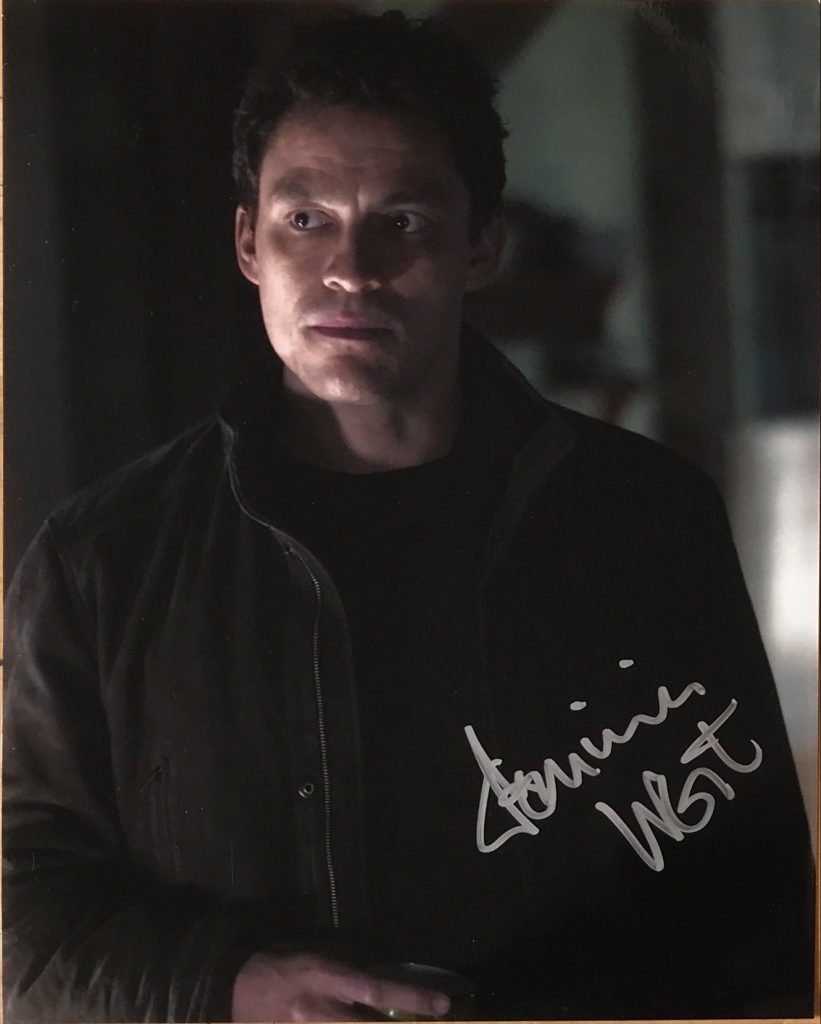 Dominic West was born in 1969 in Sheffield, Yorkshire. He is well-known for his performance in the hughly popular series U.S. television series "The Wire" as Jimmy McNulty. In 2001 he had been featured in the film "Rock Star".His other films include "The Mona Lisa Smile", "28 Days" and "Chicago".
TCM overview:
Hailing from the stage and screen of his native England, actor Dominic West made a name in the United States playing hard-drinking, anti-authoritarian homicide detective, Jimmy McNulty, on the gritty television crime drama, "The Wire" (HBO, 2002-08). Prior to that critically acclaimed role, West appeared in films like "Richard III" (1995), "Surviving Picasso" (1996) and "The Gambler" (1998). But it was his five years on "The Wire" that perhaps offered him the richest and most compelling performance of his career on a show numerous critics dubbed the greatest series in the history of television. Thanks to the critical adulation heaped upon "The Wire," West nabbed plumber roles in higher-profile movies like "Mona Lisa Smile" (2003) and "The Forgotten" (2004). He had his first major co-starring role in the blockbuster adaptation of Frank Miller's graphic novel, "300" (2007), and continued along in that vein with "Punisher: War Zone" (2008) and "Centurion" (2010). Thanks to a ready charm and comedic flair mixed with serious acting chops, West was an extraordinary talent worthy of attention.
Born on Oct. 15, 1969 and raised in a wealthy Catholic home in Sheffield, England, West became involved with acting at an early age, appearing in amateur stage productions as a child alongside his mother and eldest sister. It was while attending Eton College – an independent school for teenage boys – that he fell into the mindset of becoming a professional actor, thanks to the passionate encouragement of drama department head Robert Freedman. West performed in several school productions; most notably as the melancholy lead in "Hamlet." After graduating Eton, he moved on to Trinity College in Dublin, Ireland, where he earned his bachelor of arts in literature, before continuing his dramatic training at the Guildhall School of Music & Drama. From the time he left Guildhall, West went to work as an actor straight away, honing his trade with London stage work, while landing turns in small British features and supporting parts in larger-scale productions. He made his big screen debut in the Oxford-set drama, "Wavelength" (1995), which he followed with a turn as Richmond in the 1930s-set take on "Richard III" (1995), starring Ian McKellen.
After a small part as the son of Pablo Picasso (Anthony Hopkins) in "Surviving Picasso" (1996), West returned to the stage to star in productions of "Cloud Nine" and "The Seagull" during director Peter Hall's 1997 season at the Old Vic. That same year, West starred in Hungarian director Karoly Makk's "The Gambler" (1997), a unique dramatization that intertwined the real life of Fyodor Dostoyevsky with his fiction. In scenes from the novel that were played out on screen, West portrayed a young man who becomes a high roller in a bid to secure the affections of a beautiful woman (Polly Walker). That same year he starred alongside Toni Collette in the romance "Diana & Me" (1997), playing an ambitious British paparazzo involved with an Australian Diana Spencer who shared her name and birthday with the famed Princess of Wales. West's portrayal of the slimy photographer was nonetheless likeable and human, despite the victimizing nature of his livelihood. He played a photographer again the following year; this time with a cameo in the zany mockumentary on the girl group, the Spice Girls, "Spice World" (1998), but was thankfully left unassociated with the "movie."
West followed with the pivotal role of Lysander in Michael Hoffman's star studded adaptation of "William Shakespeare's A Midsummer Night's Dream" (1999), which increased the actor's visibility to an American audience in more ways than one. Virtually naked for much of the film and given the unenviable task of nude bicycling, West still capably held his own alongside co-stars Kevin Kline, Michelle Pfeiffer, Christian Bale, Calista Flockhart and Anna Friel. After the high-profile and rather revealing co-starring role, he landed a rather conventional and uncharacteristic bit part by uttering a single line as a mostly obscure palace guard in the summer blockbuster "Star Wars: Episode I – The Phantom Menace" (1999). While the role was barely noticeable, West considered the opportunity to be in such a monumental film as one not to pass up. Meanwhile, he marked his U.S. television debut as the nephew to Ebenezer Scrooge (Patrick Stewart) in the made-for-cable version of "A Christmas Carol" (TNT, 1999). Returning to the stage once again, West spent five months in the London production of "De La Guarda" (1999).
West's profile continued to rise in 2000, beginning with his co-starring role in the dramedy, "28 Days," which followed a New York City writer (Sandra Bullock) through her court-ordered rehab. West played Jasper, the writer's fun-loving British boyfriend who shared her life of hard partying and forgotten evenings. West followed up the engaging performance playing a rhythm guitarist for popular hard rock band Steel Dragon in the fact-based comedy "Rock Star" (2001), starring Mark Wahlberg and Jennifer Aniston, then got a major career boost when he played Fred Casely, the victim in the ballyhooed murder trial of Roxie Hart (Renee Zellweger) in director Rob Marshall's acclaimed film version of the musical "Chicago" (2002). In his first turn on the small screen, West landed the role of a lifetime as one of the stars of David Simon's gritty crime drama "The Wire" (HBO, 2002-08). Dropping the Queen's English for a tough Baltimore twang, West played homicide detective Jimmy McNulty, a hard-drinking outsider who revels in bucking authority, sleeping with as many women as possible, and taking down murderers and drug dealers with good old fashioned police work. During the first season of "The Wire," McNulty joins a joint homicide and narcotics team (Sonja Sohn, Wendell Pierce, Lance Reddick, among others) to take down a notorious drug kingpin (Wood Harris), but discovers that trying to make a difference can lead one to ruin.
Hailed by numerous critics as being the greatest television series of all time, "The Wire" offered West his most richly textured and compelling performances, which spanned the entire five seasons of the show's run. Subsequent seasons of showed West's McNulty demoted to the Marine Unit during an investigation of dock workers stealing shipping containers and retuning to walking a beat in uniform while helping to keep four high school students stay on the straight and narrow. Meanwhile, he maintains a riotous camaraderie with fellow hard-drinking, but far more sensible partner, Bunk (Pierce), while routinely making a sordid mess of his personal life, particularly with customs officer Beadie Russell (Amy Ryan). During his run on the show, West continued appearing in films, playing a predatory Italian language professor at an all-girls school who casually sleeps with his students in "Mona Lisa Smile" (2003). Next, he essayed the role of a man told his child never existed, who embarks on a harrowing investigation alongside similarly bereft parent (Julianne Moore) in the critically dismissed paranormal thriller "The Forgotten" (2004).
Returning to features, West had his first major blockbuster role, portraying Theron of Acragas, tyrant of Greek-occupied Sicily, in "300" (2007), a loose telling of the famed Battle of Thermopylae, where 300 Spartan warriors led by King Leonidas (Gerard Butler) inflicted heavy damage to the massive Persian army of Xerxes I (Rodrigo Santoro). Based on the popular graphic novel by Frank Miller, "300" was a big box office hit while having a lasting impact on popular culture, all of which helped West make more of a name for himself. He followed that with a role as an inspector in "Hannibal Rising" (2007), which traced the early years of Hannibal Lecter (Gaspard Ulliel) and his transformation from a frightened boy who witnessed his family massacred into a fearsome serial killer. Once "The Wire" wrapped for good in 2008, leaving many hearts empty in front of and behind the cameras, West stayed with features for a while, co-starring as the horribly disfigured crime boss, Jigsaw, in the comic book adaptation, "Punisher: War Zone" (2008). He next starred in director Neil Marshall's "Centurion" (2010), playing a Roman general who leads the famed Ninth Legion, which was rumored to have disappeared or been completely destroyed in battle.
The year 2011 was a busy one for West who was seen as well as heard in theaters with supporting roles in the slapstick spy-comedy sequel "Johnny English Reborn" (2011) and the animated holiday adventure "Arthur Christmas" (2011). It was, however, on television that the actor once again achieved his greatest success. West gave a chilling performance as notorious U.K. serial killer Fred West in the British docudrama miniseries "Appropriate Adult" (ITV, 2011). Also that year, he joined the cast of the U.K. series "The Hour" (BBC, 2011), a period political-drama centering on an investigative current affairs program during the time of the Suez Canal crisis. For his role as charismatic anchorman Hector Madden, West earned a Golden Globe nomination for Best Performance in a Miniseries.
The above TCM overview can also be accessed online here.