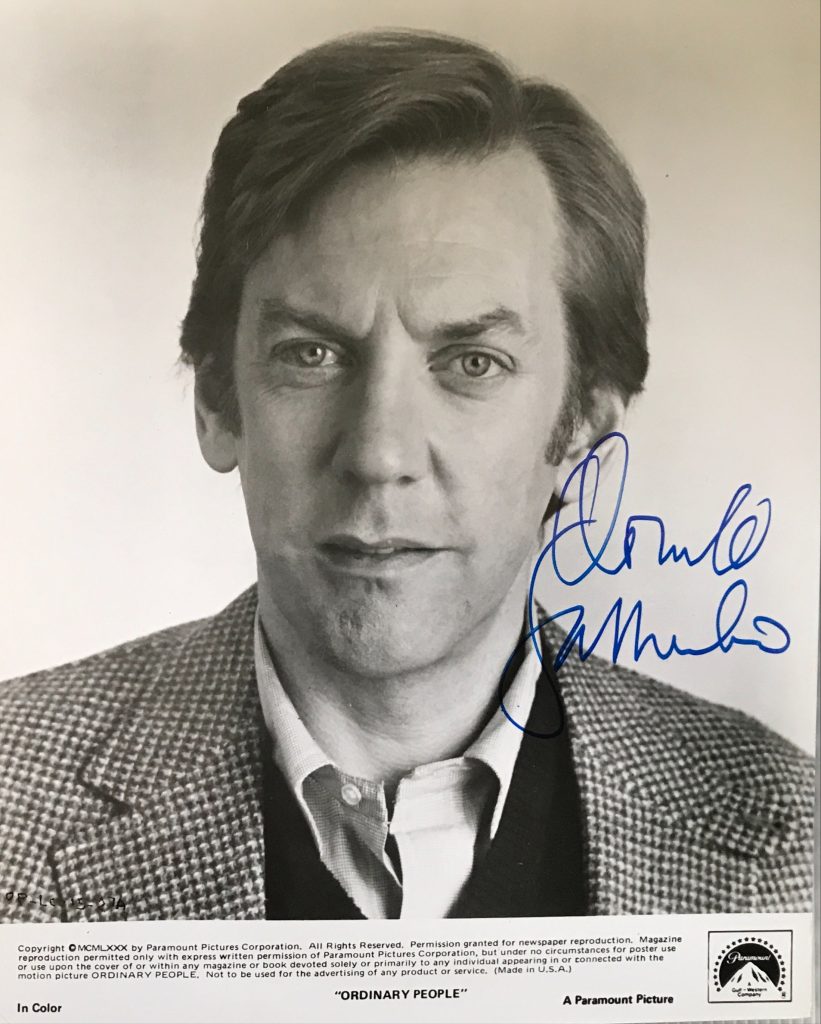 Donald Sutherland was born in 1935 in Saint John's New Brunswick, Canada. He has an impressive array of outstaning contribution to films especially in the 1970's and continues to give sterling performances to-day. He trained for the stage on Britain and began his career in British movies. His movie debut came in 1963 in "The World Ten Times Over". His other U.K. films include "Fanatic" with Tallulah Bankhead and "Sebastian" with Dirk Bogarde. His international breakthrough role came with "Mash" in 1970. This was followed by "Kelly's Heroes", "Alex in Wonderland", "Don't Look Now", "The Day of the Locust", "The Eagle Has Landed", "Nothing Personal" and "Eye of the Needle". he is the father of actor Kiefer Sutherland.
TCM Overview:
Perhaps one of the most prolific and widely recognized actors of his generation, Donald Sutherland made a career playing some of the most unusual and memorable characters in cinema history. Though best known for playing odd, off-beat roles, like a hippie tank commander in "Kelly's Heroes" (1970), an anti-authoritarian surgeon in "M*A*S*H" (1970), a novice private investigator in "Klute" (1971) and a stoner college professor in "Animal House" (1978), Sutherland cut a wide swath of characters throughout his career, mainly in order to avoid being typecast as eccentric weirdos. Critical acclaim for several of his performances – especially "Ordinary People" (1980) and "JFK" (1991) – was abundant, but he rarely received any awards – a surprising revelation given the breadth and quality of his work. Nonetheless, Sutherland maintained a steady career despite a long lull in the mid-1980s, even expanding his horizons into series television with "Commander in Chief" (ABC, 2005-06) and "Dirty Sexy Money" (ABC, 2007-09); two projects that, although short-lived, earned him further critical raves. Boasting a career that spanned more than five decades and 150 productions, Sutherland established himself as one of the most prolific, inventive and respected actors ever to grace either screen.
Born on July 17, 1935 in St. John, New Brunswick, Canada, Sutherland was raised in neighboring Bridgewater, Nova Scotia. His father, Frederick, was a salesman and head of the local bus, gas and electric company, and his mother, Dorothy, was a mathematics teacher. When he was 14, Sutherland was heard on CKBW as the youngest news reader and disc jockey in Canada. After high school, he studied engineering at the University of Toronto, but he quickly made the switch to an English major and began acting in school productions, making his stage debut in "The Male Animal" in 1952. He graduated UT in 1956, then moved to England where he attended the London Academy of Music and Dramatic Arts. He went immediately to work in provincial repertory companies, landing roles in several stage productions in London, including "August for the People." Sutherland was performing in a West End production of "Spoon River Anthology" when he was offered his first film, the dual role of a soldier and a witch (who end up fighting each other at the end) in "Castle of the Living Dead" (1964).
A couple of years after his film debut, Sutherland had moved to the United States where he continued taking strides to advance his career. He made his first American screen appearance in "The Dirty Dozen" (1967), playing a one of 12 soldiers in military prison during World War II, who are sent on a dangerous mission that gives them the chance to regain their honor. After bit parts in "Sebastian" (1968) and "Oedipus the King" (1968), Sutherland landed meatier supporting roles in "Joanna" (1968) and "Interlude" (1968). Then, without really meaning to, Sutherland suddenly made a name for himself in Robert Altman's Korean War satire "M*A*S*H" (1970), playing misfit surgeon Hawkeye Pearce, whose love of nurses and moonshine martinis were the only things keeping him and fellow surgeon Trapper John McIntyre (Elliott Gould) sane amidst the chaos of war. Because of the antiwar fervor of the late-1960s, early-1970s, "M*A*S*H" was one of the year's biggest hits, both critically and financially, turning an unknown Sutherland into an overnight star.
Hot on the heels of "M*A*S*H," Sutherland was seen in yet another war-themed comedy, "Kelly's Heroes" (1970), playing one of his most notorious and ultimately beloved characters, Oddball, a Bohemian tank commander who joins forces with a ragtag group of Army soldiers (led by Telly Savalas and Clint Eastwood) on a mission 30 miles behind Nazi lines to steal a large cache of gold. He achieved his first substantial critical acclaim for an excellent performance as a rural private detective who follows the sordid life of a prostitute (Jane Fonda) while on the trail of a killer in "Klute" (1971). Throughout the decade, Sutherland, despite his best efforts, was in danger of being typecast as a stoned-out goofball or an off-the-wall freak, thanks in large part to his rather unconventional looks. Luckily, he had both the sense and the talent to transcend the problem. In "Johnny Got His Gun" (1971), Sutherland was Jesus Christ, while in "Steelyard Blues" (1973), he was a demolition driver released from prison after serving time for larceny, and who gathers a band of misfits together to restore an old World War II plane in which to fly away to live in a nonconformist world.
Despite having made his name with "M*A*S*H" and "Klute" – both critical successes – Sutherland managed to make his share of duds, like "Lady Ice" (1973) and "S*P*Y*S" (1974), a ridiculously dull espionage comedy that reunited him with Elliot Gould. He was rather one-note as an ambitious and wealthy Hollywood powerbroker in the otherwise worthy adaptation of John Schlesinger's entertainment satire, "The Day of the Locust" (1975), before returning to the comfortable confines of World War II action in "The Eagle Had Landed" (1976), playing an English-hating Irishman who helps arrange a Nazi plot to kidnap Winston Churchill on British soil. After being cast as an everyman Casanova in "Il Casanova di Federico Fellini" (1976) and appearing briefly in the often uproarious spoof "Kentucky Fried Movie" (1977), Sutherland scored another landmark role, playing a pot smoking college professor who takes the girlfriend (Karen Allen) away from an irresponsible, but irrepressible fraternity leader (Tim Matheson) in "National Lampoon's Animal House" (1978). Sutherland was once again memorable in "Invasion of the Body Snatchers" (1978), bringing forth a palpable paranoia as a Department of Health employee contending with an alien invasion of soul-possessing spores.
Sutherland forever obliterated being typecast with his subtle portrayal of an emotionally conflicted father in "Ordinary People" (1980), director Robert Redford's extraordinary Oscar-winning look at a so-called perfect family. Though ultimately overlooked by the Academy Awards, Sutherland was exceptional as a family man dealing with the death of a child and the love for his wife (Mary Tyler Moore). Unfortunately, his critical success with "Ordinary People" failed to translate into other meaty roles; instead leading to the miserable satire "Gas" (1981) and the rather uninspired caper comedy "Crackers" (1984). Meanwhile, an ill-received stage performance as Humbert Humbert in Edward Albee's "Lolita" in 1981 helped keep him off the stage for a good 18 years – critics savaged the play, forcing the production to be canceled after only 12 performances. Sutherland, on the other hand, was spared from most of the critical drubbing the play received. After a 15 year absence, he returned to the small screen to play Ethan Hawley, a grocery store clerk who dreams of buying back his store from corrupt local bankers, in "John Steinbeck's The Winter of Our Discontent" (CBS, 1983), one of the few highlights for Sutherland in the 1980s.
While he remained prolific throughout the decade, Sutherland was mired in career doldrums that made his earlier successes more out of focus with time. Unexceptional features like the uneven murder mystery "Ordeal by Innocence" (1984), the flat-out dull period epic "Revolution" (1985), and the ineptly unfunny espionage comedy "The Trouble With Spies" (1987) only helped give rise to the notion that Sutherland's career was in trouble. He returned to more dramatic fare with "A Dry White Season" (1989), playing a South African schoolteacher ignorant of the horrors of apartheid and who turns radically against the system when his gardener's son is viciously murdered. Once the 1990s rolled around, however, Sutherland suddenly found himself in better films. He had a small, but integral role in "JFK" (1991), playing the mysterious Mr. X, a former black ops officer who feeds vital background information to New Orleans district attorney, Jim Garrison (Kevin Costner), the only person to bring a trial in the assassination of President John F. Kennedy. Despite being onscreen for only 15 minutes, Sutherland's compelling performance made an indelible impression and remained one of the most remembered sequences in Oliver Stone's exceptional film.
After a series of high-profile, but ultimately forgettable roles in "Backdraft" (1991), "Buffy the Vampire Slayer" (1992) and "Outbreak" (1995), Sutherland received rare award recognition for his performance in "Citizen X" (HB0, 1995), an exceptional thriller about an eight-year investigation by an obsessed Russian detective (Stephen Rea) into the serial killings of 52 women and children. Sutherland received an Emmy Award for Outstanding Supporting Actor in a Miniseries or Special for his portrayal of Colonel Fetisov, the investigator's supportive boss who helps him fight the bureaucracy of the Soviet state. Building off that success, he was superb as the law school professor and mentor of a novice lawyer (Matthew McConaughey) in "A Time to Kill" (1996), then gave an understated and overlooked performance as famed track coach Bill Bowerman in "Without Limits" (1998), an engaging look at the ill-fated track star, Steve Prefontaine (Billy Crudup). Sutherland rounded out the millennium with more underwhelming projects, including the mediocre features "Fallen" (1998) and "Virus" (1999), and the above average made-for-television movie, "Behind the Mask" (CBS, 1999), in which he played a doctor who forms a father-son relationship with a mentally-challenged man (Matthew Fox).
Alongside charismatic turns as a sex-minded, over-the-hill astronaut in Clint Eastwood's amusing "Space Cowboys" (2000), and as William H. Macy's hit man father in "Panic" (2000), Sutherland occasionally slummed his way through routine big screen thrillers, including the easily dismissed Wesley Snipes action thriller, "The Art of War" (2000). He continued finding compelling roles on television, however, namely as a small time hood looking to make a big score in "The Big Heist" (2001), and as Clark Clifford, political advisor to Lyndon Johnson, in John Frankenheimer's acclaimed "Path to War" (HBO, 2002). In 2003, Sutherland enjoyed a renaissance on the big screen, delivering a charming performance as the mentor to a professional thief (Mark Wahlberg) in the hit remake "The Italian Job" (2003), and as Nicole Kidman's doting Southern dad in "Cold Mountain" (2003). In "Stephen King's Salem's Lot" (TNT, 2004), he played a sinister old man who deals in antiques and has taken residence in a haunted mansion on a hill. Though not as frightening as the original made-for-television version, this new rendition nonetheless delivered plenty of chills. Sutherland continued the horror trend with yet another version of "Frankenstein" (Hallmark, 2004), though this particular version remained faithful to Mary Shelley's original novel.
Taking a different turn on the small screen, he appeared as a regular in his first scripted series, "Commander In Chief" (ABC, 2005-06), a political drama about a female vice president (Geena Davis) who assumes the presidency after the death of her predecessor. Sutherland played the right-wing Speaker of the House and next in line for the job, who tries to convince the vice president to step aside so he can grab hold the reigns of power. He then earned his second Emmy award nomination in a supporting role in the miniseries, "Human Trafficking" (Lifetime, 2005), starring Robert Carlyle and Mira Sorvino, before playing the Bennett family patriarch in the lively adaptation of Jane Austen's "Pride and Prejudice" (2005). While Sutherland maintained a steady supporting presence on the big screen, his fate on "Commander in Chief" suddenly became uncertain in early 2006. Though critically acclaimed, the show steadily lost its audience over the course of its first and only season because of faulty scheduling and a revolving door of showrunners who continually changed the series' tone and direction.
By May 2006, when ABC pulled the series from the lineup for the all-important sweeps, Sutherland expressed deep disappointment with the show's inevitable cancellation and the diminishing of his character into a cartoonish villain through clever editing. Despite a nomination for Best Supporting Actor at the 2006 Golden Globe Awards, Sutherland was not seen playing Speaker of the House the next fall. Meanwhile, Sutherland had a small and rather clandestine role as a mysterious colonel who keeps a watchful eye on an international arms dealer (Nicolas Cage) on the verge of a breakdown in the under-appreciated "Lord of War" (2005). After appearing as part of the ensemble cast in "American Gun" (2005), a series of interwoven stories commenting on the proliferation of guns in America and their impact on society, Sutherland played the patriarch of an early-19th century family terrorized by an evil spirit in "An American Haunting" (2006).
After a co-starring role in "Reign Over Me" (2007), a compelling drama about two former college roommates (Don Cheadle and Adam Sandler) coping with life after 9/11, Sutherland played a billionaire with a mega-yacht who is convinced by a good-natured surf bum (Matthew McConaughey) to join him on a treasure hunt for several chests of gold in "Fool's Gold" (2008). Back on television, he was delightful as the patriarch of a wealthy, but dysfunctional Manhattan family whose secrets are protected by an idealistic young lawyer (Peter Krause) in "Dirty Sexy Money" (ABC, 2007-09). Sutherland earned plenty of critical kudos and a Golden Globe nomination for Best Performance by an Actor in a Supporting Role in a Series, Miniseries or Motion Picture Made for Television. Sutherland went from ultra-modern New York to 12th century England when he portrayed the doomed Bartholomew, Earl of Shiring, in the miniseries adaptation of Ken Follett's epic novel "The Pillars of the Earth" (Starz, 2010). The following year, he lent big screen support to "The Mechanic" (2011), a remake of the Charles Bronson thriller starring Jason Statham, and the Roman centurion adventure tale "The Eagle" (2011), starring Channing Tatum. Sutherland once again played the villain, this time portraying President Coriolanus Snow in "The Hunger Games" (2012), the autocratic leader of a futuristic America where adolescents are forced into a life-or-death competition as entertainment for the masses.
This TCM overview can also be accessed online
here.