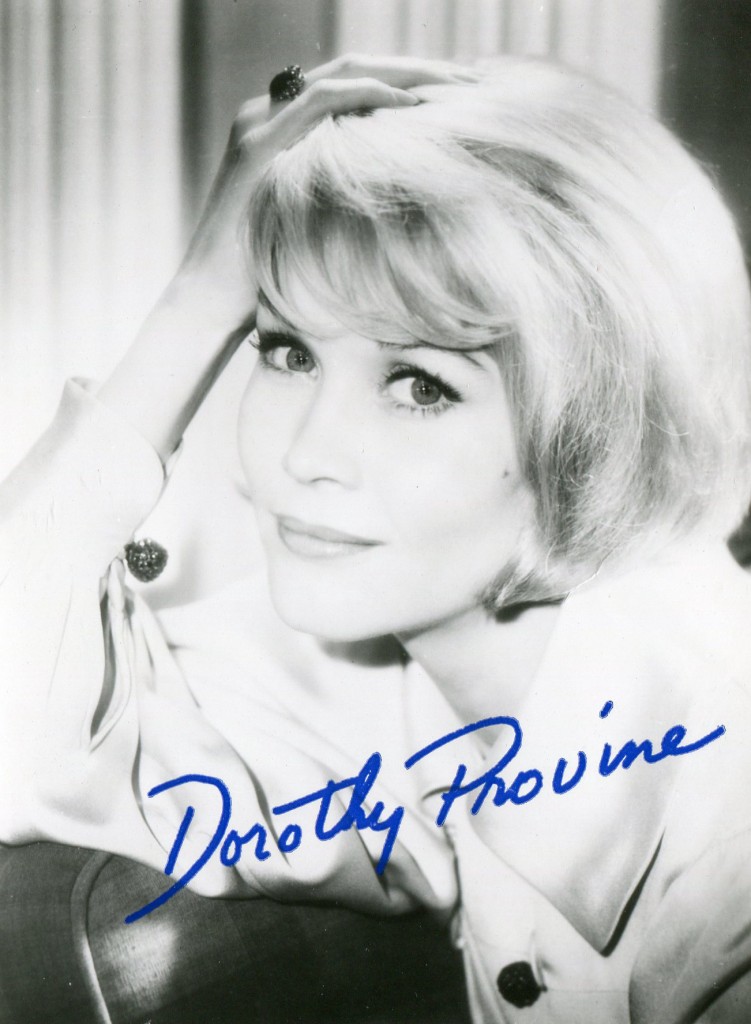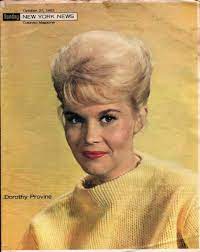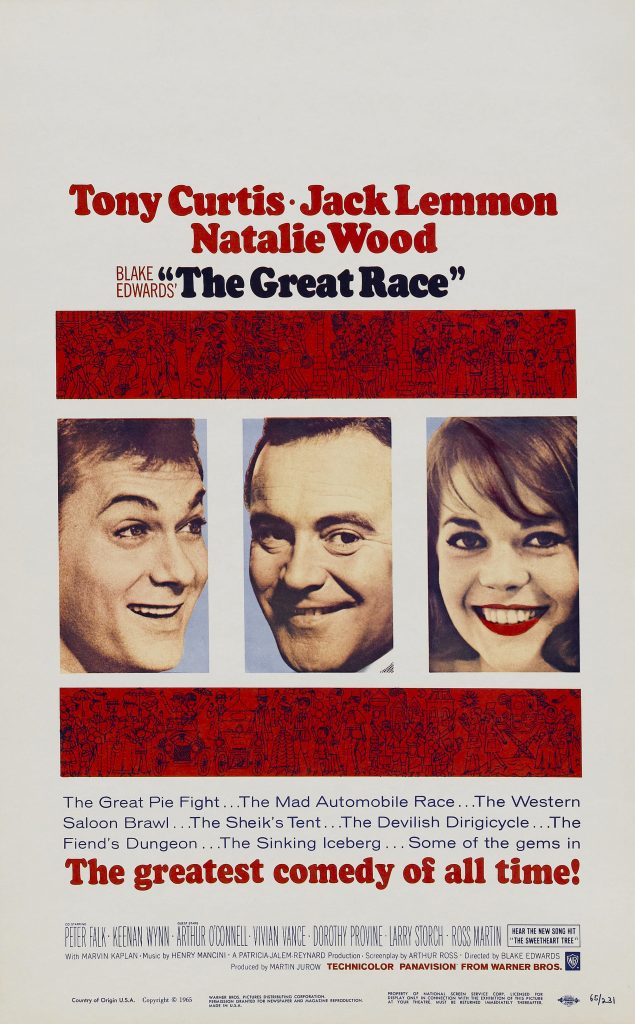 Dorothy Provine was born in 1935 in South Dakota.   On television in 1959 she starred in "The Alaskans" with Roger Moore in 1959 and "The Roaring Twenties".   She had a profilic movie career throughout the 1960's and made "It's A Mad, Mad, Mad, Mad World", "Good Neighbour Sam" with Jack Lemmon and Romy Schneider in 1964, "The Great Race" and "Never A Dull Moment".   On her marriage to director Robert Day in 1968, she practically retired and moved to live in the state of Washington where she died in 2010 at the age of 75.
"Guardian" obituary:
Although her career in films and television ended about 40 years ago, there are still viewers who cherish the memory of the perky blonde singer, dancer and actor Dorothy Provine, who has died of emphysema aged 75. Most memorable was her vibrant performance as Pinky Pinkham, the charleston-dancing flapper in the TV series The Roaring 20s (1960-62). Provine was in all 45 episodes of the series, which was set in Chicago and revolved around the speakeasy where Pinky performed to an audience that inevitably consisted of racketeers. According to Time magazine in May 1961: "It is Dorothy's oooohing and shimmying that have kept the series afloat."
Provine had incited much oooohing herself in the title role of The Bonnie Parker Story (1958), a gritty, unglamorised, low-budget depiction of the two-person crime wave during the Depression, released nine years before Arthur Penn's Bonnie and Clyde made the duo world-famous. Provine's feisty portrayal (in her feature film debut) of the gun-toting criminal who linked up with Clyde Barrow (thinly disguised here as Guy Barrow to protect his family, who were still alive), seemed to promise a film career on a par with her more buxom blonde contemporaries, Mamie Van Doren and Jayne Mansfield, the sort that gentlemen preferred in the late 1950s. (Marilyn Monroe, of course, was hors concours.) But Provine, for all her physical attributes and several sexy roles, could not conceal her girl-next-door persona, which gradually emerged in the mid-60s.
Provine was born in Deadwood, South Dakota, but was brought up in Seattle, where her parents ran a nightclub. She graduated from the University of Washington with a degree in theatre arts in 1957. After only a few appearances in amateur productions of musicals, she was spotted by a Hollywood talent scout and given the lead in The Bonnie Parker Story.
Despite her good notices, Provine was offered only two B-movies in 1959: Riot in Juvenile Prison and The 30 Foot Bride of Candy Rock, their come-hither titles promising more than they delivered. In the former, the 24-year-old Provine played a juvenile delinquent, one of a number of young women introduced into a male prison that had been made co-ed by a liberal governor. The mildly amusing latter film had Provine accidentally turned into the giant of the title by the inventor Lou Costello (in his last film).
At the same time, Provine was a regular on TV, gaining her first series, The Alaskans (1959-60), set during the Yukon goldrush of the 1890s, in which she played a saloon owner and singer called Rocky Shaw who has attracted an adventurer, Roger Moore. The onscreen romance reflected the fact that Moore had fallen for Provine in real life, which almost caused a rift between him and his wife, Dorothy Squires. Frank Sinatra then dated her for a while, but there was no question of marriage as the Catholic Provine would not wed an already twice-divorced man.
In her biggest hit, The Roaring 20s, she delightfully sang at least one vintage number in each episode, and she also had a top 20 hit in the UK with one example, Don't Bring Lulu, in 1961. Provine was cast as the cool wife of the put-upon Milton Berle in Stanley Kramer's mammoth homage to slapstick comedy, It's a Mad Mad Mad Mad World (1963), in which she is the only one of the avaricious group hunting the $350,000 of stolen cash who wants no part of the fought-over money.
Provine then played what could be called "a good sport" in half a dozen comedy films, the sort that Ethan Coen felt "had a very weird, wooden aesthetic that nobody's interested in any more", but which he loved as a child. These included the tame but entertaining sex farce Good Neighbour Sam (1964), in which she co-starred with Jack Lemmon as his suburban wife; That Darn Cat! (1965), a Walt Disney movie in which she and the cleancut Dean Jones were upstaged by the feline of the title; Kiss the Girls and Make Them Die (1966), a contrived James Bond pastiche with Provine as an English spy; Who's Minding the Mint? (1967), as the girlfriend of Jim Hutton's US mint employee; and the riskily titled Never a Dull Moment (1968), opposite Dick Van Dyke. In between, she made a terrific cameo appearance in The Great Race (1965), singing, in a saloon again, He Shouldn't-a, Hadn't-a, Oughtn't-a Swang On Me!
It was while making Kiss the Girls and Make Them Die in Brazil that she met the English-born director Robert Day, who was shooting Tarzan and the Great River there. Despite her previous qualms about divorced men – Day gained a divorce on the grounds of adultery with Provine – the couple married in 1968, and she retired from show business, appearing in only three TV shows in the 1970s.
She is survived by her husband and son, also called Robert, and her sisters Patricia and Susan.
• Michele Dorothy Provine, actor and singer, born 20 January 1935; died 25 April 2010
 The above "Guardian" obituary can also beaccessed online
here.
Gary Brumburgh's entry:
Flashy, leggy, bouffant blonde Dorothy Provine was a solid screen representation of the Kennedyesque era — when life seemed so full of fun, so innocent and so optimistic. This sparkling beauty also gave TV audiences a double dose blast to the past via her popular co-starring roles on late 50s/early 60s series TV. A talented girl whose comedic gifts were never sufficiently tapped into by Hollywood, Dorothy nevertheless secured a dedicated fan base merely on her sunny smile, creamy good looks and carefree radiance alone.
Graduating from the University of Washington with a degree in Theater Arts. Hollywood folklore has it that the South Dakota-born (but raised in San Francisco) actress landed the role of the notorious femme bank robber in the low-budget "B" film The Bonnie Parker Story (1958) just three days after arriving in Hollywood. It certainly proved to be a lucky break, although it didn't clinch the movie stardom she might have expected. On the contrary, Dorothy was forced to languish in such predicable programmers as Riot in Juvenile Prison (1959) and Live Fast, Die Young (1958), while playing the gigantic, radiation-exposed love interest in the poorly-executed The 30 Foot Bride of Candy Rock(1959) opposite rolypoly comedian Lou Costello in his only film effort after breaking up with partner Bud Abbott. Fortunately, TV made up for her lack of success on film.
Signed up by Warner Bros. and seemingly better suited for the small screen, Dorothy became one of the more visible female faces on TV and would be best remembered for her period roles as 1890s saloon singer Rocky Shaw, the friend of "Gold Rush" fortune seekers Roger Moore and Jeff York in The Alaskans (1959) and, better yet, as Pinky Pinkham, the Charleston-dancing flapper in the Warner Bros. adventure series The Roaring 20's (1960).
A vivacious guest on scores of other TV shows, Dorothy occasionally reappeared in lightweight 1960s films wherein she generally projected a squeaky-clean image playing various sparkly housewives, girlfriends and sisters. She was part of the all-star zaniness in It's a Mad, Mad, Mad, Mad World (1963) as Milton Berle's wife; appeared as Jack Lemmon's bright-eyed better half in the suburban comedy Good Neighbor Sam (1964); played Hayley Mills's beleaguered older sis in the feline caper That Darn Cat! (1965); had a slam-bang cameo as Lily Olay the barroom singer who belts out the memorable "He Shouldn't-A, Hadn't-A, Oughtn't-A Swang on Me" in the slapstick farce The Great Race(1965); showed up as the true-blue gal pining for Jim Hutton in the bank heist comedyWho's Minding the Mint? (1967); and made her last silver screen appearance alongsideDick Van Dyke_ in the comedy Never a Dull Moment (1968), which did not live up to its title.
During this time Dorothy occasionally made use of her vocal talents on the live stage, and appeared briefly as a duo with George Burns in a 1963 Las Vegas nightclub act, replacing Burns' ailing wife Gracie Allen, who by this time had fully retired due to serious heart problems. Eventually, however, she lost interest in her career.
Dorothy abruptly left the business in 1969 after marrying director Robert Day, who was involved in several of the Tarzan movies. She showed up a couple of times on TV in the 70s but, for the most part, found her self-imposed retirement completely to her liking. The couple moved permanently to Bainbridge Island, Washington in 1981, and there she found contentment simply gardening and tending to her animals. They had one son,Robert Day Jr., who became a musician. Dorothy battled emphysema in her last years and died at a nearby hospice on April 25, 2010, at age 75.
– IMDb Mini Biography By: Gary Brumburgh / gr-home@pacbell.ne