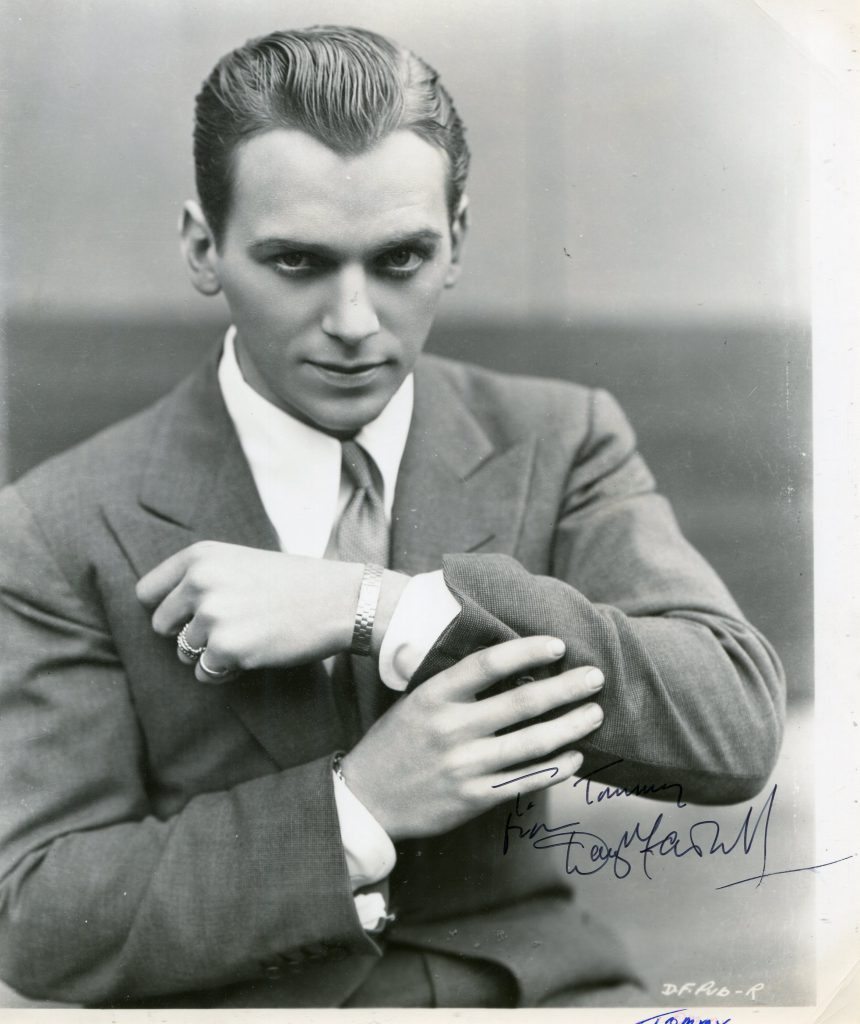 Douglas Fairbanks Jnr. obituary in "The Guardian" in 2000.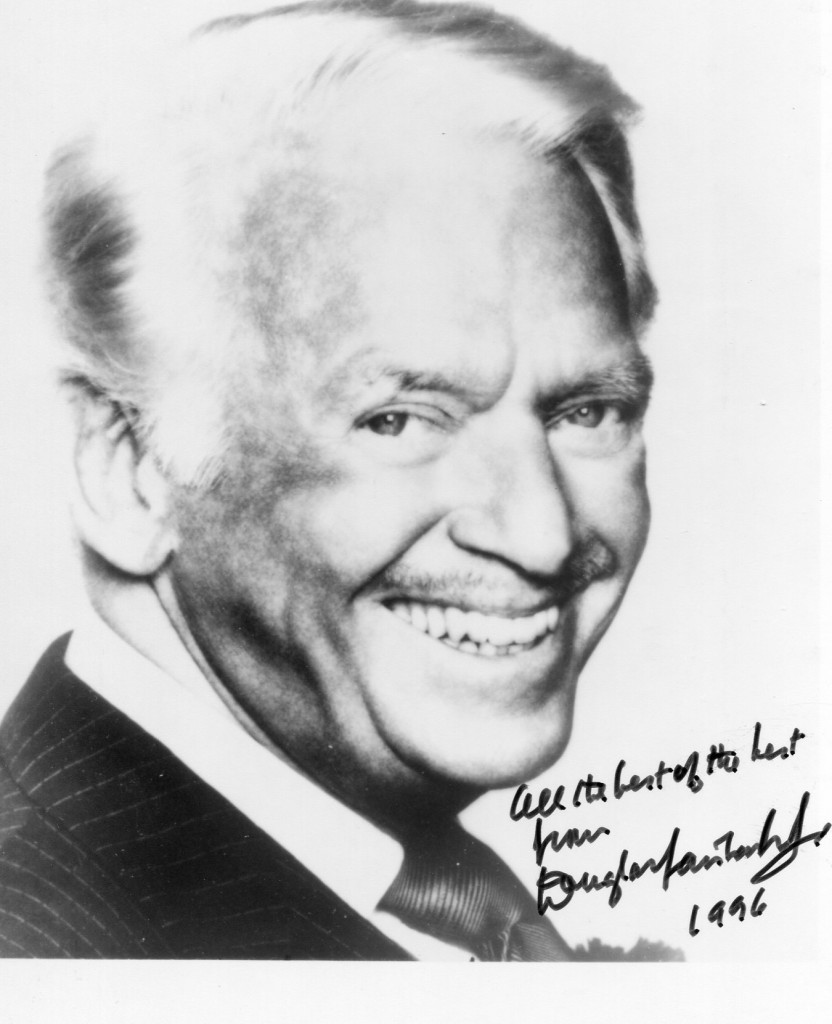 Douglas Fairbanks Jr. was born in 1909 in New York City. He was never eclipsed by his father's fame and made many fine films including "The Prisioner of Zenda" in 1937 with Madeleine Carroll, "State Secret" with Glynis Johns and "Guanga Din". He died in 2000 at the age of 90.
Ronald Bergan's obituary in "The Independent":
Douglas Fairbanks Jr, who has died aged 90, carried his father's name proudly, though he had to overcome paternal neglect and the comparison with one of Hollywood's legendary stars. Although an attractive and competent actor, he was also runner-up to similar dashing, well-spoken, romantic leads such as Errol Flynn, an exact contemporary, and Ronald Colman. Nevertheless, he managed to carve out a satisfactory career for himself in the movies, and become a prominent personality in other fields.
Despite having all the advantages of a Hollywood kid, his childhood and adolescence were not propitious. Because there could be only one Douglas Fairbanks, his father and mother, Anna Beth Sully, a Rhode Island heiress, referred to their child as "the boy". His Irish nurse pronounced it "bye', and from then on he was called Bye by his family and friends.
Douglas Sr, always insecure despite his stardom, later confessed that he had "no more paternal feelings than a tiger in the jungle with his cub." As Bye grew into a chubby child, and his father was forced on occasions to take his son out, he was obviously uncomfortable at being seen with him. This reserve and restraint rubbed off on the boy. "I never kissed him until he was on his deathbed," Doug Jr recalled.
Out of guilt, his father gave his son a pony, but one day the boy came home to find that his father had given it to Prince Hirohito of Japan. His mother, on the other hand, tried to give him double helpings of love. He was brought up by her from the age of nine when his parents divorced.
The young Fairbanks sculpted and painted from early youth, exhibiting at 13, and made his screen debut at the same age in Stephen Steps Out, an unsuccessful attempt by Jesse Lasky to exploit the magic of the Fairbanks name.
A few years later, when Doug Jr told his father, now married to Mary Pickford, that he wanted to become an actor and not go to Harvard, he threatened to disown his son, and cut him out of his will.
Without his father's financial assistance, Fairbanks accepted bit parts and wrote titles for silent films. Gradually, he started to get juvenile leads, notably in Stella Dallas (1925) as Loise Moran's upper-class beau.
In 1927, he was set to star opposite Greta Garbo in Women Love Diamonds, but when the Swedish star went on strike for more pay, he got Pauline Starke instead. However, the following year he was recompensed by being fourth-billed in Garbo's film A Woman of Affairs.
In 1929, he married up-and-coming star Joan Crawford. His father called her a cradle snatcher (she was five years older than the groom) and an opportunist who wanted to marry a famous name.
Doug Jr and Joan appeared together as a married couple in Women Love Dia monds, but were divorced four years later after she had deceived him with Clark Gable.
From 1930 to 1935, Fairbanks was in great demand, playing, as he remarked, "big roles in little pictures, and little roles in big pictures." The big pictures included Howard Hawks' The Dawn Patrol, in which he was Neil Hamilton's kid brother sent on a fatal mission, and Little Caesar when he was Edward G Robinson's driver with ambitions to gangsterhood.
The best of the smaller pictures were the screwball comedy Love is a Racket, the real-time one-location drama Union Depot, and the boxing melodrama The Life of Jimmy Nolan, with excellent varied performances from Fairbanks. In Morning Glory (1933), he played a writer in love with actress Katharine Hepburn, an unrequited emotion he felt for her offscreen.
The following year, he came to England to play the Grand Duke Peter opposite Elisabeth Bergner in Catherine the Great for Alexander Korda. Fairbanks coped well as the Tsar who loses his wits, while Bergner turned on her over-girlish charm, encouraged by the indulgent direction of Paul Czinna, her Hungarian husband.
Goebbels did not ban the film in Germany but got the Nazi press to call it a film "produced by and starring Jews". (Fairbanks' paternal grandfather was a Jewish lawyer called Hezekiah Charles Ulman.)
In 1935 Fairbanks was living beyond his means, and immersed in an affair with Gertrude Lawrence with whom he starred as the Bohemian Rudolphe in the film Mimi, and in the West End in Moonlight is Silver. However, he managed to raise enough capital to set up his own English-based company, Criterion Productions.
The Amateur Gentleman (1936) – the first and best of three pictures for Criterion, was set in Regency times. He played an innkeeper's son who poses as a gentleman pugilist to gain entrance to the court of the Prince Regent.
His father (reconciled with his son) arrived with Lord and Lady Louis Mountbatten at Elstree to watch the shooting. They were suitably impressed by the largest set built for a British film to date, a 13,000sq ft reconstruction of the ballroom at Carlton House for the Prince Regent's ball. But the picture didn't do as well at the box-office as was hoped, and Criterion struggled on with two more lame productions.
Fairbanks was carrying on an affair with Marlene Dietrich, who used to smuggle him into her hotel room at Claridge's, when he met socialite Mary Lee Hartford at a party given by Merle Oberon. His wild oats sown, he married her in 1938, a marriage that lasted for 50 years until her death.
Meanwhile, back in Hollywood, Fairbanks had made a splendid Rupert of Henzau, the soldier-swordsman in The Prisoner of Zenda (1937) whose confrontation with the film's hero, Ronald Colman, provides the film's exciting climax.
A number of good parts followed, in which he was able to put on his pukka accent and a pith-helmet in British colonial adventures. In fact, his accent bore a striking resemblance to Ronald Colman's distinctive British tones. "By Golly" was one of his favourite expressions.
In George Stevens' Gunga Din (1939) Fairbanks was the gentleman soldier at the side of rough Victor McLaglen and cheeky Cary Grant, a devil-may-care trio fighting a murderous sect of religious fanatics in India. (It was filmed in Lone Pine, California.) In the same year that his father died aged 56, Fairbanks made a conscious decision to emulate his celebrated swashbuckling style.
He took the title roles in The Corsican Brothers (1941), with 21-year-olds Mario and Lucien (Fairbanks was a young-looking 32) setting out to avenge their father's death. The picture was reminiscent of his father's 1922 Robin Hood, and after the second world war Doug Jr gave an acrobatic performance as Sinbad the Sailor (1947), a reasonable attempt to rival his father's in The Black Pirate. In The Fighting O'Flynn (1949), he portrayed a kind of Irish musketeer, scaling walls and leaping across roofs with reckless abandon.
During the war, as a lieutenant commander in the US Navy, Fairbanks had participated in several combined Anglo-American operations (recalled in his memoirs, A Hell of a War) and in 1949 he was made an Honorary Knight of the British Empire for "furthering Anglo-American amity." Other honours he received were the Légion d'Honneur and Knight Grand Officer of King George I of Greece.
After retiring from the screen in the early 1950s Fairbanks, an avid Anglophile, settled in London for many years with his wife and three daughters. He thrived on eminent social and political connections, which included a close relationship with the royal family.
"I am not a socialite," he once declared, "though I seem to have got the reputation for being one. I have some very good friends who happen to be in so-called Society; but Society as such is a bore and holds no fascination for me."
However, whoever was invited to No 8 The Boltons in Kensington, from the highest in the land to the lowliest of hacks, was greeted with charm and impeccable courtesy.
During the 1960s, he introduced and sometimes acted in a British TV drama series Douglas Fairbanks Presents, from which he made a lot of money to add to the fortune gained from the manufacture of popcorn, and from the rights to his father's films.
In 1973 he and his wife sold their London home and settled in Palm Beach, Florida. Soon after, Fairbanks returned to the stage in My Fair Lady in LA and San Francisco, The Secretary Bird in Chicago and Present Laughter in Washington.
In 1976 he appeared at the Phoenix Theatre in London in The Pleasure of his Company in a role that could have been written for him, that of a rich, witty and urbane globetrotter.
In 1990, Fairbanks married again at the age of 81 to Vera Shelton who survives him as do three daughters from his second marriage. Two years later, he was named as the mysterious headless man in a photo used in the Duchess of Argyle divorce case of 1963. He always denied that it was he, though the Duchess was a close friend. By golly, what a life!
Douglas Fairbanks Jr, actor and socialite, born December 9 1909; died May 7 2000
The above "Guardian" obituary can also be accessed online here.