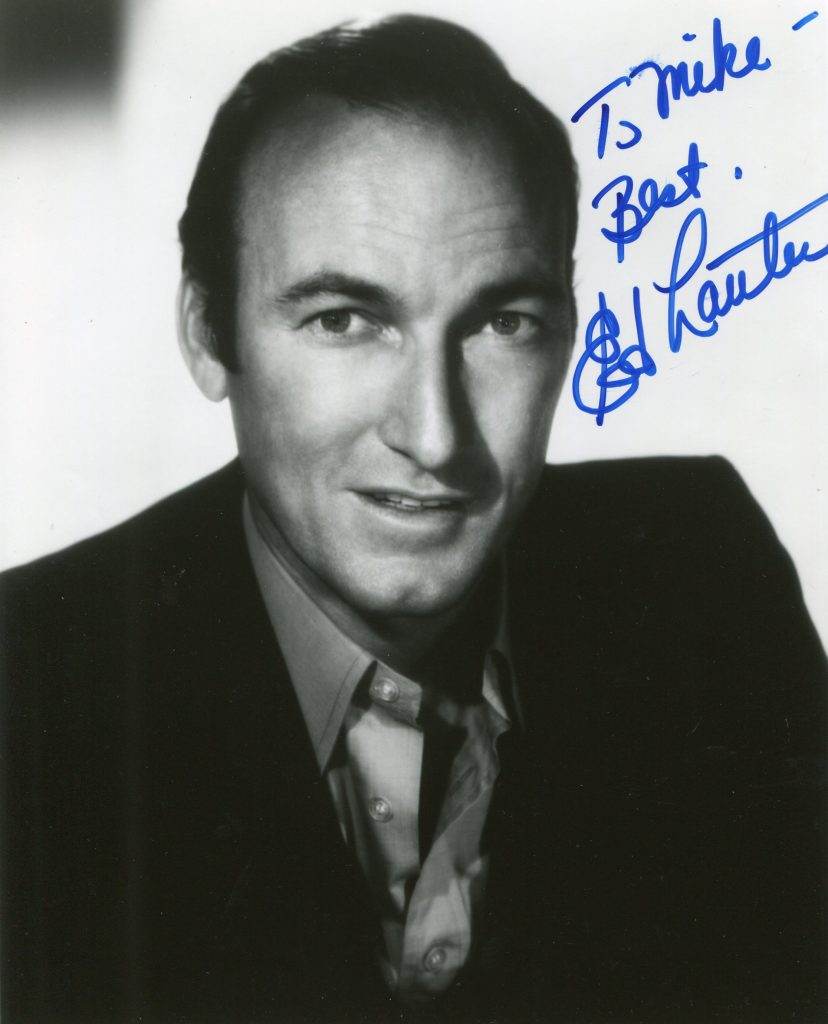 Ed Lauter is an accomplished character actor who was born in 1940 in Long Beach, Long Island. Among his films are "The Last American Hero" in 1973, "The Longest Yard", "Magic" and "Raw Deal". He died in 2013.
TCM Overview:
As one of Hollywood's hardest working character actors, Ed Lauter appeared in small supporting roles in more than 200 movies and television shows, in the process becoming an instantly recognizable face though never a household name. His imposing height, fierce squint and effortlessly intimidating demeanor made him a natural for playing authority figures of both the benign and malevolent variety, and his near constant output yielded a number of unforgettable film performances, from the sadistic yet ultimately honorable Captain Knauer in Robert Aldrich's "The Longest Yard" (1974), to Maloney, the arsonist-turned-gas station owner in Hitchcock's final film, "The Family Plot" (1976), to Peppy Miller's dutiful butler in the Academy Award winner for Best Picture, "The Artist" (2011). Lauter was also a familiar face on television, playing the stern Captain Cain on "B.J. and the Bear" (NBC, 1979-1981) and its spin-off, "The Misadventures of Sheriff Lobo" (NBC, 1979-1981), as well as the uncharacteristically sympathetic role of Fire Captain Dannaker on "ER" (NBC, 1998-2002), in addition to scores of guest appearances on other series and supporting roles in TV movies. Though audiences may have struggled to remember his name, Ed Lauter's tough, authoritarian image was a familiar and reliable staple of American film and television.
Edward Matthew Lauter II was born on Oct. 30, 1938 in Long Beach, Long Island, NY, where he was raised by his mother, a former stage actress who had worked with legends like Al Jolson, Fred Astaire and the Marx Brothers. Lauter heeded the call of the stage himself, following a two-year stint in the U.S. Army, working as a stand-up comic and impressionist while studying drama at New York's Herbert Berghof School. He made his Broadway debut in 1968 in the Pulitzer Prize- and Tony award-winning production of "The Great White Hope" starring James Earl Jones, and his performance caught the attention of casting director Lynn Stalmaster. After "Hope" closed in 1970, Lauter moved to Los Angeles, where Stalmaster immediately put his steely, intimidating look to work in supporting tough guy roles in the feature cop drama "The New Centurions" (1972) starring George C. Scott and in the Westerns "The Magnificent Seven Ride!" (1972) and "Bad Company" (1972), starring Jeff Bridges. Lauter also began appearing in very similar roles on television, playing hardnosed character roles on series including Robert Culp's detective drama "Hickey & Boggs" (NBC, 1972), "Mannix" (CBS, 1967-1975), Ironside (NBC, 1967-1975), and "Streets of San Francisco" (ABC, 1972-77), rapidly becoming one of America's most employable character actors.
Much as Lauter had listened to the stories of his mother's legendary cohorts growing up in the midst of New York's theater community, he was an apt pupil of Hollywood's elder statesmen, such as Jack Warner, Burt Lancaster and David Niven, and always eager to take advice. His humble manner and impressive work ethic ingratiated Lauter to many of his cast mates and directors, who frequently recommended Lauter for roles in future films. After working with Lauter on "The New Centurions," George C. Scott cast him in his own directorial work, "Rage" (1972). Similarly, after working with him in "Bad Company," Jeff Bridges recommended Lauter for roles in "Lolly-Madonna XXX" (1973) and "The Last American Hero" (1973). In 1974, Lauter landed his most memorable part to date, the sadistic but ultimately honorable Captain Knauer in Robert Aldrich's "The Longest Yard" (1974). The film's star, Burt Reynolds, sent a print of the film to director Alfred Hitchcock in the hope of being cast in Hitchcock's "The Family Plot" (1976). Hitchcock had delayed production while seeking the right actor to play Maloney, the film's third lead. After screening "The Longest Yard," Hitchcock found his Maloney, but in Lauter, not Reynolds. Thoroughly impressed, Hitchcock would also cast Lauter in his next film, but died before production could begin.
Lauter would put the "good bad guy" character he had developed in "The Longest Yard" and "Family Plot" to work in films such as "King Kong" (1976) and Richard Attenborough's "Magic" (1978), but began to find more and more work on television, appearing in TV movies and miniseries such as "How the West Was Won" (ABC, 1979) and "Guyana Tragedy: The Story of Jim Jones" (CBS, 1980), and landing a recurring role as the draconian Captain Cain on "B.J. and the Bear" (NBC, 1979-1981) and its spin-off series, "The Misadventures of Sheriff Lobo" (NBC, 1979-1981). When Lauter did appear on the big screen, it was often at the invitation to work with an old friend, as he did with Charles Bronson on "Death Hunt" (1981) and later in "Death Wish 3" (1985). Occasionally Lauter landed substantial roles in memorable films, as he did playing the unfortunate owner of the titular killer dog in "Cujo" (1983), but more often than not, his apparent drive for constant employment meant taking roles in a number of forgettable films and TV series – from Fred Williamson's hackneyed "The Big Score" (1983) to "The A Team" (NBC, 1983-87). For every popular drama or big-budget action film like "Youngblood" (1986) or "Raw Deal" (1986), Lauter also worked in a negligible film like "Revenge of the Nerds II: Nerds in Paradise" (1987) or "Gleaming the Cube" (1989).
In 1989, Lauter was cast as Whitney Ashbridge, the commanding officer at the Los Alamos army post, in Rolland Joffe's "Fat Man and Little Boy" (1989), starring Paul Newman. Lauter's military background, coupled with his ramrod physique, stern glare and bullet-like bald head, made him ideal for portraying staunch authority figures, particularly military and law officers. He would play variations on that theme in Oliver Stone's "Born on the Fourth of July" (1989), "My Blue Heaven" (1990), "The Rocketeer" (1990), the Steven King miniseries "Golden Years" (1991), "Star Trek: The Next Generation" (CBS, 1987-1994), "True Romance" (1993), and "The X-Files" (Fox, 1993-2002), only occasionally stepping out of uniform as he did quite effectively as Brandon Fraser's sympathetic but strict father in "School Ties" (1992). As he had done since he first began acting professionally, Lauter took advantage of typecasting to maintain steady work, though this frequently meant appearing in films and television of questionable quality. During the mid- to late-1990s, Lauter turned in credible supporting performances in Mike Figgis' acclaimed "Leaving Las Vegas" (1995) and Lee Tamahori's "Mulholland Falls" (1996), but otherwise his work continued to largely consist of bit parts in forgettable films and made-for-television movies.
A recurring role as Fire Captain Dannaker on "ER" (NBC, 1994-2009) provided Lauter with better material than he had found in film for much of the 1990s, but in 2003, Lauter returned to form with "Seabiscuit," playing Charles Strub, the investor in the Santa Anita racetrack who brought the famed race horse to Southern California. In 2005, Lauter made another sort of return when he was, with Burt Reynolds, one of the only two original cast members to appear in the remake of "The Longest Yard." Lauter's nostalgic appearance in the latter film led to roles in "Talladega Nights: The Ballad of Ricky Bobby" (2006) and the Western "Seraphim Falls" (2006), starring Liam Neeson and Pierce Brosnan, but the seemingly workaholic Lauter would continue to appear in lesser features, apparently with little or no regard for the quality of the finished product. As the record of his long career had proven, however, the law of averages would still provide Lauter with finer material in which to perform. After several years working in video fodder like "Godspeed" (2009) and "The Prometheus Project" (2010), Lauter once again landed a plum role in the winner of the Academy Award for Best Picture, "The Artist" (2011). He maintained that quality streak in 2012 by playing a fellow baseball scout alongside Clint Eastwood in "Trouble with the Curve." In May 2013, Lauter was diagnosed with mesothelioma, a form of lung cancer; he died on October 16, 2013.
By John Crye
The above TCM overview can also be accessed online here.