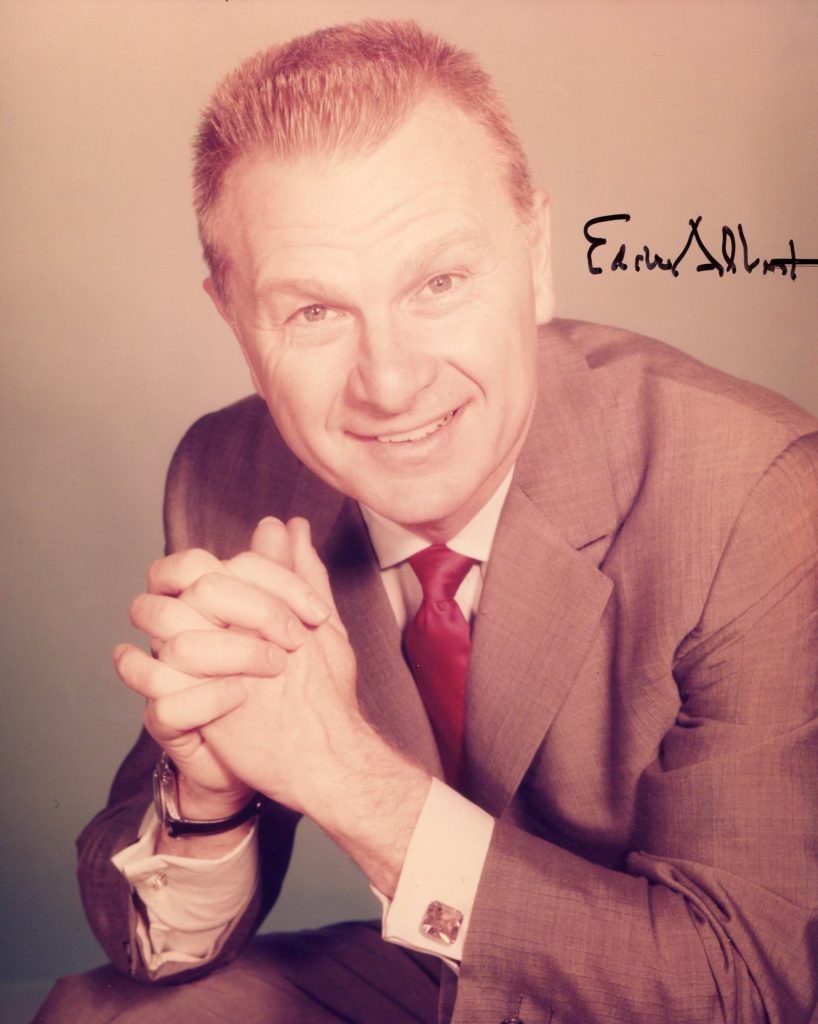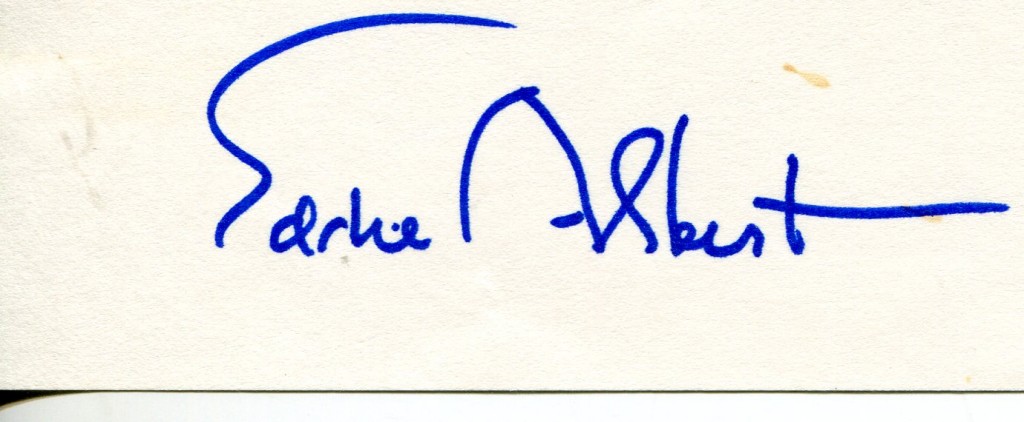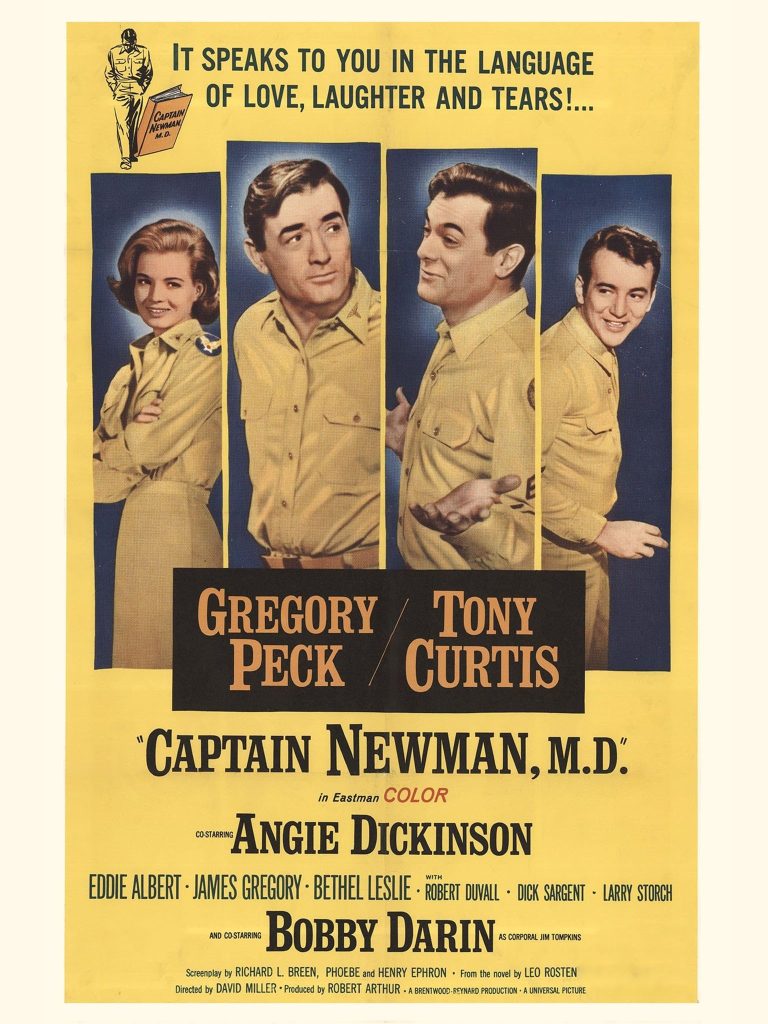 Eddie Albert was born in Rock Island, Illinois in 1906.   He is known primarily to-day for the very popular television series "Green Acres" with Eva Gabor.   His films include "Brother Rat" and "Roman Holiday" with Gregory Peck and Audrey Hepburn.   He died in 2005 aged 99.   He was married to Mexican actress Margo ans their son was actor Edward Albert.
Ronald Bergan's obituary in "The Independent"
Was there a more likable guy in the movies than Eddie Albert, who has died aged 97? Not conventionally handsome he had a broad, dimpled smile and was generally cast as a friendly innocent or the hero's good-natured sidekick. If that were all, then Albert would fall into the minor supporting actor category.
But Eddie Albert had a wide-ranging career that included the stage, television, documentaries and personal crusades. Although seldom called upon to act with any depth in the movies, he gave an extraordinary performance as the cowardly army officer in Robert Aldrich's Attack! (1956).
He also had a pleasant singing voice that enabled him to star on Broadway in The Boys From Syracuse, in which he introduced the Rodgers and Hart song This Can't Be Love to the world, and The Music Man. Owing to the long-running sitcom Green Acres, he had one of the most famous faces on television and he became a leading campaigner in America in the fight to combat pollution and world hunger.
Born Edward Albert Heimberger in Illinois, he left the University of Minnesota to join a song-and-patter group called the Threesome. When the act became a duo (with Grace Bradt) called The Honeymooners on the radio, and reached New York in 1935, he dropped his surname because he kept being called Eddie Hamburger. After making his Broadway debut a year later, Albert had three huge stage successes in a row, all under George Abbott's direction.
First as the baseball pitching Virginia military cadet in the forces comedy Brother Rat, then as the hapless "playwright from Oswego" in the farce Room Service, and as Antipholus in the The Boys From Syracuse. During the break between the stage shows, he repeated his role of Bing Edwards (third billed after Wayne Morris and Ronald Reagan) in Warner Bros screen version of Brother Rat (1938), which led to a contract from the studio. One of his best moments in the film was as an expectant father practising baby talk on a stranger's offspring.
The film engendered two films with the same cast, a sequel, Brother Rat And A Baby, and An Angel From Texas (both 1940), in the latter of which, Albert played a greenhorn fast-talked by Morris and Reagan into investing in a show. These films also starred Priscilla Lane, whose doctor husband Albert played in Four Wives (1939) and Four Mothers (1941). In On Your Toes (1939), an emasculated film version of the Rodgers and Hart musical, he got to (sort-of) dance with ballet dancer Vera Zorina in The Slaughter On 10th Avenue number, and was the lion tamer in a circus run by Humphrey Bogart in The Wagons Roll At Night (1941) of which the New York Times wrote: "Except for the lions and Mr Albert, the film is honky-tonk".
In Out Of The Fog (I941), Albert played the first of several dullish characters who lose their girlfriends to more charismatic men; in this case Ida Lupino leaves him for gangster John Garfield. A few years later he lost Loretta Young to David Niven in The Perfect Marriage (1946), and Jennifer Jones to Laurence Olivier in Carrie (1952).
In 1942, Albert joined the navy, serving in the Pacific. He returned to the US as a lieutenant and was assigned to training films branch. On the day of his discharge, he married the Mexican film actress Margo, née Maria Marguerita Guadalupe Teresa Estella Bolado Castilia y O'Donnell.
Now freelance, Albert produced and narrated a series of 16mm educational two-reelers, including sex education films, while appearing in a variety of second-string movie roles, though he got to sing for the first time on screen in Hit Parade (1947). Two years later, he returned to Broadway in the Irving Berlin musical Miss Liberty, which ran almost a year.
Despite being Oscar-nominated for best supporting actor for the first time in William Wyler's Roman Holiday (1953) – he played Gregory Peck's extrovert, bearded photographer pal – his film parts barely improved. Ironically, as the Persian pedlar Ali Hakim in Oklahoma! (1955),he was the only lead in the film not to have a number. (Even Rod Steiger sang)
Then came Attack!, Robert Aldrich's powerful film of men in war. "Bob gave me the best role I've had in my career," Albert claimed. "He knew more about the theme of conflict than any director I've known." As the craven army officer, who sends a small platoon behind enemy lines, stranding them without cover, Albert turned his amiable persona inside out, and his portrayal of the man's mental breakdown was film acting at its naked best. Unfortunately, he had to wait 18 years for almost as challenging a role when Robert Aldrich cast him as the sadistic prison warden (with Nixon characteristics) in The Longest Yard (1974).
In between, an easy-going Albert was seen in The Teahouse Of The August Moon (1956) as the army psychiatrist who is sent to Okinawan village to help Glenn Ford, but ends up going native; as an expatriate American in Pamplona, who is drunk most of the time, and runs the bulls (with an equally inebriated Errol Flynn) in The Sun Also Rises (1957) and as the grinning heavy in The Gun Runners (1958), another Hemingway adaptation (from To Have And Have Not).
In 1960, Albert successfully took over from Robert Preston in the showy role of the conman in The Music Man on Broadway. But his biggest success in the 1960s was the TV sitcom Green Acres, in which he played a big city lawyer who fulfils a lifelong dream of becoming a farmer and drags his glamorous wife (Eva Gabor) to the broken down rural nightmare he has bought.
Among his better parts in films of the period were as the only man among missionaries in China in John Ford's final film, Seven Women (1966), and the wealthy father of snobbish Cybill Shepherd in The Heartbreak Kid (I972). His nonplussed reaction to nebbish Charles Grodin's asking for his daughter's hand, although Grodin is on his honeymoon with another, was worth the Oscar nomination he received. Aldrich again exploited Albert's dark side in Hustle (1975), in which he was appropriately slimy as a corrupt lawyer involved in a call-girl racket.
In the same year, he starred in another TV series called Switch as a tough ex-cop in the private eye business with ex-con Robert Wagner. But the role Eddie Albert enjoyed most in life, other than as husband to Margo (who died in 1985), and father of the actor Edward Albert and adopted daughter Maria (both of whom survive him), was as a supporter of agronomy around the world to combat hunger. In fact, in 1986, he was given a presidential citation for his work in that field. As long ago as the 1950s, he had visited the Congo to discuss malnutrition with Albert Schweitzer.
Once referred to by an interviewer in 1970 as an ecologist, Albert retorted: "Ecologist, hell! Too mild a word. Check the department of agriculture – 60% of the world is hungry already. With our soil impoverished, our air poisoned, our wildlife crippled by DDT, our rivers and lakes turning into giant cesspools, and mass starvation an apparent inevitability by 1976, I call myself a human survivalist!" About his dire prognostications, Albert commented: "I went around scaring the hell out of a lot of people." Something he hardly ever did on screen.
· Eddie Albert, actor, born April 22 1908; died May 26 2005
The above "Independent" obituary can also be accessed online here.