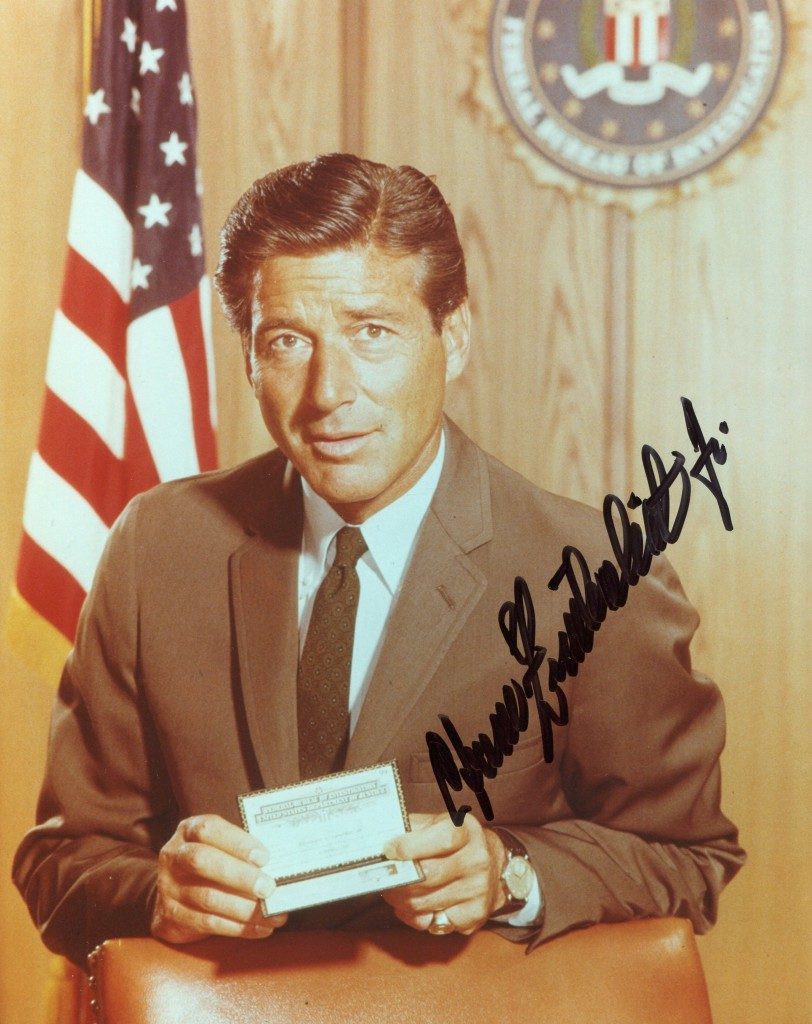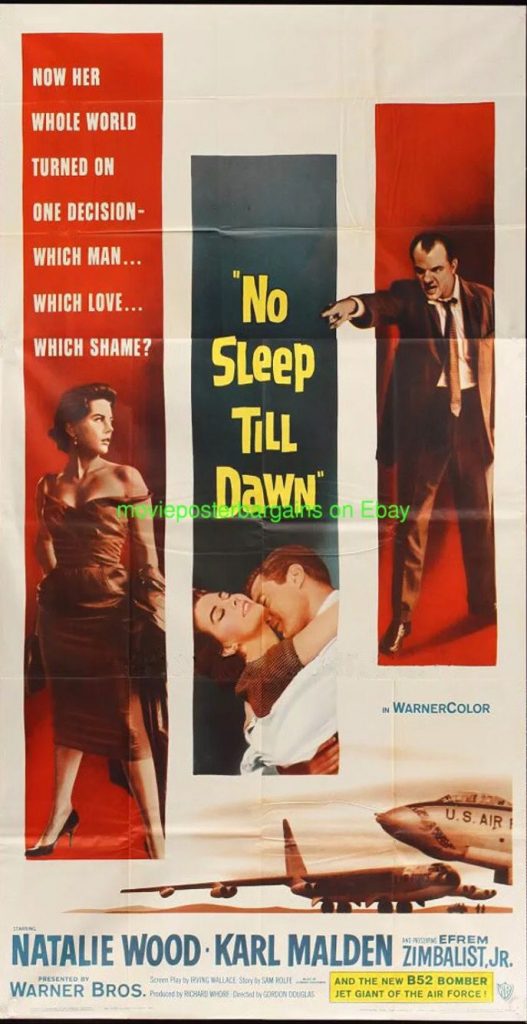 Efrem Zimbalist Jr was born in 1918 in New York City, the son of the famous violinist Efrem Zimbalist and opera singer Alma Gluck.   He is most famous for two recurring roles on television in "77 Sunset Strip" from 1958 until 1964 and then "The F.B.I." from 1965 until 1974.   His films include "A Faver in the Blood" with Angie Dickinson, "Home Before Dark" with Jean Simmons, "The Crowded Sky" with Rhonda Fleming and Troy Donahue in 1960 and "Cab to Canada" with Maureen O'Hara.   His most recent film is "The Delivery" in 2008.   His daughter is the actress Stephanie Zimbalist.   He died in 2014.
His "Guardian" obituary:
It would have been difficult to predict, when Efrem Zimbalist Jr was growing up in New York, the son of the concert violinist Efrem Zimbalist and the opera singer Alma Gluck, surrounded by leading lights in the arts world, that his main claim to fame later in life would be playing a private investigator in the television series 77 Sunset Strip and a police inspector in The FBI.
Zimbalist, who has died aged 95, had been acting professionally since 1945, and had already appeared in eight feature films, without having made much impact, when he was cast as the private eye Stu Bailey in 77 Sunset Strip in 1958. It ran for six years, and Zimbalist became a household name.
He was cool and smart as Bailey, an Ivy Leaguer with a background in second world war intelligence who set up his own detective agency in Los Angeles. His younger partner was Jeff Spencer (Roger Smith), and they were often helped by a young, finger-snapping, slang-talking parking lot attendant called Kookie (Edd Byrnes). Byrnes made a record, Kookie, Kookie (Lend Me Your Comb), that was a transatlantic hit and spawned a catchphrase. The 77 Sunset Strip show was considered to be one of the most swinging on television in the late 1950s and early 60s.
Zimbalist was born in New York, grew up on an estate in the Connecticut countryside and received an expensive education in New England. His mother, born in Romania as Reba Feinsohn, sang at the Metropolitan Opera, and was one of the first singers to make records. His father, the Russian-born virtuoso, did much to revive interest in early violin music, and became director of the Curtis Institute of Music, Philadelphia.
Zimbalist Jr trained at the Yale School of Drama (from which he was expelled for bad grades) and the Neighborhood Playhouse in New York. He then enlisted in the army and during service in Europe was wounded and received the Purple Heart. After the war, the director and writer Garson Kanin, a friend of the family, gave Zimbalist his first professional role in his Broadway production of Robert E Sherwood's The Rugged Path (1945), which starred Spencer Tracy.
He continued to act on the Broadway stage with the American Repertory Theatre. His roles in ascending order were a Roman soldier in George Bernard Shaw's Androcles and the Lion (1946); The Duke of Suffolk in Shakespeare's Henry VIII (1946); and Eilert Lovborg in Ibsen's Hedda Gabler (1948), with Eva Le Gallienne in the title role, and Zimbalist's wife, Emily McNair, as Thea Elvsted. In 1949, he was cast as one of the four sons (the cruellest) of a ruthless businessman (Edward G Robinson) in Joseph L Mankiewicz's film noir House of Strangers. In the meantime, Zimbalist had produced a double bill of Gian Carlo Menotti operas, The Medium and The Telephone, on Broadway. Its critical and surprising commercial success led to his following it up with Menotti's The Consul (1950), which won the New York Drama Critics' award and the Pulitzer prize for the best musical in 1950.
But his joy was short-lived. His wife died of cancer in the same year, leaving their two children, Efrem and Nancy. Making an abrupt decision to abandon acting, he served as assistant director/researcher to his father at the Curtis Institute of Music.
He returned to acting in 1954, in a daytime television soap called Concerning Miss Marlowe, and to Broadway in 1956, in Noël Coward's Fallen Angels, in which he played the seductive Frenchman Maurice Duclos. In the same year, he married Stephanie Spaulding, and, thanks to the director Joshua Logan, gained a contract with Warner Bros, which exploited his good looks and suave, though rather bland, personality in secondary roles.
He was a southern officer in Band of Angels (1957), which starred Clark Gable andYvonne De Carlo; a playboy army flyer wooing Natalie Wood in Bombers B-52 (1957); and in uniform again on a second world war cruiser in The Deep Six (1958), with Alan Ladd. In Home Before Dark (1958), with Jean Simmons as a psychiatric patient, he was a gentle pipe-smoking professor who faces antisemitism. It remained his favourite screen role. More significant, however, was Girl on the Run (1958), which served as a pilot for 77 Sunset Strip. "I didn't want to do television, but it was in my contract," Zimbalist recalled. "I had a horror of being stuck in some series and never being heard from again. But Jack Warner said, 'Look, television is the business today. Don't worry. We'll keep an eye on you. We won't let that happen.'"
While playing Bailey, Zimbalist found time to appear in several more films. On loan to Columbia, he was Lana Turner's illicit lover in the lurid melodrama By Love Possessed (1961). He was a political hopeful in A Fever in the Blood (1961), opposite Angie Dickinson – one of his few leads, Warners hoping to cash in on his TV fame – and a sex therapist in George Cukor's The Chapman Report (1962).
In 1965 he landed another plum TV role in The FBI, and remained in the series for nine years. As Inspector Lew Erskine he tracked down all sorts of criminals – rapists, terrorists and serial killers – before, at the end of the show, stepping out of character and giving a report of real criminals and fugitives wanted by the FBI.
In the meantime, Zimbalist continued in a few films, such as Wait Until Dark (1967), as the husband of a blind woman (Audrey Hepburn), who is terrorised in their apartment during his absence. He played a blinded pilot in Airport 1975 and, much later, lampooned his FBI image in Hot Shots! (1991). However, he was mainly seen in TV movies and series, such as Remington Steele in the 80s (as the silver-tongued con artist Daniel Chalmers), in which his daughter Stephanie Zimbalist starred opposite Pierce Brosnan. His smooth baritone was also used to narrate and do voiceovers.
In 2003, he published his memoirs, My Dinner of Herbs, and a year later came out of retirement to act with his daughter again in a stage production of Tennessee Williams's Night of the Iguana in Ventura, California.
His wife Stephanie died in 2007; and his daughter Nancy in 2012. He is survived by his daughter Stephanie and his son, Efrem Zimbalist III.
• Efrem Zimbalist Jr, actor, born 30 November 1918; died 2 May 2014
The above "Guardian" obituary can also be accessed online here.
Gary Brumburgh's entry:
It's hardly surprising that the son of renowned concert violinist Efrem Zimbalist Sr.(1889-1985) and opera singer Alma Gluck (1884-1938) would desire a performing career of some kind. Born in New York City on November 30, 1918, surrounded by people of wealth and privilege throughout his childhood, Efrem Zimbalist Jr. received a boarding school education. Acting in school plays, he later trained briefly at the Yale School of Drama but didn't apply himself enough and quit. As an NBC network radio page, he auditioned when he could and found minor TV and stock theatre parts while joining up with the Neighborhood Playhouse.
Following WWII war service with the Army infantry in which he was awarded the Purple Heart after being wounded, a director and friend of the family, Garson Kanin, gave the aspiring actor his first professional role in his Broadway production of "The Rugged Path" (1945) which starred Spencer Tracy. With his dark, friendly, clean-scrubbed good looks and a deep, rich voice that could cut butter, Zimbalist found little trouble finding work. He continued with the American Repertory Theatre performing in such classics as "Henry VIII" and "Androcles and the Lion" while appearing opposite the legendary Eva Le Gallienne in "Hedda Gabler".
Zimbalist then tried his hand as a stage producer, successfully bringing opera to Broadway audiences for the first time with memorable presentations of "The Medium" and "The Telephone". As producer of Gian Carlo Menotti's "The Consul", he won the New York Drama Critic's Award and the Pulitzer Prize for best musical in 1950. An auspicious film debut opposite Edward G. Robinson in House of Strangers (1949) brought little career momentum due to the untimely death of his wife Emily (a onetime actress who appeared with him in "Hedda Gabler" and bore him two children, Nancy and Efrem III) to cancer in 1950. Making an abrupt decision to abandon acting, he served as assistant director/researcher at the Curtis School of Music for his father and buried himself with studies and music composition.
In 1954, Efrem returned to acting and copped a daytime television soap lead (Concerning Miss Marlowe (1954)). It was famed director Joshua Logan who proved instrumental in helping Zimbalist secure a Warner Bros. contract. Despite forthright second leads in decent films such as Band of Angels (1957) with Clark Gable and Yvonne De Carlo; Too Much, Too Soon (1958) starring Dorothy Malone and Errol Flynn; A Fever in the Blood(1961) opposite Angie Dickinson and (his best) Wait Until Dark (1967) with Audrey Hepburn, it was television that made the better use of his refined, unshowy acting style. His roles as smooth private investigator Stu Bailey on 77 Sunset Strip (1958) and dogged inspector Lewis Erskine on The F.B.I. (1965) would be his ultimate claims to fame.
A perfect gentleman on and off camera, Zimbalist's severest critics tend to deem his performances bland and undernourished. Managing to override such criticisms, he maintained a sturdy career for nearly six decades. In 1991, he made fun of his all-serious reputation and pulled off a Leslie Nielsen-like role in the comedy parody Hot Shots!(1991). In addition to theater projects over the years, he has made fine use of his mellifluous baritone performing narrations and cartoon voiceovers, including that of Alfred the butler on a "Batman" animated series.
In 2003, he completed his memoirs, entitled "My Dinner of Herbs". The father of three, grandfather of four and great-grandfather of three, he settled in Santa Barbara and later in Solvang, California with longtime second wife Stephanie until her death in 2007 of cancer. Their daughter, also named Stephanie (Stephanie Zimbalist), is the well-known actress who appeared with Pierce Brosnan in the Remington Steele (1982) television series, in which Zimbalist had a recurring role. He and his daughter also appeared on stage together in his later years, their first being "The Night of the Iguana". His eldest daughter Nancy died in 2012.
Zimbalist died peacefully at his Solvang home of natural causes at the age of 95 on May 2, 2014.
– IMDb Mini Biography By: Gary Brumburgh / gr-home@pacbell.net