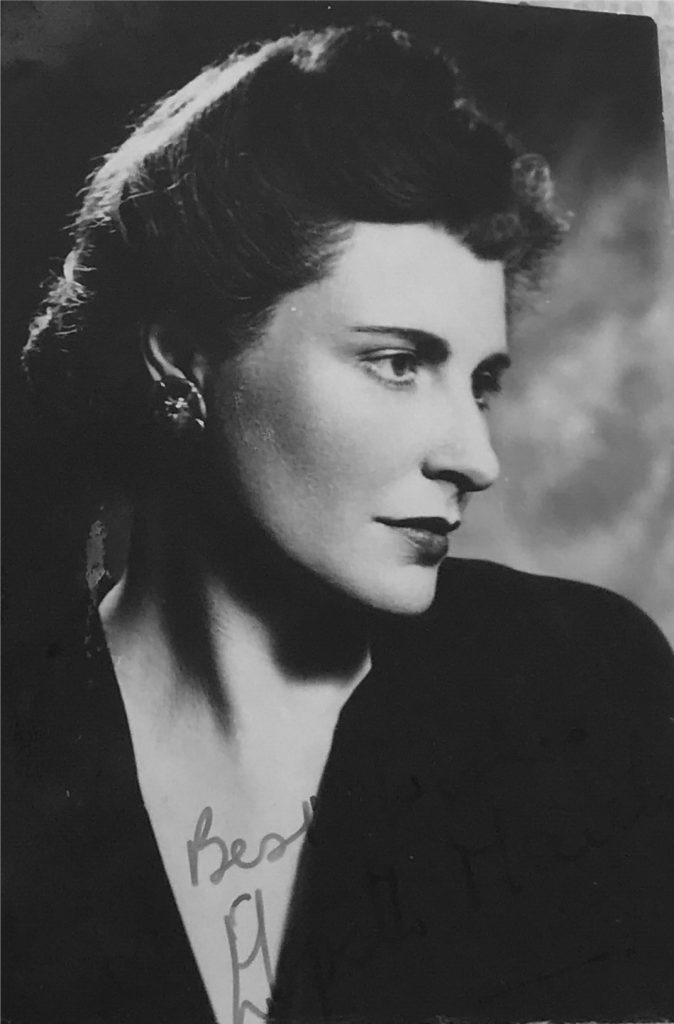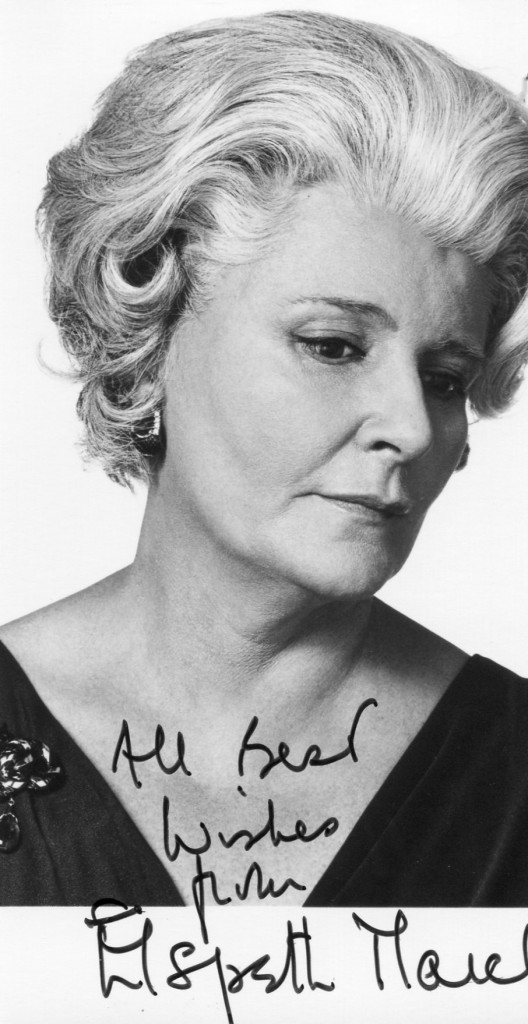 Elspeth March was born in 1911 in London. She made her movie debut in 1939 in "Caesar's Friend". Her other films include "The Boys in Brown" in 1949, "Quo Vadis", "The Miracle", "Midnight Lace" with Doris Day made in Hollywood and in 1961 "The Playboy of the Western World" with Siobhan McKenna and Gary Raymond. Elspeth March died in 1999 at the age of 88.
Alan Strachan's obituary of Elspeth March in "THe Independent":
ELSPETH MARCH was one of a golden generation of Central School of Speech and Drama students trained under the rigorous and inspiring Elsie Fogerty – Laurence Olivier, amongst others, always stressed Fogerty's contribution to the British stage.
March also enjoyed the very best years of the British repertory system, with the kind of career denied young actors today, playing an enormous variety of roles in a crucial early period at the Birmingham Rep at one of its highest points.
Later in her career, with her formidable stage presence, commanding eyes and expressively wide-ranging voice, she was much in demand as a valued supporting character actress, playing a good number of battle-axes and dragonesses, often with whiplash comic precision, more than occasionally enlivening some less than effervescent scripts.
Her career never quite flowered as it should have; she never had the luck to play some parts for which she would have been ideal – Lady Bracknell or a number of Restoration comedy's gallery of deluded dowagers – and poor health clouded her later years. At her peak, however, she was one of the most distinctive, stylish actors of her generation.
Born Elspeth Mackenzie into the comfortable world of a military family and given an excellent education at Sherborne School for Girls in Dorset, she gravitated early to the stage, and after her Central School training and a first professional appearance in a tiny part in Jonah and the Whale (Westminster Theatre, 1932) she played a few more minor roles and understudied in the West End until she was offered a season at the Birmingham Rep.
Between 1934 and 1937 she had a glorious run of rewarding leading roles there including the title role in Bernard Shaw's Saint Joan and Elizabeth in Rudolf Besier's 1930s smash-hit The Barretts of Wimpole Street. She also appeared at the Malvern Festivals between 1935 and 1937 when Shaw himself was often in evidence and in charge.
Her attack and vocal variety were supremely suited to Shaw and her many Shavian roles at Malvern included the rarity of Vashti in The Simpleton of the Unexpected Isles, the rebellious Hypatia in Misalliance, Miss Brollikins in the political satire On the Rocks, the enormously demanding vocal pyrotechnics and physical agility of Epifania in The Millionairess, and Orinthia the seductive royal mistress in The Apple Cart.
More unexpectedly – although discerning directors had noted her versatility – she had a great personal success as The Widow Quin in Synge's Playboy of the Western World (a Mercury Theatre production, later transferring to the Duchess, in 1939) and she also played the part equally successfully nearly 20 years later for the Irish Players in New York (Tara Theatre, 1958).
While at Birmingham in the mid-1930s March had met fellow actor Stewart Granger. They married in 1938 and the following year performed together in a number of plays in Aberdeen, including Arms and the Man and Hay Fever (Michael Denison and Dulcie Gray performed the juvenile roles).
During the Second World War, rather than join Ensa, March left the stage for nearly five years to serve as a driver for the American Red Cross. Her immediate post-war career was unsettled, with some unrewarding roles and some disappointing London productions, although Noel Coward's large- cast Peace in Our Time (Lyric, 1947), set in a London pub against the background of an imagined 1940-45 Britain under Nazi occupation, gave her a meaty part as a novelist whose son has been killed in the Battle of Britain (Coward admired both her performance and the quality she maintained throughout the run).
She also had a happy return to Shaw with a much-praised Ftateeta in the Olivier/Vivien Leigh production of Caesar and Cleopatra (St James's, 1951) for the Festival of Britain. During the 1950s, good parts continued to be frustratingly sporadic following the break-up of her marriage to Stewart Granger, who had become a major movie star.
Even if some of her later performances were in productions which failed to reach London, March at least occasionally had the consolation – important, to one so well-read herself – of appearing in some work of distinguished pedigree. At the Yvonne Arnaud Theatre in Guildford in 1966 she played the relatively small but pivotal role of Maria, a handsomely enigmatic woman who enters as the fiancee of a newly enriched Edwardian bachelor gentleman only to become the wife of his recently bereaved brother, in Julian Mitchell's subtle distillation of Ivy Compton-Burnett's lethally mordant portrait of family spites and tensions in A Family and a Fortune.
Also at Guildford (1967) she was glittering as the doctor hero's mother in Tennessee Williams's Eccentricities of a Nightingale (a reworking of Summer and Smoke), and she toured in Rodney Ackland's masterpiece maudit The Dark River.
Never one to be fazed by the seesaw vagaries of a theatrical career, she enjoyed her surprisingly long run in Ronald Millar's piece of medieval pish-tushery Abelard and Heloise (Wyndham's, 1970) as a severely wimpled Abbess just as much as her very much shorter run in the same author's sprawling generation-gap flop Parents' Day (Globe, 1972).
One of her most memorable later appearances was in a dire West End comedy written as a vehicle for Maggie Smith's then somewhat baroque comic technique. Snap (originally titled Clap, Vaudeville, 1974) was a kind of modern-day La Ronde set in a Bohemian fashionable London involving most of its characters in a chain of sexually transmitted diseases. Time has mercifully obliterated the memory of most of the details of this hapless piece – directed, amazingly enough, by William Gaskill – but not that of Elspeth March as Maude, a barking vision in heavy tweeds, up in London from her country retreat (nudgingly named Radclyffe Hall) and hilariously aghast at the ways of this new-age Sodom.
Elspeth March also had a long and successful television and film career, starting with Mr Emanuel (1944), and helped to enliven the dim musical re-make of Goodbye, Mr Chips (1969). A woman of great taste and strong loyalties, she was a genuinely generous personality with a very wide circle of family and friends.
Elspeth Mackenzie (Elspeth March), actress: born London 5 March 1913; married 1938 Stewart Granger (died 1993; one son, one daughter; marriage dissolved 1948); died London 29 April 1999.
The above obituary can also be accessed online here.