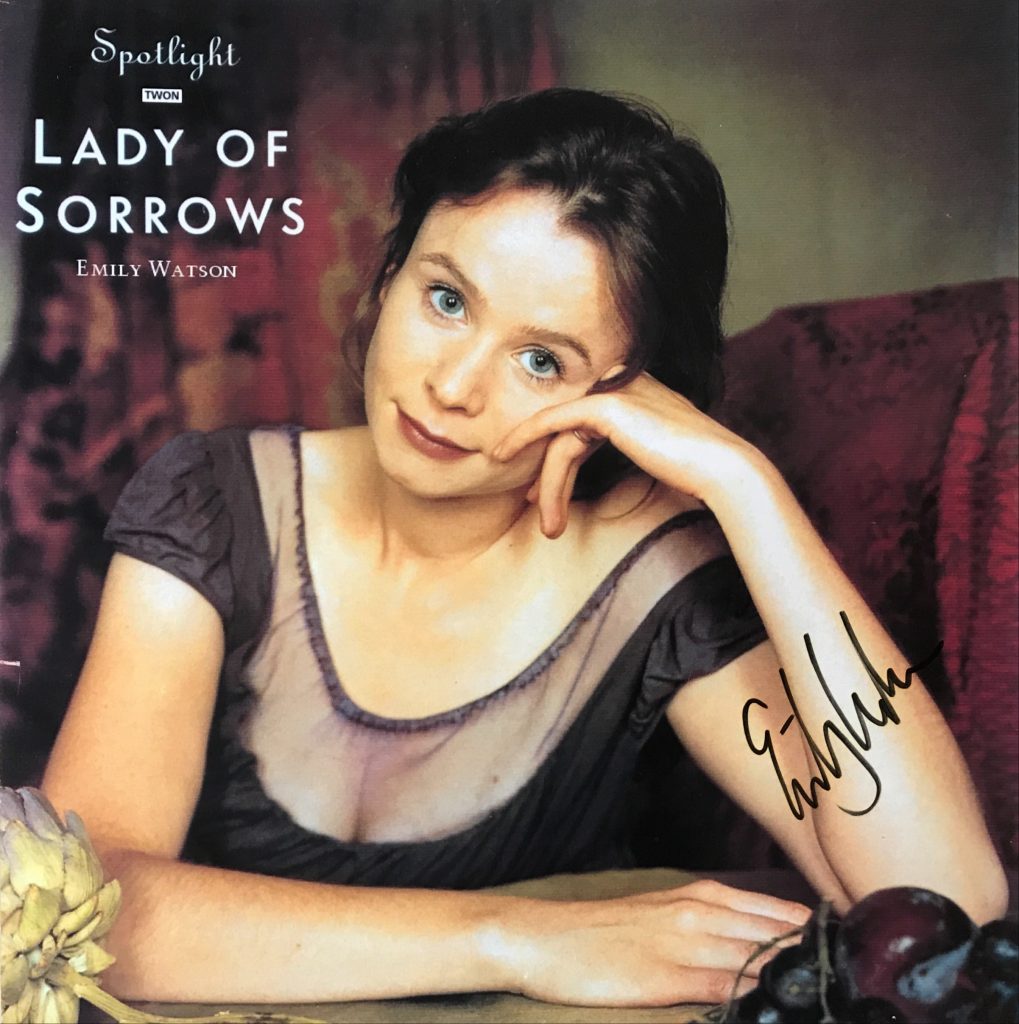 Emily Watson was born in London in 1967. She was nominated for an Oscar for her breakthrough performance in "Breaking the Waves" in 1995. Her movies since then have included "The Boxer", "Hilary and Jackie", "Red Dragon", "Gosford Park", and "Oranges and Sunshine".
TCM Overview:
Right from the beginning, when she made her feature debut in Lars von Trier's "Breaking the Waves" (1996), actress Emily Watson found herself an international star. Watson came out of nowhere to charm the audiences at the Cannes Film Festival that year, resulting in a slew of awards and nominations, including a nod for Best Actress at the Academy Awards. She proved that her sudden acclaim was no fluke when two years later, she turned in another Oscar-nominated performance in "Hilary and Jackie" (1998). From there, Watson was in constant demand, though she took great strides to avoid the trappings of celebrity by taking roles in serious dramas like "Angela's Ashes" (1999), quirky, offbeat films like "Trixie" (2000), or talky ensemble pieces like "Gosford Park" (2001). She did dabble in the occasional Hollywood film – most notably playing the blind target of a serial killer in "Red Dragon" (2002) and the love interest of Adam Sandler in "Punch-Drunk Love" (2002). But Watson remained grounded with challenging roles in films like "Synecdoche, New York" (2008), which indulged her creative impulses, rather than increased her profile or bank account.
Raised by her creatively involved parents – her father was an architect and her mother was a teacher – Watson was born on Jan. 14, 1967 in London, England. She was a precocious child who slogged through War and Peace before reaching puberty and studying Sanskrit and meditation alongside traditional subjects at the St. James Independent School for Girls. She moved on to study English literature at Bristol University, but left after two years when she discovered acting and began learning the craft at the London Drama Studio while living off of a career development loan from the bank. A year later, she was living hand-to-mouth while doing bit parts for the Royal Shakespeare Company, delving into such challenging roles as a spear-carrier, while also meeting her future husband, screenwriter Jack Waters. She did, however, appear in productions of "All's Well That Ends Well," "The Taming of the Shrew" (1992) and "The Children's Hour" (1994). Meanwhile, she made one of her first appearances on television with a role in "Summer Day's Dream" (BBC, 1994).
Though she was resigned to being a struggling actress, Watson suddenly emerged onto the international stage with an Oscar-nominated performance in Lars Von Trier's "Breaking the Waves" (1996). Bleak to the point of almost being depressing, "Breaking the Waves" cast her as Bess, a simple and deeply spiritual woman who engages in numerous affairs with other men at the behest of her paralyzed husband (Stellan Skarsgard), who was injured in a freak oil rig accident and believes that her sexual encounters will heal their broken relationship. Originally, Von Trier wanted Helena Bonham Carter to play Bess, but the actress bowed out before shooting began due to the explicit nudity required of her. The then-unknown Watson filled the void and earned rave reviews after the film's debut at the 1996 Cannes Film Festival. Over the course of its festival run and international release, Watson was named Best Actress by both the New York Film Critics Circle and the National Society of Film Critics, while earning nods at the Golden Globes and Academy Awards.
Building off of her sudden success, Watson began landing a wide variety of roles in both her native England and in America. After playing the headstrong Maggie Tulliver in the British television production of "The Mill on the Floss" (1997), she starred opposite a puffy Christian Bale in "Metroland" (1997), a comedic drama about an unconventional couple in 1970s-era London. Watson was next cast in "The Boxer" (1997), playing an Irish lass whose former lover (Daniel Day-Lewis) – an IRA member recently released from a 14-year prison term – returns home to pick up where he left off with her and his boxing career. The following year, she offered a showy tour-de-force as the eccentric cellist Jacqueline du Pre in the biopic "Hilary and Jackie" (1998), whose musical genius led her to international stardom, though not without damaging the relationship she had with her older, less-talented sister, Hilary (Rachel Griffiths). But the sisters try to reach reconciliation when Jackie reveals she has multiple sclerosis. Though the film itself failed to live up to the material, Watson scored another triumph, earning her second Academy Award nomination for Best Actress.
In just a few years, Watson had become one of the rare preeminent British actresses who had achieved international fame. She next starred in the sad, but ultimately hopeful adaptation of Frank McCourt's best-selling memoir, "Angela's Ashes" (1999), in which she delivered a strong performance as the hard-luck mother of an Irish brood living in squalor because of her alcoholic husband (Robert Carlyle). In the caper comedy "Trixie" (2000), she was a bumbling casino security guard who unwittingly stumbles upon a scam perpetrated by an assorted cast of corrupt characters. Watson followed by joining the talented ensemble cast for Robert Altman's award-winning upstairs-downstairs comedy of manners, "Gosford Park" (2001), playing Elsie, a housemaid and sometimes lover to upstairs denizen, Sir William McCordle (Michael Gambon). Continuing to appear in the unlikeliest of places, she starred opposite Adam Sandler in Paul Thomas Anderson's well-received romantic comedy, "Punch-Drunk Love" (2002). Watson next co-starred in the Hannibal Lector thriller "Red Dragon" (2002), playing a blind woman who becomes the target of a serial killer nicknamed The Tooth Fairy (Ralph Fiennes).
After being seen in the science fiction actioner, "Equilibrium" (2002), Watson returned to the stage, where she was nominated for Best Actress by the Laurence Olivier Theatre Awards for her performance in "Uncle Vanya" (2002) at the Donmar Warehouse. In a rare small screen role, she starred in "The Life and Death of Peter Sellers" (HBO, 2004), playing actress Anne Howe, the first wife of the difficult, but brilliant actor Peter Sellers (Geoffrey Rush). Turning to animation, she voiced Victoria Everglot in "Tim Burton's The Corpse Bride" (2005), which she followed with a turn as an unhappy woman who indulges in an affair with another man (Rupert Everett), resulting in a tragic turn of events, in the compelling thriller "Separate Lies" (2005). In "The Proposition" (2006), she was the fragile wife of a captain (Ray Winstone) trying to tame the wild outback of 1880s Australia. She next played the sister of an eccentric young woman (Renée Zellweger) eschewing love and marriage in "Miss Potter" (2006).
Despite her auspicious beginnings, Watson settled down in smaller films that allowed her to continue working while maintaining a lower public profile. She co-starred in the German-Dutch co-production, "Crusade: A March Through Time" (2007), a time-traveling children's fantasy that bounced between the 13th and 21st centuries. Continuing to appear in more children's fare, she next co-starred in "The Water Horse: Legend of the Deep" (2007), a sparkling fantasy about a young boy (Alex Etel) who discovers and befriends a creature that grows into the Loch Ness Monster. She returned to adult drama with "Synecdoche, New York" (2008), a gloomy psychological drama from the quirky, twisted mind of writer-turned-first time director Charlie Kaufman, which starred Philip Seymour Hoffman as an ill and depressed theater director whose obsession with building a model of New York City reaches epic proportions. Watson next co-starred in "Fireflies of the Garden" (2009), a drama about love and commitment in the face of tragedy, which she followed with the unusual "Cold Souls" (2009), an existential comedy about a famous American actor (Paul Giamatti, playing himself) who deals with burdens of his every day life.
The following year, Watson played Ralph Fiennes' wife for a small part in the Ricky Gervais-Stephen Merchant comedy-drama "Cemetery Junction" (2010) before starring in the docudrama "Oranges and Sunshine" (2010). Watson's performance as Margaret Humphreys, a social worker who exposed Britain's scandalous deportation of poor children to Australia decades earlier, once again earned her critical accolades, including a Satellite Award for Best Actress. She next appeared on television as Janet Leach, the titular "Appropriate Adult" (ITV, 2011) in the two-part U.K. miniseries about one of Britain's most notorious serial killers, Fred West (Dominic West) and the woman (Watson) assigned to make sure he understood questions put to him during police interrogation. She ended the year with a supporting turn in director Steven Spielberg's epic drama "War Horse" (2011) as the mother of a young man (Jeremy Irvine) whose remarkable bond with his horse is interrupted after the steed is sold to the cavalry during World War I.
The above TCM overview can be accessed online
here.