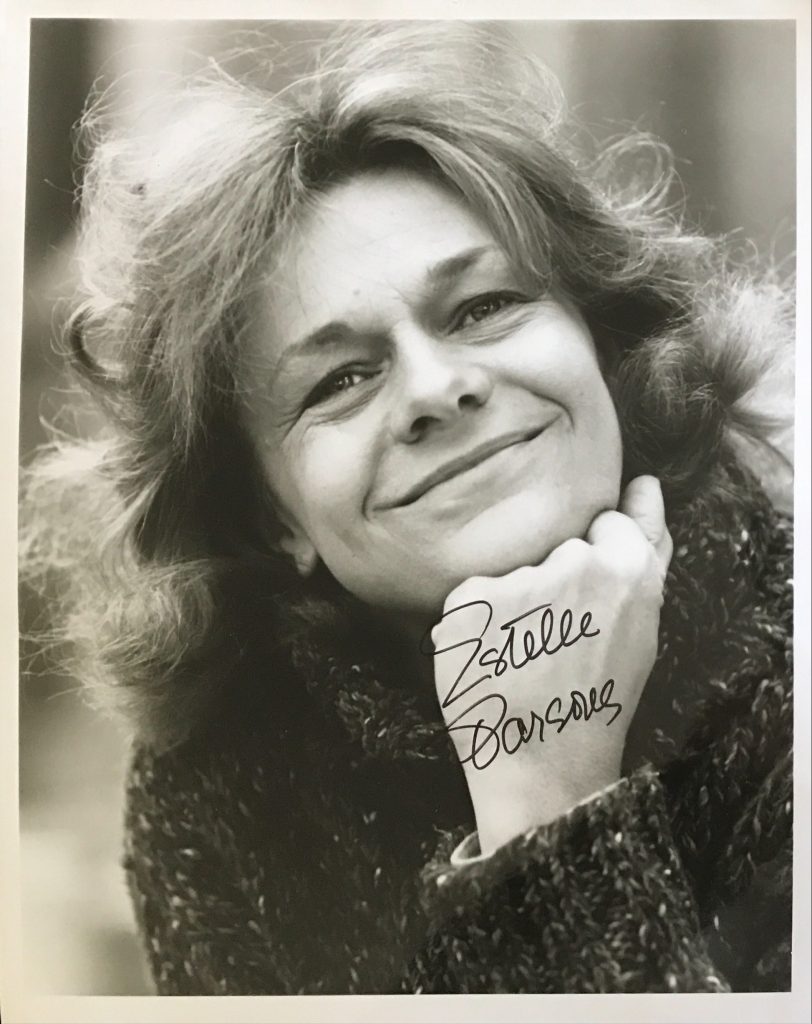 Estelle Parsons was born in 1927 in Lynn, Massachusetts. She worked for a time on Broadway before entering films. She won an Oscar early in her career for her performance in "Bonnie & Clyde" in 1967. Other films include "I Never Sang for My Father" and "Dick Tracy". More recently she was featured as Rosanne Barr's mother in the TV sitcom "Rosanne".
TCM Overview:
The first female political reporter on network TV during her five-year stint with "The Today Show" (NBC) in the early 1950s, Estelle Parsons made her Broadway debut as a reporter in the Ethel Merman musical "Happy Hunting" (1956) and later won a Theatre World Award in the title role of "Mrs. Dally Takes a Lover" (1962). Although she had acted in the feature "Ladybug, Ladybug" (1963), it was her second film (and first Hollywood movie) role as the shrewish Blanche Barrow in Arthur Penn's landmark "Bonnie and Clyde" (1967) that established her credentials as a wonderful screen character actress. Hysterical with bullets whizzing by and grief-stricken after the shoot-out that blinded her in one eye and left her husband Buck (Gene Hackman) dead, she unwittingly provided law enforcement with the info that would lead to the demise of Bonnie (Faye Dunaway) and Clyde (Warren Beatty). Her tour de force performance earned that year's Best Supporting Actress Oscar, and her next outing as Joanne Woodward's schoolteacher colleague in Paul Newman's directing debut, "Rachel, Rachel" (1968), garnered another Academy Award nomination in the category.
Parsons acted opposite Jackie Gleason in the uninspired film version of Woody Allen's play "Don't Drink the Water" (1969), then portrayed Hackman's sister and Melvyn Douglas' daughter in Gilbert Cates' sensitive adaptation (written by the playwright) of Robert Anderson's "I Never Sang for My Father" (1970). After supporting Barbra Streisand in "For Pete's Sake" (1974), Parsons made only small screen appearances during the late 70s and 80s (i.e., in episodes of CBS' "All in the Family", as Bess Truman in the 1979 NBC miniseries "Backstairs at the White House" and portraying teacher Clare Block in the 1988 CBS-movie "Open Admissions") before returning to features as Mrs. Truehart in "Dick Tracy" (1990), which reteamed her with Warren Beatty, who both starred and directed. Since then, she has turned up as Louise in Herbert Ross' extremely likable "Boys on the Side" (1995), as Queen Margaret in Al Pacino's inventive documentary about acting Shakespeare "Looking for Richard" (1996) and as Old Lady McCracken in the disappointing remake of "That Darn Cat" (1997).
Parsons never abandoned the stage, carving a niche with quality performances like her Tony-nominated turns as the title characters of Tennessee Williams' "The Seven Descents of Myrtle" (1968) and Paul Zindel's "And Miss Reardon Drinks a Little" (1971) as well as the dictatorial schoolteacher of "Miss Margarida's Way" (1977). She branched into directing with NYC productions of "Voices" (1978) and "Antony and Cleopatra" (1979), and adapted, co-directed and performed the seven monologues that comprised Dario Fo and Franco Rame's "Orgasmo Adulto Escapes from the Zoo" (1983). In the mid-80s, producer Joseph Papp selected her to direct a company of young actors in Shakespearean roles in an effort to bring the Bard to NYC schoolchildren. One of her more recent theatrical triumphs was as Winnie in Samuel Beckett's "Happy Days", which she performed in a variety of venues. But her recurring role as Bev Harris, the busybody mother of Roseanne and Jackie, on the ABC sitcom "Roseanne" (1989-97) has undoubtedly provided the greatest exposure of her distinguished career.
The above TCM overview can also be accessed online
here.