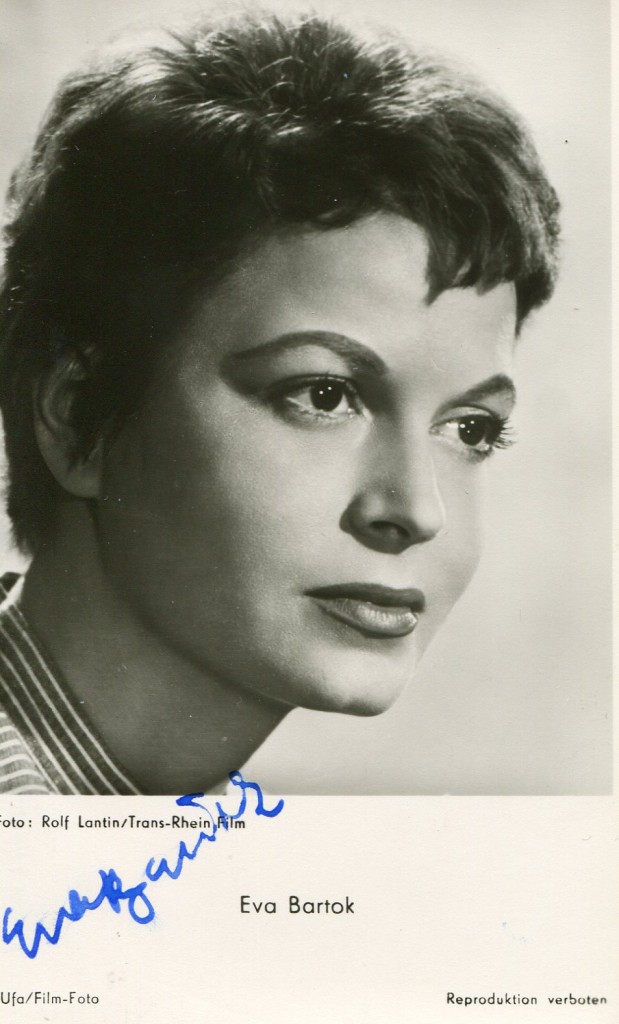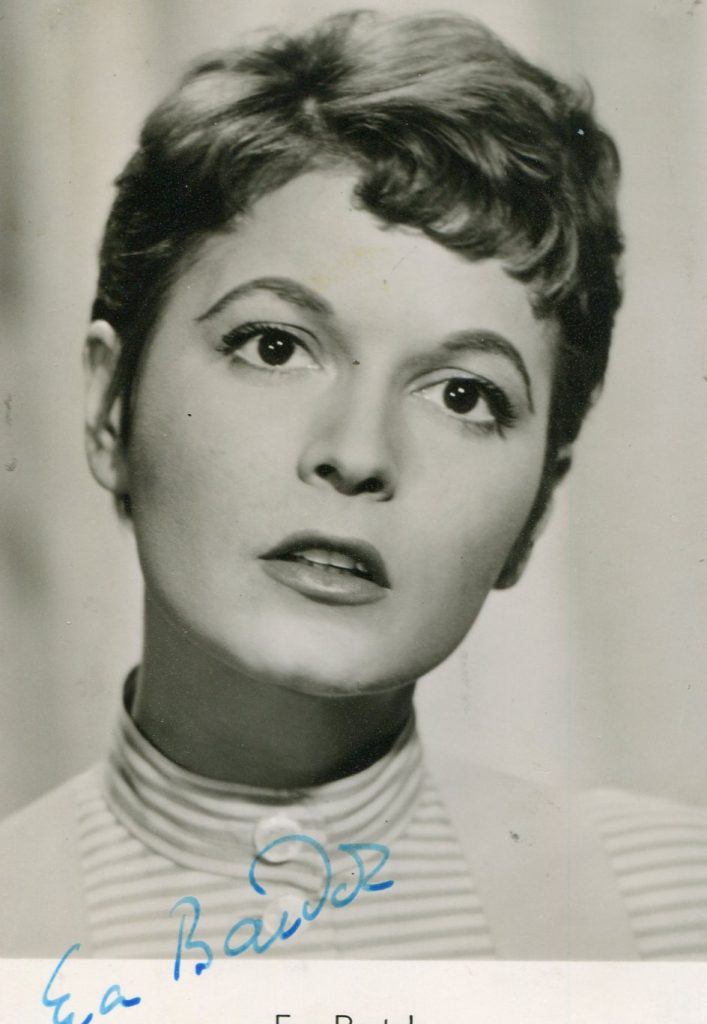 The "Independent" obituary by Tom Vallance: in the Fifties as Britain's answer to Sophia Loren, the actress Eva Bartok became better known for her tempestuous private life than for her appearances in a string of generally mediocre films. By the time she was 30, she had been married and divorced four times, one of her husbands being actor Curt Jurgens, while her lovers included the Marquess of Milford Haven and Frank Sinatra. Her most notable films are two cult movies, the pastiche swashbuckler The Crimson Pirate, in which she starred opposite Burt Lancaster, and Mario Bava's horror film Blood and Black Lace.e in Keoskemet, Hungary, in 1926, she married her first husband, Giza Kovas, a Nazi, while only 15 years old and after imprisonment in a concentration camp. The marriage was later annulled on the grounds of coercion of a minor.
Eva Bartok obituary in "The Guardian" in 1998.
Eva Bartok was born in 1927 in Budapest, Hungary. Her first film was "Mezei profeta" in 1947. During the 1950's she made films in England including "Front Page Story". She went to Hollywood in 1957 to make "Ten Thousand Bedrooms" with Dean Martin and Anna Maria Alberghetti. In 1959 she made "S.O.S. Pacific" with Pier Angeli and her final film was "Beyond the Curtain" in 1960. Eva Bartok died in London in 1998 at the age of 71.
A strikingly beautiful brunette, she found work on the Budapest stage after the Second World War, and made her film debut in a Hungarian film, Mezet Profeta (released in the United States as Prophet of the Field), in 1947. When she wrote to an old friend, the film producer Alexander Paal, begging him to help her escape from Soviet-dominated Budapest, Paal arranged a "passport marriage", took her to London and gave her the leading role in his film A Tale of Five Cities (1951) in which an airman (Bonar Colleano) who has lost his memory traces his past by means of five bank- notes he has in his possession, each with the signature of a girl.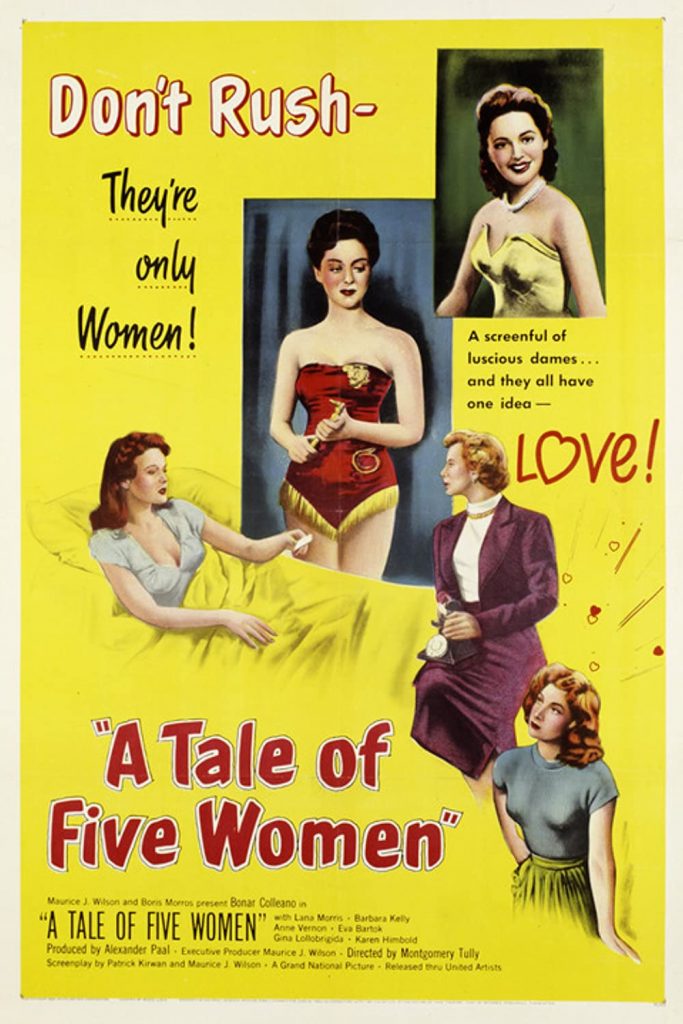 After its release, Bartok divorced Paal and in 1951 married the publicist William Wordsworth. The international flavour of her career was quickly established – her next roles took her to Italy (Venetian Bird, 1952) and to both the Bay of Naples and the island of Ischia for one of her best remembered films, The Crimson Pirate (1952).
Though plagued with difficulties during shooting (at one point the star Burt Lancaster called its director Robert Siodmak "a silly old has-been") and rumoured to have been started as a straightforward action tale then switched midstream to farce, the film proved enormously popular. Bartok played Consuelo, the daughter of a revolutionary on a Caribbean island who persuades the pirate Lancaster to swap sides and, instead of helping a Spanish tyrant quash her father's rebellion, lead his ramshackle bunch of swashbucklers to achieve the island's independence.
But Bartok's career failed to move into the major league. Her next roles were in B movies, as a mathematician who stows away in a space rocket with the scientist she loves in Spaceways (1953) and a duplicitous diamond smuggler in Park Palza 605 (1953). She made several films in Germany, including three with her fourth husband, Curt Jurgens, Der Letze Walzer (1953), Rummelplatz der Leibe (Circus of Love, 1954) and Orient Express (1954), but it was her provocative personal life that made her name familiar to the public, notably her stormy marriage to Jurgens and a highly publicised five-year affair with the then Marquess of Milford Haven, who had been best man at the wedding of Princess Elizabeth and Prince Philip; Bartok was named in his wife's divorce action.
In 1956 Bartok went to Hollywood to appear in the musical Ten Thousand Bedrooms, in which Dean Martin (in his first film without his partner Jerry Lewis) played the owner of a string of luxury hotels. The marriage of Martin's friend Frank Sinatra to Ava Gardner was just breaking up (they divorced in 1957) and Sinatra and Bartok embarked on an affair. In 1957 Bartok's daughter Deana was born, with both Milford Haven and Jurgens purporting to be the father. Jurgens' name was on the birth certificate, but some years later he confessed that he was infertile, and last year Bartok claimed that Sinatra was Deana's father.
Bartok's film career continued to take her around the world – British films included Operation Amsterdam (1959), as a member of the Dutch resistance in 1940, and a fanciful adventure tale of a bunch of plane-crash survivors who find they have landed at the site of an H-bomb test, S.O.S. Pacific, recently described by its director Guy Green as "pretty indifferent". In 1963 she made a gruesome horror film in Italy, Sei donne per l'assassino (Blood and Black Lace), about a string of fashion model murders, which has gained a reputation due to Mario Bava's atmospheric directing and striking use of colour.
Milford Haven had introduced Bartok to the teachings of the Indonesian guru Pak Subuh, and in 1968 Bartok gave up her career and took her daughter to live a life of "peace and tranquillity" in Jakarta, Indonesia. She then moved to Honolulu, where she opened a school to teach the Subuh philosophy.
Bartok returned to acting in 1974 when she appeared with the soccer star Pele in Pele, King of Football, but it failed to promote further film offers. Recently Eva Bartok, described by her former agent as "at one time one of the most photographed women around and one of the most beautiful women in the world", had been living in a hotel in Paddington.
Tom Vallance
Eva Martha Szoke (Eva Bartok), actress: born Keoskemet, Hungary 18 June 1926; married first Giza Kovas (marriage dissolved), second Alexander Paal (marriage dissolved), third William Wordsworth (marriage dissolved), fourth Curt Jurgens (one daughter; marriage dissolved); died London 1 August 1998.
The "Independent" obituary can also be accessed here.