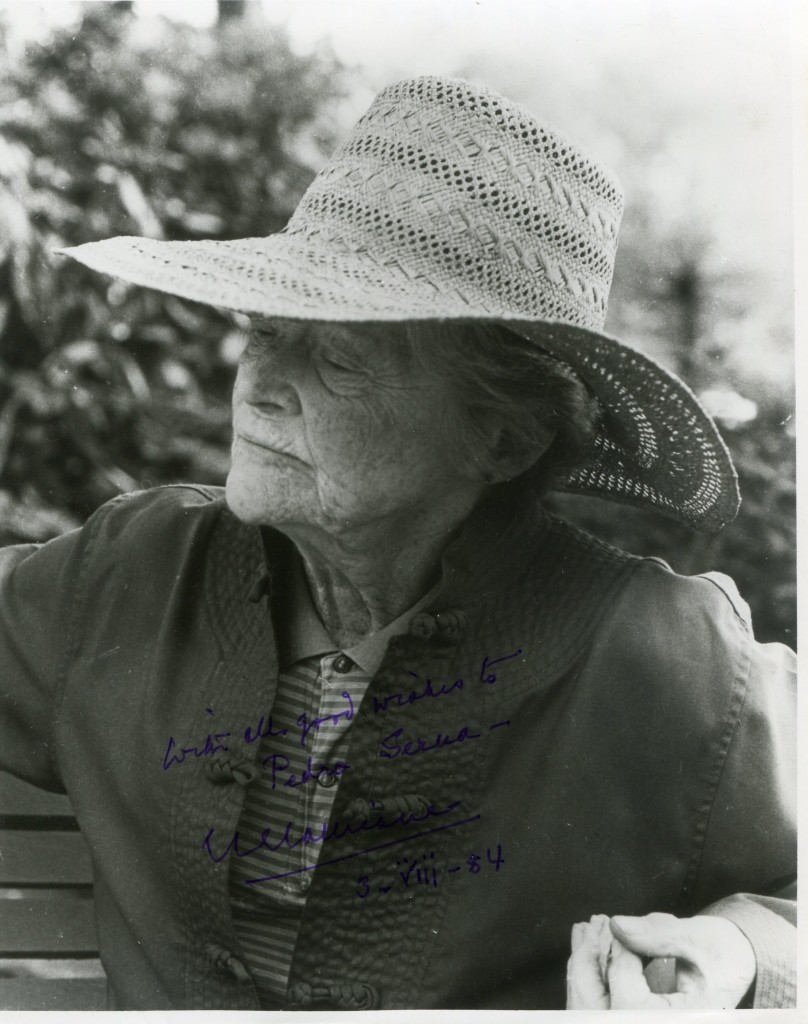 Eva La Gallienne was born in London in 1899. Her father was the British poet Robert La Gallienne and her mother was a Danish journalist. She made her stage debut at the age of 15 on the London stage in "Monna Vanna". In 1915 she went to New York and virtually all of her acting career was in the U.S. In 1921 she had a stunning success in Ferenc Molnar's "Liliom". She had many trumphs on Broadway and on the stage in the U.S. over the years. Her film appearances are few but choice. Of particular interest are "Prince of Players" with Richard Burton in 1955 and in 1980, "Resurrection" with Ellen Burstyn and Sam Sheperd. She guest starred on "St Elsewhere" with Brenda Vaccaro in 1984. Eva la Gallienne died in 1991 at the age of 92.
TCM Overview:
This legendary stage star won renown for her performances on Broadway, in productions by the repertory theater she founded, including "Liliom" (1921) and "The Swan" (1923). In the 1930s, she played the lead in "Peter Pan," the White Queen in "Alice in Wonderland," Juliet in "Romeo and Juliet," and the lead in a summer production of "Hamlet" (1937) which she also staged.
In 1926, Le Gallienne founded a national repertory theater, the Civic Repertory Theater in New York, similar to England's Old Vic, which presented the classics at popular prices ($1.50 top ticket price). She not only starred in the majority of productions, until the company folded in 1933 as a consequence of the Depression, but she also staged, translated and produced most of the plays. Le Gallienne then lectured at colleges and toured the country, returning to Broadway in "Uncle Harry" and "The Cherry Orchard." In 1946, she organized the short-lived American Repertory Theater with Margaret Webster and Cheryl Crawford. Later stage triumphs included "Mary Stuart" in which she toured from 1957 to 1962 and "The Royal Family" (1976). Le Gallienne reprised her role (the matriarch of a theatrical family modeled on the Barrymores) in an acclaimed television production which earned her an Emmy. She also produced and starred in an acclaimed TV version of "The Bridge of San Luis Rey" (1958). Le Gallienne appeared in a handful of films, perhaps most memorably as Ellen Burstyn's grandmother in "Resurrection" (1980), for which she received an Oscar nomination as Best Supporting Actress.
The above TCM Overview can also be accessed online here.
Gary Brumburgh's entry:
Legendary stage actress Eva Le Gallienne's life began just as grandly as the daughter of poet Richard Le Gallienne. Sarah Bernhardt was her idol growing up and, at age 18, was brought to New York by her mother. Making her London debut with "Monna Vanna" in 1914, she proved a star in every sense of the word. She appeared on Broadway first in "Liliom" in 1921 and lastly at the Biltmore Theatre in 1981 with "To Grandmother's House We Go," which won her a Tony nomination at age 82. Noted for her extreme boldness and idealism, she became a director and muse for theatre's top playwrights, a foremost translator of Henrik Ibsen, and a founder of the civic repertory movement in America. A respected stage coach, director, producer and manager over her six decades, Ms. Le Gallienne consciously devoted herself to the Art of the Theatre as opposed to the Show Business of Broadway and dedicated herself to upgrading the quality of the stage. She ran the Civic Repertory Theatre Company for 10 years (1926-1936), producing 37 plays during that time. She managed Broadway's 1100-seat Civic Repertory Theatre (more popularly known as The 14th Street Theatre) at 107 14th Street from 1926-32, which was home to her company whose actors included herself, J. Edward Bromberg, Paul Leyssac,Florida Friebus, and Leona Roberts. Her gallery of theatre portrayals would include everything from Peter Pan to Hamlet. Sadly, she almost completely avoided film and TV during her lengthy career. However, toward the end of her life, she did appear in a marvelous 1977 stage version of "The Royal Family" on TV and rendered a quietly touching performance as Ellen Burstyn's grandmother in Resurrection (1980), for which she received an Oscar nomination.
– IMDb Mini Biography By: Gary Brumburgh / gr-home@pacbell.net